10 Cam Sites for FemDom Sex Chat You Must Experience
last updated
January 15, 2021
"Yes, ma'am" are the only two words you'll be permitted to say. On these sites, you'll find bossy babes to keep you subdued and disciplined. Whether it's jerk off instructions, spanking, body/ass/foot worship, strap-on sex, sissy training, or role-playing adventures, these are the top Femdom chat sites to find an online domme.
Jump to the bottom of this page for a quick comparison table of cam2cam, 2-way audio, and phone call options on each site.
---
LiveJasmin.com

LiveJasmin is a remarkable destination for many reasons, chiefly among them, catering to those looking for professional dominatrices. The site is known for recruiting and cultivating new talent, as well as supporting and promoting veteran and established performers. Many of the best and most popular Femdom models from around the world choose LiveJasmin as their stage for subduing and controlling weak and infantile men.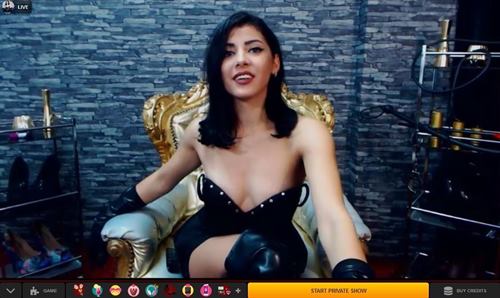 Performing talent aside, LiveJasmin is a star in its own right. Since its inception it has been a model of ingenuity and class, with site features and design that have inspired competitors to follow suit. With high webcam streaming standards in place, LiveJasmin guarantees that all cam rooms will be broadcasting in nothing less than HD720p. In conjunction with the effort to broadcast clear and crisp video streams, the models present themselves professionally, and perform from sultry and seductive location settings. And, currently, this is one of the only sites to offer members webcam to webcam chat over mobile.
From the site's main page, you'll see a Willingness section. Here, the models can be sorted by the extreme acts they're ready to perform. Choose the Dominant category to peruse through all online dominatrices. Typically, there are well over 1,000 models actively online at any time, across all categories. And while starting your search in the Dominant category is an ideal place to begin, don't hesitate to scan through all other categories to find a model that you're attracted to, and then simply chat her up to see if she's interested in playing the Femdom role.
Verifying your credit card will gift you site Credits to spend how you wish. It's enough to get you a few minutes in private with any model of your choosing. There are no free sex shows on LiveJasmin. This is a Premium site for one to one sex shows.
On the average, a private show will cost you near $4.80 a minute. The more popular and established women are often charging more to spend time with them. Using the Price search enables you to query by individual rates. The cheapest rooms will have you in a 1on1 show for as low as $1.60 a minute. The most active spenders climb the LiveJasmin Elite ladder, which earns members status upgrades the models can see.
---
FetishGalaxy.com

FetishGalaxy doesn't waste your time with any ho-hum cam rooms. No bland, vanilla performances here. These girls know what their core competency is, and they come ready to flaunt it. Where many sites busy you with extraneous site features and wacky promotions, the aim of FetishGalaxy is to get you into a private show with one of their Femdom experts. Fantastically presented rotating photo samples for each model will give you a clear picture of what each girl is into and willing to perform. Quickly scan the site galleries to find your very own punishing courtesan.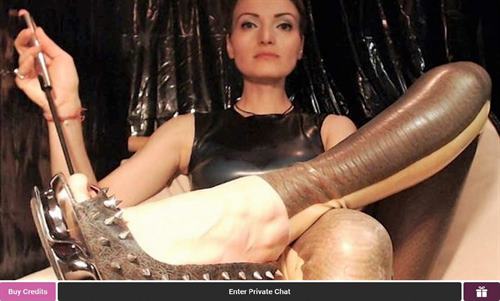 The best categories to find a strict disciplinarian are the Domination, Humiliation, and Submission fetishes. But don't ignore the other fetish categories, as the Femdom trait is strong with most girls on FetishGalaxy. As you're browsing through the galleries of girls, you'll notice they're either labeled as a Professional, an Expert, or an Educator. Use this distinction as a guide to get started. But don't let it keep you from entering into a chat room you may not think you're ready for.
The girls FetishGalaxy are a wild mix of women of all sorts and from all over the world. At any given time, you'll have some 200+ actively online girls to choose from. If you're searching a specific category that doesn't have enough live models, then you can still check out the profiles of offline models, go through their photos, and send them a private message.
To keep things affordable, relatively speaking, FetishGalaxy doesn't stream in high definition. All cam rooms are standard definition only. This lowers the site's operating costs, and these savings are passed on to members.
Coming in at an industry low, the average rate for a private show is $2.50 a minute. Use the Advanced Search to search by price, and you'll find girls ready to one on one for a $1.00 a minute.
---
Flirt4Free.com

Flirt4Free is for those who prefer many options and features other than just going private with the site's cam girls. There is a dedicated BDSM & Fetish Play Education center complete with blogs and articles on the full range of fetish delights. A news archive of interesting and timely publications from around the internet. And a quick list of top fetish models, based on activity and popularity, from the previous week. Of all the sites we review, no other offers as many show types as Flirt4Free does. Going on all at once, are various private, party, group, and VIP shows that you can start or join into. The site takes some of the best features found on both the popular Premium and Freemium systems, and brings them together to deliver to it's users a unique and very involved offering.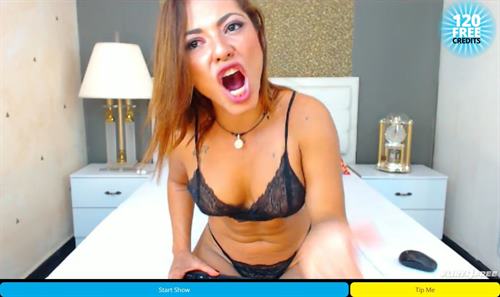 Start your search for a dominant companion by looking through the Domination and BDSM categories. You'll find the girls operating in these rooms will be ready and well-equipped with all the sorts of typical toys and devices to use during a dominating session. When you run a search for any of the typical fetishes, you'll get a result of all the performers that claim specialty in any such act, as well as an archived listing of all related recorded videos from all active performers.
Joining a model's Fan Club will get you discounts on her regular private show rates. In each model's profile page you'll find all her uploaded photos. The girls present their photos with the purpose of giving their admirers a glimpse into the full range of what they're willing to do during their shows. All photos are free to view and many contain nudity.
There are typically more that 400 models live on Flirt4Free at any given time. When they're broadcasting in the Party Chat or Groups Shows, they may be teasing in the nude, or even giving full on performances for the crowd. If you fall for a girl in one of these group shows, then let her know you'd like to make time with her for a private encounter.
At Flirt4Free, you can sort all the models by price. If you're watching your spending, you can start with the girls charging at little as $0.50 a minute for 1on1 shows. These are among the cheapest private cams you'll ever see online. On the other end of the spectrum, you'll see some of the most expensive cam girls online, with many charging up to $12.00 a minute. While these rates represent the range of prices to be found, you can expect the average price to be around $5.00 a minute for a private Femdom show.
---
MyCams.com

MyCams keeps things casual with a simple site interface that doesn't offer may features or special attractions outside of the beautiful offering of women camming here. Here, it's all about the online models. The ones present, live, and ready for your choosing. The models are only asked to bring their professionalism and grace, and MyCams takes care of the rest, with guaranteed HD cams on all broadcasts, free hi-res non-nude photo content in models' profiles, and a membership ranking program, called Club Elite, that lets performers recognize the most active members.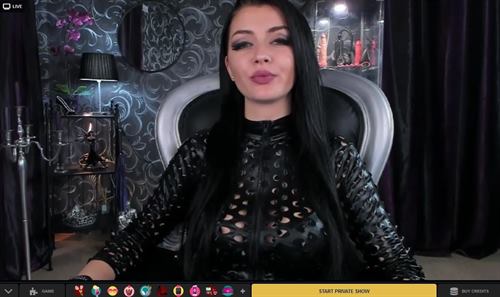 This is no amateur site. MyCams' Femdom models are high-class professionals. Right away, you'll want to go through the Dominatrix, the Roleplay, and the main Fetish categories to find a mistress. These are performers taking their work seriously. While each model presents herself in her own right, the general constant is that they keep their rooms inviting and seductive, while having on display their toys and devices they can use during your encounter.
MyCams is another mega-site with over 1,000 girls live online at any given time of day. Though there are many regulars that seemingly never take a break from performing, there is always new talent to be discovered. Each visit to the site will astound with new beauties. You could spend a year visiting the site every day, and you'll still meet new faces upon each visit.
Private shows average around $4.40 a minute. For the girls doing privates at the lowest rate, go to the Sale category. Here, you'll find girls willing to perform intimately with you for as low as $1.40 a minute.
---
ImLive.com

ImLive is one of the original cam sites online. Since the start of the century, the site has been playing host to a wide array of amateur webcam personalities. The girls operating here are among the most fun and ambitious performers online. ImLive is a great site for getting members involved in its own little universe of webcam models. Monthly video contests get the girls to dress up and play all sorts of fantasy roles. Pornstar celebrities are regularly invited to the site to perform live for all members. And the site's Reward Program sees loyal participants enjoy ever-increasing benefits and discounts on live shows and recorded videos.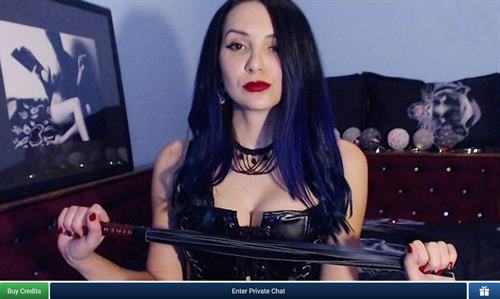 In the Fetish & BDSM area on the site you'll find the popular Domination category, as well as the Bondage, Cuckolding, FinDomme, Humiliation, Jerk-off Instructions, Orgasm Denial, and Submission categories. In the main member area, you'll find a request form to enter in any particular fantasy you have. Complete the Fulfill Your Fantasy form and the girls will reply directly to you.
A site feature favorite is the Multi-Viewer. With this tool you can quickly scan through the live action happening in six cam rooms, simultaneously. This feature is available to get a peek into the open chat rooms, as well as to spy into the ongoing action in six private sex shows.
With all that's happening on ImLive, it's still able to bring its members one of the cheapest Premium experiences online. The average rate during a private show is $2.50 a minute. Search by price, and you'll find girls ready to go private for just over a buck a minute.
---
CamSoda.com

CamSoda is a freak show. As a relative newcomer on the webcam sex scene, the site has to be a bit louder and more in your face than the more veteran sites, to get noticed. And that's just what CamSoda is. A fun, rambunctious, out-of-control destination with loads of hardcore chicks going beyond the mind of any normal imagination to grab attention. And all this action is delivered to site visitors in a cacophonous orchestra of live peeks into each cam room all at once. This is a true Freemium site where immediate access to hardcore shows is instant.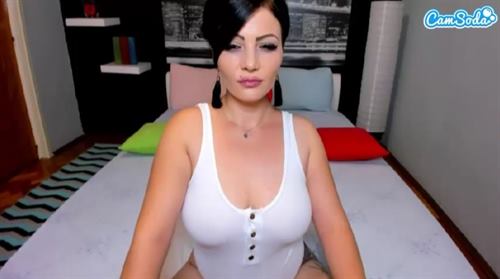 Getting yourself into a one on one show with a dominating mistress will take a bit of work and luck. Because the girls on this site are always on, performing for any number of viewers, to take them into a private show will take some coercion. Also, the site's searching functions suck. The best way to get started is by simply scanning all the cam rooms, and try to spot a girl that may seem to operate within the Femdom realm.
When you find a girl that meets your taste, you can send her a text chat, which all other viewers can see, or you can send her a private message. Sending a PM would be your best move, wherein, you can lay out what you're looking for, and if she agrees, your correspondence begins. At this point, you and you're chosen girl can set up a private time to meet online.
Many girls offer a 'Schedule a Private' option. When you see this available in a girl's cam room, you'll be asked to select a day, time, and duration for your private show to start. Payment for the duration you've selected will go into an escrow. And only if she agrees, and shows up to your selected time, will you be charged for the show.
If you want to be dominated while you're mobile, then you're in for a treat, as CamSoda delivers a top-notch experience for webcam-2-webcam chat over your mobile. Let her lay into you while you're at work, in a bathroom, or just out and about doing your daily tasks.
CamSoda will typically have between 400-600 models online at any time. We figure that the average rate for a private show goes for around $3.60 a minute. But, you can find many girls that will go 1-on-1 with you for as low as $0.60 a minute. When you do go private with a girl, she may have the option available to save the private performance she'll give you, to your CamSoda media account. This show will be available to you indefinitely, with unlimited viewings.
---
XLoveFetish.com

XLoveFetish is your neat little niche market for European dominatrices. This is a smaller site compared to some of the behemoth sites that top this list. But, it has its own unique attributes which make it a decent site to bookmark, for when you want to find a mistress that may not be busy with 100's of other users clamoring for her attention. Or, for when you want a gaudy Euro chick to dominate you.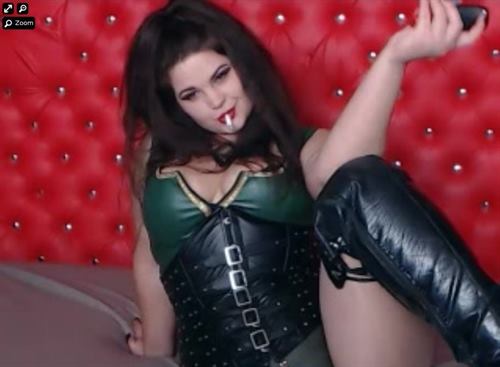 There is a Femdom category, but we recommend just staying in the main page, and not setting any filters or tags to query out any models. There are never really that many girls online at once, that you need to set parameters to find what you want. At most times, you can quickly scroll through all the site's online models. And, as all the models are ready for BDSM, Domination, and Submission performances, then you won't go wrong selecting any girl you desire. If you see a girl is not online when you're visiting, you can send her an offline message for free.
Visit XLoveFetish on the first day of the week for a free look at all models' titties. The site's weekly promotion, Topless Mondays, has all models hanging out in their open chat rooms baring their tits. And make sure to check out the models' profiles. You'll see their camming schedules, extensive photo albums, and video collections, all free to watch.
When you're ready to request a private show, expect to see rates that average around $3.00 a minute. The cheapest cams go for near $2.00 a minute. To search by price, use the Rates table from the main menu.
---
C2CPorn.com

C2CPorn is not your ultimate destination for dominating females, it's just your tool for finding them across a multitude of the best sex cam sites online. This site pulls the live webcam feeds from across various cam sites and incorporates them into one platform. This is a cool trick in and of itself, but where the site really shines is in its search and filtering system that enables you to query precisely what you're looking for from within nearly 10,000 live webcam broadcasts.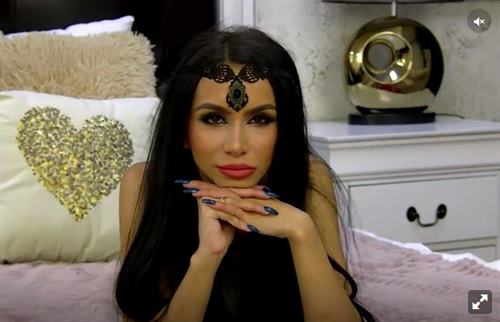 While the link we provide here will take you directly to the available FemDom models on the site, if you were to start a new search on your own, you would discover a powerful tool for searching through the thousands of models online at C2CPorn.
To find what you're looking for, simply start to select from the list of physical attributes and kinks up for selection. When applying the first filter selection, you'll see the gallery display immediately change to your selected query. As you add more filters to this current query, you'll see the results further whittle down into the those models possessing the characteristics and performance acts you desire.
When you enter into a model's page, you'll get the live feed from the site she is camming on. Some basic details about the model will be displayed, along with a list of tags. These tags are a makeup of all the other attributes and sexual acts the model is willing to perform, that are not necessarily presented as selections on the menu of filters. If you see a tag that interests you, go to it, and it'll open up for you a display of all the models in C2CPorn's system that have the same tag assigned to them.
Additionally, C2CPorn has done something brilliant, by adding a display grid of the hours in the day of which a model can typically be found online. It's called the OnLine HeatMap, and on it are the regular hours that the model usually appears on her webcam, according to your hours of the day. So, no matter from what part of the world she turns on her webcam, you can see when her schedule coincides with yours.
---
BongaCams.com

BongaCams is another Freemium site where the girls have the option to get fully naked and explicit in their open chat room. When doing so, they're working for tips from the crowd. But, you want to find a strict babe to give you instructions. So, you're going to have to sift through all the attention grabbing site action and get singularly focused on meeting your Femdom match.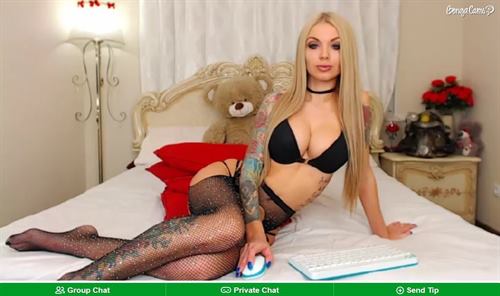 While watching totally nude and sexually active girls can be had for free, much of the interaction you would expect to have will be locked out for you unless you make your first purchase of any priced BongaCams Tokens package. All you need to do is buy any amount, just one time, and your account is set as a Premium status account for life.
If you make your first buy-in over a mobile device, Bongacams will match your purchase with up to 100 bonus Tokens. There are five Premium levels, each with increasing benefits and features. Premium users enjoy higher quality video, internal messaging, and can open multiple chats simultaneously. As well, models will recognize your status, and will be more likely to pay special attention to you while they're entertaining the masses.
To start your search for a punishing courtesan, select the tag for 'female domination'. As you then navigate through BongaCams, checking out different girls, the site may clear the selected tag. So, be prepared to set this selection often. And because this is a free site with many visitors in each cam room, you'll need to step it up, with a minimal Tokens purchase as soon as possible, if you want a chance of any given model to reply to your requests.
The cost of a private show is the same for all performers across the site. $5.00 a minute will get you the model's full attention to listen and perform only for you. But, other users will be able to Spy in on the performance she's giving you, though they won't be able to chat with her. To get the model for an exclusive show, with no permissions for others to enter in voyeur mode, you'll need to shell out $7.50 a minute.
---
Visit-X.net

Visit-X has no free chat shows. If you want to enter into a room, you're paying the per minute rate. The site is not going after the masses with free xxx chat shows. This is a site for loyal fans that follow particular models that work on the site. And here, it's all about German girls. Whether or not you were familiar with, or are just now learning this - German live porn models are among the most explicitly sexualized creatures to broadcast online. German sex is on a whole other level. And if you're into it, then this is the place to go to find yourself an uber-hardcore Femdom mistress. And what's better than being handled by a women with a strong German accent?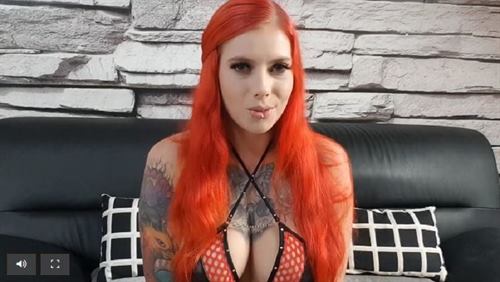 First thing you'll need to do is set the site to English. Just scroll to the bottom of any page to find the language setting. Now that you can understand things, you'll discover that this is a vast site with all sorts of media and features to enjoy. Beyond the typical video recordings you'll find in the individual profiles, you'll see the complimentary media programming Visit-X produces. There is a television channel with original material created exclusively for Visit-X visitors, and members. You may not understand the language spoken, but the tits and ass on display are universally understood.
Again, there is no free open chat. Though, there is a Live Chat Preview. This is a 5-second peek into the cam rooms that offer it. This feature is available only after your first account charge, or with a VIP membership. Otherwise, the moment you enter the regular Live Chat, you'll be paying the room's rate. Prices vary slightly from room to room, but most rooms average around $3.50 a minute. But, it's free to send any girl a text message. Use Visit-X's messaging app to set the stage with how you want your online domination to begin.
---
Activating Your Webcam
Your Femdom mistress is going to have to see you to best dominate over you. Turning on your webcam during a private chat show is integral to the online slave/master relation. It's important to show her what she's working with. If you've got equipment or toys in your room that you want her to instruct you to use, them she's got to see them.
Just about each site we recommend includes in the price of a private show the option to activate your webcam, for her to see you, at no additional cost. Only a few of the sites we cover, do ask for an additional charge. In each case, it's just a small fraction from the regular room rate for the model you've selected.
Some sites enable the girls to stay connected with their fans even while they themselves are mobile. When this feature is available on a site, it will be visible for the girls that have it activated. For instance, LiveJasmin has its Call Me feature. When in use, you'll see who is only available via their mobile device as opposed to who is actively online in their cam rooms. On Flirt4Free, there is the Flirt Phone option. The girls that have chosen to utilize this added option make the feature available in their individual profiles. Visit-X also includes this feature, though the call must come from a German landline.
---
Conclusion
You want her to be hard on you. You want her to dominate over your very existence. Whatever it is inside you that aches to be under the direction of a strict and domineering woman, you may not care to understand it, you just know that you deserve it. And, it's not always that you have someone that is trusted and safe to partner with. You want a discreet relationship, in a secure environment.
These are the sites we trust the most to find that comfort and peace in satisfying the need to be dominated over by a female mistress.
To explore more specific interactions with cam girls, you should check out some other articles we've put together covering a diverse array of fetish proclivities. When your Femdom mistress asks you if you're okay with CEI or CBT, you better know what she's taking about. Or she may make you learn the hard way.
Each site we've added to this list has its own best attributes and features that make it desirable for any number of particular reasons. Whether you're looking for the biggest model selection, the cheapest live sex shows, the best video streaming quality, or cam2cam availability over mobile, there is a site that can meet you needs.
While we always like to recommend making memberships at multiple sites, to enjoy the full range of what is on offer from these top sites, we'd want to best help get you started at the one site we are impressed with the most. At LiveJasmin, you're going to get first-rate treatment from the world's most professional and talented cam models. Considering pricing, webcam quality, and Femdom model selection, the site is hard to top.