Two Sex Cam Sites Make it Possible to Cam2Cam Over Mobile
last updated
July 13, 2020
There are only two cam sites that enable you to activate your mobile device's camera during a private show. While every other of the top sites we review have mobile platforms, only on LiveJasmin and CamSoda can you go face to face on your phone.
That's right! You can do a mobile cam2cam chat session from anywhere.
---
CamSoda.com

CamSoda attracts some of the more wild and ambitious performers online. This is the place girls go to broadcast themselves in fully exposed and explicit performances. The most popular and successful performers will typically get hundreds, if not thousands of viewers at a time. The girls are motivated to put on big shows by the potential of tips they will receive from the crowd.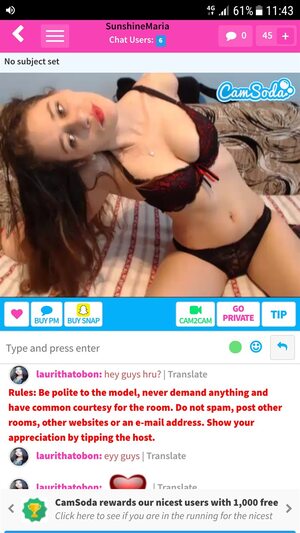 As a viewer, you can participate in the tipping to help keep the show going, or you can quietly sit back and watch her perform without participating. However the case, there is no time limit on watching any of the open rooms. You can watch for free for as long as you like.
While tipping is a fun way to interact, it's hardly intimate, and anyway, you'll need to take a girl into a private show, if you want to activate your mobile device's camera to make it a cam2cam connection.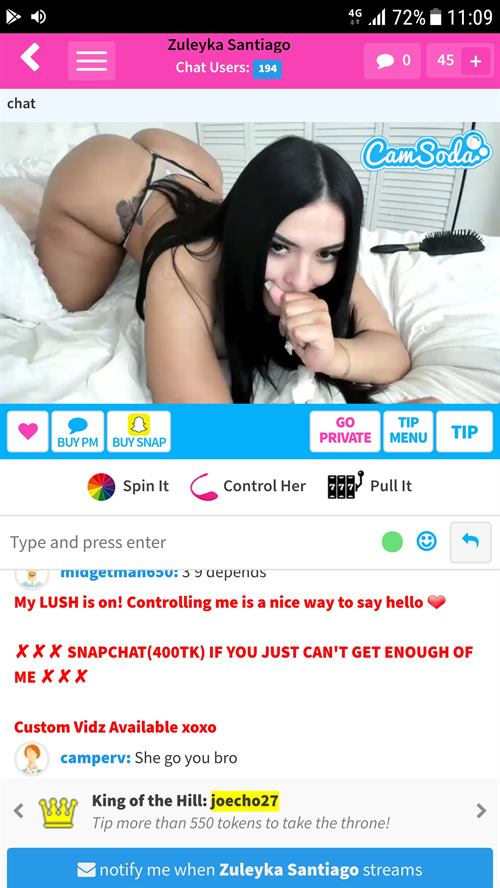 CamSoda continually makes it to the top of our review lists and comparison topics when we look at all the possible features available on the most popular and trusted cam sites. It is simply one of the most innovative and compelling sites out there. And, it's just a plain fun place to hang out.
While the girls can do well performing for tips, they know that many members want to take them into a private session. So, while they may not be available at your every whim, you can private message them to see if they would set a time for you to meet one on one.
Or, use the Schedule a Private option. If this option is made available by any particular model, then you'll see the button appear in her profile page. Use it to schedule a day, time, and duration, and if she accepts, she'll meet you for a secure private show with just the two of you.
Also, if you find the Schedule a Private tag, you can sort out all the girls who provide this as an option. For the girls that don't, you still have the option to send them a private message.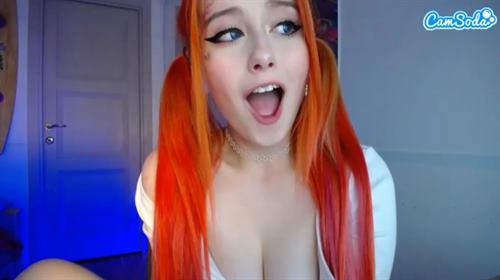 Landscape mode during a c2c session removes the ability to continue text chatting, but you can still make tips, and speak to the model.
CamSoda is our favorite sites for mobile sex shows for many reasons, chiefly among them, the webcam2webcam option, but we also love their prices. CamSoda has one of the lowest priced buy-ins available. For $5.99, you can purchase a bundle of CamSoda Tokens, and you're on your way to tipping in the open chats.
To take a girl private, you'll need a bit more. The average cost for a one on one show will run you close to $3.60 a minute. But, there are cam rooms to be found for as low as $0.60 a minute.
Whatever the case, with any cam room, the model may have a minimum block of time that you'll have to agree to before starting a private show. And, CamSoda girls don't charge you extra to turn on your webcam. They either offer the cam2cam feature or they don't. Each model differs. When cam2cam is available, which it usually is, it doesn't cost any extra to activate.
CamSoda over mobile is compatible with all iOS, Android, and Windows phone and tablet operating systems.
For a complete analysis of all of the site's features, pricing, model selection, and show quality, please read our full review of CamSoda.
---
LiveJasmin.com

LiveJasmin has an extraordinary number of beautiful women broadcasting on it's platform. The site plays host to 10's of thousands of performing models, with always at least 1,000 actively online at anytime of the day. The cam rooms are all guaranteed to be streaming in HD. Newer models may stream in something under, but eventually they'll meet the LiveJasmin standard.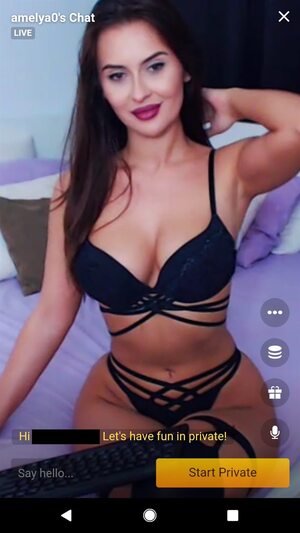 Cam2Cam is a feature available in all private shows. Activating your camera carries with it an additional cost, which is a fraction of the regular room rate. 2-way audio is also not included, but if you pay for it, LiveJasmin guarantees that she'll be able to hear you.
To either start a cam2cam show from an open chat room or while already in a private show, simply tap on the 3-dot icon, more feature options will appear, and select the one that looks like a webcam. You'll see the room rates published before you confirm to start the show.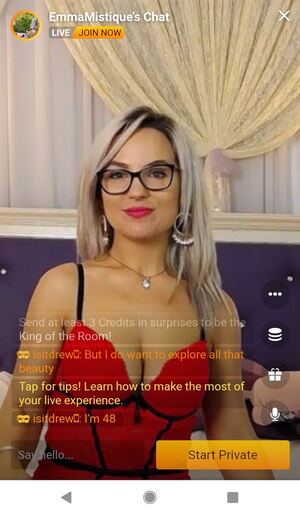 Accessing the site via your online browser works perfectly well, but using the mobile application has it's own inherent advantages. Firstly, you've got it as easily accessible as any other app on your phone. And LiveJasmin even does you the sly favor of not adding their app icon onto your homescreen. You'll have to find it in your full app list a place it where you want. Secondly, the screen opens up slightly, as you won't have the notification and info menu bar showing, as it would be seen while accessing through an internet browser.
The app is called the Jasmin Free Mobile App. Visit the site from your mobile and you'll get the download prompt. Because the app exists outside of the proprietary App Store, or Play Store, you'll have to adjust the security settings on you phone before downloading and installing. If you download the app, at the point of install, you're phone's operating system will warn you that installing apps from unknown sources carries a danger.
But, you know what this is. This is LiveJasmin, one of the largest online platforms for people to broadcast themselves. The site ranks in the top 150 most visited site in the world. Without the safety and security of your connection with the site, it has nothing. The site's reputation and reputability are paramount. When the install asks to get access to take pictures and videos, this is necessary if you plan to cam2cam. No other use of this access to your phone's camera will occur.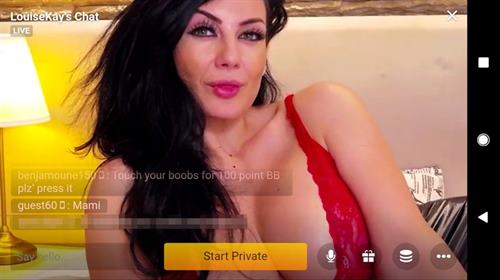 The average rate for a private show comes in at $3.60, or 3 site Credits. A lot of the girls on LiveJasmin are in high demand, and they can command the higher rates. You'll see some expensive ones, but most are asking for between 2.49, and 2.99 Credits minute. Tap the search function to reveal the only parameter you'll see on the site for querying by price. You'll see the 0.98 selection. This will show you all the girls who'll go private for 1 Credit, which is about $1.20 a minute. And no matter which room rate you find, it'll always cost another single Credit on top of that rate, to activate your camera.
Livejasmin over mobile is compatible with all iOS, Android, and Windows phone and tablet operating systems.
For a more thorough and complete site review that covers all site features, pricing, model selection, show quality, and more, on both desktop and mobile, please read our full review of LiveJasmin.
---
Conclusion
The major distinction between these two sites is LiveJasmin being a Premium site, where you have to pay to see any explicit performances, while CamSoda is a Freemium site, where you'll get to see nudity and sex for free in the open chat rooms. But, we're ranking these two sites based on the experience of switching on your camera during a private chat, which will cost on both sites. Given that, CamSoda takes our top spot if you want to cam2cam on mobile.
Since there are only two sites currently offering the cam2cam feature, your selection in terms of sites isn't grand. But what is off the scale, are the number of model's you'll find on both of these industry leading sites. We often recommend making memberships at any number of sites. Because each site has own type of models that choose to broadcast on it. And depending on your tastes at any given time, you may feel like a particular kind of women from one day to the next. So, whatever the case is for you, you can be sure to find a full range of hot action at either CamSoda or LiveJasmin.
But, to choose the one to start at for the best overall experience, we'd have to go with CamSoda. Given the price difference between the two sites, CamSoda is much more worthwhile.
While on desktop, the prices of private shows between LiveJasmin and CamSoda are comparable, but while on your phone, it's much cheaper on CamSoda. Cam2cam, 2-way audio, and show recordings are available completely for free, regardless of the device you are on.