5 Sites For C2C On The Go
last updated
January 17, 2021
Not many cam sites can deliver 2way video and audio chat sessions over a mobile device. The following sites are not only among the best cam sites online, but they have all made activating your mobile device's camera for a c2c session a delightful reality.
---
CamSoda.com

CamSoda attracts some of the more wild and ambitious performers online. This is the place girls go to broadcast themselves in fully exposed and explicit performances. The most popular and successful performers will typically get hundreds, if not thousands of viewers at a time. The girls are motivated to put on big shows by the potential of tips they will receive from the crowd.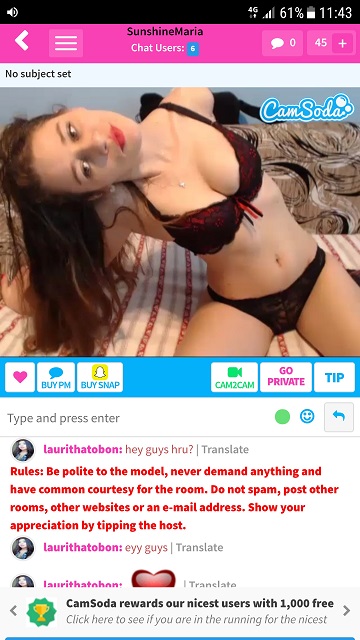 As a viewer, you can participate in the tipping to help keep the show going, or you can quietly sit back and watch her perform without participating. However the case, there is no time limit on watching any of the open rooms. You can watch for free for as long as you like.
While tipping is a fun way to interact, it's hardly intimate, and anyway, you'll need to take a girl into a private show, if you want to activate your mobile device's camera to make it a cam to cam connection.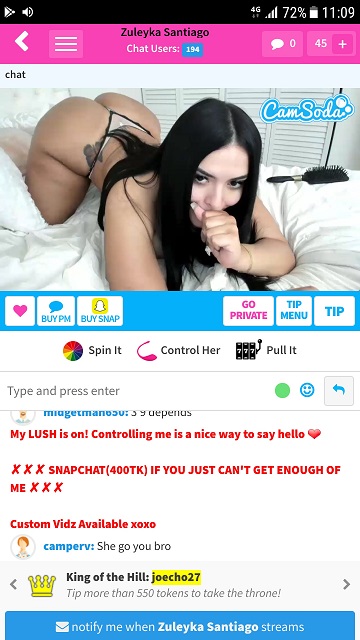 CamSoda continually makes it to the top of our review lists and comparison topics when we look at all the possible features available on the most popular and trusted cam sites. It is simply one of the most innovative and compelling sites out there. And, it's just a plain fun place to hang out.
While the girls can do well performing for tips, they know that many members want to take them into a private session. So, while they may not be available at your every whim, you can private message them to see if they would set a time for you to meet one on one.
Or, use the Schedule a Private option. If this option is made available by any particular model, then you'll see the button appear in her profile page. Use it to schedule a day, time, and duration, and if she accepts, she'll meet you for a secure private show with just the two of you.
Also, if you find the Schedule a Private tag, you can sort out all the girls who provide this as an option. For the girls that don't, you still have the option to send them a private message.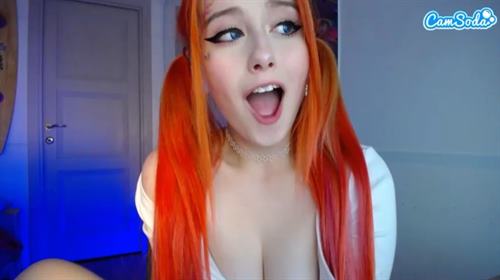 Landscape mode during a c2c session removes the ability to continue text chatting, but you can still make tips, and speak to the model.
CamSoda is our favorite sites for mobile shows for many reasons, chiefly among them, the webcam2webcam option, but we also love their prices. CamSoda has one of the lowest priced buy-ins available. For $5.99, you can purchase a bundle of CamSoda Tokens, and you're on your way to tipping in the open chats.
To take a girl private, you'll need a bit more. The average cost for a one on one show will run you close to $3.00 a minute. But, there are cam rooms to be found for as low as $0.70 a minute.
Whatever the case, with any cam room, the model may have a minimum block of time that you'll have to agree to before starting a private show. And, CamSoda girls don't charge you extra to turn on your webcam. They either offer the cam to cam feature or they don't. Each model differs. When cam to cam is available, which it usually is, it doesn't cost any extra to activate.
CamSoda over mobile is compatible with all iOS, Android, and Windows phone and tablet operating systems.
For a complete analysis of all of the site's features, pricing, model selection, and show quality, please read our full review of CamSoda.
---
LiveJasmin.com

LiveJasmin has an extraordinary number of beautiful women broadcasting on it's platform. The site plays host to 10's of thousands of performing models, with always at least 1,000 actively online at anytime of the day. The cam rooms are all guaranteed to be streaming in HD. Newer models may stream in something under, but eventually they'll meet the LiveJasmin standard.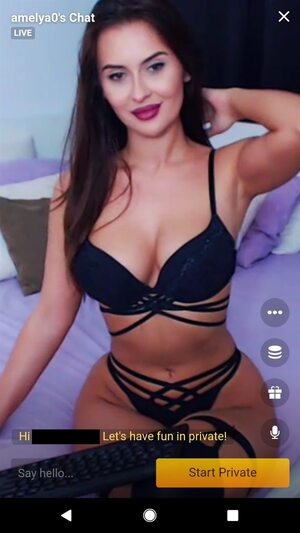 Cam to cam is a feature available in all private shows. Activating your camera carries with it an additional cost, which is a fraction of the regular room rate. 2-way audio is also not included, but if you pay for it, LiveJasmin guarantees that she'll be able to hear you.
To either start a cam to cam session from an open chat room or while already in a private show, simply tap on the 3-dot icon, more feature options will appear, and select the one that looks like a webcam. You'll see the room rates published before you confirm to start the show.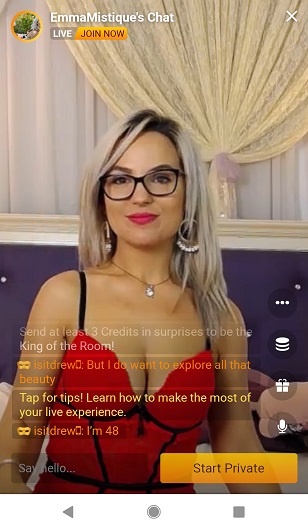 LiveJasmin is one of the largest online platforms for people to broadcast themselves. The site ranks in the top 150 most visited site in the world. Without the safety and security of your connection with the site, it has nothing. The site's reputation and reputability are paramount.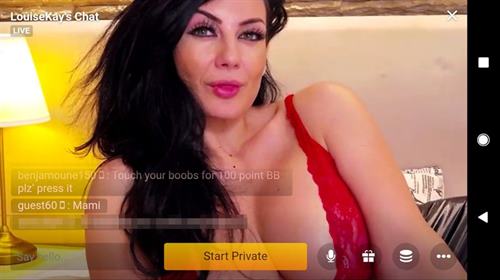 The average rate for a private show comes in at $3.60/min. A lot of the girls on LiveJasmin are in high demand, and they can command the higher rates. You'll see some expensive ones, but most are asking for between $3.00 to $5.00 a minute. Tap the search function to reveal the only parameter you'll see on the site for querying by price. You'll see the 0.98 credits selection. This will show you all the girls who'll go private for 1 Credit, which is about $1.20 a minute. And no matter which room rate you find, it'll always cost another single Credit on top of that rate, to activate your camera.
Livejasmin over mobile is compatible with all iOS, Android, and Windows phone and tablet operating systems.
For a more thorough and complete site review that covers all site features, pricing, model selection, show quality, and more, on both desktop and mobile, please read our full review of LiveJasmin.
---
Flirt4Free.com

The perfect combination of premium features an a freemium sensibility, Flirt4Free is for everyone, but also for picky fussy users who insist on fantastic HD quality, professional models, and a slew of entertaining features to keep you on the site long after you've had your private time. Being a premium site, the models' standard performance is important, hence the platform monitors and vets all its models, suggesting improvements and upgrades. If the girls and guys don't take heed, they are removed from the site.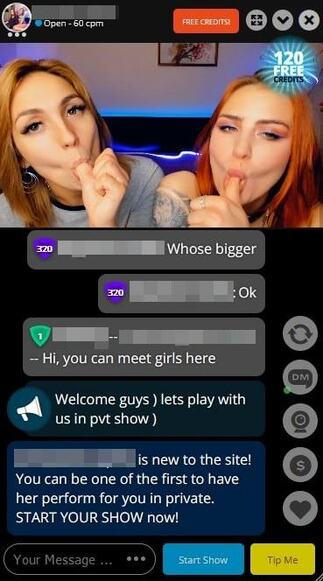 The search engine is excellent, and makes it that much easier to find your kinky queen. There are also a ton of extra features: A Library of HD videos, Forums all members can use, a dedicated Fetish category, a Schedule for the models you can set to send you notifications, and Fan Clubs you can join to get access to all the extra pics and videos of specific models.
Flirt4Free has a beautiful big screen format coupled with crisp HD cams. Flirt4Free might be one of the more expensive options, but they don't compromise on quality. Currently, you can get 120 credits absolutely for free by just validating your credit card. If you actually go ahead and purchase something, you get even more free tokens.
Though Flirt4Free is absolutely a premium level site, the free rooms can easily be considered freemium, as so many include fully exposed action. You can even find super cheap private chats coming in at only $0.50/min, but the site-wide average is $5.00/min. We also recommend getting a VIP Membership that provides multiple perks, like unlimited access to recorded shows, 150 credits each month, 200 free videos a day, free access to one hour shows with your chosen celebrity cam performances, access to VIP only promos and discrete cam to cam action in public shows.
Other great ways to save is choosing Voyeur Mode or Group Shows. With Voyeur, you can spy on someone else as they have their own private session, and in the Group Shows (There are several kinds), you can enjoy a semi private show with multiple members all pitching in by tipping so the party can real kick in to high gear. Another little bonus - You can pay with a gift card - A rarity in the live cams world.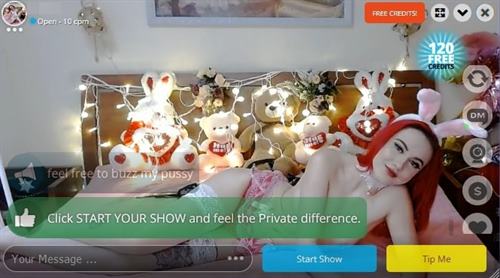 The site offers a fantastic mobile version, and an even better mobile c2c at no extra cost, and compatible with all iOS, Android, and Windows phone and tablet operating systems. Accessing Flirt4Free over a mobile or tablet device is simply done through your phone's browser. There is no app installation required. Once in a girl's webcam room, you can quickly swipe left or right to move through all the online models. And just about every feature available through desktop computer access will be available through the phone too, including cam to cam.
Flirt4Free is the perfect site for your cam to cam experiences, for new users and seasoned veterans. The mobile version has just the same fun features as the regular site, and is a joy to use. For more, please read our full Flirt4Free review.
---
ImLive.com

ImLive is a premium live cam site that gives it's members the feeling they're being taken care of, with plenty of low cost private and group chats, model Discount Clubs offering special rates and promos, and a loyalty program that rivals most others with fantastic perks and discounts. ImLive is even launching a brand new promo of 50 free credits to any new member that registers and validates a credit card.
ImLive is overflowing with cool features that are completely unique, such as the Fulfill Your Fantasy feature which lets your auction off your wildest fantasy. All you have to do is select the Discover ImLive button on the top of the page. Scroll down until you get to the Fulfill Your Fantasy box. Once you click on this, you just write in your deepest, darkest desire you'd like a cam girl to make real, and wait for the models to start submitting price quotes and even helpful suggestions to bring your fantasy to life.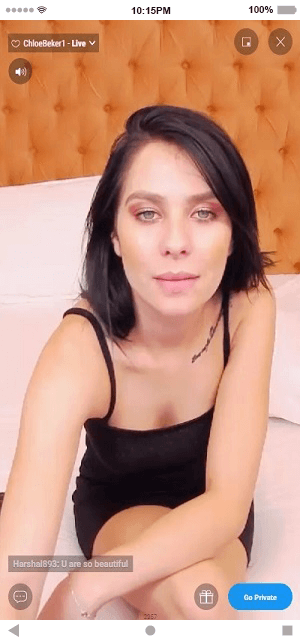 Another great offering is the Multi-User Chat, unique to ImLive. You can watch 6 open rooms at the same time. You can also choose the paid version for only $3.00 a minute and watch 6 private cams, just for you, at the same time.
Rates at ImLive are cheap, averaging at $2.25 a minute, and you can even find models (Newbie models especially) who are starting out with prices at just $1.00 a minute. All rates include c2c.
If you join a model's Discount Club, cheap can sometimes become pennies a minute for a live chat show. Once you find a gal you fancy, pay a few dollars a month to join her Fan Club. Benefits include significant discounts off her private chat prices that can reduce chat rates by up to 60%.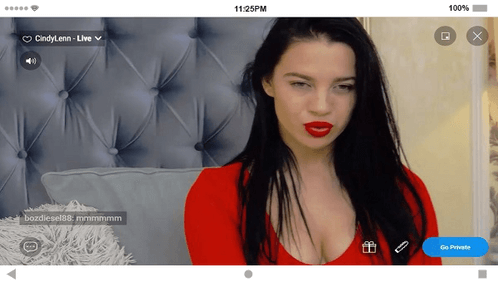 The ImLive mobile version is compatible with iOS, Android, and Windows. Features of the mobile platform include an option to minimize the video chat, which creates an overlay of the current room in the bottom corner of your screen, so you can continue to browse the site while keeping an eye on the what your lady is up to.
ImLive has always been a site to embrace new tech, and insure their members have the best live cam experience, and the new mobile interface and cam2cam capabilities are no different. Please enjoy our full ImLive review.
---
xLoveCam.com

XLoveCam is a European chat site featuring European models, and so you can easily find models that speak other languages than English. Also, the site itself is translated into 27 languages. There are over 600 models online most of the time, which makes selection extremely wide, and simple using the excellent search engine which allows you to filter categories such as Best Rating, HD Videos, Number Of Fans, and gender categories such as Couple, Threesome, Lesbian and Male Couples.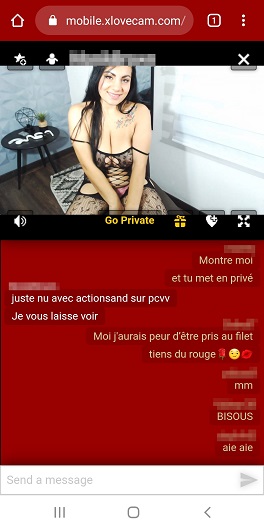 Despite the fact the this is a premium site, there's plenty of free action in the open rooms. Once you register (No credit card needed) you will have most of the site at your disposal, as most of the rooms are free. Even though, in general, free rooms are not supposed to contain explicit action, this site pays no attention to such silliness, and most hosts are more than happy to go bare and put on an amazing free live chat show. And don't forget that in each room there is a "Zoom" button, which you can really take advantage of.
There are scheduled events every Monday which run 24/7; where the the theme is Topless, & the action gets crazy. Models who have signed up can be seen without their shirts & bras for the entire day. Most events feature over 1,000 amateur models that register, and lots of promos and special deals along with them.
It's another top live chat site to offer variety as far as video quality goes that include high definition video streams. What you do get on XLoveCam that we haven't seen on too many other sites, is the ability to Zoom In Video. It's a nifty in-screen feature where users can get close-ups of their favorite girls.
There are two options to take your chosen lucky lady into a one-on one: A private chat that others can "spy" on, and an Xclusive show that is guaranteed to include only you and that model that tickles your fancy. The next level of the live show extravaganza is the holy grail - c2c - By clicking on the little webcam icon once the show has started. Of course, you can also turn on the mic button so she can hear you, as well. On average you're looking at just over $2.00/min for a c2c show, with some of the funky females asking a mere $1.00/min.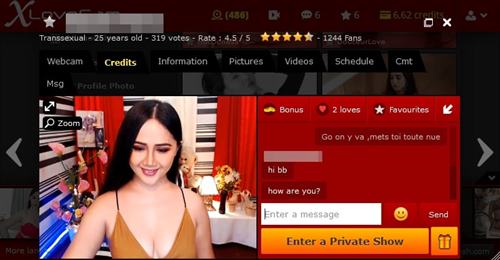 xLoveCam over mobile is compatible with all iOS, Android, and Windows phone and tablet operating systems. Though the site is not the most sophisticated in design, it's mobile version is well made and easy to use. You get the same excellent search engine, you can choose how to view the live chat, and if you want to message the model the chat box appears "transparent", so you can still watch your luscious mama doing her thing.
xLoveCam is a great hang-out kind of site, feeling down to earth with the low costs, though still streaming in HD mostly, and providing a great mobile version, too. Another added bonus is 24/7 customer care, and exceptional service. For further details, check out our full xLoveCam review.
---
Conclusion
The above five sites can be summed up like so:
LiveJasmin - Premium at its best with pro models that know their stuff, but the cam to cam costs extra.
Flirt4Free - Premium meets freemium with impeccable HD quality and plenty of entertainment features.
ImLive - Premium features galore and lots of promos and deals for users, and lots of low cost chat options.
xLoveCam - Premium features and search engine with freemium pricing, great European models, but at times HD can get tricky.
CamSoda - Freemium to the max, free action, cheapest prices possible, and amazing amateur models. No charge for desktop or mobile 2 way audio/video.
As you may have gathered, we are partial to a few key elements in our cam to cam sessions - quality, price, and models. All these three elements shine on CamSoda, which offers mobile 2 way cam chats at no extra cost, along with free rooms, great HD quality in most rooms, and amateur models that are nothing if not pros at their craft. CamSoda is the clear winner out of these five, and though we heartily endorse all, CamSoda is available and enjoyable to anyone in search of a cheap, quality, fun experience.