Best Cam Sites for Mobile Devices - Chat Sites for Your Phone
last updated
January 05, 2021
The best webcam sites are the ones that have been optimized for viewing on your phone. We visited each site to test the communication tools available on mobile. Here are our picks for the very best video chat sites to access from a mobile device, in terms of cam girl variety, user interface, and the streaming quality.
---
CamSoda.com

CamSoda performers do not have strict video quality standards they have to follow, but most do broadcast in at least 720p. The models working on the site are from all over the world, with a predominance broadcasting from the Americas, North and South. And most notably, CamSoda is among the very few sites to offer cam2cam over a mobile device.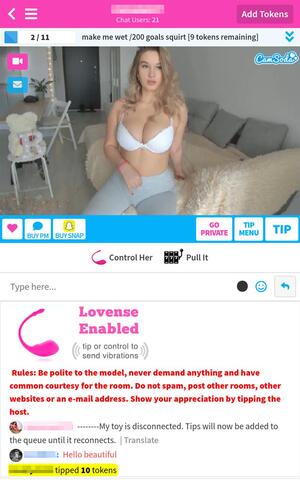 CamSoda is a new site so they are always trying to new things. They have big brother style voyeur cams, VR cams, and even hologram cams. These features come and go, depending on their popularity. One of the newest things they introduced is language lessons. You can get your favorite cam girl to teach you her mother tongue. That way, a woman can help teach you how to pick up women in Spanish, Italian, French, or any other language you choose to learn.
The one thing that irks us, is that many of us find the tip sound annoying. Whenever a tip is given it makes a gurgling soda pop sound. We understand that it's a gimmick, but it some of us muted their phones after a while do to this. You should check out the site for yourself to see if it's a deal breaker for you, you can always upgrade to VIP and turn the sound off. The keyboard is also not set up in the ideal way, as it removes precious viewing real estate when you need to type.
---
LiveJasmin.com

LiveJasmin was designed to look like a glamourous photo shoot. This stunning quality of experience is not lost when viewed on your Android or iPhone. While most chat sites let their hosts broadcast in whatever quality they want, LiveJasmin has standards. All models broadcast at a minimum of 720p, with many going for the full 1080p. When accessing the site from a phone's browser, you'll be prompted to download the LiveJasmin Free Mobile App. Whether you interface with a browser or the app, the available cam2cam feature over mobile will be your new best friend.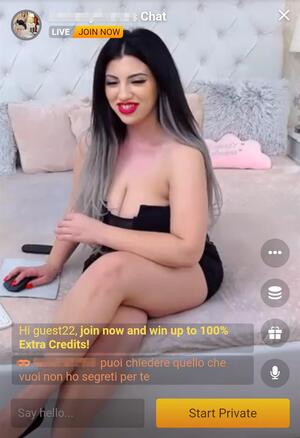 On LiveJasmin, there's two ways to chat, either vertically or horizontally. The image above is the horizontal view, it gives you the standard view you would see if you opened the page on your computer. You get to choose if you want to view in portrait or in landscape. If you open the site vertically, you get an up close shot of the model. At first it seems counter-intuitive to have a portrait picture, but it adds a sense of intimacy which can't be reached otherwise. If you don't like the close up, double tap on the image, and it will zoom out to a smaller screen.
The negative?
Actually chatting on the LiveJasmin mobile site can be a bit of a hassle. They keyboard extends to cover a huge part of the screen, making it impossible to see what is happening while you type. Double tapping the screen will solve this issue, but you won't get that beautiful close up anymore. Another way to remedy this is to go into a private with two way audio. That way, you won't have to type at all.
---
Flirt4Free.com

Flirt4Free is quickly becoming one of our favorite xxx chat sites. It features big screen videos and high quality HD cams. Everything on the site is neatly organized and clearly labelled, so you know exactly where to find things and how much everything costs even before you make your first purchase. Flirt4Free stands in the middle ground between free chats and private chats. Some models strip in public, some don't. The girls have a lot of say over the types of shows they run.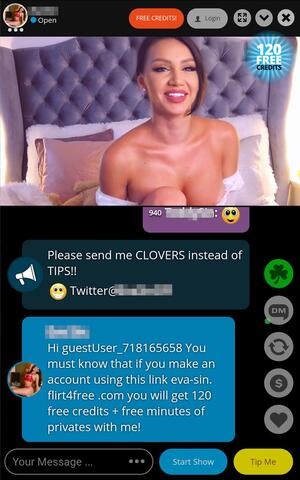 Flirt4Free has a great selection of models and a wide variety of price ranges. It has among the cheapest mobile sex cams as well as the most expensive. Navigation on your phone is simple to do, it is clear that Flirt4Free gave their layout some thought. When you turn your device sideways, you'll have the option of switching to full screen by clicking on the video itself. When watching on the phone, you have the option of rewinding the video back to a previous moment, so you can keep rewatching your favorite parts.
However, while navigating is simple, typing in the chat is not. With the keyboard open, you will notice that a section of your video will be cut off. But at least the video won't jump up and down while you type, you can just scroll up and keep typing. It's advisable to confirm what is going to happen in private, by chatting a bit first using the phone's keyboard. Nothing is worse than paying to watch a show, and feeling disappointed.
---
ImLive.com

Always inventive and groundbreaking, ImLive.com was one of the first sex chat sites to launch a fully optimized version that was compatible with iphones, Androids, iPods, iPads and just about any other device you can imagine. As an older adult chat portals, ImLive has among the largest collections of models. We aren't just talking about registered models, there's often over a thousand women online. ImLive also happens to be a contendor for the cheapest mobile sex cam sites. Sign up through our exclusive link and get 30 free credits.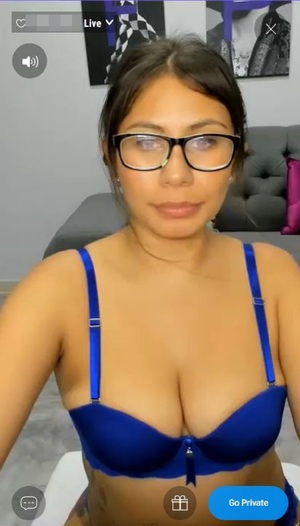 ImLive doesn't have HD cams in every room, but what it does have is ease of use. While other sites focused on just making the image pretty, ImLive built a mobile platform where you can actually talk to the model without covering half your screen with your keyboard. When you hold your mobile device vertically, you will be able to chat as much as you want, when the action starts in private, flip your phone sideways and enjoy the full show.
So, what's the catch?
A lot of the rooms that aren't HD can look awful. You would think that rooms that were pixelated when large would look good when squeezed down onto a smaller screen, but you would be mistaken. Finding good quality cams on ImLive can be a bit of a mission. None of the chat rooms are labelled to state if they are in high definition or not.
---
LivePrivates

LivePrivates is another great contender in the list of best mobile sex cams. The site features a beautiful layout of gorgeous women, all of which strip on cam. Regardless of if you are watching on your android, iPhone, or tablet, you will be given a flawless display of HD cams. LivePrivates maintains high quality standards, models can start broadcasting with lower quality camera, but if they will have to upgrade if they want to survive on the site. LivePrivates has a close up view when viewed in portrait, and a normal view when viewed sideways.
If you want to chat, you are going to have to view LivePrivates with your phone held upright. When you open the keyboard, it minimizes a bit of the view window and obstructs your ability to see the webcam model of your choice. You can use LivePrivates with your mobile device held sideways, but you'll notice that you don't really have much space to see what's happening on the screen. You're definitely going to want to see what's happening on the screen, otherwise those HD cams are going to be wasted.
However -You will notice that some of the image is cut off when you are viewing these mobile sex cams. On LivePrivates, when viewed sideways a bit of the image at the bottom is cut out and when you are watching upright, a large segment of the sides is removed. When you are in a private on your mobile, there models get a notification so that they are aware. They will perform in the center of the screen so that you can see them. If you want to zoom out, double tap the video feed.
---
xLoveCam

xLoveCam is the newest member to join our club of the best mobile cam sites, though hardly new to the game. It's one of Europe's leading chat sites filled with attractive European girls; with a platform that works just as well on laptops, as it does on iOS & and Android devices. And although it's advertised as a premium site; there are some models who blur the lines - and openly display hanky-panky that goes on in their open rooms. Except for themed Topless Mondays where you get to see many participating models, with their assorted milk-jugs proudly on parade.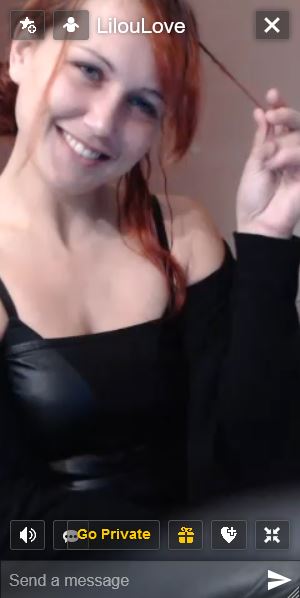 When it comes to sending messages, your best bet is to view the model in portrait mode. With your phone held upright, the screen is split equally between the keyboard and playback screen, with an image that's been reduced in size so that you don't miss out on the babe and her assets. When you expand to full screen mode, you get a zoomed in shot of the model & the chat continues to ghost over the playing images, but you can remove it and focus 100% attention on the girl - with just one touch of the screen.
Landscape mode is where it sadly falls short of the mark. The screen opens up 50/50 with an image on the left, and a texting window on the right. As you send a message in this mode; your keyboard snaps open, and the image is reduced to a tiny square, which is then further obscured by icons of features available in the room. Going full screen is a bit better, but not much. When you send messages, you're faced with similar problems as before, except this time only about a 1/3 of the image is available as you are typing, and then messages are once again ghosted over the playback window; but again, easily remedied. xLoveCam offers private c2c dates from your mobile phone which really gives this site an edge.
---
Cams.com

On Cams.com, you can do anything through your smartphone: Watch shows, free chat and even add funds to your account. The Cams.com site was designed to be dynamic. That means that no matter the size of your screen, the content on the screen will stretch or squeeze to fit it. If you have been on Cams.com recently you will know that they have made massive upgrades to their interface so it is now modern and clean. The visual upgrade extends beyond the desktop, it looks great on your phone too.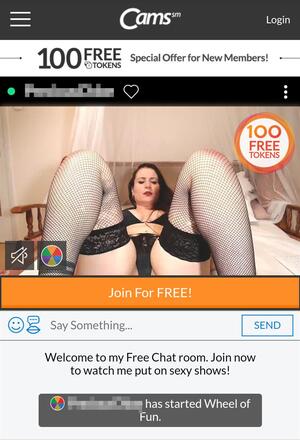 When typing a message to your cam girl of choice, you will notice that the chat window stays in the top right hand corner. Unlike other mobile webcam sites, you can actually see what you are writing as you type it out. While typing, the video screen becomes smaller, but you can still watch everything happening. We recommend watching the shows with your phone turned sideways.
Be forewarned, many of the girls have it setup so if you click the screen a tip is automatically sent. This makes tipping easy, but can often mean that you will accidentally tip. This can be especially annoying if you too suffer from fat fingers. Don't worry, it's not your whole screen that does the auto tipping, just the portion which displays the video feed.
---
MyFreeCams.com

While MyFreeCams is no longer in its glory days, it still has some of the best mobile sex cams that you can find. In fact, the MyFreeCams mobile site is cleaner and easier to navigate than its desktop site. MFC looks great when viewed on the mobile phone, there's always thousands of models online, but looking through them is a breeze. Everything is compiled in rows of threes, instead of the overwhelming display you see on the desktop.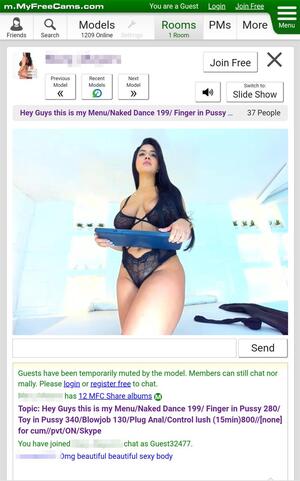 MyFreeCams should only be viewed with your phone held upright. When you turn the screen sideways, extra space is given to the chat window, making the video smaller. If you want to type anything, the video also goes smaller, but at least you get to still see what is happening, unlike sites like LiveJasmin. If you type with your phone in the landscape position, you will see that the keyboard covers everything and that you can't watch the feed at all.
MyFreeCams is very much a site focused on the free chat. Users band together to tip to reach goals and to make requests. Generally speaking, MyFreeCams is on the more expensive end of things when looking for private chats. Sadly, while viewing MFC on your phone, there is no option to make the video full screen, which is a major shame. You'll also need to tap the screen every once in a while, otherwise your your phone will go into power saving mode.
---
Chaturbate.com

One of the leading free sites today, Chaturbate is a modern powerhouse with thousands of registered models broadcasting live at any given time. As you should expect from any modern site, Chaturbate has invested heavily into developing a responsive mobile site. Chaturbate when viewed on your phone mirrors the quality you see when you enter the desktop site. Chaturbate has many HD cams, all of which maintain their quality when watched on your phone.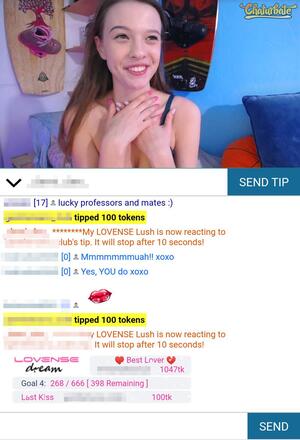 Chaturbate is a mobile friendly sex chat site geared towards free shows. You will find many women stripping and fingering in the free chat, but that's only when they are being tipped. This is the opposite of sites like LiveJasmin, where the models only strip in private sessions. The chat experience here is generally less personal, but there's plenty to see. You can still take most of the girls to private sessions, but when the rooms are bustling, you might get ignored.
If you want private sessions, Chaturbate is both good and bad. It has some of the cheapest mobile sex cams, starting at just 6 tokens a minute. But at the same time, the privates don't include cam 2 cam. Video 2 video chat can be a bit of a hassle on Chaturbate. You need to set yourself up as a broadcaster for others to be able to see you, the cam girl of your choice included. You can set up a password so that she will be the only one to see you. By the way - we have an entire article dedicated to cheapest cam sites, in case that's what you're looking for.
---
Stripchat

Stripchat is one of those mobile sex chat sites that you really have to struggle to find any fault with. To start,Stripchat lacks any of the issues that seem to plague most webcam sites nowadays. For example, writing in chat doesn't obscure the screen, and you the address bar goes away once you scroll down. This kind of attention to details is what makes Stripchat shine; Everything just works.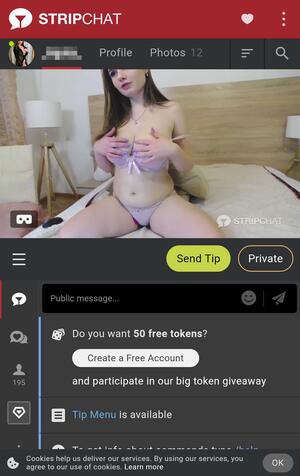 As a freemium cam site, Stripchat mainly competes with sites such as CamSoda and Chaturbate for your attention. This is a bit of a shame, though, as the quality and variety of Stripchat's private shows can give even the top premium chat sites a run for their money. Like Chaturbate, Stripchat has a massive selection of over 2,500 live cam rooms at any given moment. Unlike Chaturbate, Stripchat actually has c2c implementation, and it's freely enabled by most of the site's cam girls.
Overall, Stripchat is cheap, has a good selection of talents and above-average streaming quality. What truly distinguishes Stripchat from the rest of the sites is the fact that it's the only cam site that features VR chat. Do you have a VR headset? Then this cam site should be at the top of your list of sites to check out.
---
BongaCams

BongaCams is a European sex cam site with much to offer. With hundreds of webcam hosts online and beautiful HD quality in many of them, there are dozens of reasons why you should check out BongaCams. It is another freemium based site. That means that many of the hosts will strip in public once a goal is reached. There are full on solo girl shows, couples shows, and even transgenders on cam. BongaCams can be used in a huge number of different languages.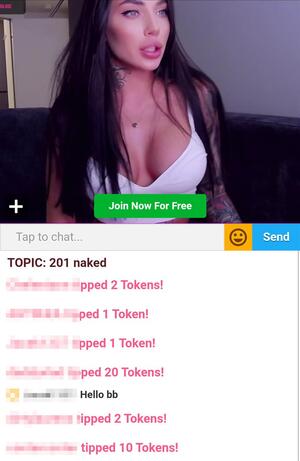 BongaCams is a sex cam site that is well optimized for your mobile phone. Scrolling through rooms is a breeze and you can clearly identify all the HD rooms. The HD camera quality on the site is among the best on this list. You can hold your phone upright to chat or turn your screen sideways for a better view. There is no full screen option for paying members, but either way you can turn your phone for a better view. You won't be able to type with your phone held sideways, but at the point you probably will be too busy to type.
BongaCams is currently has a promotion where you get free credits for making a purchase on your phone, but BongaCams is still one of the more expensive sites. You can type while watching sex cams on your phone, but some of the video is lost due to size constraints. We recommend tipping the set prices so that you don't need to say too much.
---
Sexier.com

Sexier might be one of the older sites on the list of sex cams for the phone, but it is not a site that you can afford to miss out on. Sexier's Frequent Fuckers Club make it among the cheapest mobile sex cams you can find. As you collect miles, you rise up in status and get more free credits per purchase. How cheap does it get? The Happy Hour Shows drop to a low of just 0.2 credits a minute, that's €0.20 a minute. The chat rooms are relatively empty, so you get plenty of opportunities for chatting.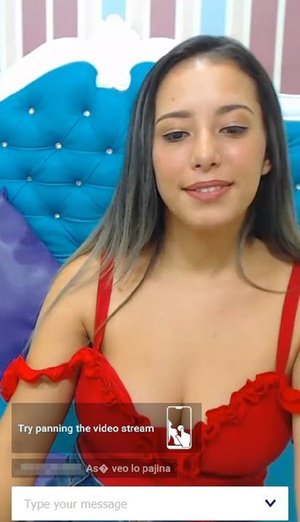 Sexier's mobile cams were clearly optimized for viewing on the phone. The navigation is sleek and easy to maneuver. You can easily pick out the webcam host you want. Once your choice is made, you can chat with her by typing on an interface that doesn't block the screen. We recommend watching vertically, as the screen does not increase by much when viewed sideways. Sexier's private sessions include cam 2 cam, so feel free to utilize that where ever you are.
The down side?
The video feed quality is less than stellar. There is no mention of HD cams anywhere on the site and that's probably on purpose. While Sexier does have HD rooms, they aren't labelled and they are rare. If you demand the highest quality video feed, we seriously recommend heading back up to LiveJasmin, where everything is HD. Otherwise, you'll have to settle for some good old SD cams at great prices.
---
Conclusion
Let's call it as it is: Desktop is out and mobile is in. Just look around you: Do you know anyone under 60 that doesn't own a smartphone, tablet or both? Mobiles are the real revolution of the past years and now people are using them for a lot more than communication. The adult industry has always been quick to recognize trends and sex cam sites have been trying to come up with a successful mobile platform for quite a few years. This is not an easy task considering that video chats call for a very specific interface and the small screen size remains an issue when visual details are essential. No need to despair though: The talented folks that allow us all to enjoy mouthwatering live sex shows on a regular basis have mustered up enough brain-power to do the impossible. Gradually more and more cam sites started to offer mobile platforms and the best mobile sex cams could be easily viewed on both Android and iPhone.
The remaining problem was how to find good-quality mobile webcams, because let's be clear here: Not every site that promises mobile chat rooms deliver. Very often you will be tempted to sign up, hoping that you can watch nude shows on the go, only to discover that what you get is a standard site shrunk to a tiny screen with no actual optimization. A great mobile site needs to be made with proficiency and to incorporate the right technology and features. It needs to be optimized, not just copied and it's sometimes difficult to identify the right options, especially when you're horny and can't wait to start chatting.
Our top recommendation to watch cam girls on your Android and iPhone is CamSoda. The site just simply provides a smooth and easy-to-use product. And the option to have a webcam2mobile connection where the girls can see you too, is undeniably cool.