9 Best Webcam Sites for Live JOI Shows in Private
last updated
October 01, 2020
To initiate a proper jerk off instruction session, you'll need to settle into a private chat with a girl talented in the art of seduction. Here, we've compiled our favorite JOI cam sites with the best dirty talking, masturbation coaches online. These sites have the best cam2cam and 2-way audio technology available, options to schedule an appointment, and safe and secure connections for your protection.
To get directions for touching yourself from women with an accent or while speaking their native language, then have a look at our list of webcam sites to find foreign language speaking webcam girls.
---
CamSoda - Rewatch Your JOI Chat Show, Unlimited

CamSoda is an in your face, loud and raunchy show that never rests. Here, you'll find girls working the cams, showing it all for free, and hoping to entertain the most amount of viewers to earn themselves some tips. When you do take a girl into a private show, you'll see if she is offering you the option to record the show you are about to have with her. Not all, but most girls make available this option. When you take advantage of it, CamSoda can record the model's performance she's giving you. And then, you can return back to it any time you want. This recorded performance will stay in your membership account's Media folder, for unlimited viewing.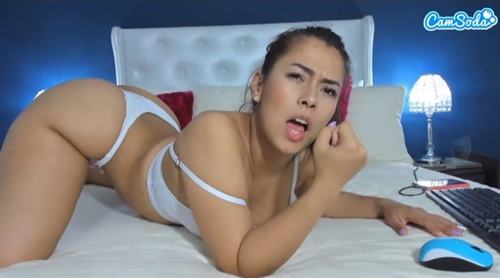 The unique offerings at Camsoda, include: exclusively produced pornstar videos, voyeur cams, and recorded video and picture albums of performers. The site works with a few famous pornstars to create exclusive porn scenes that are free to watch at any time. The Voyeur Cams are available to watch for free just like any other cam room. And the recorded content, that's for sale, is constantly updated with fresh material from the performers. Also, CamSoda tops our list of the top mobile sex cam sites, primarily, because the site allows you to activate your camera while in a show over your mobile device.
When you're ready to enter into a private show with a girl, you can make a request to go private. If she happens to be entertaining any number of other viewers, and making good tips, at the time of your request, then she may decline the offer. You'll just have to try again later, or schedule an appointment for a later time.
The option to schedule a private show may or may not be available. It's up to the model when she wants to make this feature present on her page. If she makes it available, you simply select the Duration, Day, and Hour of your choosing. The price of the time duration you'll have chosen will be deducted from your account and be kept in escrow. If the girl does not show for the 1on1 session, you're account will be refunded.
To find all the girls offering the option to schedule a private show, go to the Schedule Private selection. There are no traditional categories on CamSoda. There is a system of tags that label each cam girls room. Along with finding girls offering scheduled shows, you can search the tags or run a search for, JOI. This will query all the girls that have tagged themselves for jerk off instructions.
---
LiveJasmin - Masturbation Guidance From Super Models

LiveJasmin tops our list of the best sites to get yourself into a truly genuine JOI webcam chat, because the site makes certain crucial guarantees. Firstly, HD720p is the minimum broadcasting quality for the cam rooms, with many rooms streaming with higher rates. Next, when activating the 2-way audio feature, the model will hear you, and only you. Many other sites falter in this regard, by not requiring of performers to be sure that this feature is working as advertised. And last and most importantly, the girls are outrageously hot. LiveJasmin raises and grooms the models performing on the site. Many of them are tapped to be a part of the company's burgeoning foray into mainstream narrative film production.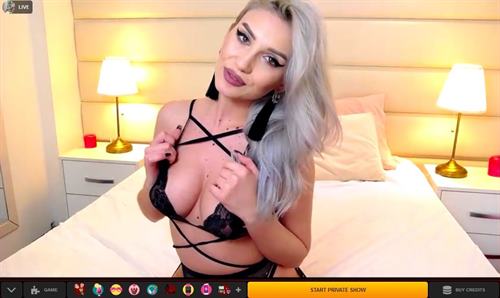 As a premium site, there are no free nude sex shows. But, chatting with the girls in their open chat rooms is free and unlimited. This site is made for those that are ready to pay, and not for those that are looking for as much free access to explicit material as they can consume before making even the smallest purchase.
LiveJasmin doesn't have to entice you with free nude pictures, or naked teasing in the chat rooms. This is a site for the serious consumer that is ready to engage in a fully immersive JOI session with extraordinarily beautiful women. The site is home to over 200,000 active models from all over the world, with close to 2,000 of them online at any time of day.
From lessons in whacking it, to getting cum eating instructions for afterward, searching for the best dirty talkers to guide you through your masturbation can start in the Fetish area. Take a look through the Dominant and Submissive categories to get started. Or run a search with the keyword, JOI. This will display all the available models ready to instruct you in how to tease, torture, and get yourself off.
---
Flirt4Free - Jerk Off Encouragement and Guidance

Flirt4Free is a busy site with multiple show types, fun chat room features, blogs and articles, a community board for posting cam girl recommendations, and a rewards program for highly active members. The site takes some of the better features from the premium and freemium sites, and brings them together to create a big arena of show choices.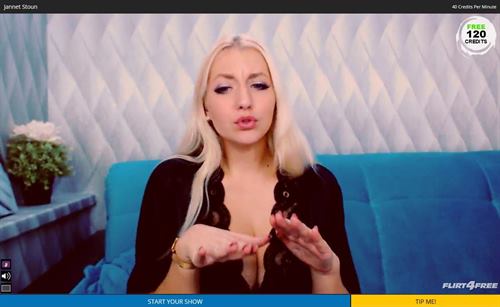 When the girls are working in the Party Chat or Group Chat mode, many can be seen hanging out in the nude, or in full-on explicit performances, entertaining the crowds for tips. You can watch for free or contribute. As you are browsing through the site, all the cam rooms are labeled with a tag, telling what kind of show is being offered at the moment. Hovering hover each preview picture will give more details on her current show status.
Joining a model's Fan Club will get you a big discount on her regular private show rate. As well, you see reduced costs on all her video-on-demand recordings, access to exclusive member content, chat text that appears in a different color, and be able to write on her wall for private conversations with her and her fans.
There is a BDSM & Fetish Play Education area where the Flirt4Free staff shares articles written on the full range of topics concerning all sorts of delectable desires. Here, you'll also find links to news and stories that can help further the exploration of your particular fetish.
Running a keyword search for JOI will yield too many results to manage. And there is no jerkoff Instructions category. Basically every girl on the site has tagged herself with the JOI tag. So, we suggest scratching any kind of pinpoint search, and just jump right into any cam room that catches your eye, and ask the girl directly, if she's any good at JOI lessons.
---
ImLive - Models Reply to Submitted Fantasy Requests

ImLive will get you into a private show at one of the lowest per minute show rates among all the sites we review. As one of the longest running webcam sites online, it has built it's reputation on cheap shows, a friendly interface, an extensive selection of fetishes, and a rewards program that gifts its loyal members with ever increasing discounts and benefits.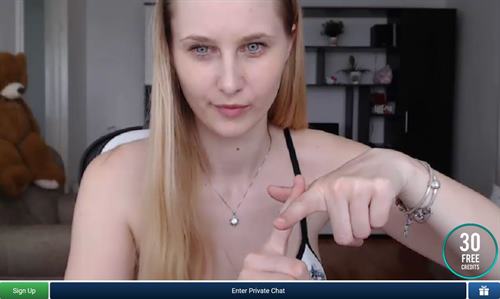 Submit your fantasy for the girls to respond to. At ImLive, the girls will come to you when you submit your fantasy request through the site's Fulfill your Fantasy section. Whatever your desires are, you can submit them into ImLive's system, and the girls that are willing to assist, will PM you their reply. As long as you leave your fantasy request open, any cam girl can review and write to you. During this messaging exchange is when you can discuss the scheduling, time block, and pricing for her services.
Another popular feature is the Multi-Viewer, which allows users to scan through 6 live cams at once. This feature works with all the free cam rooms, as well as in Sex Mode, where you can peek into the live explicit sex shows of ongoing performances. Just set the Multi-Viewer to the category of your choosing: Girl Alone, Girl on Girl, or Fetish & BDSM, as well as others, and then flip through all the active rooms with speed.
ImLive is among the few sites that actually has a Jerk-Off Instruction category. Within the main Fetish category, you'll see over 30 specific Fetishes. Similar to the girls ready to give masturbation encouragement, you'll see which of them are classified as Cock & Ball Torture guides, or Domination, Discipline, and Submission experts.
---
C2CPorn - A Powerful Resource For Finding JOI

This is not your traditional webcam portal. This is a cam site aggregator that pulls the webcam feeds and corresponding meta data of cam girls from a collection of some of the top sites we review. Why are we including C2CPorn on this list of the best places to find yourself an instructor to you help guide yourself in jerking off? ...Well, because this is one hell of a useful tool in searching through all the online models from many of the most popular and trusted sex cam sites in the world.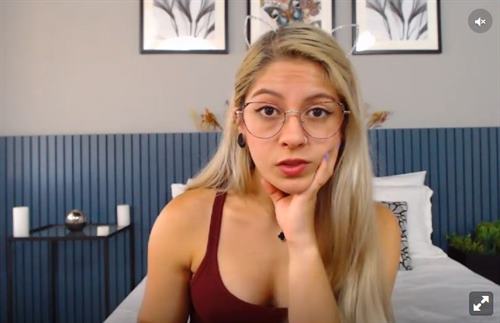 C2CPorn gives you an incredibly effective tool in finding a bountiful amount of those more rarified fetishes. While the other cam sites ranked here all have their fair share of cam girls that are versed in giving JOI, it's C2Porn that is going to offer you the largest selection.
While it's certainly a tactic to keep memberships at multiple sites as a way to increase the talent pool available to you, it can be a bit of a hurdle to have to login into any number of sites every time you go looking for any particular kind of performance act. C2CPorn, in part, recognized that predicament, and has delivered a product to help you scan through, what are now, 8 cam sites at once.
If you follow the link we provide, you'll be taken directly to the JOI query on C2CPorn. And when you want to use the site for further exploration with other requests, then expect an intuitive application that will get you fast results. First off, running a keyword search will result in all the models tagged as such. When doing this, make sure to activate the Online Girls toggle switch found near the search function. When done, you'll see only the models that are currently online. The other method for searching employs the site's smart filtering system. From the list of physical attributes and kinks provided, you can narrow down your search with results that will match all the filters you've selected. As you select or unselect any of the filter choices, the results will automatically present themselves. Just keep adding filter options from the available list to find precisely what you're looking for.
---
LivePrivates - Professional Jerk-it Lessons

LivePrivates delivers an impressive group of high-class models broadcasting on a platform that promises nothing less than high definition quality video streaming. The site is a goldmine of remarkable talent. The models that come to perform on LivePrivates know they're coming to work on a site that respects their beauty and abilities, and will support them with first rate technology and service. Each model presents herself operating from a well-manicured setting with an artistic flare and studio quality lighting. And within the individual profiles pages, you'll find non-explicit glamour photos demonstrating the model's range of expertise and flare.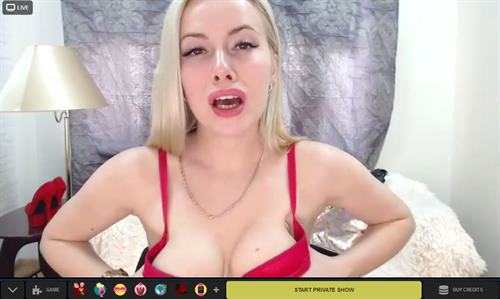 Though the models are professional and friendly in the free chat space, they know not to suffer fools. These girls appreciate themselves and value their time. As only you know the specifics of what you want to get from a private show, you'll need to make yourself clear during the free chat time. That's the time to ask for exactly what you want.
At LivePrivates, the webcam2webcam option is included in the per minute rate during a 1on1 session. If you want to go keyboard-free and communicate with your microphone, so she can hear you, it'll cost you an additional fraction of her regular rate.
LivePrivates has a fair amount of categories to search through. All the typical choices one would expect are available. You can try searching among the sites Dominatrix or Submissive girls to find some that can handle your needs. But we don't want to limit you. A girl doesn't get to be a LivePrivates model if she is clueless in how to talk instructive and dirty. So, start your search anywhere. See who catches your eye and go from there.
---
FetishGalaxy - Jack off Guidance with Domination Experts

FetishGalaxy competes well to take its spot as one of the best JOI cam sites. This is a dedicated fetish site with close to 30 fetishes categorized. The girls on the site are all playing their parts by creating an atmosphere of the strange and bizarre. In their rooms they assemble the settings of dark and mysterious scenes with all sorts of sex devices and toys displayed. Most of them are outfitted to play the dominant or submissive roles they exhibit. There is no 'normal' here.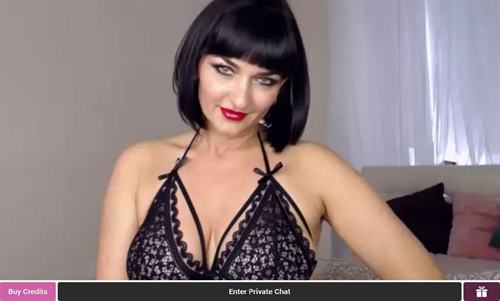 While it's free to chat in the open rooms, you'll have to start a private show to see any nudity. But, before you enter into a one on one show, you do have access to see some nude pictures in each models' profile page, where they curate a photo album with snapshots from their cam room, mixed in with glamour shots. A small thumbnail preview picture is shown to non-members. To see the photos in large, you'll need to be a basic member.
By creating a username with an email sign-up, you can open up all the picture content available. All photos, including the nudes, are then free to go through. Browsing through these albums is a great way to get introduced to each model and discover the level of depravity she's ready to partake in.
FetishGalaxy is the first site in our listing that actually has a Jerk-off Instruction category. But, as is the case with all the sites we cover, that doesn't mean that those not categorized or tagged within a particular act, won't perform said act. Girls in the Humiliation, Domination, and Submission categories will also be great places to find a masturbation guide.
---
Chaturbate - Best Amateur Jack-Off Teachers

Chaturbate is a freemium powerhouse of a site. Today, it is the most visited adult webcam site online. With its stunning broadcasting quality and totally free to watch sex shows, it's no wonder why so many flock to enjoy its live performances. Though Chaturbate is mostly adored for its free shows, where tipping is encouraged, the performers will happily join you in a private show for some 1-2-1 jerk off lessons.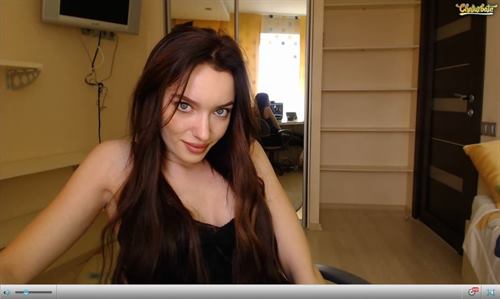 When you do request an exclusive show, you'll see the chat room rates before the show starts. Expect to see a minimum time block you must agree to before continuing. On Chaturbate, all the performers set their own rate, and minimum time block for a show. You can expect to see the minimum time blocks to be anywhere from 5 minutes, to 20 minutes. Very few girls will do a private show for anything less than 5 minutes. But, if you look around, you can find some for less.
Chaturbate is currently the only sex cam site providing a platform for its performers to stream in 4K video. If you're set up to see ultra HD video, you can enjoy watching these girls in some of the most clean and crisp webcam shows seen online. While the girls showing in 4K or even 2K, are minimal, the vast majority are broadcasting in at least HD1080p.
When running a search on Chaturbate, you've got to make sure to add a hashtag symbol as a prefix to the keyword searched. The site has no category system in place, it only uses a list of tags to identify each girl. So, when searching for the jerk off instructions, or JOI, do it by searching for, #joi. This will yield all the girls who've actually tagged their rooms as masturbation class rooms. If these results don't satisfy you, then just roam the site, chatting up girls, to find your perfect instructor.
---
Streamate - Schedule a Webcam JOI Session

Streamate is one of the original webcam platforms. This is a behemoth of a site with always near 1000 models online at all times during the day. From the early days of Streamate til now, the site has always worked to offer its performers and members the most popular and best features one would expect to find on a mega cam site. If you like to breakdown the girls you like by geographic region, camera quality, or languages spoken, it's made easy here. If you appreciate a well thought out selection of categories and tags, that's this place. And if you like extensive model profiles, complete with free picture and video content, then start here.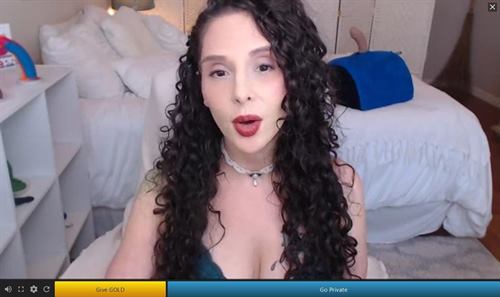 Getting into a JOI relationship with a cam girl often requires setting an appointment. Especially if you've found a girl that you'd like to continue with. At Streamate, each model has in her profile a schedule of hours she'll be online each day. When you've found a girl you'd like to follow, you can refer to her schedule to see when she comes online.
While chatting with the girls in their open chat rooms is free, they won't get naked until you take them into a private show. You may catch some titties here and there, but only when the girl is trying to entice viewers to join into her upcoming group performance. When requesting to start a one on one show, you'll be shown two options: Private or Exclusive. During a private show on Streamate, other members may still chat with the model. If you want a true 1on1 encounter where no other member is calling for her attention, then you'll have to start an exclusive show.
As you're looking for jerk off encouragement, then going exclusive is really the only way to go. To get started, simply search for JOI in the search bar to see all the models labeled as such. At Streamate, the girls get to fill their My Expertise area of their profile with all the acts they will perform, and members get to recommend tags. When you search a keyword, it will look through both of these fields.
---
Activating Your Webcam
How is she going to instruct you to stroke yourself off if she can't see you? Activating your webcam during an exclusively private chat can only add to the experience. If you want her to guide your treatment of yourself, then she's gotta see what she's dealing with. If you have lotions and oils, make sure to let her know. If you're into a bit of self-torture, with clamps, ropes, hot wax, electricity, or any of the myriad of ways in which you can deliver the pleasure of pain, then she's got to be able to see what you've got.
Most sites we've ranked in this list, include in the price of a 1on1 show, the option to activate your webcam. You can turn on and off your webcam anytime you want. Turn it on for a few moments to give her a peek, or stay connected with her all throughout your session. Where turning on your webcam may be included, on some sites, it may require an additional per minute rate for her to hear you. Of the sites that do ask for an added fee for 2-way audio, it is only a small fraction of the models' regular private room rates.
With CamSoda and Streamate, the option to enter into cam2cam mode all depends on the performer. The girls working on these two sites may or may not make the option available, and they may or may not charge extra when the option exists. On Chaturbate, you can work your way into a webcam2webcam show, only when you create your membership account to be set up as a broadcaster yourself. And then, in your account settings, you set it so that you don't appear to anyone other than those whom you invite to see your broadcast.
---
Cost of JOI Chat
The price of guidance and encouragement while pleasuring yourself can cost less than a cup of coffee -- for those that only need a minute. For those needing a bit longer, you'll want to be aware of what the girls are charging on each site.
Here, we've listed the minimum buy-in package to get started at each site, the per minute rate of private chat, and the cheapest rate you'll find in the low-priced cams.
While it's clear that every site has its own rates, it's important to know going in, that on each site you'll be able to find deals and discounts of all sorts. Cam sites are always running specials or promotional events. Or, the girls themselves are offering discounted rates if a block of time is purchased. The best way to keep yourself in tune with whatever deals or specials are coming, is to just be connected to the site through email or text notifications, or by simply checking in often.
---
Get Instructions from Girls with an Accent or Speaking Their Mother-Tongue
All instructive mistresses should speak in a German accent. If you're looking for a change and are ready to explore the full range of possibilities, then it's time to look past what you're used to. Getting jerk-off instructions from women with an accent or speaking a language you're familiar with can add a whole new dimension to your private sex show.
A cold Russian accent, a seductive French accent, a lustful Italian accent, a spicy Spanish accent, or the harsh accent of a women from Deutschland may be just what you need your JOI encounter to possess.
The following articles we've published show how to find girls by their country of origin or the languages they speak, on the sites that have them.
---
Conclusion
Jacking off by yourself has been fun. There is no denying that. And may you have a long and healthy jerk-off career with yourself. But, maybe there are some ways to treat yourself, that you yourself would have never come up with. Maybe you're due for a guided masturbation session with a professional wank instructor.
If you're looking for an interaction that would be more hardcore, we've put together a ranking of the best sites for getting into a session with performers skilled in administering cock & ball torture instructions.
For this kind of encounter, you'll need to ready some things around you before entering into a private show. If you're new to the idea of torturing your own cock for pleasure, then you may not yet have any of the purpose intended items in your possession. Things like hanging weights, spiked cock rings, ball-crushing devices, or electric shocking equipment are used by more seasoned masochists. But, you can still bring some lighter torture devices to the show. If you've got clothes pegs, mouse traps, or any kind of clamping or pinching device lying around, then you're set to start. Ropes, shoelaces, and elastic bands are perfect to use if the girl guiding your jacking-off time wants to get creative with you. You can level up further by introducing ice cubes, toothpaste, hot chili sauce, or hot wax into the equation. Whatever you do, or where ever your imagination takes you, having some options lying around that are not just oil and lotion, can definitely enhance your beating off lesson.
Also, if you get off on being the target of humiliation, and disgust, then you may enjoy a show with a model that knows how to make you feel ashamed for what you're working with. For our recommendations on the best sites to find a girl to make fun of you, then check out our listing of our favorite sites for small penis humiliation.
Are you ready?
Our time with you has come to an end. It's now your time to take our advice and go out there into that big world and jerk off all over it.
The sites we've selected to help you get there all have their own unique offerings. Where some sites deliver more professional looking and polished models, others show an appreciation for true amateur performers. Some sites go all out with their video streaming rates, with others offering only standard quality streams. And some sites are great at rewarding loyal members, while others are great an incentivizing certain cam room activities and games.
Whatever the case, each site on this list has it's own thing going for it. It only depends on you and what you're looking for exactly, to decide the site to best suit your needs. For us, CamSoda makes a great case for being that one site that has it all. Great video quality, fair prices, and extraordinary women.