Let's Make Camming Great Again! | Best Cam Sites in 2020
last updated
February 17, 2021
The innovations and improvements that we've seen this past year from all the cam sites we review, are exciting indications of what to expect in the year 2020. The 'Roaring Twenties' of last century changed the way people dressed, danced, drank, and left us with the enduring image of the Flapper Girl. Now, while cam girl sites might not change the world in the next decade, they sure are working to improve your online encounters.
Here, we rank our 10 favorite sex chat sites for this year. These are that sites that show a commitment to excellence with video streaming technologies, membership benefits, chat room features, mobile device access, alternative payment methods, and there's even one site that is still trying to make virtual reality webcam session happen.
CamSoda.com

This year, we've got to move CamSoda into the number one spot. When producing our ranking of the best webcam sites for 2019, we had CamSoda in the #2 spot. But this past year has seen CamSoda's selection of models grow, an improvement in webcam broadcasting quality, and the site still has the best preview gallery system online, giving video playback into all open cam rooms at once.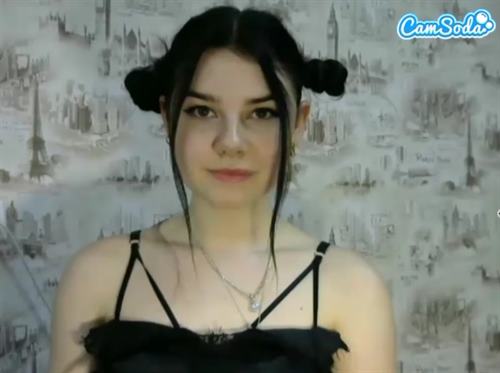 CamSoda is a freemium cam site that opens up the public chat rooms to fully explicit performances. The models have the choice or running public shows to work their viewers for tips, or to accept a member's request to enter into a private session.
Private chats average $3.00/min. The cheapest 1on1 shows go for just $0.70/min. The lowest priced buy-in of CamSoda Tokens is $5.99 for 50 tokens. There is a VIP membership option that eliminates ads, let's you send PMs and adjust the tipping volume, and gives you the ability to go into a 'stealth mode' for anonymous tipping and chat. This monthly VIP membership costs $19.95/month, and it comes with a one time gift of 200 free tokens. For new members, the site offers some free tokens for completing a credit card verification. This promotion fluctuates between 25, 50, 100, an on up to 200 free tokens, throughout the year.
Reasons why CamSoda is out top pick in 2020:
Cam2cam and free show recordings are usually included in the regular private chat rate
Cam2cam is available over mobile and tablet. Doesn't cost extra to activate
Chat room HD toggle switch to turn on/off high quality streaming
Whole page preview system. Thumbnail video peeks into each room
Customer support - live chat for billing issues, FAQ and email for everything else
Alternative payment methods include accepting PayPal and cryptocurrency
---
LiveJasmin.com

LiveJasmin was our top pick the last few years, and has only fallen to the number two spot for one reason. Sometime in the middle of last year the site decided to charge extra for activating the cam2cam feature. The site is still as awesome as it every was, with the most glamorous models online, exceptional webcam streaming quality, and a clean and simple interface that doesn't seek to distract you from the action of the models.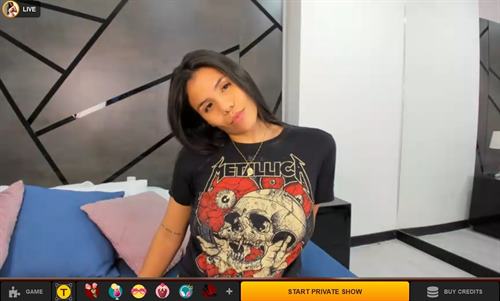 This is a a premium cam site all the way. There is no free access to nude girls giving sex performances. It's free to chat with any model while she's in her open room, but to see them get explicit, you'll have to initiate a paid-for private session.
Going 1 on 1 with a LiveJasmin model averages $3.60/min. The cheapest rooms, usually newer models to the site or those that select to go on Sale, go for $1.20/min. In privates chats, activating your webcam and microphone for a c2c show, will cost extra. Depending on the model, it'll cost another $1.20 - $2.40 a minute for each feature, separately. Currently, the site is running it's Spin the Wheel promotion, which gets big bonuses on your first purchase. And, just for validating a credit card, you'll be gifted 10 credits ($12.00 value).
LiveJasmin brings the best premium features for live chats
High quality webcam streams, with an HD toggle switch in the video player
VIP shows are open to all, and access can be had for a little at $0.10/min
Guaranteed two-way audio connection when you pay for the add-on feature
Cam2cam is available on Smartphone and tablet devices. Costs extra
Professionally shot glamour photos of each model are free to peruse
Exclusive models that only appear on the LiveJasmin platform
Accepts crypto, and exchanges brand name gift cards from stores like Walmart and Target
---
Flirt4Free.com

Flirt4Free has always kept its place on the top list of the adult cam sites operating on the web today. It's a premium site with 400-600 active rooms around the clock. These rooms are populated by gorgeous cam models of all genders giving multiple live performances that range from Public, Party and Group Shows to 1 on 1 chats where you can enjoy exclusive time with them.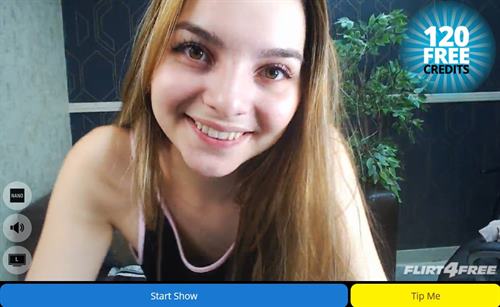 Flirt4Free has some interesting live cam options, among which are a whole section dedicated to strange and kinky live shows, found in the Fetish Community, and a Live Cam Mansion allowing you to spy on hot girls running their daily lives in a fancy villa outfitted with candid cameras that operate 24/7.
Private chats average $5.00/min. You'll have no problem finding much cheaper performers. The cheapest ones will charge you $0.50/min. You won't be required to pay extra for cam2cam. There are additional ways of reducing chat costs. If you don't mind sharing the model with other users, you may opt for a Multi-User Show, which will save you around 30%. You'll be able to open your cam on condition that you're the one who started the show and others joined in later on.
What makes Flirt4Free a top-rated cam site
Multiple chat options including the much cheaper Multi-User Show
Good streaming quality with many performers using hi-def webcams
Cam2cam doesn't require additional payment
Plenty of site features among which are a whole section dedicated to fetish live shows
Highly beneficial reward and VIP programs meant to enhance user-experience
The site allows you to pay with brand name gift cards
---
ImLive.com

ImLive was and still remains one of the leading sites in the cam to cam industry. It hosts 600-800 breathtaking performers at any given time and provides electrifying live shows of various types including a Multi-Viewer allowing you to watch 6 models simultaneously and Candy Shows for which you buy a ticket in advance with other users and wait for the show to begin. Other features include Groupcams and live Celebrity Shows. All of that comes with low prices compared to other sites.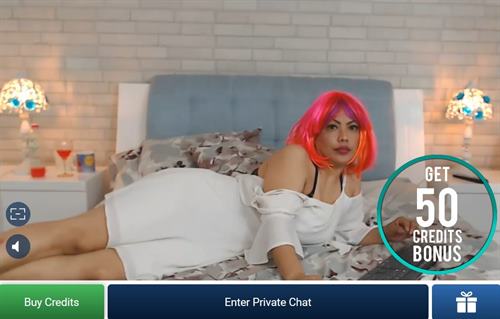 ImLive has an awesome Loyalty Program that highly benefits its regular users. Its rationale is simple yet effective. Using the site's paid for features gives you points. These points raise your membership status. The higher your status is, the more perks you get including credit bonuses and discounts on chat rates and video shows.
For a private chat with one of the site's performers you'll be charged an affordable sum of $2.25/min. The lowest chat rates stands at $1.00/min. Cam2cam is included. It that's not cheap enough, you can further decrease chat costs by joining a model's Discount Club. This club membership gives you a discount of 0.6-0.9 credits/min depending on your status within the site's Loyalty Program.
ImLive's most noticeable advantages
Cheap prices allowing you to enjoy longer chat sessions without going broke
Cam2cam doesn't require extra payment
Numerous search and filter options, including the awesome Multi-Viewer
Many fetish chat rooms for users interested in adding some kinks to their shows
A lucrative Loyalty Program with great benefits for repeat users
---
C2CPorn.com

Instead of looking for hot cam girls in many different sites, why not tryfinding them all in one place and, thus, saving precious time that can be spent on chatting with these girls. This is exactly what C2CPorn does. It is an aggregator site that displays all the online models of the leading cam sites operating on the web today, among which are CamSoda, LiveJasmin, Flirt4Free, ImLive, Cams, Chaturbate and Streamate. As you can see, most of these sites appear in this article.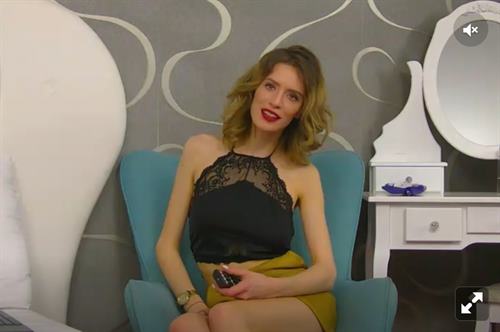 C2CPorn has an enormous selection of more than 10,000 performers who are online at any given moment. Despite that, it maintains a clean, organized and easy to navigate interface in addition to an advanced search bar making it super-easy for you to find your desired model for chatting based on multiple parameters that can be cross-referenced to refine your search.
Once you trace the model that has turned you on, you just need to press on her thumbnail and you'll be able to watch her live performance as much as you want free of charge. If you wish to start interacting with her (chatting and going on c2c), you'll need to press on a button that will directly take you to the site where she is currently performing. It's all very simple, fast and user-friendly.
C2CPorn's strengths
You can meet all the performers from other cam sites in one place
Massive selection of online models available for a live cam show
A user-friendly interface
A highly effective search tool
---
MyDirtyHobby.com

MyDirtyHobby is a fetish cam sites for users who are looking for some really heavy hardcore live shows. The site hosts around 200 models, most of whom are professional female doms and subs of German origin.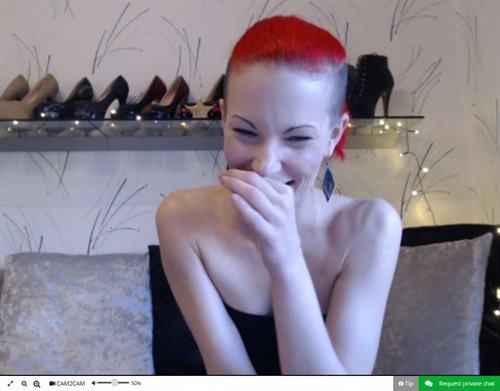 Other cam sites that pride themselves on giving fetish live shows are no match for MyDirtyHobby's action. The site distinguishes itself from its peers by its monumental media collection of videos and photos that you can purchase.
MyDirtyHobby offers one of the best VIP programs in the webcam industry. For €19.95, you'll reap a variety of benefits, among which are a 10% DC (DirtyCents) bonus if purchase is made on certain days, a dedicated VIP support line, monthly raffles with discount and free videos as prizes and message priority making the models always see your messages before they see others.
MyDirtyHobby doesn't have any freemium feature whatsoever, not even an open public chat like other sites. There are basically 2 chat modes available to you (not including voyeur shows). The first is a paid public chat in which the model communicates with you and other users simultaneously, though you'll only see your chat, which gives you a sense of privacy. You can open your cam and bidirectional audio connects you to your model. The rate for this chat mode is highly affordable - €1.20/min on average.
The second chat mode is parallel to what other cam sites define as a private show as the model will chat only with you giving you her full attention. This chat mode averages €3.10/min. Minimum rate stands at €1.25/min.
What makes MyDirtyHobby stand apart
Fetish live shows in the full sense of the word
A huge selection of videos and photos
Plenty of German performers for users looking for European cam shows
A great VIP program offering members ample benefits
---
Stripchat.com

Stripchat is one of the best Freemium cam sites where you can watch live shows in public chat rooms without paying a dime. The site is characterized by a large selection of 1,500+ performers available for chatting 24/7, excellent hi-def streaming and plenty of categories allowing you to watch versatile shows.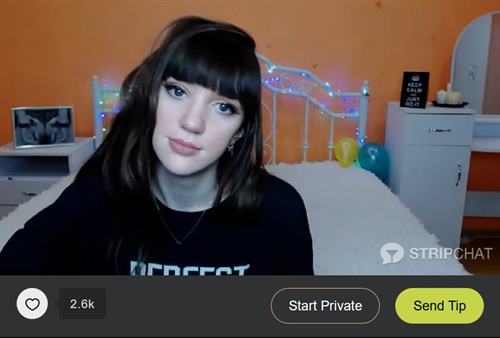 If you press on All Categories below the filtering tool, you'll reach a page which unfolds all the categories at your disposal arranged in alphabetical order making it easy for you to choose whatever you want. And there is plenty to choose from. The categories cover all models' ages and ethnicities and almost any niche you can think of either conventional or fetish.
Stripchat is the only site today which has VR chat rooms. Most hours of the day, the site's virtual reality section contains 10-15 rooms populated by hot models technically capable of giving you exciting stereoscopic live shows.
One on one chats on Stripchat average $2.70/min. The minimum chat rate is $0.90/min. Most of the site's performers charge around 30% extra for cam2cam. The top ones may charge higher. Take into account that a cam to cam has another advantage. It's impervious to voyeurists who may want to spy on your show.
Reasons for adding Stripchat to your cam sites portfolio
A wide selection of really beautiful models you can interact with for free
Plenty of categories making it easier to choose a theme you like for your live shows
Good HD broadcasting quality
Free nudity in public chat rooms
The only site offering VR cam performances
---
Chaturbate.com

Chaturbate is the web's great hall of free live action with an astonishing 4,000+ models who are constantly online. Most of them are either professionals or amateurs who brazenly perform without their clothes in the site's public areas bringing you to the steam point faster than you can notice.
The site is characterized by superb broadcasting quality with myriads of breathtaking models who employ HD, HD+ and even 4K cameras. This high resolution streaming promises you a spectacular view of their shows.
The chat rooms appear under tags and there are thousands of them. Since there is no effective search tool that will let you find a tag according to a specific theme or category, you'll have to browse through all of them till you run across the one which matches your preferences.
Private shows are quite rare on Chaturbate due to the effort involved in launching them. To chat with a performer 1 on 1, you'll be required to set yourself as a broadcaster and then invite her to your room. Therefore, most users prefer to spend their time in the public rooms using their tips to make the girls do special things for them. This rules out the option of cam2cam, but taking into account the hot action in these rooms, you won't feel you're missing anything.
Chaturbate has a VIP program called Supporting Member. For a monthly fee of $19.95 your account will become premium and you'll benefit from an ad-free interface, custom chat fonts and colors, anonymous tipping and private messaging models.
Chaturbate's distinctive features and characteristics
An enormous model selection which consists of many amateur performers
Ample free nudity
Models are overwhelmingly beautiful
Unparalleled broadcasting quality including performers who stream in 4K
---
Cams.com

More than 500 astonishing performers, numerous live chat options, HD streaming, a multifaceted premium membership program, and most importantly, an advanced apparatus for interactive shows rightfully earned Cams its place on the list of 2020's most recommended cam sites for users seeking high quality adult entertainment.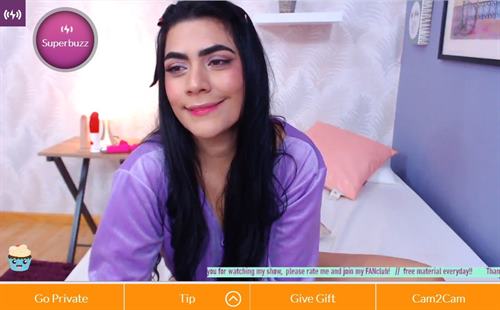 Of all cam sites out there, Cams is the one most dedicated to interactive live chats. Its unique Connexion feature lets you and the model performing for you to stimulate one another through your Lovense Max and her Lovense Nora thus overcoming the distance and the glass screen that separate you from one another.
You can settle for of a partial one-way interaction with the model through Cams' Buzzmode feature. During chat, all you have to do is press anywhere inside the chat window, which activates her love toy and stimulates her for 5 tokens per buzz or 15 tokens for an enhanced Superbuzz.
A 1 on 1 chat on Cams averages $3.60/min. Minimum chat rates stands at $3.00/min. To reduce costs, you may join a Nude Chat, which is basically a group show in which all users can communicate and interact with the performer. As its name suggests, in this chat, the model won't keep her clothes on.
Cams' major pluses
A highly developed mechanism for interactive cam shows
An advanced multifaceted premium membership program with ample benefits
Joining an individual model's Fan Club
Excellent HD streaming
Two separate and distinct VIP membership programs
Breathtaking models always available for cam2cam shows
---
BongaCams.com

BobgaCams is a highly popular freemium sites which hosts 700+ performers at any given time. It maily focuses on European and Russian performers. That means that if you're into watching pretty White girls performing in their birthday suits, this is exactly where you should be heading. Having said that, you'll still be able to find quite a few hot Latin and Asian models on the site.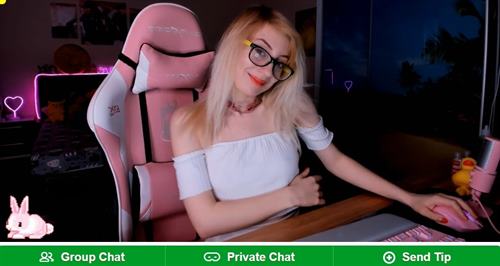 Memership on BongaCams is classified according to tiers. The more you spend, the higher you climb in the site's tier system. Top tiers don't reduce chat rates, but they include other types of benefits like higher or no daily purchase limit, a special icon in chat rooms which invokes status and generates respect among the models and other users, the authority to dispel free members or lower-tier members, and a top position in chat rooms.
BongaCams is known for the awesome promotions it offers new and veteran users. The moment you sign up for the site, you get a 10 token bonus package and automatic lifetime Gold membership. Entering the site from your mobile device for the first time will get you a onetime bonus of 100 tokens. Some of the promotions (like the ones mentioned here) are constant. Others change all the time, so you'd better keep yourself updated.
BongaCam's Cashback Offer enables you to earn free tokens. The sites rewards the biggest 5 spenders in the last 24 hours with 25-200 tokens. First place gets 200; fifth place get 25 tokens.
A private chat will cost you $4.50/min. This is a uniform price all across the site. Private chats can be accessed by other users who may peep at the model's show. To banish them, you can opt for a Full Private Chat, but the price climbs up to $7.00/min.
BongaCam's strongest points
The site's models give free nude shows in their public chat rooms
Plenty of European models for those who are into White girls
Good high definition streaming
Spending tokens lets you advance through the site's membership hierarchy and get benefits
Great promotions with hefty token bonuses
---
Conclusion
There is no shortage of sites giving cam shows. The question is, are they worth your time? Some are and some aren't. You don't need to search for the best ones as we have unfolded them for you in the lines above.
The criteria that guided us in formulating the list of 2020's best cam sites are model selection, user interface, streaming quality, chat options and features and reward and VIP programs put at a users' disposal. We're positively sure that the 10 sites we've chosen to include in this article meet these criteria in the best way possible.
If we had to choose one site that lies at the top of the top, we'd opt for CamSoda. A combination of beautiful performers, free nudity, an unparalleled preview gallery system, HD streaming, affordable chat prices and, above all, mobile c2c make it surpass its peers in terms of the cam to cam experienced offered to users.