The Only Cam Site Consistently Hosting VR Chats
last updated
January 19, 2021
Live virtual reality chats are the cutting edge of today's webcam technology as they give the most authentic one-on-one experience, with a 180-degree and full 3D field of view. Users who have tried a VR cam show report having tremendous fun that dwarfs any conventional cam show they have ever participated in. Today, the only site where you can engage in VR chats is Stripchat, but it wasn't always like that.

As innovative as it may seem, VR live chats are not a new idea. In recent years, there have been a many other cam sites which have tried to integrate VR into their interface as part of the overall services offered to their members. Most of the sites have failed. Stripchat is not most. Today, it's the only site that offers fully functional VR chat rooms. Most of the hours of the day, the site's VR section has 10 to 15 active chat rooms with models technically capable of giving you stereoscopic live shows.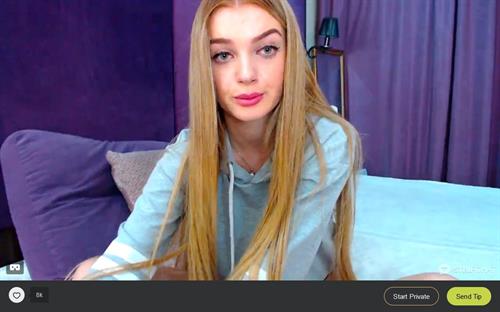 Basically, the VR rooms function like any other room on Stripchat. You'll be able to watch the model's public show for free and chat with her if you are a registered member. When you find a girl you like, you can take her into a private show which will cost you $2.70/min, on average. The minimum chat rate stands at $0.90/min. Including cam2cam in the show entails an additional payment of 30 to 50 percent, depending on each model's individual rate.
To go one step further and launch a VR chat, you need to tap on the VR Icon on the bottom left of the performance video.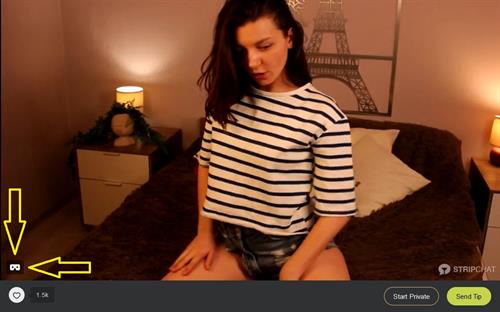 You'll be asked to download Gizmo VR onto your device for either the Windows or Android platforms.
For windows there are two options: Steam VR or Oculus.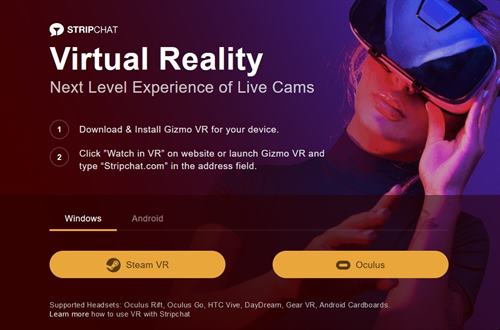 For Android there are four options: Carboard, Daydream, GearVR or Oculus Go.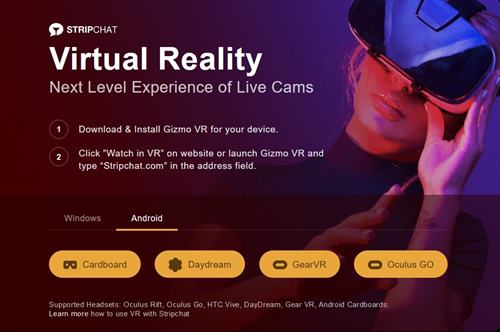 When the download is complete, click to Watch in VR on the website or launch Gizmo VR and type "Stripchat.com" in the address field.
Stripchat's virtual reality apparatus works smoothly. Yet, talking with the model is easier on a computer setup in comparison to a mobile device. In any case, you won't be charged extra for a VR show beyond the site's regular chat rates.