Bitcoin and Altcoins Can Be Used on These Crypto Cam Sites
last updated
January 13, 2021
If there is anything our recent years have shown us, it's that the interest in cryptocurrency is only gaining. And that interest is no longer contained to just Bitcoin. There are over a thousand established Altcoins in existence. Doge Coin, Litecoin, Etherium, and Ripple are just a few of the biggies. With the success of cryptocurrency, adult webcam sites have begun offering it as a payment option. If you are strictly a Bitcoin user, we do have a separate article specifically for Bitcoin cam sites.
These are the top 5 cryptocurrency cam sites, and the currencies accepted. LiveJasmin tops this list. Read on to learn why.
---
LiveJasmin - Best Cryptocurrency Cam Site for Glamorous Models

LiveJasmin accepts more Altcoins than any other site. LiveJasmin accepts Etherium, Litecoin, Zcash, Dash, Bitcoin Cash, and over 50 other cryptocurrencies, including the original Bitcoin. The coins are organized by popularity.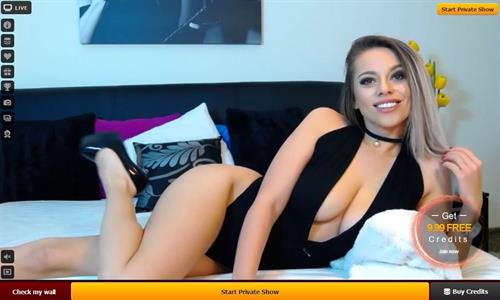 When most people think of cam girls, they think of inexperienced amateurs stripping on their webcam. That's because they haven't yet been introduced to LiveJasmin. This site is the epitome of professionalism and class. Scrolling through the pages, you will find an ample selection of thin women, big women, latin women, ebony women, and more. LiveJasmin has babes from all over the world. And every one of them presents professional shot photos and video teasers in their cam room profiles. This is a Premium site where the girls do not get naked during their free chat time. First time members on the site are offered half off the price of all the regular Credits packages for sale.
Here's how you buy LiveJasmin Credits with cryptocurrency: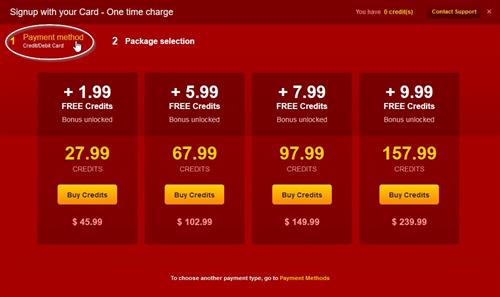 Click the Get Credits option found at the top right hand of any page.
You will notice that by default you start off at step 2, Package selection.
Click on step 1, Payment method, at the top left hand of the box (see image above).
A list of Alternative payment methods will appear, you should choose Bitcoin, or one of the Altcoins.
You now return to the Package Selection slide.
Choose your preferred cryptocurrency.
Complete the payment details and get your credits!
---
Chaturbate - Best
Freemium Site Using Crypto Coins in Private Chat Rooms

Chaturbate has a select choice of cryptocurrencies is works with. Along with Bitcoin and Bitcoin Cash, the site accepts Dash, Digibyte, Dogecoin, Ether, Komondo, Litecoin, Qtum, and Vertcoin.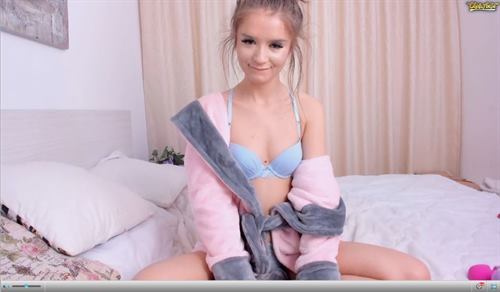 Chaturbate is one of the busiest webcam sites there is. Visit the site at any time of day and you will see close to 2,000 performers online. This is a Freemium site where the girls will get naked and explicit in their open chat room and it's free to watch, for as long as you like. Many of the most followed girls will get thousands of viewers into their rooms within moments of logging on. These girls have become so popular that they mostly stick to performing for their large audience, working it for tips. To take them into a private, they may ask for a significant tribute payment just to start the show. Look for the girls that aren't yet garnering a huge crowd, for a better chance of starting a private show. The cam rooms broadcasting in HD are clearly labeled. If you see an HD+ room, get ready for anything above 1080p. Some girls are even streaming 4K video.
Choose the Cryptocurrency Option After Selecting to Buy Tokens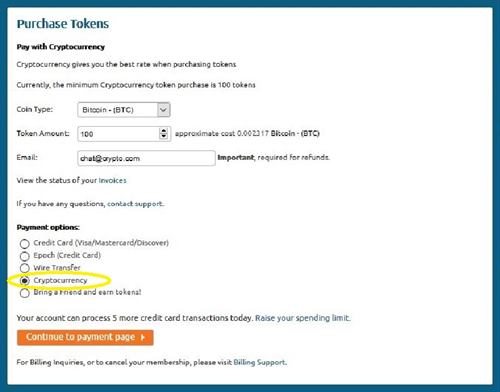 Select the Get More Tokens at the top of any page.
Under Payment Options, select for Cryptocurrency.
Choose the coin type, the total amount, and enter your email address.
Then, select continue to payment page.
Complete the payment details to gain your Tokens.
---
Flirt4Free - Best Cheap Option Accepting Bitcoin Payments

Flirt4Free accepts only Bitcoin. It does not accept any Altcoins. So why is it on this list? Your options for cryptocurrency cam sites are still limited, and Flirt4Free is such a cool cam site that we didn't want it to be without mention.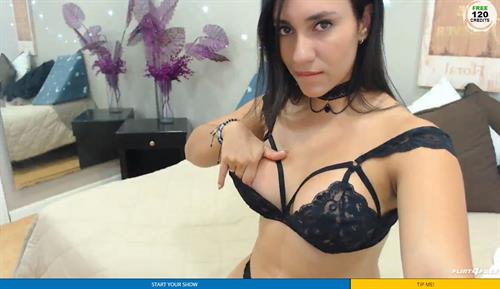 Flirt4Free is a prime opportunity to chat with babes from all across the world. Flirt4Free has an ever bigger video screen format than LiveJasmin. The difference between the two sites lies in the number of models and the average quality. Flirt4Free has less models, but they are equally as gorgeous. There are more show types here than on any other site. There are multiple party, group, private and VIP shows to start, or join into. The site is very liberal with its rules on how its performers can get naked and explicit during their public shows. Also, you will find a huge difference in the prices on the site. Private rooms start off as low $0.50 a minute. When searching by Price, you will see the full range of rates available. The most coveted and more veteran models will be asking for anything from $6.00 to $12.00 a minute, for a one on one show.
Here's how you buy sex cam credits with Bitcoin on Flirt4Free: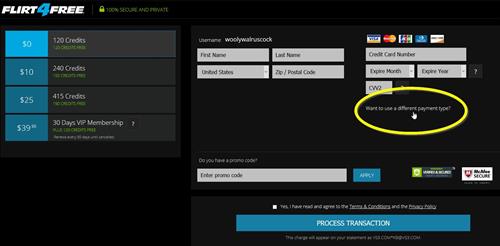 Click on the green BUY CREDITS button in the top right hand corner.
Click on Want to use a different payment type?
Choose Bitcoin.
Select the package you want to purchase.
Finish the payment details and receive your credits!
---
BongaCams - Spend Crypto Coins on Naked European Cam Girls

Many cryptocurrencies are accepted by BongaCams. There's Ripple, Litecoin, Goldcoin and Gridcoin. There's over 50 to choose from. The top 3 (BTC, XRP, LTC) are listed first, the rest are organized by alphabetical order.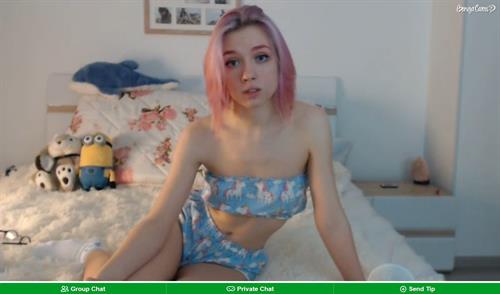 A super popular European cam site, BongaCams has a ton of active webcam models and great quality video streams. Not all of the babes have HD cams, but there are enough of them to make it a site worth checking out. BongaCams is super popular with cam models, and you will find that you always have a very nice selection to choose from. BongaCams is rife with nudity, even in the free chat. Not all of the babes are down to get dirty for everyone to watch. Many of them expect to be taken into a private room to get their freak on. The private chats are a bit expensive. If you just want to have a bit of fun, while keeping it cheap, we recommend tipping for requests in the free chat.
This is how you use Altcoins on BongaCams: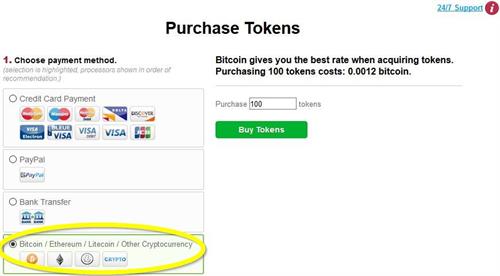 Click on the green BUY CREDITS button in the top right hand corner.
Click on Bitcoin / Ethereum / Litecoin / Other Cryptocurrency.
Click on your preferred Altcoin and complete the checkout.
Finish the payment details and receive your credits!
---
MyCams - Luxury Girls Paid For With Cryptocurrency

MyCams is among the sites working with the most Cryptocurrencies. Arranged for you in order of popularity, there is Bitcoin, Litecoin, Ethereum, Dash, Dogecoin, Nano, Tron, and the list goes on. There are some 50 currencies to choose from.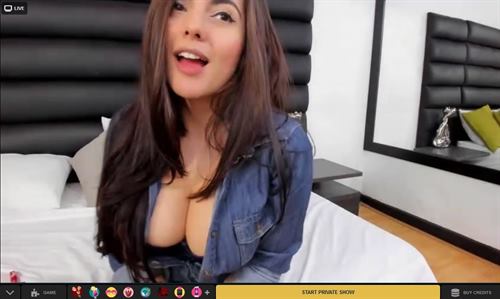 MyCams is the site for those looking for webcam performers of the more glamorous type. There are very few amateurs on the site. Most of the girls are made up to fit the part of a runway-type model. They broadcast out of immaculate settings. And there is no free explicit action. This is a pay-for-play site. While it's free to chat with any girl in her open room, she's not permitted to go nude. The girls will only get naked and hardcore during a private performance.
It's Quick and Easy to Process a Crypto-Payment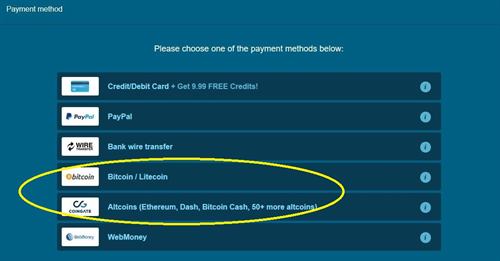 Click the Get Free Credits near the top of any page.
From the list of Payment Methods, choose for Bitcoin or Altcoins.
Next, choose which package of Credits you want. The bigger the package, the bigger the gift of bonus Credits.
Then, choose the preferred cryptocurrency.
Complete the payment details and get your credits!
---
What Are Cryptocurrencies?
Cryptocurrencies are virtual decentralized currencies. In layman's terms, that means that they are virtual money for which the value is determined by supply and demand. Unlike traditional currencies, the inherent value of a cryptocurrency is not tied to any nation or governmental body. Cryptocurrencies are anonymous forms of payment which give the user an added layer of anonymity when purchasing online. It's easy to understand why many users look for cryptocurrency cam sites.
---
Bitcoin vs Altcoin
Bitcoin was the first cryptocurrency to gain mainstream success. Since then, over a thousand other competitors have launched. We aren't here to tell you which is better. We recommend looking at the transaction fees of each of them and deciding which you want to use.
---
The Advantages of Crypto Cam Sites
Increased Anonymity
When you purchase things with cryptocurrencies, there is no bank statement or credit card charge to follow up. Every transaction happens anonymously through the blockchain. Since your wallet user name is composed of random digits and numbers, discovering who you are would require the efforts from a team of the world's best computer science engineers.
Lower Fees
Cryptocurrencies transactions are currently not subject to any VAT or GST. There are no taxes to pay when you are purchasing with them. The transaction fees are also generally lower, but will depend on the currency you are using. Some have lower costs, while others can be pretty expensive.
Versatility
While adult chat sites have maximum charge limits per day when paying with a credit card, you can pay with Altcoins as many times as you want per day. Furthermore, these transactions can be done from anywhere and can't be blocked by banks or anyone else. If your bank automatically blocks transactions for adult content, Bitcoin and Altcoins might just be your savior.
You Can Use Dips to Your Advantage
Adult webcam sites update their prices periodically. But they are not always on point. So, If you have see a drop is happening in the value of your currency, you can use it to your advantage to buy credits cheaper, before the site has had time to update their prices.
---
The Disadvantages of Crypto Cam Sites
Less Guarantees
While the transaction is secure and all five sites offer satisfaction guarantees, you have no one to talk to if you ever want to do a chargeback. In most cases the best offer you will get is a credits refund.
Volatility
As you probably know, the value of each cryptocurrency changes greatly from day to day. It's not just Bitcoin that is affected, so are Litecoin, Dogecoin, and every other Altcoin. You'll greatly enjoy the shows you watch, but if the value of your currency doubles by next week, you aren't going to be very happy.
---
Conclusion
We like that LiveJasmin accepts a whole range of different Altcoins, including all the biggest names in the game. Ripple, Ethereum, and over 50 other Altcoins are accepted on the site. So, if you are a holder of one of the more popular cryptocurrencies, or one of the more obscure coins, LiveJasmin mostly likely is ready to process your payment.