7 Simple to Use Webcam Sites That Make it a Breeze to Sex Chat
last updated
January 13, 2021
Why so complicated? It's just sex. These easy webcam sites have straightforward sign-up processes, effortless site navigation, simple camming interfaces, and chat room features that are a snap to learn. And we've got them all for you, here, ranked and ready to zip through.
---
LiveJasmin.com

LiveJasmin keeps it simple with quick access to all open and closed chat rooms. There are no frilly features or distractions to take attention away from the gathering of beautiful women that have chosen to broadcast on the site. LiveJasmin presents itself as an endless photo gallery of all online models, whether they be in their public chat room, or are busy entertaining in private. On this site, the only direction you'll get pulled in, is into a live chat with a fast girl.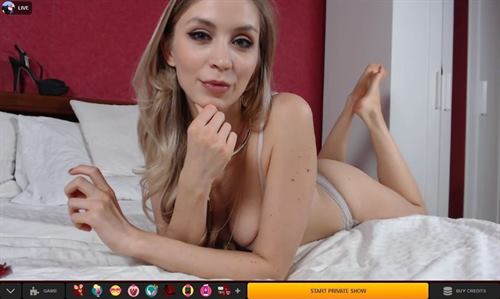 Before you select a model, her name is the only info you'll have on her. Hovering over the preview photo of any girl activates a live feed into that open room. There are only the mainstay categories to choose from, like: Amateur, Mature, Fetish, Lesbian, and New. And, it's possible to sort the models by price, language, ethnicity, appearance, or willingness. Typically, the site has over 1000 models online at any time of day. From inside any girl's cam room, there is a short list of other similar girls that you can quickly jump to.
One of many sites with a sign up bonus. If you go to purchase LiveJasmin Credits, and then leave the page, you'll be offered a free package of Credits, if you complete a basic credit card verification application. These 9.99 Credits are enough to get you close to 10 minutes of free chat with the sites most affordable girls, who'll do a sex show for 0.98 Credits a minute. But, on average, you can expect to see girls asking for something closer to 2.99 Credits, which equates to $4.80 a minute.
LiveJasmin leaves no doubt that it's committed to your satisfaction. New members receive customer service help with the same urgency as long-time members. You can choose from email, phone, or live chat assistance.
---
CamSoda.com

CamSoda turns up the pandemonium. It throws all tiresome complications out of the way, and plants you straight in front of a wild bunch of girls clamoring for your attention. The site's preview galleries show live peeks into every cam room, all at once. No other sites gives you such a useful feature in getting to see what is currently happening in every girl's room.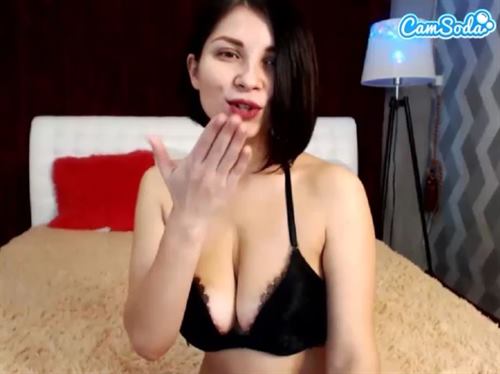 CamSoda is about getting the show started. You can't even waste time going through any site categories. There are none. There is a tagging system, but the girls manage that themselves, and it's not very accurate. You're best move is to just scan all the rooms from their gallery previews. The fast playing video peeks into each room will show you what each girl is up to. CamSoda ranks as our number one site when is comes to immediate access to nude and explicit shows.
You can expect there to be around 500 girls online at all times. The offline girls won't show unless you run a keyword search and they come up tagged by your search. Offline, or on, you have the ability to make an appointment with the girls that provide the option. With Schedule a Private, you select a day, time, and duration for a show. And you only pay when and if the girls shows up to perform for you, one on one. Private shows average close to $3.60 a minute. Poke around enough, and you'll see plenty of girls willing to perform for $0.60 a minute.
At CamSoda, live chat assistance is available only for billing queries. All questions, technical or general, are handled over email. Or, you can try figuring it out yourself in the FAQ section.
---
LivePrivates.com

LivePrivates' focus is laser targeted. Big preview galleries of all the models. A choice selection of categories. And that's it. Each chat room opens with a large-size video player, suggestions for similar models, quick buttons for sending various pre-set tip amounts, and professionally shot glamour photos.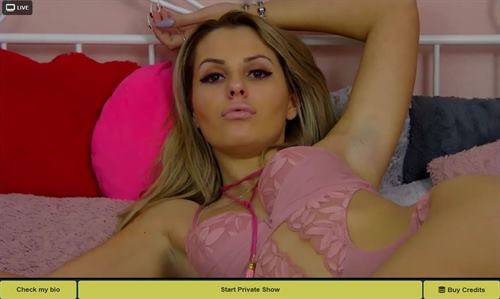 Beautiful women. You. Let's get started. LivePrivates wows with the quality of it's women. This is a Premium site. The girls that choose to work here are not into giving free performances, while working for tips from a large crowd. The majority of the girls here know they can get paid well for what they do. They don't need to constantly rub their clitty, hoping to hear some coins drop. They're in their rooms waiting for a 1-on-1 request for a private show. And you're only one click away.
There are over 1000 active models online at all times. It pays to check in often, as more girls, everyday, are choosing to perform here. Going private will cost you $4.40 a minute, on average. If a search is done, by Price, then you'll see many of the more popular and veteran performers are asking for twice that to entertain in private. Selecting the cheapest rate, will show all those ready to perform for $1.70 a minute.
If you've got any questions for LivePrivates, they'll be quick to answer. Live chat support is available 24-hours a day. Send an email, and expect an answer back withing the hour. Or, if you've really got to talk with them, phone assistance is available for all members.
---
Flirt4Free.com

Firt4Free has quite a few things going on, but it's all easily manageable. This is one of the oldest adult webcam sites online. And one of the cheapest sites for private chat. There may be a lot more going on at this site than on others, but it's so expertly organized that it's a cinch to navigate. All categories, a unique fetish informational center, and various model ranking charts are easy to get to with drop-down listings. Basically, all site options are hidden to leave room for the grand presentation: the large preview galleries of all online models.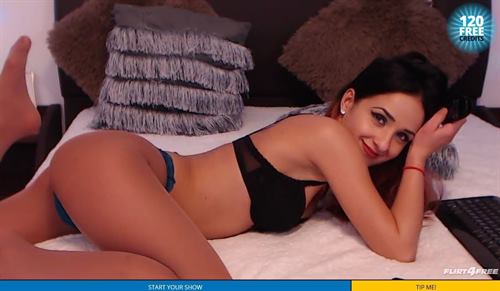 Once you've chosen any open chat room to enter into, you'll see an option to reveal other online performers in a side bar, or simply use the big arrow that appears on the side of the video player window to flip to the next similar model. If you're interfacing with a computer, just select your keyboards 'forward' arrow key, to go to the next model. If you're into tipping, Flirt4Free has a cool feature called the Tip Flood, which allows you to set any tip amount your want, above 250 site Credits, and it will automatically break down your time into 20 separate tips. This enables you to own the free chat room with your presence.
View the performers by Price and you'll see that the cheapest rooms go for 5 Credits, or $0.50 a minute. And the most expensive girls, usually the most popular ones, are asking for 120 Credits, or $12.00 a minute. With close to 400+ models live on Flirt4Free at all times, you'll see a full range of girls camming for every rate in between.
Live chat, email, and phone support are available to all members, whether you hold Credit or not. If you join the Flirt4Free VIP program, at $39.95 a month, you'll get VIP status customer service, as well as access to exclusive content, enhanced chatting features, special messaging permissions to the girls, the ability to turn off the chat of free users clogging the chat room, and more.
---
ImLive.com

ImLive has taken some time to perfect it's usability. As one of the original live porn sites, it has had a while to sit and toil, and introduce just about every idea out there. But, for such a behemoth of a site, it's done well at uncomplicating the complicated. The site, literally, has a Site Map. No other site has a site map. But, it had just grown too big. And it needed to focus itself some. Regardless, if you navigate with the map, or via it's natural navigation, you'll keep coming back to the showcase item. The girls.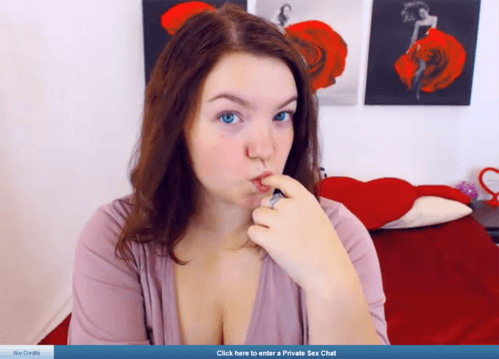 Where were you? At the site map? Stop that. Lets get to the girls. Their chat rooms are cool and easy on the eyes. They're not busy with too many flashy distractions or model information. If you want to see more about a girl you've chosen, her profile will open in a new window. The chat room does it's best to stay focused on you and her, and that's it.
Throughout any time of day, you'll find some 600 girls online. The site boasts that over the years, there have been over 80,000+ performers that have broadcast from the site. Costs are kept relatively low, here. The average rate for a private show comes to about $2.25 a minute, with the cheaper girls doing it for $0.98 a minute.
Customer service at ImLive is the gold standard. All members can expect first-rate service whether it be by email, phone, or live chat support.
---
Chaturbate.com

Chaturbate is the world's most highly trafficked adult webcam site. Thousands of models are online at all times of the day. And it's not uncommon for some girls to get in upwards of 10,000 viewers in her room all watching her at the same time. So how do they make all this activity work harmoniously and with ease? They make all the rooms free to watch, and members can tip if they want. That's it. Sit back and watch for free, or when and if you feel like it, join in on the tipping fun.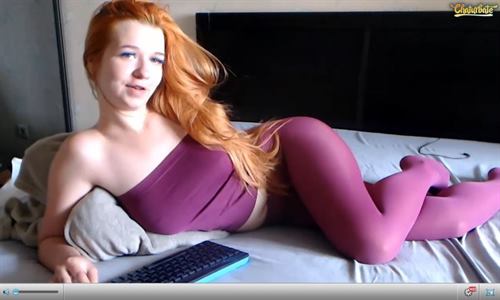 In the chat rooms, you can customize the video player screen size and adjust the video streaming settings. Here, HD broadcasts are the norm. Typically, you'll see multiple rates to choose from. The site itself, is the first and only to offer 4K quality broadcasts. If a girl is broadcasting at that rate, and you've got a decent line, you'll be able to see the cute peach fuzz on her butt. And beyond all the typical chat room functionality, there is a neat option to set cam rooms into Scan mode. Then, sit back comfortably, or go back to tinkering with your hobby, while a new Chaturbate girl rolls by every 15 seconds.
Though this is a Freemium site, private chats on Chaturbate happen. But, they most often come with a minimum duration of time you'll need to agree to before a girl will leave her public room and go one on one with you. Overall, the average rate for a private show is around $3.30 a minute. There are girls that'll chat for $0.60 a minute, but again, they'll most likely require a minimum time frame from you. And many girls will ask you for a big initial tip, to see that you're a serious member, before agreeing to a private.
There is an extensive Support section online, covering every aspect of the site. Chaturbate really hopes you can get any questions you may have, answered within these pages. Like, really hopes so. Chaturbate doesn't provide phone or live chat support. If you must make contact, it'll be through email only.
---
MyFreeCams.com

MyFreeCams is the maverick of the bunch. Years ago, when all other sites were Premium, MyFreeCams said it should all be free. To this day, all the naked and explicit action within its cam rooms is open to the public. At its launch, the site introduced basic functionalities that would inspire older sites to wake up and change with the times. MyFreeCams lead the free xxx live cams revolution, and remains a major player still.
The only thing that is overwhelming on the site are the positions these girls get into, and what they're ramming up their pussies. Everything else around the webcam performances is a picnic. Handy search tools delivers results across multiple fields, like: online models, models' tags and topics, and the site's news feed. There is an accessible tool, the Model Explorer, to help you find top performers. And go to your member settings to adjust just about ever feature and attribute you'll interface with, like: animations, previews, avatars, text, image size, and on. As well, you can set it so you only see certain show types, models from one region or the other, or just 'new' models, and more.
American girls can be found on a lot of cam sites, but MyFreeCams has the most. At any given time of the day, there will be at least 1,000 models broadcasting. There is a set price for taking a girl into a private chat. If you catch a girl while she's doing a show with hundreds of viewers, she'll likely not leave her public room to perform in private. When you do have a private request accepted, you'll pay the site-wide flat rate for all girls, of $6.00 a minute.
The FAQ on MyFreeCams reads like a wiki page. Everything you could possibly ask is answered there. That's why there is no live chat or phone support. You can email the site if you must. But, if your question has an answer in the wiki page, you won't get an reply.
---
Conclusion - Easy Webcam Sites
How much longer are you going to research this? Get out there already. Each of these sites will give you a show within one-click. Though they have their differences, the one common factor is they're so simple to use. They understand that their visitors, or members, are most likely coming with some kind of normal intuition. These sites don't seek to confuse or betray the relationship they have with their guests.
They work hard to create a safe and secure environment for open and private sex chat. They know that they want to be trusted by their users. They aim to be that place you can go to, to realize that fantasy you have. And they know how finicky and particular a large number of people are. People want a discreet, yet fun experience. A safe, yet entertaining time. And maybe, most of all, they don't want it to be a burden. These sites don't want to bog you down with cumbersome and intrusive sign-up processes. Or annoying pop-up ads and distracting banners. They want you to feel at ease and relaxed about your time spent on site.
Though all the sites we present here extremely user-friendly, the one we appreciate the most for making things a cinch is LiveJasmin. The site is foolproof and convenient. The cam rooms are a massive show of the world's most beautiful women. The video streaming and show quality don't disappoint. And the prices for private time with the models is fair.