Top 9 Cam Sites for JOI German Sex Chat Shows
last updated
January 12, 2021
You've been doing it for years. You probably think you know exactly how to masturbate to the nth degree. Well think again. The art of jerking off is a technique that if you take it to the next level, can literally change your life. When it comes to putting your penis in the hands of the professors of the genre, German speaking fetish fräuleins are regarded as the best of the best. The following 9 sites are our top picks for finding a JOI live sex cam show hosted by hardcore German cam model.
LiveJasmin.com

Self-pleasuring is an art-form in itself and a few lessons from the experts will make you not just a master of your domain, but an unbeatable ruler of the the rod. The German speaking cam babes at LiveJasmin have all been vetted and verified as leading live porn pros with a talent to take your wanking skills to the next level. Discover how to get to the Deutschland dames and give yourself a great cum without forking out a fortune.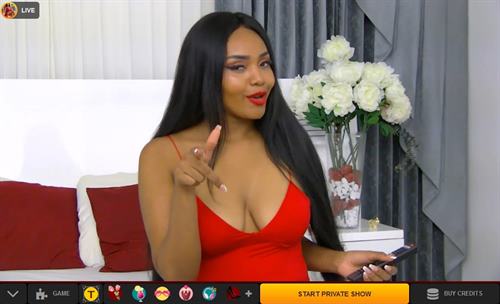 First things first, to narrow down your choice of rooms to only those girls that are German-speaking there are two ways. The easiest, just go to the left hand nav menu, scroll down until you come to Languages. Click on German and start your search.
This brings up all the German speaking live cam chat models. If you want to get more specific and see only German JOI cam hosts, then go to the small search icon (three lines and three dots) located to the right of the magnifying glass on the top right of the homepage. Select this and then click/tap on German under the Language options and under the Willingness category, choose Dominant.
Before getting into the prices, we've got a couple of tips for you. Firstly, always 'spin the wheel' before purchasing any credit package - you could win up to 100% extra credits. Accents... if you're into the German accent, then don't assume that if she speaks German - she's from Germany. Many of the models are conversationally capable in several languages, so if you want that rough raunchiness shouting out instructions as you tug and plug - ask her where she's originally from before the meter starts ticking.
Price-wise, an exclusive German JOI cam sex chat at LiveJasmin will set you back around $3.60/min, but if you're lucky you can find some fraus that'll ask the minimum $1.20/min. If you want cam2cam (which is a must in JOI cam chat) you'll have to add on an extra $1–2/min (and the same again if you want dual audio).
---
Flirt4Free.com

This premium live sex cam site is the go-to destination if you're looking for a bit of light fetish fun. The site's fetish community micro-site is not just about getting your kinky kicks fulfilled, but it's also just as focused on helping you expand and improve your xxx hobbies with a wealth of info, articles, and a great community powered forum where you can discuss JOI, orgasm denial, power exchange, bondage and more with like minded dudes and professional lifestyle ladies.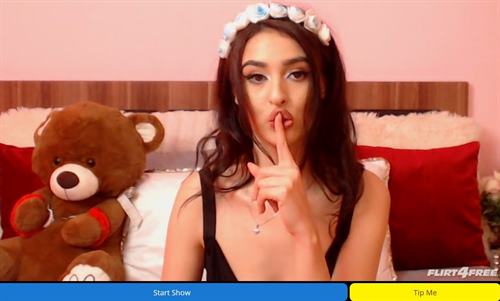 One of the first things you'll notice (apart of course from the snapshots of stunning cam babes all waiting for your attention), is the grey Language button on the right of the homepage. Just hover over it, a drop-down menu appears, click on German and get ready to 'rock them Amadeus'.
To find out if the model knows how to take control of your cock and teach you how to jerk-off, you'll have to go into her room and half-way down on the screen on the right side, you'll see an icon featuring a silhouette of a girl's head. Tap on this and her bio comes up with, among other info, her fetishes, fantasies and role-playing preferences. If JOI / sissy training / SPH, etc. aren't listed, then chances are she sits on the other side of the fetish fence.
Before you learn how you should be jerking-off, make sure you learn how to save some money. Always check out the Deals and Promos on offer. You can get to these by going to the very end of the homepage and finding them listed under the Live Cams section in the last menu bar. If you're lucky - you fave X-rated teacher may be holding a time-limited Promo giving free minutes on private cam shows.
Prices are all over the place at Flirt4Free with the cheapest private JOI cam shows starting at just $0.50/min (but they're rare) - the majority average around $5.00/min. If you think that's a lot, bear in mind there are several amazing live sex cam models at Flirt4Free who can pull in $12.00/min. All prices though are inclusive of cam2cam and 2-way audio usage, if you so want.
---
XLoveCam.com

xLoveCam is cheap, cheerful and full of continental coochies looking for a porn partner to play with. With so many Euro-muffs online 24/7 - you're always guaranteed to find a sizeable selection of extreme German cam models streaming and many of those babes are strickly dickly experts in masturbation movements.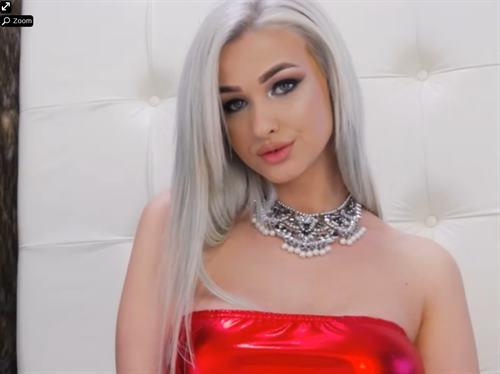 To start chatting with a German JOI cam teacher you have to go to the left menu bar and under Languages, click on German. To narrow the Germanic gals to those that'll take control of your cock, you have to then go into each room, and select the Info button that appears on top of the live video feed. Check out what the cam girl has listed as the kinks and fetishes that she does in a 1on1 cam show.
If your dream Deutschland dame doesn't have control / JOI / teasing or any form of BDSM listed, don't give up hope. Drop her a message and see if it's part of her unlisted repertoire.
Mondays, by the way, are a great day to pop in to this site. They host what they call a Topless Monday when many of the cam models appear naked from the waist up for 24 hours. Another cool feature is that you can easily see at a glance when a cam babe is scheduled or normally comes online. So, if your chosen cam host happens to be offline - just select the Schedule button in her room and see when she's next due to make an online appearance.
Prices at xLoveCam are some of the lowest you'll come across for a private German JOI cam show. They start off at €1.00/min and the average cost isn't much more, standing at just €1.80/min (cam2cam inclusive). But you may have to make a compromise to get your hands on these rock bottom rates - the streaming quality is pretty spotty with many rooms broadcasting in SD.
---
FetishGalaxy.com

Unlike any of the other sites on the list of the top 9 sites for private jerk-off instructions in German, FetishGalaxy is kink-centric, which means it's all about receiving or giving orders one way or another. Every teacher/dominatrix and expert at this site is a lifestyle devotee. So, expect a session that's on the level of a doctorate in dick denial and desire.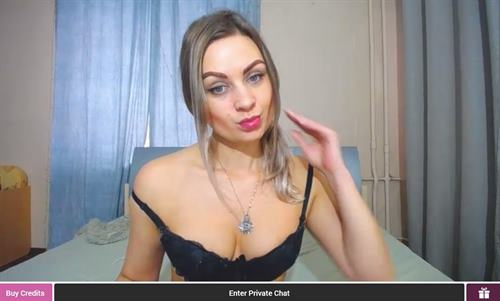 With so many skilled and seasoned sex educators waiting to help you take your technique up a notch, you'll want to first narrow down your options to those fluent in German. To do this go to the far right of the homepage and select the small search icon (four horizontal lines with dots) located on the top right of the screen. Then click/tap on the large purple Advanced Search button. On the search page that appears, scroll down to the Features category, select the Language box, choose German in the options that appear and click/tap on the purple search box on the bottom right of the screen.
Now you're confronted with all the models registered at FetishGalaxy that are German (or at least have a basic grasp of the language). Next step is to find the JOI. This is really easy. Every snapshot notes whether the X-rated cam host is a dominatrix, a submissive, or an expert / teacher (the latter two normally mean the babe is a switch and is comfortable dominating or being dominated).
If she's a dominatrix or a teacher/expert, chances are JOI will be listed in her bio. You can also click on JOI in the top nav menu but then the results won't be German speaking specific.
For a fetish-focused site, the rates at FetishGalaxy are surprisingly cheap. For example, on average you'll be paying around $2.50/min for a private cam JOI live sex show, with the cheapest rooms charging $1.00. And yes, these prices include cam2cam and 2-way audio use.
---
Stripchat.com

Stripchat is a freemium site which means you'll be enjoying an eyeful of some hardcore humping the moment the photos load on the homepage. Full-on nudity and naughtiness take place in the open chat rooms, so you may end up spending more time than you planned as you hunt through the X-rated photos in your search for the mistress of your masturbation.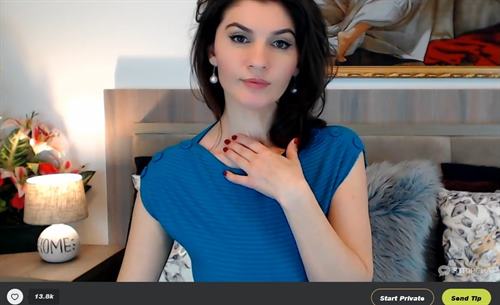 Try not to get too distracted by the explicit entertainment taking place under your fingertips - after all the German speaking JOI cam teachers are just a couple of clicks away. To get to them, go to the bottom of the left hand menu bar and select the All Categories button.
The alphabetically listing of all the major search groups which then appears makes it even easier - a quick trip to 'G' and you have the German speaking babes. And it even shows you how many are currently broadcasting. Generally, there'll be a handful, plus. So, the easiest way to find the teachers with the talent it just to go into their rooms and read their profiles.
Once you've registered you can get your hands on some free tokens if you're lucky. Every hour the site gives away 500 tokens evenly divided between 10 online viewers. When you're in a room, make sure you click on the 50 free tokens giveaway link at the bottom of the message box. You never know, your private cam JOI may just end up costing you nothing more than a wank and a wink.
On average, being educated in the art of jerking off by a German cam girl will set you back around $2.70/min - but if you're lucky, you may come across a performer that's charging the site's minimum of $0.90/min. Cam2cam and 2-way audio can be included in the rate or the model may implement an additional fee (even double the rates) - it's up to each individual instructress.
---
LivePrivates.com

The live cam jerk off teachers who control the cam classrooms at LivePrivates are noble-prize winning lecturers in tugging techniques. Generally there's between 70-100 German speaking cam girls streaming in HD, 24/7 - each and everyone of them with a degree in a variety of kinks and fetishes, including: JOI, orgasm control, SPH and teasing. So, if you're the type that wants the best of the best and are willing to pay the price - read on.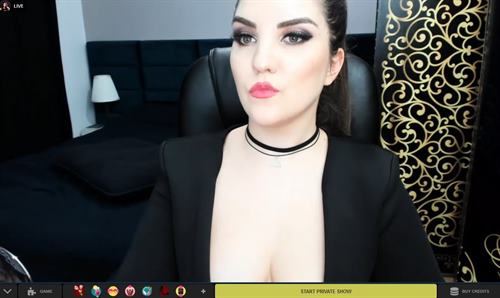 To get to the fräuleins and the fraus, it's a couple of clicks from the homepage. First step is to go to the top right of the homepage and click/tap on the advanced search icon located right of the magnifying glass image. In the pop-up box that then appears go to the Language options and choose German. To narrow these results down further, select Fetish under the Category grouping or Dom in the Willingness section.
Once you've found a potential dick advisor from the results that come up, click on her photo to go into her free open room. Before doing anything else, take a quick look at her bio (the small info icon on the upper left of the live feed window) and make sure JOI is listed. If not, it's worth messaging the model before starting any private show and making sure she's a JOI Jane or Jutta.
Now, LivePrivates isn't the cheapest option on this list - in fact, prices can get pretty painful. It's worth checking out the girls in the Sale section and seeing if any of them are Deutsch JOI live cam experts. If they are, you've hit gold.
At first glance, rates may seem affordabl. For example, some of the rooms start at just $1.20/min for a private cam show, though most come in nearer the $3.60/min mark. If you don't want a C2C show then you won't feel the pain - if you do, you'll have to add on another $1-2/min and that much again to activate your microphone, if you want her to be able to hear you.
---
Cams.com

When it comes to masturbation - Cams knows what it's talking about. This site is famed for a unique feature that lets the model and the visitor cum together in perfect harmony, so to speak. But, more about this later. For now, we're going to concentrate on the many German-speaking professional and amateur porn performers that broadcast under the Cams banner.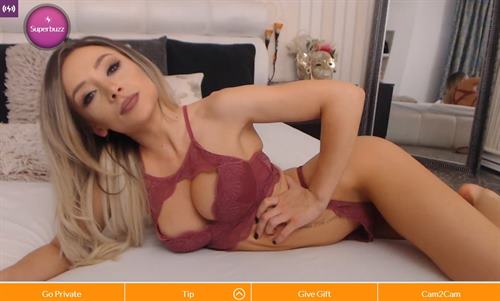 To go German from the get-go all you have do it click once and sit back as the teacher takes over. On the top right of the homepage, hover over the Language button and select Deutsch. It's then auf wiedersehen to the hundreds of hot hunnies from around the world and willkommen to the women from Allemania.
Once a teutonic tottie catches your eye, go into her open room and scroll down to her profile where she lists her turn-ons, turn-offs and fetishes. While not many list JOI specifically as a kink of theirs, many list similar penchants such as control, domination and teasing as skills. Of course, before starting any private paid-for cam show - check with the babe first and make sure she's not only JOI friendly - but she knows what she's doing.
The cumming together that was mentioned earlier is the site's amazing Connexion feature. If the model is using a vibrating toy (the Lovense Nora), you can synch it with a Lovense Max (the partnering toy especially created for men) and then work to have you both climax at the same time.
The average rate for a German-speaking cam girl giving jerk-off instructions is $3.60/min, the site's minimum price isn't that much lower, standing at 3.00/min. If you want to take it up a notch and have a c2c private shows, then most live cam models ask for an extra $1.00/min or so.
---
BongaCams.com

If German is your native lingo, then you're going to feel right at home at BongaCams, If you're accessing the site in Germany, the homepage will intuitively load in Deutsch. But that isn't the only reason to take a trip to BongaCams. At any one time, there's around 1200 international cam girls broadcasting, most of whom are enjoying some X-rated fun and games in their free open chat rooms, with a large majority experimenting with their sexual boundaries for the enjoyment of all to see.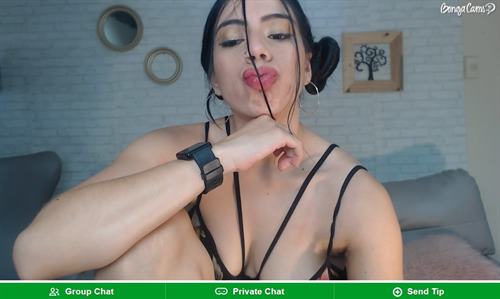 BongaCams is truly a cam site without borders. It's available to view in 36 languages, so if you're in a county that's BongaCams friendly, it'll appear in the local language. If not, you just go to the flag on the top right of the page and choose your preferred dialect. No matter where you are in the world there's always an abundance of hot German speaking cam girls ready to party. To find the Deutschland damsels go to the search icon (three lines) located on the far left at the top of the homepage. Select this and on the drop down menu that appears, go to Languages and select German. A box appears showing how many German speaking babes are streaming live, and the page refreshes with xxx snapshots grabbed moments before from their current video feed.
When you go into her room, scroll past the video window, and on the right side there's a box showing What We Do On Cam: This lists the girl's fave kinks and kicks. From these you can see whether she's a taking control of the cock or submitting to the stick type of Frau.
Before you start laying down the Deutschmarks for a German JOI sex chat session, it's always worth checking out the site's promotions which can be found by clicking/tapping on the All Promotions link on the top menu bar.
BongaCams' private cam show prices are standard throughout the site. On one hand, this saves time as you don't have to hunt around comparing private sex chat rates. And on the other hand, they're on the high side. A German JOI cam show will set you back $5.00/min (but this does include c2c and 2-way audio).
---
IsLive.com

ISLive was originally a cam site for Dutch cam performers, but as demand grew for the girls, so did the site's catalogue of girls and the countries they represent. It still is very much a European cam site, with cam girls from across Western Europe, including a strong showing of amateur German live sex performers.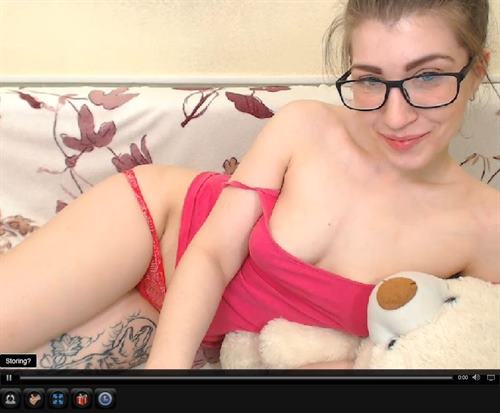 IsLive is somewhat of a retro-site, in as much as it doesn't feature the bells and whistles which have become integral features of most live cam platforms (porn-star appearances, multi-user xxx shows, etc.). This site is about one thing and one thing only, live cam sex chat. It also doesn't allow any free chat whatsoever. You want to go into a girl's room and message her - you'll have to pay. You want to see what she's up to in real-time - you'll have to pay.
To find the German speaking fräuleins, all you have to do is click on German on the upper menu bar. If that's too much, then just scroll through the snapshots and on each there's a flag indicating which language she speaks. One thing you do get for free is a bit of info about the girls (their likes, dislikes and a short video teaser). To get to these you click on the small info icon on the bottom of a model's snapshot in the gallery of online models.
There's no way to see ahead of time whether the cam girl is a fan of JOI, or other non-vanilla practices such as BDSM, squirting, anal etc. To get to the juicy details you'll have to pay to enter her room and send her message and hope she answers quickly as you're paying for every minute you spend in the room.
On the upside, IsLive is cheap. All private cam chat rates include cam2cam and audio and prices are standardized throughout the site. All girls charge the same. Though, prices fluctuate depending on the site's credit package you choose. If you go for the largest bundle, the cost/min comes in at just €0.68/min. If you purchase the smallest site credit bundle, then the rates work out slightly higher at €1.00/min.
---
Conclusion
Jerking-off, spanking the sausage, five knuckle shuffle, rubbing one out, beating the monkey - every language has a whole range of sayings that all mean the same thing - masturbating. Everyone knows how to do it - but are you really making the most of the tools at hand? There's only one way to find out and that's with a professional in the art, a mistress of masturbation who can take your home-grown talent and show you exactly what to do to turn your tugging technique into a work of art.
And, when it comes to the language of lightening the load, there's no better choice than learning from a mistress with a Germanic accent that must be obeyed. With so many live sex cam sites to choose from it can be an odyssey in itself to find one that not only has German speaking adult cam performers, but ones that are also at the top of their game in giving jerk off instructions.
These top 9 German JOI cam site picks help you get directly to your destination and guarantee you'll find exactly what you're looking for in a wank-fest at the best price possible.
While it's all down to personal preference, our number one stop is without a doubt LiveJasmin. Not only does it have a great selection 24/7 of Deutsch damsels, but each and everyone is stunning, sexy, professional and experts in their field. Add to this HD streaming, a user-friendly interface and our tips on how to get more for less and within no time, you'll be jerking-off with German guidance.