Hot Euro Babes on the Best European Sex Cam Sites
last updated
January 07, 2021

Our listing starts as less of a ranking, and more of a recommendation on the order we would suggest one samples each of these sites. We've long held that one webcam destination isn't necessarily enough. When there is such a vast European continent to cover, one should want to keep exploring.
Of the sites in our list that host girls from all over the world, we'll show you what to do to focus on the Euro babes. With Euro sex sites that only have European cam girls, we draw out which ones are the best for finding girls from specific countries, and regions within.
For a quick look at the average and cheapest per minute rates during a private sex show, skip to our pricing comparison table.
And, if you are visiting from within Europe itself, we've compiled a table with the most popular alternative payment methods.
---
LiveJasmin.com

Some folks say that LiveJasmin is 'ground zero' for where the most beautiful webcam models come from. In 2001, a young Hungarian entrepreneur launched his new cam site for the domestic audience. Well, it turns out more than just Hungarians like Hungarian webcam girls. Today, LiveJasmin is one of the most visited sites in the world, featuring performers from Germany, Spain, France, Italy, England, Hungary, Romania, Austria, Poland, and the Netherlands.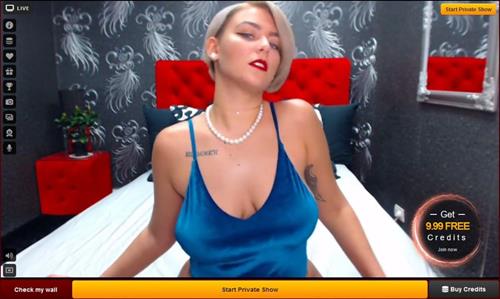 Quickly find the European cam girls on LiveJasmin-
Click the small menu icon under your username, at top right corner.
An overlay pop-up appears with all categories. Select Europe in the Regions category.
Select other categories, like Appearance or Willingness, to cross search multiple categories.
Also, searching by country name in the Search field will yield all models from that country.
Once you've selected Europe in the tag cloud, then all European models will appear first. And as you browse through models in the homepage or through their suggested models shown in a chat room, you'll stay within this filter selection. To further query models from specific countries, keep the Europe filter selected, while including filters from the selection of languages. Your choices are German, Spanish, French, Italian, and English for UK webcam models.
---
ImLive.com

ImLive doesn't have an option to search by country or region, but they still top our list, because ignoring them would mean ignoring half the European cam models out there. This is a feature-rich site, with models of all types. Their membership program is a progressive system that hands out larger benefits and discounts to their members.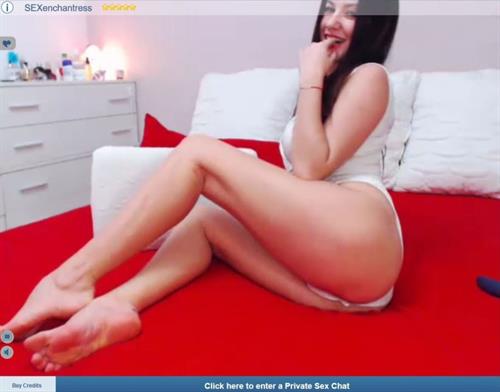 Go straight to the Euro cam girls on ImLive-
Go to the Advanced Search, and select the Languages filter.
Open the filter menu to reveal all languages spoken by their hosts.
When you choose a country's language, you'll get a true list of all the girls currently online that match your choice. ImLive won't try to stuff the results with related matches. If you choose Norwegian, you will only get girls who speak Norwegian. The most populated European categories are Bulgarian, Czech, Hungarian, Spanish, Greek, Danish, German, French, Romanian, Italian, Polish, Dutch, and Swedish. Now, we know that speaking a language is not a guarantee that they're from that particular country. But it's a good start. Use the time during her free video chat to find out.
---
Flirt4Free.com

No other site on our list has more show types than Flirt4Free. From Groups Shows, to Party Chats, to Voyeur Modes, and Private Shows, you'll find many ways in which to join a show as the primary or passive viewer. Among their many unique features, we mostly enjoyed being able to search by price. There are 14 rates to select from. Their bargain girls will go private for as low at $0.50 a minute. And, if you feel like dropping some cash, their pricey girls can be had for up to $12.00 a minute during a 1on1 sex show.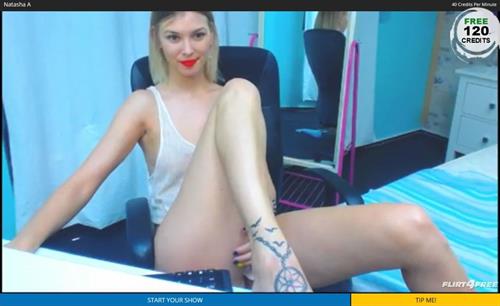 Find the European girls category at Flirt4Free-
Go to the main Categories listing in the top menu bar.
Hovering over the tab will show all categories with current active models online.
Select the European Girls category.
Also, from the Live Cams page, you can sort all models by spoken language.
The categories list at Flirt4Free shows all models currently online in that category. If no one is actively online in a particular category, then that category won't show on this list. With the European Girls category, you'll never have to worry about not finding it. There are always at least many dozens of Euro babes on live cams. The other way to search for Euro cam girls, is to start from the Live Cams tab. Now, you can sort girls by languages spoken. Choose from the following languages to query all online models that speak, English, Spanish, Polish, German, French, Italian, or Dutch.
---
isLive.com

If you are looking for Dutch webcam girls, isLive is a good place to start. If you've never been able to make it to Amsterdam to walk around the Red Light District, then this could be a great alternative. And just like in the district, you have to pay if you want any action. There is a free 'thru-the-window' video preview, but no free chat. If you want to see the live cams, you must enter her paid chat.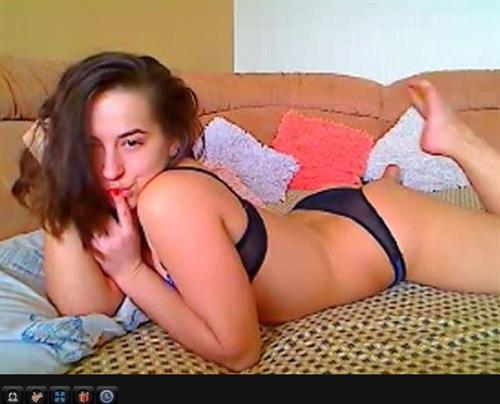 Selecting your favorite European girls at isLive-
The site translates to Dutch and English. Make sure it's set on English.
From the top menu bar you have six western European countries to choose from.
Listed as languages spoken, choose one, and the online performers will automatically sort.
Online models from your selected country appear first, with the next available girls showing after.
isLive.com is mostly Dutch women. But there are women from Germany, France, Spain, and Italy to be found on the site. All in all, It's a smaller gathering of models here. There seem to always be only about 100 live performers at any one given time. But the authenticity of the girls that are online far outweighs the fact that the selection is smaller than some other larger sites in our list of the best European sex cams.
---
MyDirtyHobby.com

Looking for girls from Hamburg or Berlin, Germany? Live sex models from Tuscany or Sicily, Italy? Hardcore sexcams from Eastern or Central Switzerland? At MyDirtyHobby, you can break down your search to the regional states of the biggest European countries. Europe's top online performers are flocking to this site for it's unique approach in connecting them with an audience.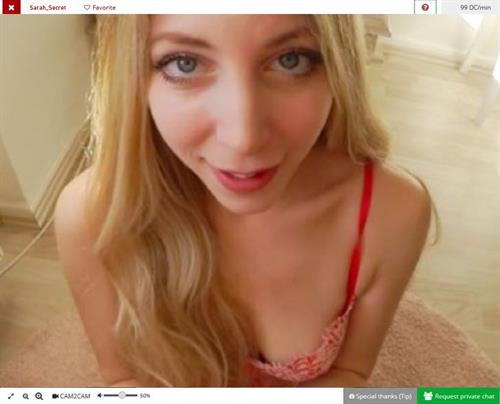 Find the hardcore Euro chicks at My Dirty Hobby-
Find the interactive map on the homepage.
Select any European state, or region within a state.
Play with the filters to quickly query from country to country, and state to state.
The results you'll get using their interactive map will first show all popular girls relevant to your search, whether they're off or online. Because MyDirtyHobby offers more than live webcam sex, they don't push a performers profile to the bottom of the search results, even though she happens to not be online. When offline, you can still send any girl a private message or go through her prerecorded video and photo albums. The majority of their amateur sex stars are from Germany, Austria, and Switzerland.
---
Cams.com

Cams.com has become a frisky site over the years. Where once you had to pay to see some action, they now have free sex shows to watch, while encouraging tips. Through either the free sexcams, or by searching the library of Recorded Shows, you'll get a good sampling of what these euro-babes will do during a private show. If you find yourself infatuated with any one model, you can join her Fan Club for a nominal monthly fee, and then enjoy discounts of up to 70% off of the 1on1 private sex show rates.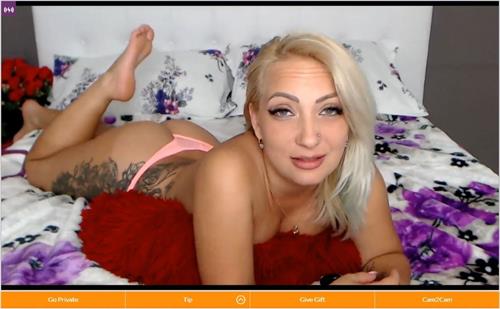 Easily spot your favorite Euro babes at Cams.com-
From the homepage or within any category page, go to the Region or Language selections at top of page.
Choose the Europe region, or choose from one of the six most used European languages.
Results will show all European models. A country of origin flag shows in their preview thumbnail pictures.
When the results of your chosen region or language show, they will result in your selection first, and then populate with similarly popular results. If you search by Europe region, you'll get a mix of girls from all over the continent. To refine the search, choose from one of the six language choices offered: English, French, German, Italian, Spanish, or Portuguese. Further refinement of a search can be made by starting with selecting from the available attributes, like: Show Type, Age, Ethnicity, Speciality, Body Type, Kinks, or Hair Color, and then choosing the region and/or language. This will look for European girls within the specific attributes you've assigned.
---
Chaturbate.com

A true gift of a site for those looking for free live Europe cam sex. No questions asked. You can watch as much naked and explicit action as you want for as long as you want, and you won't have to pay a cent. If you do want to invite a performer into a private sex show, then you'll need to purchase their website tokens. Same goes if you want to send tips in the public shows to help keep the show going.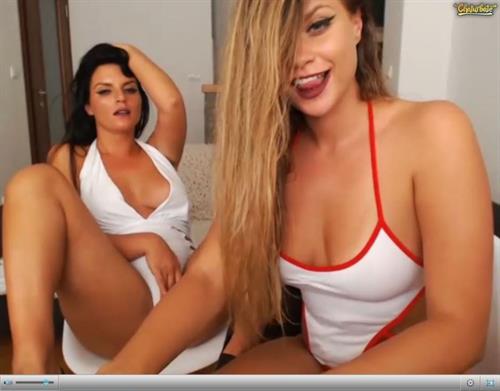 Sort for only European webcam babes at Chaturbate-
Open up the Advanced Options. You need to be signed in as a member to see this option.
A selection to see models by their geographic location will show.
Select the Europe/Russia box, and run the search.
This is a broad and general search for European cam girls, and it does include their hot Ruski cousins, so you'll have to dig just a bit deeper to see where a specific girl is from. You'll only learn their precise location by going into their profile and reading though their personal details. And they don't always have it listed. But we know Chaturbate well, and we can atest to the reality that there are a ton of Romanian, Estonian, Latvian, Moldavian, German, Dutch, Spanish, Italian, and British cam girls on the site.
---
MyFreeCams.com

MyFreeCams was a true disruptor when they hit the scene in the early 2000's. And by 2010 they were one of the largest adult webcam communities. They took the traditional platform for camming, and turned it one it's head. Their approach to feature and preference management, coupled with totally free live porn, forced every other major cam site to make its own changes to stay relevant. Today, with much more competition online, they continue to be hugely popular with their members and webcam performers.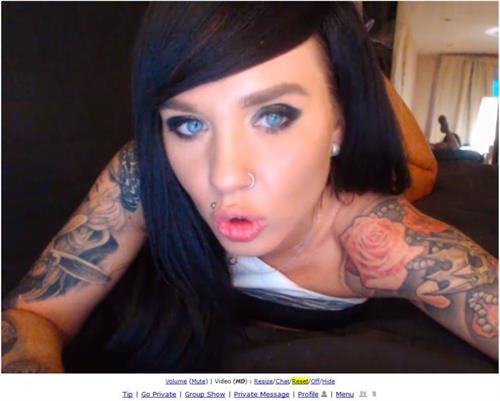 Manage your settings to show European cam girls at My Free Cams-
Create a member account with an email sign-up and username.
When signed in, go to Personal Options at the top of the right-side menu bar.
A pop-up box opens, select Model List Settings to set your model preferences.
Filter By Region allows you to 'Show on Top', 'Hide', or 'Only Show'.
Choose Europe/Russia by selecting to 'Show on Top' or 'Only Show'.
The Model List Settings are also available when you scroll to the very bottom of the main page.
MyFreeCams will automatically populate the page with the settings you select. If you choose to only show girls from Europe/Russia, you will only see these performers. To find out exactly where a girl is from, go into her profile page. If she has listed her country, then you'll see it. If not, she may give you a clue by stating what languages she speaks. There will be girls from all over Europe here, but the abundance of them are from Estonia, Latvia, Moldova, Romania, Czech, the Ukraine, and Russia. To include British webcam girls, from the Model List Settings, be sure to include the United Kingdom region. We'd also like to note that there are more American webcam girls on MyFreeCams than on any other site.
---
XLoveCam.com

Like an exclusive club that only lets in a rare clientele, XloveCam is entirely for European webcam models. Based in the Netherlands, they have grown to play host to thousands of beautiful European women from all over the continent. At XLoveCam, you'll find all best functions that are popular on most sites. They have recently launched a newer feature-rich version of their site, and it is loaded with smart ways to find what you're looking for.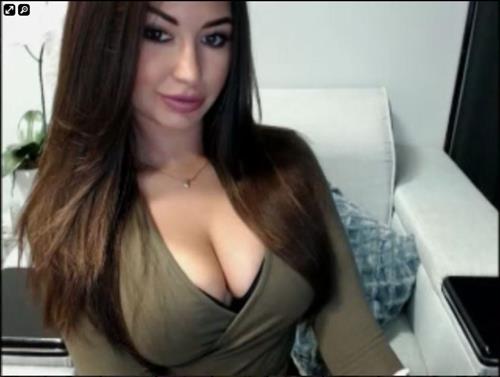 Find only European women at xLoveCam-
Search for specific models according to their languages spoken.
Choose from 1 of 7 languages available to sort the models by.
As you hover over the preview thumbnail pictures, a country flag will show.
XLoveCam doesn't publish a performers exact country or origin, or where she is actively located. If you must know her bloodline, then you'll have to ask her. The girls are simply presented as being from Europe. Using the language tag to sort out the girls is the best way to start to find a girl from a particular country. Of the language choices, you'll find: German, English, Spanish, French, Italian, Dutch, and Portuguese. And, like most Euro babes, many of them will speak multiple languages, while nearly all of them speak English.
---
Visit-X.net

So much can be said about Visit-X and their approach to delivering stunning girls on high quality webcams. As a cam site, they thoroughly compete with the best of the best. With one area in particular, they excel past their competition. For only $12.00 a month, their VIP Membership gives members the first 20 seconds, into any chat, for free. And it opens up a large selection of exclusively filmed episodic programming starring the very cam girls that appear on their live cams. This affordable deal, and this kind of unique content, doesn't exist on any other site.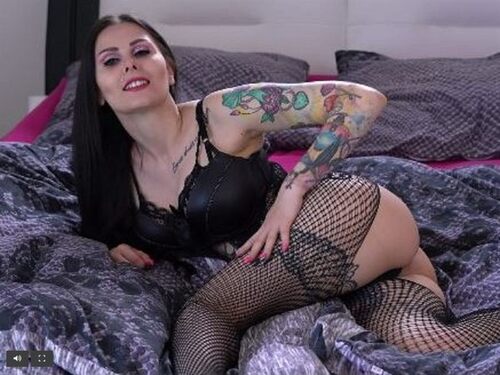 Browsing through all the European babes at Visit-X.com-
The site translates to German, Dutch, and English. Scroll to bottom of homepage to change the language.
From the Categories list, find the various European cam girls by country.
Each profile photo will show a small flag to denote languages spoken.
From the early 2000's, Visit-X has been bringing the world extreme chicks from the Hinterland. What started as a strong focus on hardcore German sexcams has grown to include Czech, Dutch, Hungarian, Italian, Polish, Russian, and even Turkish webcam girls. Though, as you will find other nationalities, most girls will start chatting with their members in German, given their large German member base.
---
Streamate.com

A granddaddy site with a long history of quality webcam technology and hot performances. At Streamate you're not asked to prepay for a tokens or credits package. They operate a unique pay system, that asks you to keep your payment method on file, and they they charge you for exactly the time you spend in their paid chat rooms.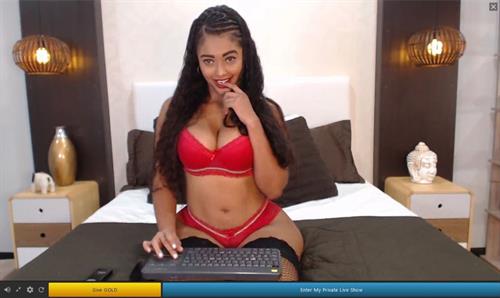 Sort the Euro webcam girls by region at Streamate-
At the top menu bar, select Western Europe, or Central/Eastern Europe.
Each model's preview thumbnail picture shows the initials of her country.
When you choose a cam girls room, and then later close her chat window, you'll be taken back to the unfiltered main page. If you use the browsers back button to go back to the last page, it'll keep your filter for the European girls. Depending on the region you select, you'll see a mixed order of models from the various countries in that region. Within the two regions to choose from, you'll see Latvian, Estonian, Italian, British, Dutch, German, Romanian, Polish, Bulgarian, Finnish, and French webcam models. Getting to know the initials as fast as possible will help you target in on girls from specific countries. ES is for Estonia, NL is for The Netherlands, as an example. It won't take you long to start to recognize them quickly.
---
Average and Cheapest Per Minute Rates by Site
Depending on where you're visiting from will determine what currency you'll see at each site. For sites that present in dollars or Euros, we're showing you the chat rates in dollars. If a site only accepts payments in Euros, then we've listed their rates in Euros.
At each site you'll find deals, daily specials, or events that will cost a fraction of the average per minute rate for the site. If you want to review sites from the angle of which ones offer the best value for your money, then please read our analysis on the cheapest cam sites online. We detail the most affordable options available and how to find them at each website.
---
Popular Payment Options Available From Europe
Most visitors to adult cam sites use their credit card for purchases, but there are those that prefer alternative methods of payment. Along with paying by credit card, here are the other top methods of payment available at each site, for their members viewing the site from Europe.
If you use iDeal as a payment method, we've written a previous article on all the best adult cam sites that accept iDeal.
---
Fazit, Slutsats, Konklusion, Következtetés, Konklusjon, Concluzie, Conclusione, Conclusion
Our guide to the best live Europe cam sex is meant to act as an itinerary that one would use when planning a European trip. No one plans a trip to just one country. A worthy journey will include an exploration in all directions. So, we've meant to identity the unique differences between each of the euro sex sites we've listed. We've shown you which sites are best for finding girls from a specific country or region within. Now, all you have to do is choose between the stunning women of the Netherlands or Switzerland, the hardcore German sexcams, the seductive ladies of Spain, Italy, and France, or the extraordinarily beautiful woman of Estonia, Latvia, Romania, and more.
As we've said from the start, our best recommendation for you is to check out at least a few of the best European sex cams in our guide. To set you off to a good start, we highly endorse starting at LiveJasmin. They simply do so well in so many of the important attributes that we look at when rating cam sites. Give them a go. If they're not for you, then move on to the next.