5 Best Fetish Cam Sites That Take PayPal
last updated
January 10, 2021
It's no easy task to find a cam play pal that shares your specific fetish fancy to the same degree. Fetishes cover so many different genres at varying levels - some mainstream - some a bit more unconventional. Hooking up with the right live cam partner can (until now that is) be a journey of more misses than hits. However, salvation is at hand. The following 5 cam sites all offer not only the best fetish cam rooms and models online, but also easy-to-use search features, great 2way video options and all let you pay with the added anonymity and security of PayPal.
CamSoda.com

CamSoda offers around 800, mainly female, live cam performers streaming 24/7. It's a freemium site meaning you don't have to pay to see the girls performing full-on shows with a range of toys. They do all this and more for free in their open chat rooms. The site operates a token system, with tokens used either as tips to get the girls performing kinky acts in their public hangouts or as payment for some fetish fun in a private chat show.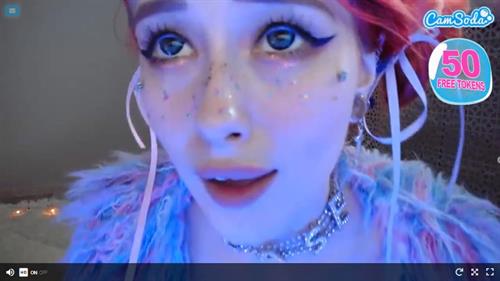 The girls at CamSoda are passionate about their pervs. If you go to the view all tags link on the top right of the gallery of photos, selecting it will bring up pages of search tags. On page 1 there's all the rooms that have categorized themselves as fetish focused.
We recommend that you simply scroll through the images and hover a photo which will bring up a few seconds of action grabbed just a moment before from their live feed. If you like what you see, enter the room and check out the girl and send her a free message to check if she is into your particular proclivity.
Don't forget that many stream from their homes as opposed to well-equipped studios, so if you're looking for rope play, bondage or fun and games that require additional accoutrements, make sure they have them at hand so you don't waste time and money only to find out the babe is lacking essential items.
Price wise, most private shows come in at around the $3.00 a minute mark, with the cheapest rooms starting at just $0.70/min. Most of the performers include the c2c feature in their rates, though there are those that will request an additional fee to activate a 2-way cam session.
How to use PayPal on CamSoda:
Register (or login) as a CamSoda member
Select the orange Add Tokens button on the top far right of the homepage
Choose PayPal under Payment Type
Decide on the token package you would like to buy
Click/tap on the large Purchase Tokens Now box
Continue by clicking on the Proceed To PayPal button
Complete the transaction form to receive your tokens
---
FetishGalaxy.com

FetishGalaxy has a much smaller selection of rooms broadcasting at any one time, but every single one of the 150 or so cammers are there to find a fetish friend to play with. While some of the snapshots on the homepage can get extremely explicit, the real action only takes place once you take a model into a private cam session.
Instead of finding the fetish femmes at this site (they all are), your first port of call is finding your preferred kink of the day. On the gallery of snapshots it's indicated whether the host of the room is a dom or a sub, or an expert/teacher. Another way to narrow your choices is to go to the menu bar above the photos which features major fetish groups such as JOI, Bondage, Findom, etc. By selecting your fave, the site brings up all the rooms which are that particular perv friendly.
If your kink isn't listed there, you can find further categories via the advanced search engine. By selecting the small search icon, a page featuring 27 sub-groups of fetishes appear, along with the option to narrow your choice via age, appearance and body type etc.
Prices for a private chat show are extremely cost-affordable, but there is a pay-off - and that's the streaming quality. Very few rooms are HD enabled. The majority of performers broadcast in SD, with feeds sometimes taking a while to come through. On the other hand, almost all the cam rooms are well-stocked with almost every imaginable pleasure toy and accessory.
If you're looking for a professional fetish session and don't want to wipe out your PayPal account - FetishGalaxy is a great place to go. C2C shows start at just $1.00 a minute with most hovering around the the $2.50 a minute bar.
How to use PayPal on FetishGalaxy:
Register (or login) as a FetishGalaxy member
Select the Credit button on top far right of any page
Choose the Change Biller link on the bottom of the pop-up box
Select the PayPal box and the click/tap on the Apply Button
Choose your preferred credit package
Complete the transaction process and start having fun with those kinky credits.
---
LiveJasmin.com

LiveJasmin has a huge selection of A-list live performers. There's usually around 1,500 stunning girls waiting to put on a show par excellence for cam aficionados looking for the best of the best in all aspects of private chat. When it comes to the dungeons on the site, the fetish females are professionals in their genre. They dress the part, they're equipped for every scenario you can think of (and many you've yet to imagine), however, all this is reflected in their rates. But, if you read on, in this mini-review we'll show you a few cost-cutting tips.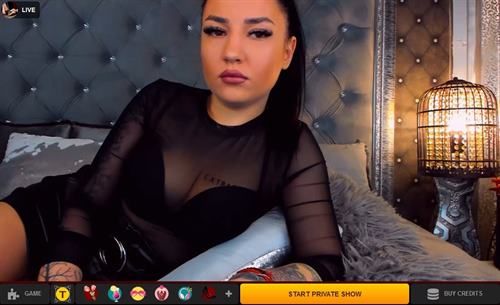 LiveJasmin isn't only about the kinks, though it makes it extremely easy to get to the dreamy dungeons. On the left of the homepage, there's a menu bar of options, simply scroll down until you get to Fetish. By choosing this, the site brings up a page of highly stylized snapshots of all the queens of kink. However, it doesn't narrow down the genre to specific acts.
The best way to find your partner for the cam adventure is to browse through the fetish femmes and whoever catches your eye, enter their open chat room, hover over the live feed and a small info icon will appear. This brings up the babe's bio which lists the particular acts she likes to perform in private chat. Most have a significant repertoire, but check before starting any paid-for session that she will do them and has the appropriate equipment at the ready.
There's no free entertainment when they're hanging out in their public boudoirs, for this you'll need to pay - and pay you will. While rates start at just $1.20 a minute for a 1on1 chat, most charge around $3.60 a minute but this doesn't include 2way video and audio. For each of these features you'll have to add an additional $1-2.00 a minute.
But, we promised a few cost-cutting tips: Always Spin The Wheel before every PayPal funded credits purchase. You could win up to 100% extra credits in your bundle, basically reducing the cam chat costs by 50%. Another tip, check out the dungeons on sale. You can always find a selection of performers that are hosting a sale, reducing their per minute rates to the minimum $1.20 a minute. Bear in mind that the site's most popular models can rake in $12.00 a minute, so these sales can literally save you a fortune.
How to use PayPal on LiveJasmin:
Register (or login) as a LiveJasmin member
Select the Get Credits link on the top right of the homepage
On the bottom of the pop-up box choose PayPal
Select your chosen credit bundle or enter an amount you'd like to buy and press Buy Credits
Complete the transaction via the payment processor to receive your credits
---
Flirt4Free.com

Flirt4Free bridges the gap between a premium generic cam site and a fetish-centric platform. This webcam wonderland hosts a stand-alone kink microsite which is about all things spicy. In addition to the webcam performers, Flirt4Free's Fetish Forum features a community-powered messaging forum, infotainment and articles all related to the kinkier side of private cams.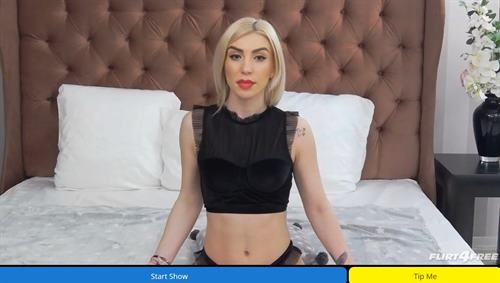 At any time expect to find around 600 X-rated models broadcasting in HD, HD plus, and unfortunately, quite a number in SD. To get to the 54 available kink categories go to the first link on the top menu bar (Live Cams) and click on the first option from the drop-down menu (Fetish).
On this page you'll find the caves, dungeons, bedrooms and offices where the bondage / humiliation / slaves / dominatrixes / feet fetish / role play, etc., themed rooms can be easily found. If you hover over the photo a short pop-up bio appears showing if the room is HD, the user-rating of the girl and most importantly, what they like to do if you pay for a private show with them. Like most cam models on all sites, it's always worth messaging the performer if your particular perv isn't listed. There's a good chance she's into it - if she is, make sure she has the appropriate outfits and additions at hand.
Rates for a 1on1 c2c fetish show vary wildly. The cheapest caves kick off at just $0.50 a minute (though they are rare and streaming quality is usually low). Most come in at about $5.00 a minute - but at least they include 2way video chat.
For the cheapest shows, head to the lower menu bar at the bottom of any site page. Go to the first category (Live Chat) and select either the Promos or Deals links. Promos features the offers available at the site and Deals features coupon codes posted by the cam performers which can give you up to 100% extra minutes when you start a show with them.
How to use PayPal on Flirt4Free:
Register (or login) as a Flirt4Free member
Select the green Credits button on top right of the homepage
On the bottom of the pop-up box click/tap on the Change Payment Method link
Click on PayPal on the list of payment methods provided
Choose the package of credits that suits your budget
Complete the transaction process to get your Flirt4Free credits
---
Stripchat.com

Stripchat, like CamSoda is a freemium webcam platform, which means a lot of free shows and nudity to enjoy as a warm-up before you start a tailor-made private chat session. With around 2,000 rooms streaming day and night there's no chance you won't find a girl - or several - that will provide the ying to your yang in some fetish fun. Stripchat is a deserving inclusion in this list of the top 5 fetish cam sites that take PayPal due to a unique feature that's currently only available at this platform - and that's its next level VR (virtual reality) shows.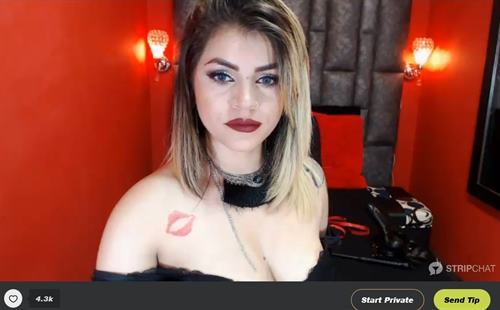 Stripchat's models cover every type, age, skill and gender. This means there's a true mix of amateurs, semi-pros and even pro cam stars twerking and flirting up a storm. When it comes to the fetish field, the site attracts a large number of not only amateur lifestyle devotees but professional dominatrixes, subs, and role play performers that'll show why they deserve your patronage the minute you enter into their room.
To narrow the thousands of rooms down to a few hundred who are looking for a play pal for a kinky two-some, the Popular Categories section on the left hand has links to major genres such as BDSM, Mistress, or Dirty Talk. But with so many options, it's worth being specific in your results. To do this you'll need to click/tap on the All Categories link at the end of the menu bar and then select your chosen act from the search results page that comes up.
Prices for a private c2c exclusive chat show start at $0.90 a minute, averaging out at the $2.70 a minute mark. There's no hard and fast rule though about cam to cam, some girls include it in their rate - some charge more.
But, it's Stripchat's VR shows that really makes all the difference. If you own a VR headset, see which of the fetish friendly rooms have the small VR sticker on their photos. If they have one - you're in for a next generation show that'll make everything else pale by comparison. Yep - virtual reality fetish live shows have arrived thanks to Stripchat.
How to use PayPal on Stripchat:
Register (or login) as a Stripchat member
Select the green circle by the tokens icon on the top right of the homepage
Choose PayPal from the options under the Payment Methods
Select the token package you would like to buy
Click/tap on the Continue button
Select the Proceed To PayPal button
Complete the transaction form to receive your tokens
---
Conclusion
PayPal is a popular way to pay for a private cam to cam fetish show as it's secure, safe and provides an added layer of anonymity. In addition to PayPal there are other ways to make sure your online fun remains locked behind the dungeon doors. Some sites (LiveJasmin, Flirt4Free and Stripchat, for example) - also let you trade in brand or store gift cards for site tokens/credits that you can use on a private cam session. You can also pay on all the 5 sites listed here using cryptocurrencies.
Each of the sites listed above aren't only PayPal friendly, but they offer some of the best value cam to cam fetish sessions around. Before starting a 1on1 cam adventure, it's always worth checking with your new partner that they're into the games you're about to play and that they have the right equipment to make your fantasy a reality.
With so much free action, great HD and HD plus streaming options, and the great perk of being able to record your fetish chat session to watch over and over at no extra fee, CamSoda is our number one pick for a great fetish chat adventure that you can pay for via PayPal