The Best BDSM Cam Sites Online - Dominant and Submissive Cam Girls
last updated
December 08, 2018
The art of Bondage, Domination & Sadomasochism can be experienced through an online interaction with submissive or dominant webcam girls. Whips, chains, handcuffs and assorted clamps are just some of the discipline tools used by dommes and subs during online sex sessions. Here is our list of the best BDSM sex cam sites to find someone to fulfill you dark desires.
---
LiveJasmin.com

For the most exclusive submissive cam girls and the hardest doms on cam, our research team unanimously agreed to begin with LiveJasmin. This premier adult chat site features unrivaled video and audio quality as experienced on competitive sites. LiveJasmin insists that it's models broadcast at a minimum of HD720p, with select BDSM mistresses streaming in Full HD1080p.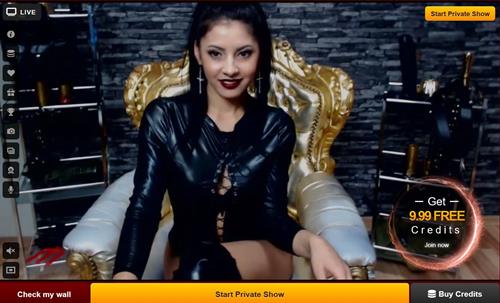 Seductive dominant mistresses on cam:-
And subs that bend and bow to your direction, are what you can experience in the kinky paid performances. Strict discipline (with safe word), role play and humiliation are just but a taste, of what some of these sex slaves commit to to on the BDSM cams featured on LiveJasmin.
The amateur cam stars who perform the dark arts of sexual fantasies are skilled and professional. These creatures of the sexual underworld, know how to take their time or yours, to deliver the best, most seductive live experiences imaginable. To elevate your BDSM show experience, we recommend switching on your cameras and engaging in cam2cam with your chosen model. It is an optional free extra, but doesn't include free audio. Most models offer the audio at an additional nominal fee. This fantastic chat feature is worth every extra cent.
Finding the submissive cam girls, or doms on cam is neither difficult nor time consuming as users need to just change the gallery view from Girl, to Fetish. This can be done from the homepage category drop-down menu (top left). There is always the option to just type Fetish into the search bar which will return the same results. Clicking the menu icon (right side of search bar), will open up filters to refine your search for your kind of kinky sex chat. LiveJasmin host a modest collection of BDSM cams suited for the most hard core porn fanatic to the fresh inquisitive newbies.

LiveJasmin keep things simple and consistent rewarding players with bonus credits. Members get up to 9.99 free credits on their first and then every fifth credit package purchase. LiveJasmin accepts many forms of payments, including gift cards!
---
FetishGalaxy.com
As the name of this adult cam site suggests, FetishGalaxy is a sex site dedicated to the taboo's and darker side of the porn world. Fetish Galaxy has successfully created a community of like minded individuals who love nothing more than the hardcore pleasures of erotica, sharing their passions on both Live cam and recorded shows. With HD quality cams & crystal clear audio, plus the finest selection of kink cams, this underworld of porn awaits you.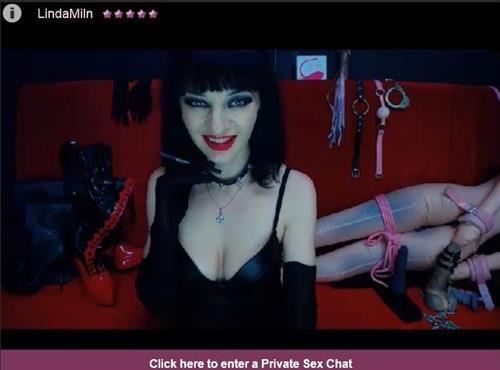 Part live chat, part porn archive FetishGalaxy has it all going on in a neatly presented adult website. With free membership and a variety of kink categories to choose from, this website is both easy to join, and spend credits on. Members of this site can chat with Live Experts as well as access thousands of recorded BDSM shows for a low credit cost. There is also a training center for beginners, or practicing BDSM specialists looking to broaden their discipline horizons.
Finding the live BDSM cams on FetishGalaxy is straightforward and requires a simple click of your mouse. From the homepage, select BDSM from the main category menu (page's right hand side). It's worth mentioning, that as this is a website dedicated to the darker side of porn, there are other deviant categories catering to all of your fiendish fetishes and erotic fantasies. These categories include: Humiliation, Gags & Blindfolds and Rubber/Latex/PVC, to mention a few. Based on an article by Best Webcam Sites, there are many Pantyhose cams on FetishGalaxy.
You can further refine your search by choosing to have either: Woman, Men, Tranny or All BDSM models displayed. Browse for the kinky cams the way that suites your style best, and choose from either the Free Session rooms (totally free) or Private Session rooms (paid shows).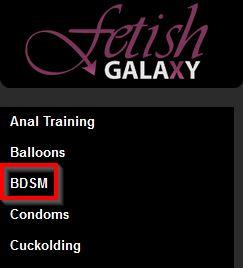 In searching for fine unfettered live cams, and hardcore dom vs sub videos, FetishGalaxy feature high on our list of top BDSM sites. The high quality of video coupled with good clear sound make for an exciting viewing experience and all round user satisfaction. Reach 15 Miles and automatically be upgraded to Silver status. Happy Hour shows at just 0.2 credits per minute, are enjoyed by Platinum members.
---
Flirt4Free.com
A veteran in the world of online porn with almost 20 years of experience, Flirt4Free is another must site for hardcore submissive cam girls and dominant mistresses on cam. Although a touch more expensive than the competition, members are treated to exciting and memorable performances, better yet when these shows are broadcast in full HD.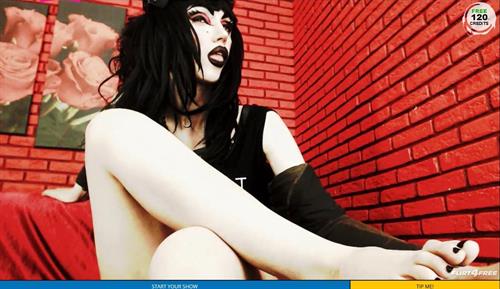 Flirt4Free has gone above and beyond in the realm of BDSM, not only hosting a healthy selection of babes in black, but also featuring a fetish forum and community. This is a site advantage, for both the curious newbies and existing practitioners of these dark arts. BDSM articles include Playing Safe with Butt Plugs, How Does Power Exchange Work and BDSM Tips Anyone Can Use (NSFW) to mention a few.
The sub-culture of BDSM is becoming more popular and these days, it could be argued, fetish cams are becoming more mainstream. Finding fiendish doms on cam or the submissive Flirt4Free webcam girls isn't difficult to do. For starters, users have the option of selecting, from the main menu bar (top of page), the Fetish tab. This redirects you to the dedicated BDSM section of the website. Scroll down the page for the kinky BDSM fetish categories on offer, which include: Sugar Daddy, SPH, Findom & JOI to mention a few.
Should you somehow be redirected to Kink.com, don't be overly concerned as this seems to be a Flirt4Free sister site specifically dedicated to BDSM and fetish cams. By and large, the models to be found on Kinks, are the same as to be experienced on Flirt4Free.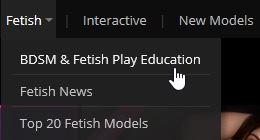 The Flirt4Free BDSM Open Rooms are great and tame, the paid performances explicit, and are even better in HD. Members who spend credits earn Flirt Rewards. VIPs win big and have access to 150 VODs everyday.
---
ImLive.com

ImLive is an award winning cam site with optimized features for its users, and hosts amongst the best live BDSM cams online. Aside from being able to adjust the gallery view for your browsing convenience, users also have the added advantage of video previews before entering the seductive dominatrix's den, for humiliation or some hardcore command and obey. With some newer BDSM acts starting from as low as 0.98 credits per minute, ImLive definitely offers good value for money.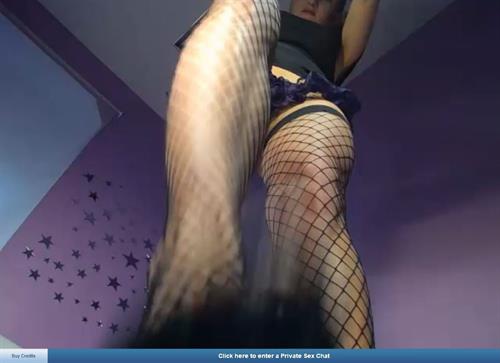 The moment you enter the public chat rooms, you know that you're in for good times as the the video window is pretty large, displaying every important detail of the sexy dominatrix camera girl, and her pleasure / pain toys or sexual implements. This experience can be further enhanced by selecting the supersize view, and immerse yourselves in the full viewing experience, especially in the paid private shows.
Looking for sexy babes in black leathers or red latex cat suites?
ImLive offer a number of search options. From the member page, simply select, from the category Cam Girls, the sub-category Fetish & BDSM, which will redirect you to the section of ImLive that's dedicated to the darker side of porn. Using the Narrow Your Search drop down menu, allows you to refine your search, to look for that perfect submissive cam girl, or a dirty dictating dom on cam. These filters include: Show Type, Price & Fetish, to mention a few. Our top tip is to spend some time exploring the Fetish menu, which includes a variety of sadistic tongue-twisting cams such as CBT, Jerk-off Instruction & Face Riding.

Registration is free and members are upgraded to Bronze, the moment they have completed their first credit purchase. VIPs enjoy the most discounts, with Discount Club savings of 0.90 credits per minute and 35% off all recorded shows, plus free access to past and live porn shows.
---
Sexier.com

Another legend in the virtual world of porn, Sexier.com has over 20 years experience in delivering quality live sex chat, and also features some of the best BDSM cam sites to be found online. No matter if you are looking for submissive cam girls or sexy dominatrixes on cam, Sexier has what you're looking for. A high degree of video quality coupled with competitive private show costs, make Sexier a worthwhile destination for kink cams and live BDSM performances.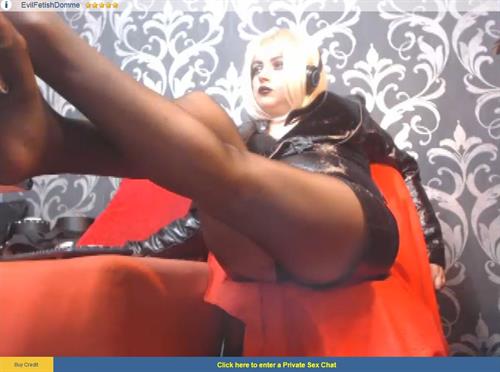 Detailed cam model bios allow users to really get a feel for the doms and subs, before committing to the paid private shows. Bios are important as they often include information about the willingness of the BDSM models, and their acts of both pleasure and pain. Unfettered submissive girls who obey, or hardcore doms on cam, you be the decider. Both are accessible on this neatly packaged adult chat site, and finding the BDSM babes isn't difficult to do.
From the Sexier front page, there are several search options. For starters, users can select Fetish Women, by clicking the WebCam Girls drop-down menu (top left of page). Immediately, you are redirected to some of the best fetish cams available. To refine your search, choose from the variety of sub-categories, that open up (top of page). These include: Spanking, Smoking & Electrosex to name a few. Clicking the small menu icon (top right), opens up a comprehensive menu, which includes filters for fetishes, age, ethnicity and BDSM. In this menu, is also an advanced search option, which feels a little more user friendly.

With a good variety of both devilishly sexy models and fetish cam rooms, this is a solid site to watch obedient submissive cam girls please or the uber dominant mistresses on cam. With free public chat rooms, and slightly above average private chat costs, Sexier deserve to be ranked amongst the best Live BDSM cam sites for kinky sex chat.
---
MyCams

MyCams hosts amongst the best submissive cam girls, and the hardest dominatrixes on cam. This site caters to all your deviant sexual desires and does so with ease and style. This elegant looking website features the best BDSM cams in HD, with sexy models performing the most kink of acts in the paid performances. Super clean graphics and a wide video format earns this sex site a spot on our list of the best Live BDSM cams online.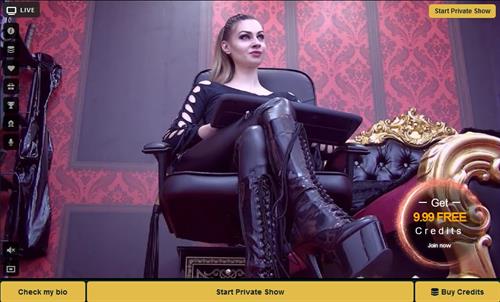 Sexy bondage divas,
And obedient subs on cam are what you can expect to find in the Fetish category of this exquisite website. The paid shows are enticing and creative and worth every credit, as members are treated to the hardest BDSM experiences in HD, the select hardcore models stream in Full HD 1080p.
Searching for the live BDSM cams on this adult website is easy:-
From the the main menu bar (left of front page), select Fetish, and click. Pages of the most deviant of models appear. Doms and subs across the age spectrum, waiting to punish or be punished in the most kinky ways possible. Alternatively, you can just type Fetish into the manual search bar, which should return the same results. To refine your search for a specific BDSM cam model, simply click the menu icon, right side of search bar (top of page), and then select from the listed attributes available, such as Age, Ethnicity, Appearance & Breast Size, to name a few.

MyCams features 'A' grade video and audio quality, resulting in life-like shows. Whilst select BDSM cams stream in full 1080 HD, the rest broadcast in 720p. There is no denying the advantages of watching submissives on cam in hi def. With free membership and a complimentary 9.99 credits for cc validation, MyCams.com is a great place to watch some of the the very best live BDSM cams.
---
MyDirtyHobby.com

As the name suggests, MyDirtyHobby could be a good site to see live BDSM cams, and it is. MDH is more than just a live cam sex site as it has positioned itself as an online xxx community offering it's users additional content in the form of erotic pics and the finest archive of amateur porn videos. When it comes to BDSM models, this adult sex chat community has them in abundance.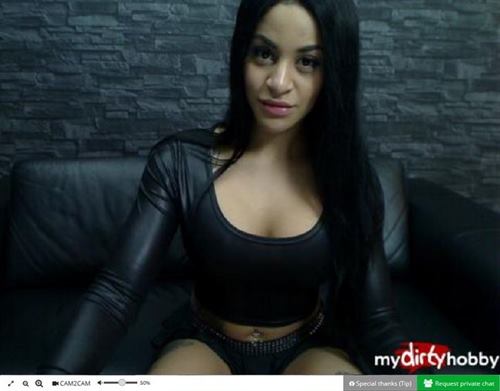 Registration is free,
Everything else on this site costs so be sure to have your wallets handy. As with the site's format, the paid performances are where the real magic takes place. Hardcore doms and submissive girls on cam doing what they love to do best, for both our pain and pleasure.
With MyDirtyHobby being a predominately European sex site, visiting the BDSM models over here is a great way for you to brush up on your German and French. There are also English speaking models, in case you are wondering.
Finding the live BDSM cams on MyDirtyHobby isn't as difficult as it seems at first glance, we'll show you how. From the homepage, first select Webcams from the main site menu (top left of page). You are then redirected to the live cams section. For the BDSM babes, select first Women and then using the filters, tailor your search to find exactly the sexy sub or the dictating dom that you want.

Despite the fact that MDH feature live webcams, their core focus is user generated content, namely naughty nude pics and hardcore amateur porn movies. MyDirtyHobby has an impressive photo bank, and an unrivaled video archive available to it's paying members. VIP membership (available for either 1,2 or 3 months) costs and scores you free DirtyCents and VIP's have free access to the legendary European MyDirtyNight parties.
---
BongaCams.com

This tasty freemium sexing site has it all going on, including it's fair share of BDSM cams offering all kinds of kink chat. BongaCams is a community based adult sex site, with free membership and active cam models, users won't be disappointed by the submissive cam girl shows nor the performances of the hardcore dominatrixes on cam. With high quality video, and a modest selection of HD kink cams, BongaCams is a site worth checking out.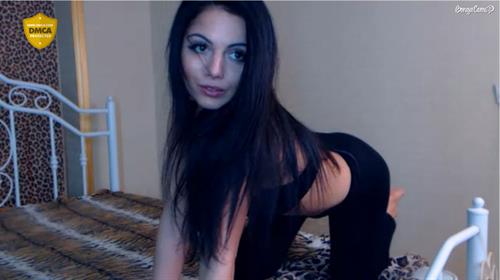 BongaCams is a site which rewards it's members, with complimentary tokens being included in the token packages, and 5 free tokens given upon the user's first purchase. This adult cam site also offers a number of live sex shows including group shows, spy shows, private sex shows and a show called full private. This exclusive sex chat is a 1-to-1 show with your chosen BDSM model, is completely private, no voyeurs allowed.
To find the BDSM models on BongaCams, users have essentially 2 options from the homepage. The first option is to simply select from the main category menu (left side of page), Bondage. This leads users to the BDSM & fetish cams section featured on this site. You may notice women, men and couples.
To filter only women or specific niches (2nd search option), use the advanced search function, called Search (top of page). The advanced search filters include the usuals such as: Age, Ethnicity, Breast Size then include unique attributes such as HD Quality & With Audio. Also, there's a variety of tags which can be included: Ass Fingering, BDSM & Facesitting, to mention a few.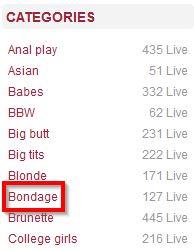 Tokens are charged for in Euros, which can be a tad confusing, especially if your currency is US Dollar based. As this is a medium to large website, you may not find the same quantity of models online, as you may be used to seeing on competitive sites. That said, when it came to viewing the BDSM cam babes, we had sufficient stock to choose from.
---
Cams.com

This adult webcam site is a seasoned provider to the online xxx community and also hosts a healthy global selection of BDSM & fetish cams. Cams.com operates as both a freemium model, where everyone gets to see everything, in the open free chat rooms, and a premium model, where the paying members who want exclusivity and complete domination, get to go private.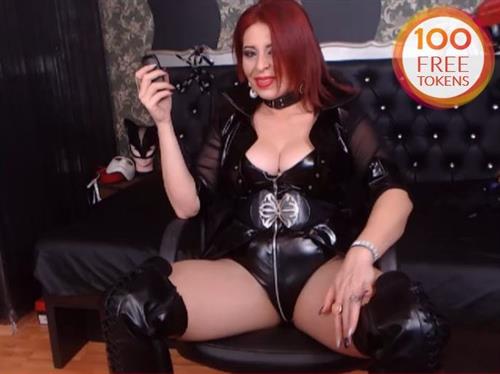 Hot site features:-
Which include Connextion, allowing the users who have the Lovense Max to connect to the models who have the Lovense Nora, giving a real-time fuck feel when connected and engaged. As far as we can tell, Cams.com is the only sex site offering such a service, taking your BDSM cam experience to a whole different level.
How?
Add extensive BDSM babe profiles, listing fetishes and willingness, and you have yourselves a solid sex chat site.
Finding fetish cam rooms and kinky sex chat isn't too difficult to do, we will explain how. From the Cams.com front page, select the sub-category Bondage, from the main site menu column (left hand side of page). You are immediately taken to the specific BDSM section of this website, where you will see a selection of models in a variety of shows.
The other way to search for the dominant mistresses on cam or obedient submissive cam girls, is to use the Advanced Search tag, found in the main blue menu bar (top of page). Click, and the advanced search page appears including a number of convenient filters. From the Fetish filters, choose the ones that best fits your needs.

With both Basic & VIP membership free, and the Premier membership incurring a nominal monthly subscription, this is a good site for users who are looking for basic site features as well as users who want more value added benefits. Joining the BDSM babe's Fan Clubs will earn members discounts for their kink shows.
---
XLoveFetish.com

The site name sums it up as XLoveFetish serve up a smorgasbord of BDSM babes and fetish cams for us to feast on. The subs and doms, who feature on this webcam site all have something different to offer, and whether you are a first timer or an avid online porn aficionado, this kinky chat site has a show for you.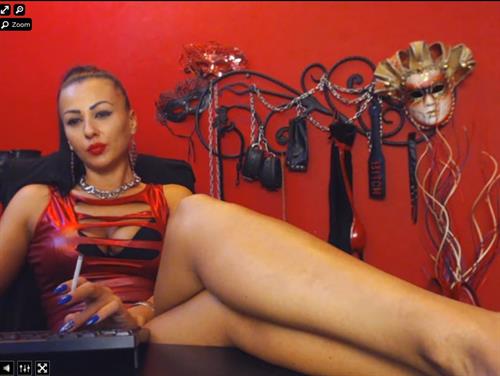 Gorgeous cam girls:-
Are what you see the moment you land on the XLoveFetish home page. As the site interface is easy to understand and simple to use, it won't take you long to find exactly the kind of show that you are looking for. This is a no nonsense kinky chat site, offering good video quality cam rooms at affordable pricing. Although registration is absolutely free, there are no incentives to join, unlike on competitive sites, which offer complimentary tokens or credits to it's new members. Alas, no freebies on XLoveFetish.
As this is a sex chat website which is dedicated to the love of fetishes, you would think that finding BDSM babes isn't that difficult, and you would be correct. We'll explain more. All of these babes are into some kind of BDSM, and therefore may not necessarily tag themselves as such. We found it best to check out the descriptive model bios before committing to the paid private shows. There is always the option to simply ask the model in open chat, if you have something in mind that doesn't feature on the list of what is offered in the private kinky sex chat.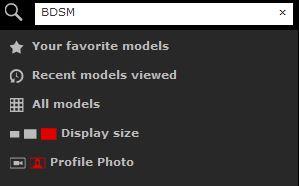 As with any other premium sex chat site, the open chat rooms are 100% free, and the private sexy kink shows cost credits. Besides the live cams featured, some in HD, there is also archived videos for members to enjoy, both free and premium.
---
The Last Lines...
The art of BDSM is both provocative and fascinating and these days, can be enjoyed from the comfort of our own homes or from wherever we are connected. Sex cam sites have come a long way, so much so, even the so-called taboos of this sexual underground are featured on the more notorious chat sites. Playful mistresses with kinky sex toys and obeying submissive cam girls, who take pleasure in being instructed are all part of the world wide web phenomenon.
Our top pick goes to LiveJasmin.com. A sultry sex chat site that ticks all the right boxes, and does so with style. With super slick HD graphics and amazing wide format video screens, this site ranked the highest amongst our dedicated research team. In addition, Live Jasmin features ease-of-use site navigation, and free registration. Round it off with complimentary joining credits, and bonus credits after every 5th purchase, and LiveJasmin takes first prize.