9 Excellent Cam Sites to Chat with Girls in Bondage
last updated
January 10, 2021
Hardcore performance artists skilled in the craft of binding and tying themselves into submission can be found on some of the top cam sites. Here, we list the advantages of membership at each site, and show you where the girls into bondage are tied up at.
For a comparison of chat rates at each site, jump to our pricing table at the bottom of this page.
---
LiveJasmin.com

LiveJasmin is a leader in how to present and entertain. The site is sleek, intuitive, and to the point. The models have performance standards and broadcasting expectations to meet. All shows stream in nothing less than the minimum rate for high definition video. At LiveJasmin, the focus is on private shows. The girls hanging out in the open chat rooms are ready and waiting to go one on one with the first taker, as there are no free group shows for the masses.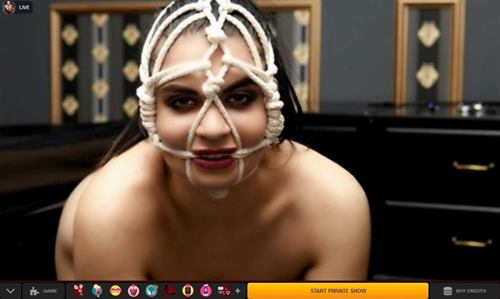 Find the Willingness listing and choose the Submissive girls. Within this corridor you'll find the whole range of sex slaves ready to tie, bind, bound, and restrict themselves up with ropes, chains, handcuffs, ball gags, and more. These are the girls that present themselves as servants to their suitor's commands. On display, in their rooms, you'll see a whole mix of various toys and equipment to be used during a show.
The LiveJasmin Elite ranking system puts members on a pedestal. Based on your activity on the site, you'll be awarded points that go toward moving you up the hierarchy of active users. For those wanting more special attention from the models, this is a way to distinguish yourself from all the other chatter boxes online. The models will know who you are and will serve you accordingly.
LiveJasmin is currently one of the only sites to make available the option to activate your phone's camera for a mobile cam2cam session. Activating both the video and audio functions on the phone each come with an added cost, on top of the regular room rate.
Use the Pricing menu to search by a range of the models' chat room rates. On the higher end, you'll see some of the most well-known and successful cam girls online. These performers are in high demand, and charge accordingly. So, if you want to test out the site with the cheaper girls, then look through the low price range. Maybe you'll discover a future BDSM star.
---
FetishGalaxy.com

FetishGalaxy is a particularly focused site. With its aim set on all of the most popular fetishes, it has become a top destination for members looking for hardcore performances from professional educators and instructors who've mastered the art of dominance and submissiveness. There are no frilly games or distractions here. The site opens with fantastically presented photo previews of each model with a video peek into her open cam room. This simple, yet engaging interface is designed only to get you into a private show as fast as possible.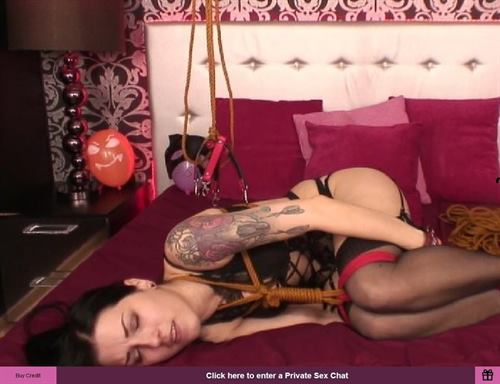 Find the girls who like to tie themselves up in the Bondage category. This is the most obvious place to start looking. But, seeing how so many of the fetishes categorized are inter-related, it's a good move to check out any similar fetishes, as well. Don't miss the well-populated and extreme BDSM category, or the Domination and Submission girls. And, of course, there is the Gags and Blindfolds category, where you'll find freakish ladies who mix traditional rope and chain bondage with facial sensory deprivation.
To keep your show economical, FetishGalaxy has made one big strategic move. They don't offer webcams that broadcast in anything above the accepted rate for high definition streaming. What you'll find here are high quality standard definition cam rooms. If you're obsessed with a crystal clean image experience, then this may not be the site for you. But first, give it a shot. You may find, based on your screen set up, or maybe you interact over mobile, that the streams are perfectly suited for you.
The lowered cost of not providing HD cams, means the savings are passed onto you. Between the sites on this list, FetishGalaxy falls among the lowest rates for private one on one shows.
---
MyDirtyHobby.com

MyDirtyHobby is the perfect destination for those looking for next-level extreme. The site is hugely popular among fans of intense fetishes. It functions as a platform for amateur performers to build out extensive profiles with blogging and content updates for fans to follow. The site operates in English, though the large majority of performers are German. And in the realm of xxx action, the Germans rule supreme. If you're looking for a site with loads of supplemental content to the girls' live webcam performances, then MyDirtyHobby is a must.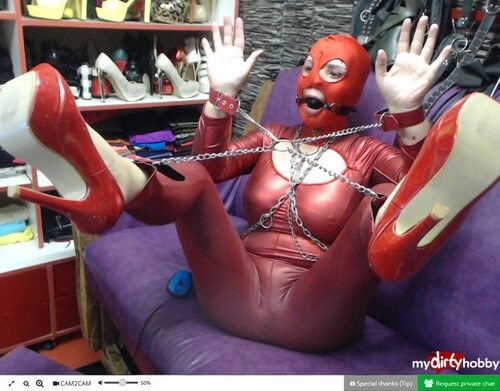 Best site to find bondage videos created, directed, and published by the performers. Running a keyword search for bondage, will bring up all content on the site within the Profiles, Videos, and Hashtags throughout the community. As you're going through all the photo albums and videos, you'll see which cam girl has uploaded the content that interests you. When you've chosen any particular piece, you'll see all content produced by the same girl. At this point you may look through her full library, or send her a private message, or just simply add her to your Favorites list.
MyDirtyHobby fashions itself to be something of an adult social network. Today, over 150,000 members worldwide can be found in the Community pages. You can search by country to find amateur broadcasters in your locality. As a member, you use your profile to interact and chat with all others in the community. Or, if you are so inclined, you can build out your own profile with blog entries and photo and video uploads. And, those who are into the cuck experience, will discover that this hardcore community of fetishists make MyDirtyHobby a top destination for webcamming with cuckolding couples.
Finding what you're looking for is made easy with the site's filter assignments. For the girls into art of getting tied up, set the filters to Submissive, Sadism and Masochism, Role Playing, Bondage, or Dominatrix & Slave.
On MyDirtyHobby, it will cost you to enter into any live chat room. There is no free open chat. And depending on the model, they may even charge a small fee to send a message.
---
LivePrivates.com

LivePrivates does a kickass job at delivering stunning women doing extreme bondage acts on cam. The site is a treasure trove of gorgeous talent from around the world. There is no nudity in the open chat or free content in models' profiles. This is a premium site, all the way. Girls don't choose LivePrivates to work for large crowds like on other sites. They choose LivePrivates for the site's stellar support and showmanship in hosting private performances. The girls are guided and instructed on how to be the best they can be during their one on one shows. And all cam rooms are guaranteed to broadcast in nothing less that the minimum standard for high definition streaming.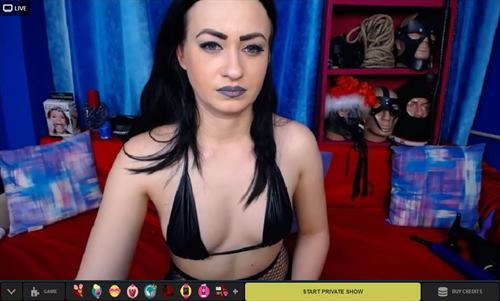 The Submissive girls category is the best place to get started with bondage chat. Here, you'll find a hefty offering of kinky babes doing their naughtiest to entice you. If you're looking for a professional sense about things, LivePrivates is your spot. These girls are in to what they are doing. They keep well-manicured rooms tailored to their particular specialty. And they are experts at maintaining their showmanship throughout a performance.
If you've got any particular scenes you want to play out, go to the Roleplay category. Some of the girls found here are ready for a whole range of scenarios that involve getting tied up and bound. To further expand the search, be sure to keep tabs on the Dominatrix girls, as well as the main Fetish category.
On LivePrivates, you'll find a range of prices. The more popular and veteran gals may be charging more than the site average. To see individual prices, you'll need to have some site Credits in your account. If you are looking to keep things affordable, don't miss the site's Sale cams.
---
ImLive.com

ImLive is among the longest running of live porn sites. Since its inception, it has stayed ahead of the curve, constantly introducing new features, and getting rid of old and tiresome ones. Whether it was the first to introduce a new site function, or are copying popular attributes from other top sites, ImLive is committed to being aggressive about making the camming experience a great one.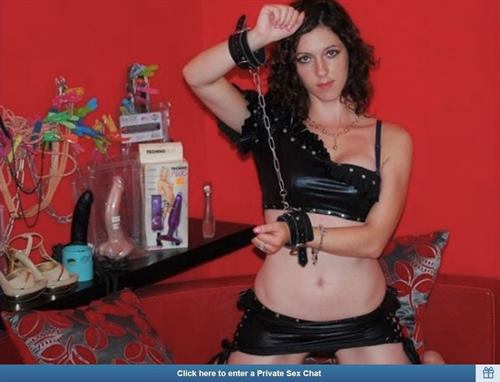 Submit a Fulfill Your Fantasy request, and the cam girls will reply directly to you. Whatever your fantasy may be, you have the chance to throw it out there and see who bites. When you complete the submission form, you enter a subject, description, and choose to which category of models to direct your request to.
As you look through the sites categories, you'll see a dedicated Fetish area, where you can sort the girls out by those who specialize in Bondage, or Submission. Starting here can be your first step. But don't ignore the Domination and Discipline categories, as most models are perfectly apt at switching the Dom and Sub roles when called upon.
If you use the site's Multi-Viewer, you can quickly scan through all open cam rooms. This tool opens up six live video feeds at once, in whatever category you've assigned. The Multi-Viewer is also available in Full Sex Mode, opening six ongoing shows at once. It'll cost you about $1.50 a minute, and is strictly voyeuristic.
Imlive includes in the price of any sex chat the option to activate your own webcam and microphone. At no additional cost to you, the model can see and hear you, if choose it to be so.
---
CamSoda.com

CamSoda is a big time free-for-all party. The girls are unchained from the restraints of a no-nudity policy in their free chat. On this site anything goes. This is a Freemium site with no viewing limitations for signed up members. You can watch as much free live porn as you desire without ever being timed-out. With most of the girls, they are clamoring for the attention of as many viewers as they can garner. They are performing for tips. Find the girls with less motivation do so, if you want a private show. They are usually hanging out, not exposing themselves.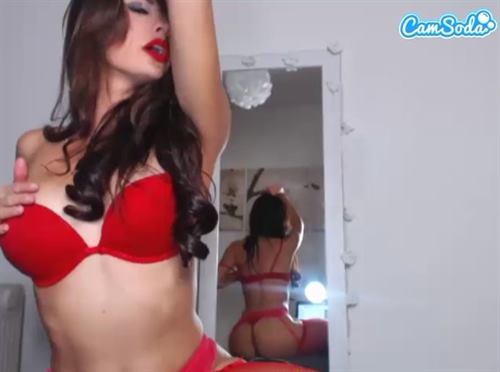 There are no categories on CamSoda. The site uses a tagging system to help members sort out the online models. The tagging is left to the models themselves, and they don't always do the best job an identifying their traits or performance acts. They often do a terrible job at it. The number of white girls that appear when searching for Asian is just stupid. The best way to search through all girls is by simply scanning through all the thumbnail gallery previews.
Use the Schedule a Private feature to arrange an appointment. With the girls that make this available in their cam rooms, you can choose to select a day, time, and duration for show. When you do so, the rate you'll pay goes into an escrow. Only when and if she shows for the scheduled show will you be charged for it. If she doesn't show, your fee returns to you from escrow. And if she can only meet you when you are mobile, then you'll enjoy CamSoda's cam2cam availability over your phone.
CamSoda is among the sites with the cheapest privates chat shows, and has the second cheapest buy-in deal of the sites we've included in this list. $5.99 will get you started with enough tokens to enjoy tipping whom you want. Or, find the girls that only charge $0.60 a minute and you're set for a relatively decent sex chat show.
---
Cams.com

Cams works hard to give it's members the full bag of popular features and choices that users have come to expect from cam sites. Here, you'll find a mix of show types, ways to interact, fan clubs membership, recorded shows, custom videos, and a dedicated Bondage category.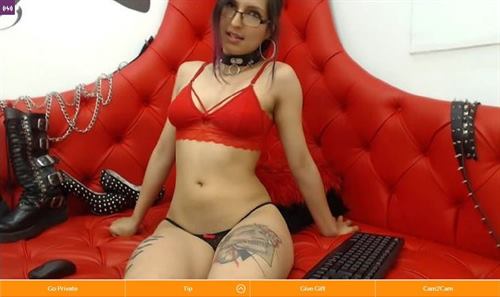 Head straight to the Bondage category found under the Kinks area of the site. Any girl ready to get herself bound up for you will be shown here. Or, by going through the search parameters, you'll see filters like Role Playing, Rubber, Paddling and Spanking, Leather and Latex, and Handcuffs. Many girls within theses rooms work within the realm of submission by tying themselves down.
Joining a model's Fan Club grants free access to her exclusive content, and big discounts on live shows. The discounts vary among the models, with some offering up to 70% of their private performances. Each model has within her profile a free photo section with risque pictures, but for her nude photos, you'll need to join her fan club.
The girls will designate varying chat availabilities. They are either hanging out in open rooms, only accepting tips and playing games, or waiting to be taken into private from free chat, or be engaged in a nude group show, at a low price.
---
BongaCams.com

BongaCams is like an amusement park of features and distractions. There is so much going on at the site, that you've got to stay singularly focused if you want to find a babe to get all wrapped up for you. This is a Freemium site where the girls can always be on, as they are working the crowd for tips. The kind of girls that tend to cam on freemium sites, are probably camming on other similar sites at the same time. Basically, they're busy. So, getting a girl to go private may be a task, but when you find the right one, it can be worth it.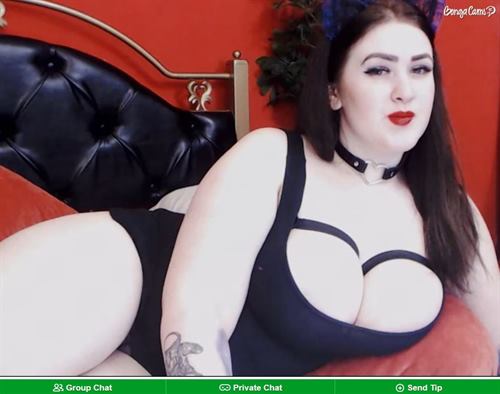 Members join BongaCams not so much for the girls that can be found at the site, but for the entertaining involvement the site fosters. BongaCams keeps members involved with Cash Back events and special promotions. If you refer a friend, you'll get bonus Tokens. If you enter the site form you mobile phone, you get bonus Tokens. Be one of the top 5 most active spenders for the day, and be gifted up to 200 free bonus Tokens. Winners are announced every 24 hours.
To get going with the naughty girls that enjoy getting intimately intertwined with ropes, chains, gags, and cuffs, simply head to the Bondage category. It's one of the main categories promoted within the site. If you check out the main search tool, you'll see the full breadth of fetishes the site has identified. As well, in each models cam room, you'll see a full tag list of what she does on webcam. Use these to sort out models interested in performing the same acts.
BongaCams has the cheapest buy-in offer of all the sites in this list. The lowest-priced Tokens package for purchase will cost you $2.50. It won't be quite enough to get you any private chat time. But it is enough to give you a taste of what it's like to tip in the free rooms.
---
Streamate.com

Streamate rounds out our list of bondage chat sites. Here is another of the original sites that brought webcamming mainstream in the early days of the internet. Today, they have grown into the quintessential live porn site with all the functions, features, show types, and model count to be expected from a site as that has been doing what it's been doing for as long as it has.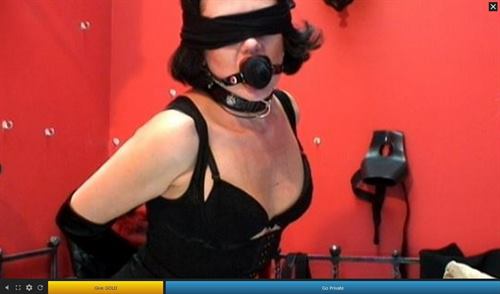 With a dedicated Bondage category to get you started, you'll get a fast and hard taste of what kind of girls are working at the site. Or head straight to the Advanced Search and select from the BDSM, Dominant, Gagging, Roleplay, or Submissive filters found in the Fetish area of the search parameters. With the number of live girls online at any given moment, you're going to have to set some sort of query.
Use the Schedule in each model's profile to keep tabs when a favorite comes online. Within the models' profiles there are two other features of note. The My Tags feature allows you to set your own tags for a model. This is a contribution you make the the overall tagging system. You'll be able to see tags that other members have assigned as well as your own, and use them to search all girls under that tag, or look up the tag in the search bar. Also, most models have uploaded free photo and video content demonstrating their talents. Examining this material is a great way to discover what she's familiar with and in to.
At Streamate, you pay as you go. There is no site currency to purchase.
---
Average Chat Rates at Each Site
Please note that prices may differ slightly from what we publish here, and what is seen on site upon your visit. The rates shown here are calculated solely on our own research in establishing what the typical costs are during privates sessions.
Here, we show the minimum buy-in purchase you can make to get started on each site. The average rate for one minute during a private show. And the cheapest rate for one minute during a private show.
*Streamate does not require a buy-in of site currency, like Tokens or Credits. The site operates on a pay as you go system. Get started with a credit card sign-up, and then only pay for the tips and private shows you initialize.
Which ever site you decide on making a purchase at, or even if you join and make purchases at multiple sites, you'll want to stay connected to the sites' notifications. Each runs its own periodic promotions for deals or discounts on the site currency packages the have on offer.
---
Conclusion
Getting yourself into a bondage sex show is the easy part. Each site has it's fair share of hot ass offerings. You won't be left wanting for selection of models. Where you do have to make a decision, is on which site to make it happen. We're all different in how we want our interaction with a site to go. It's not always just about the girls, the site has to be something that functions the way any of us would want.
In our quick reviews of each site we aimed to give you a picture of the character of the sites, as well as what may be a unique feature on each one. For further analysis on the sites you're most interested in, please look through our full reviews for each site.
And please read our article on the best BSDM sessions with doms and subs. We showcase which sites we like for this larger, all encompassing niche. You'll discover a few other sites in that ranking that didn't exactly make this, specific for bondage, list.
Now, we've given you a good road map to get started. The 9 sites we've added to this list are all great places to get into a show full of bondage. These are all trusted sites that offer a discreet and secure environment for sex chat. And while we're happy starting at any one of then, we'd be remiss if we didn't put our support behind a top choice.
You'll probably notice that one site consistently tops our lists. When it comes to the overall experience of webcam streaming quality, model selection and availability, and value for cost, LiveJasmin is unexcelled.