Top 5 Cam Sites for Cosplay Sex
last updated
January 03, 2021
Cosplayers are the jewel in the crown at some of the best webcam sites online. Though there may not be enough of them to require their own category, they are still the shining stars amidst a sea of look-alike performers. These are our favorite sites to find the best cosplay cam girls.
CamSoda.com

CamSoda is the coolest new place to find cosplay cam girls. Less than half the age as any other site on this list, it knew it had to introduce itself with something outstanding. What it delivered was a full-on video blast of live peeks into each webcam room. No other site does this. On desktop, you get some 50 cam rooms, per viewing page, streaming the current action of each room, all at once.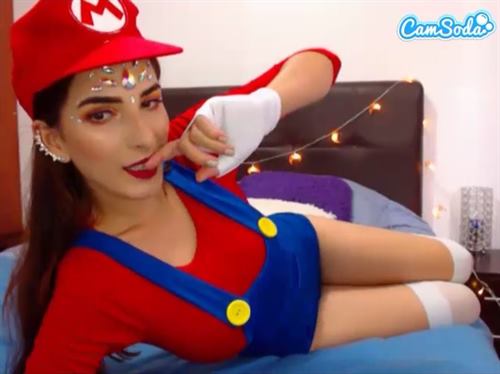 Visit the site, any time of day, and you'll catch between 400 - 600 live performances. When a girl is not making a windfall in tips from the crowds during her public shows, she's more likely to approve a private show request. The average rate to expect is $3.60/min, with the lowest rate being only $0.60/min.
Use the gallery video peeks into each room to scan for whatever you're looking for. There is no category arrangement in place, only a tagging system, which unfortunately, is less than helpful. For whatever reason, CamSoda doesn't do a great job of policing how the girls tag themselves. No matter, since the previews into each room give you quick look of the current activity inside. Spotting the girls dressed up in costume, or any special gear, becomes a cinch.
CamSoda makes it possible for cam2cam over a mobile device. This is one of only two sites online to offer the option to activate your phone's camera during a private session. Additionally, any show you get during a private encounter will usually include the option to record and store the performance you get, for you to re-watch at your leisure.
The Premium membership will run you $19.95/mo. This status will remove all ads, permit you to send private messages, enable you to adjust any tipping features, and come with a one-time gift of 200 CamSoda Tokens (valued at $20.99). Also, first-time buyers of any of the Tokens package available will be gifted up to 100 free additional Tokens.
---
MyFreeCams.com

MyFreeCams is a choice destination for the cosplay community. Girls like being able to perform freely in their open chat rooms, while visitors get to enjoy an unlimited amount of free viewership. Typically, there are well over 1,000 girls actively online. Tipping fuels the public shows, while all privates go for a flat rate of $6.00/min.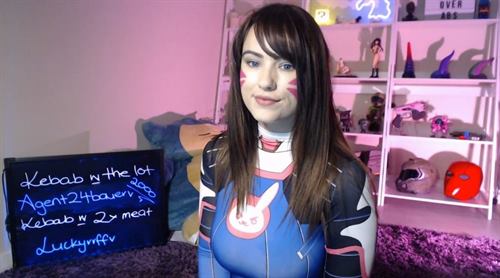 As a free site, it's not uncommon for the most popular rooms to have in upwards of 500 viewers. And you'll only find female performers, here. There are a few lesbian couples to be found, but mostly, it's solo girl shows. Finding the cosplay girls is going to require some search-and-capture skills. Running a keyword search may yield some results, but mostly, you'll have to scan the galleries of online girls. Each preview picture of all active cam rooms is a current snapshot inside each room. Keep your eyes peeled for costumes, wigs, and colorful settings. As you make your finds, be sure to add them to your Friends List or Bookmarks. Either list provides tailored ways of keeping track of the girls you like, by having them appear first on any page, or highlighting their rooms with a different color.
The site is full of customization features, from the aforementioned options to keep track of your favorites, to being enabled to adjust, resize, prioritize, sort, display, or hide just about every element your interact with with. If you're a fan of being able to personalize your experience, this is one of the most friendly and easy sites to interface with.
If a girl is giving a private show, a voyeuristic peek inside is $2.00/min. And an exclusive private chat, which disenables others from using the voyeur option, costs $8.00/min. When you make you're first purchase of MyFreeCams Tokens, you'll become a Premium member for life. Most other sites will revert you back to a basic member status once you've spent all your site currency. Premium members can chat in the open rooms, view explicit photos, send private messages to the performers, and be able to set up a chat room to broadcast oneself.
---
LiveJasmin.com

LiveJasmin most often makes it to the top of our 'best of' lists. The site just excels in so many of the elements and specifics that are vital to a great xxx webcamming session. We chose to rank them 3th for cosplay, simply because the above sites all have more cosplay girls, and they're easier to find. This is not to fault Livejasmin, it's just that the site is more focused on mainstream performances, and less on the more niched and alternative girls. That being said, at any time of day, there are well over 1,000 models available for chat. The average rate for private time is $4.80/min, with the cheapest ones going for $1.60/min.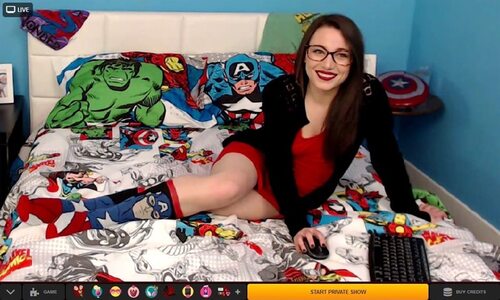 LiveJamsin is a great place for cam girls to broadcast from. The site is well-known for treating its girls respectably and fairly, in this webcam endeavor of theirs. That's why every performer would like to set up shop on the site. But LiveJasmin is picky, and has its models live up to a certain set of performance and broadcasting standards, that other sites may be lax on. Also, the site doesn't want to bombard its users with an overwhelming selection of niche and fetish option. It hits all the popular categories and model attributes, and that's it. Something like cosplay, just isn't showcased. You can find girls that are into playing comic book and movie characters, but it'll take some patience on your part.
Though the cosplay girls are in the minority, there are plenty of ladies well-versed in, and ready to dress for, all the popular roleplaying games, like: nurses, doctors, police, teachers, students, maids, secretaries, and the more extreme BDSM, domination, and submission performances. Ask around, chat the girls up, see who can do what for you. After all, she may not have your favorite cosplay outfit on display, but she may be able to get it ready for you, when you book a show in advance.
If you register with only an email, you'll be gifted 10 free 20-second peeks into ongoing shows. This gives you a chance to see what goes on during private shows. This is only a peek, you won't be able to chat. If you validate your credit card, you'll receive enough site Credits for up to 10 minutes in your own one on one sex show. Or, use them all for a quick couple of minutes with one of the the site's most popular girls.
---
Chaturbate.com

Chaturbate is another massive site with free access to nude and explicit performances. At any given time, there are somewhere around 2,000 models actively performing on the site. It's not uncommon for the most popular rooms to have nearly 10,000 viewers watching. Many of the cosplay performances are geared toward performing for a large audience, as the girls takes questions, opine, and gets intimate with themselves. If you see the option to take a performer into a private show, she may require a tribute of some kind, an amount she will determine for herself. In any case, the regular room rate averages around $3.30/min. The cheapest rooms you'll see go for $0.60/min.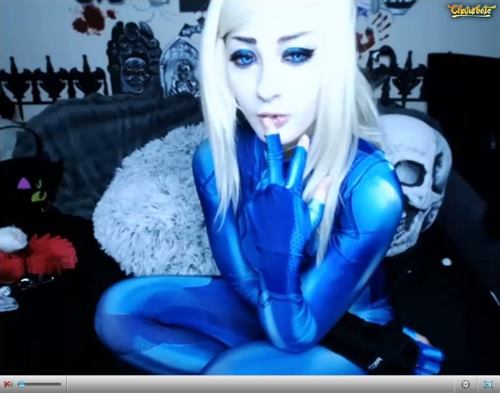 Much like MyFreeCams, as well as the other sites on this list, there is no cosplay category per se. You find the girls playing in costume by scanning the thumbnail galleries of all online girls. The galleries are presented with current photo snapshots of the ongoing action in each cam room, making it easy to spot anyone playing dress-up.
Chaturbate, as it stands, is the only site offering its visitors the option to throw the broadcast into 4K resolution. Most girls are broadcasting in HD. But, for those set up to stream in 4K, you'll be in a world of wonderment, mesmerized by the level of high resolution available. If you happen to be encumbered by a slower internet line, you'll also have the option to downgrade the broadcast all the way down 240p.
The site provides instant access to free sex shows with no membership required. As a passive consumer, you're welcome to watch for a long as you wish. If you do choose to interact, there is a a Premium User status available for $19.95/mo. This comes with a one-time bonus of 200 Tokens (valued at $20.99), an ad-free interface, custom chat and font color options, and free private messaging to any performer.
---
Streamate.com

Streamate is the first pay-to-play site we've included here. The models are allowed to go topless in their open chats, but they'll only perform hardcore sex acts during a private or group show. Visit the site at any time and you'll have from over 1,000 online girls to browse through. The number of guests in any room is not like what you'll see on the Freemium sites. You'll see the number displayed, and it's never more than a few, or none at all. Here, you'll have a real good chance of getting a girl's full attention all to yourself while in her open chat room. When you're ready to go full cosporn, it'll cost you $3.00/min, on average. Look around enough and you'll find girls only asking for $1.00/min, for a one-on-one show.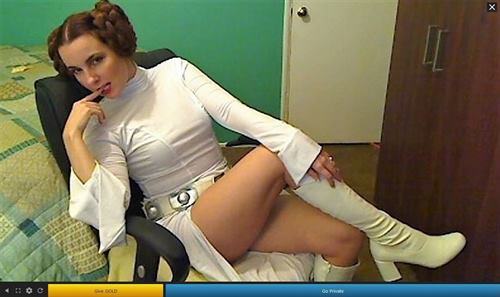 Of all the categories to arrange the rooms into, we liked looking through the Teen 18+ category. This is where we consistently were able to find some cool cosplay girls hanging out. When you locate them, be sure to add them to your Favorites list. Also, activating the Advanced Search will show a list of fetishes to choose from. Give a look at the girls under Roleplay. Your last move, is to simply run a 'cosplay' word search. All online and offline girls that have been tagged as such, will show.
Most webcam rooms are streaming in HD. The stream rate of each webcam room is shown in the video player. When activating the feature, you'll be able to select from a range of rates. Choosing the highest rate available will improve picture quality, but may result in an inconsistent stream, depending on your internet line set-up.
At Streamate, there is no site currency, like Tokens or Credits, that you'll need to purchase before you can send tips or start a private sex chat. Here, all private show rates are clearly posted in each room, and only when you choose to enter into a 1-on-1, will you pay for the time spent in that show. At the end of each day, your tally with me charged to your account. Daily spending limits are set by default. To increase them, you'll need to contact customer support.
---
Conclusion
Three of the sites we've put on our list of the best cosplay cam girls are Freemium sites that give their users total access to explicitly hardcore webcam performances. CamSoda, MyFreeCams, and Chaturbate all make access to sexually explicit shows, totally free. And what happens when something is free? Well, it attracts the crowds. It's not uncommon for the top performing girls on these sites to get thousands of viewers into their cam rooms.
For many cosplay performers, this is the ideal forum for them to operate. The most popular performers on these sites build up a huge following of viewers who are interested in observing a cosplayer, no matter what she's doing. Of course, people want to see them being intimate with themselves, but the girls are just as interesting when they are on a break from twiddling their twats, as they sit and chat with their fans, or go off on their own opinionated rants about the character they are playing and the fantasy world in which they occupy.
With any of these 5 sites, there is the option to take the performer into a private show, just for you. It's just that it's more likely to happen on your schedule if you approach a performer from LiveJasmin or Streamate. The former being the most strict with not allowing sexual acts or nudity of any kind in its open chat rooms. So, if you prefer to have the girl to yourself, away from a crowd of other viewers clamoring for the model's attention, then either of these sites will do.
All this being said, CamSoda is our favorite destination for costume play. There simply exists the best chance of finding some kind of cosplayer, here. The video previews of the chat rooms that play from the gallery pages is a one of a kind feature that gives you a look at the current action happening inside each online room. The girls are always active and entertaining, and many are ready to pull out any number of outfits from their costume bags. And, as a passive viewer, it's all free!