7 Cam Sites on Which You Can Use Giropay to Fund Your Live Chats
last updated
February 08, 2021
If you own a German bank account, paying with Giropay has one major advantage. Your payment is directly and instantly deducted from your bank account allowing you better control of your budget. This is highly relevant to funding your activities on cam sites where the ability to monitor your expanses, so as to avoid unpleasant surprises, is of paramount importance. Here are the 7 sites that will accept Giropay as a payment method.
LiveJasmin.com

LiveJasmin is the leading premium cam site operating on the web today. At any given moment, it hosts more than 1,000 breathtaking models at any hour of the day who will do all in their power to entertain you. The vast majority of them are professional webcam performers who broadcast at superior hi-def quality promising you a spectacular view of their shows.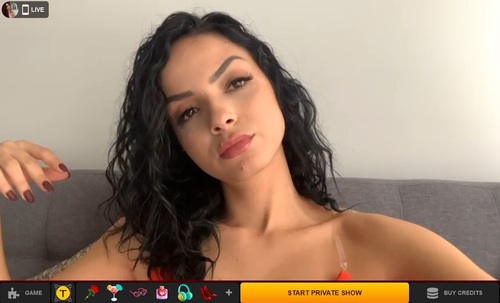 The site has an advanced interface, which includes a nifty search tool. Using it, you can precisely choose the type of girl you'd like to chat with by cross-referencing any of the search categories and subcategories, which comprise Show Type, Price, Language, Age, Ethnicity, Region, Appearance, Breast Size and Hair. The Willingness category includes acts the model will agree to incorporate into her show. Here you can opt for some kinky stuff like Toys, Close-up or Dominant.
Once you choose a girl to your liking, LiveJasmin will let you fund your live chat with her using Giropay. You'll have to pay €3.00/min on average. The cheapest models charge around €1.00/min. These rates are quite similar to the credit card rates, so you won't need to pay extra for using Giropay. However, regardless of your payment method, opening your cam and using bidirectional audio entails an additional fee of 1-2 credits a minute per feature, which amount to approximately 0.80 - 1.60 EUR. On the bright side, you'll be able to open your cam not only on your computer but also on your smartphone and, thus, interactively chat with models from the palm of your hand.
To fund your cam chatting activity on the site using Giropay, press on Get Credits and on Payment Methods below the credit packs which will appear on the screen. Select Giropay and choose the credit pack you wish to buy. You'll be transferred to your Giropay account page to confirm the purchase.
LiveJasmin has a great promotion specially tailored for new users. After you finish signing up, a Wheel of Fortune will appear on your screen. Spinning it, you can get up to 99% discount on your first credit purchase. You'll have 1 hour to buy credits with the discount you have won. If you procrastinate, the Wheel will reappear later on and you'll have another chance to get a discount.
---
Flirt4Free.com

Flirt4Free is another top-notch premium site with around 600 beautiful models you can engage in a cam chat, either public or private. The site offers multiple live show modes, excellent HD streaming, advanced features like mobile c2c and the option to pay as you go and, and on top of all of this, great reward and VIP programs.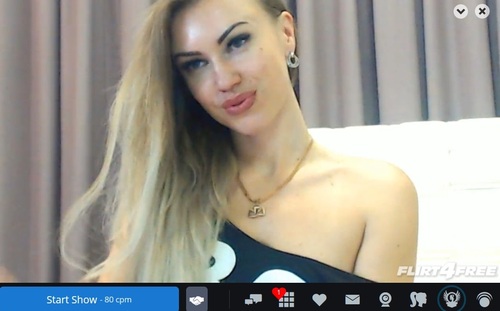 If you're into kinky live action, Flirt4Free has a whole section dedicated to unconventional live shows called the Fetish Community. It contains more than 50 niches covering all sorts of kinks, some of which you have never heard before, and dozens of dominatrices and submissive performers willing to bring to life all your hidden desires and fixations.
A private show with one of these performers or any other performer on the site paid with Giropay will cost you $5.00/min on average. You'll find some models who will agree to take as low as $0.50/min. There aren't many of them, but there are quite a few who will charge you 1-2 dollars/min. So you always have the option to chat at affordable prices, especially when taken into account that there is no extra fee for c2c chats, which you can initiate on your computer and on your mobile device.
Another option for cutting chat costs is the Multi-User Shows most of the performers give. These are group chats you can join and enjoy watching the model perform unclothed while saving around 25% compared to 1 on 1 shows.
To pay with Giropay, press on Buy Credits on the site's header. You'll be presented with credit packs paid with a credit card by default. Tap on Change Payment Methods, choose Giropay and, then, choose your credit pack. You'll need to select Giropay again and fill out details that include your full name, ZIP code, country (which can be only Germany) and BIC/SWIFT. After you do that, hit the Complete Purchase button and you'll be directed to your Giropay account page to complete the transaction.
Flirt4Free has a reward program that is highly beneficial to repeat users. It gives you points for virtually any action you do on the site, using premium services in particular. These points can be converted into a variety of perks, among which are discounts on buying new credit packs.
The VIP program costs $39.95/month and it unlocks great benefits like enhanced private messaging with models, 200 free videos/day, free access to recorded shows, special promos and 5% off on all video purchases.
---
xLoveCam.com

If you're looking for white girls, xLoveXam is the site for you. It operates 500+ active chat rooms around the clock. These rooms are occupied by models from all over the world, but the majority of them are fair-skinned European performers. You can engage in cam2cam chats with them as well as with most other girls on the site either on your computer or on your smartphone. The price you'll pay for these chats is lower than most other sites, allowing you longer live sessions without overstretching your budget.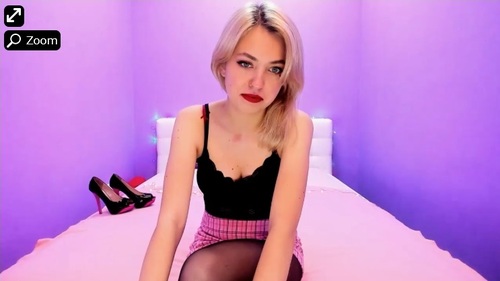 For a 1-minute private chat funded by Giropay, you'll be charged $2.20/min. The minimum rate you'll find on the site is $1.20/min. Take into account that any other user can enter your show either as a full participant if he's paid the model's chat rate or as a passive onlooker for a reduced rate. To drive away these unwanted intruders, you'll have to initiate an Xclusive Show, which is usually 25-30 percent more expensive.
To pay with Giropay, press on Add Credits on the site's header and select Giropay. Choose your desired credit pack, and you'll be directed to your Giropay account to confirm the transaction.
Some of xLoveCam's models have video galleries you can access on condition that you become their VIP member. Each model has her own membership rate. Prices range from 3 to 15 and even 20 euros/month. Models with more extensive galleries and higher ranking on the site will, naturally, tend to charge more.
xLoveCam's girls usually perform with their clothes on in their public chat rooms. However, if you enter the site on the first day of the week, you'll get to see many of them performing without their blouses and bras on, during what is called Topless Mondays. You shouldn't miss these days.
---
Chaturbate.com

Chaturbate is the biggest live cam hub operating on the web today. It's a freemium site which puts roof over the heads of 4,000+ promiscuous models who enjoy performing undressed and posing boldly for you in their public chat rooms free of charge. Many of the live shows are characterized by impeccable HD and HD+ broadcasting quality. From time to time, you'll also run into performers who stream in 4K providing you with an unparalleled viewing experience.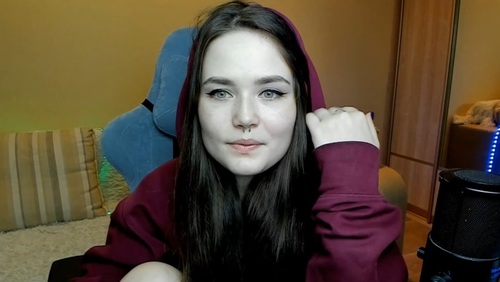 1 on 1 chats on Chaturbate are quite rare due to the relative difficulty in setting them up. To chat privately with a model, you'll need to establish yourself as a broadcaster and then invite her to your room. After all of that bother, there is no guarantee she'll accept your invitation. The generous tips she may get in her chat room can be a good enough reason for staying there.
This is why, we highly recommend remaining in the site's public areas and enjoying all the hot shows given by the countless undressed girls like most users do. You can use your tips to make these girls do special things for you. You can also look for a specific niche by browsing through the site's thousands of theme tags till you find something you like.
If you're still undeterred by the effort required in initiating a private chat, your Giropay funded account will be charged $3.30/min. Minimum chat price on the site is $0.60/min. These rates do not necessarily include cam2cam. That is to say, some models may ask you to pay extra for the privilege of opening your camera.
To use Giropay to fund your tips or your private chats, tap on Get More tokens, choose Giropay and press on Continue to Payment Page. You'll reach a page which will require you to give your full name (Your email and your country - Germany- will automatically be filled in). Then, press on Submit and you'll be directed to a secure external page where you'll have to give details which include your name and BIC. Press on Complete Transaction to reach the final stage to be carried out on your Giropay account page.
Chaturbate doesn't offer you any promotion, but it does let you become a Supporter Member for $19.95/month and enjoy cool perks comprised of navigating an ad-free interface, sending models private messages, using custom chat fonts with different color options and animated room images and tipping anonymously. In addition, you'll receive a one-time bonus of 200 tokens, which amounts to $20.99 in tokens.
---
Cam4.com

With a wide selection of 1,500+ models broadcasting from virtually every corner of the world 24/7, Cam4 is a site definitely worth your time. Unlike any of its competitors, it has an advanced search tool which enables you to sort out performers based not only on their ethnicity but also on their specific country. That means you can locate and chat with models from really exotic places. No matter where the models come from, most of them wear their birthday suits when they go on the air, so brace yourself as you're about to watch tons of unchaste girls.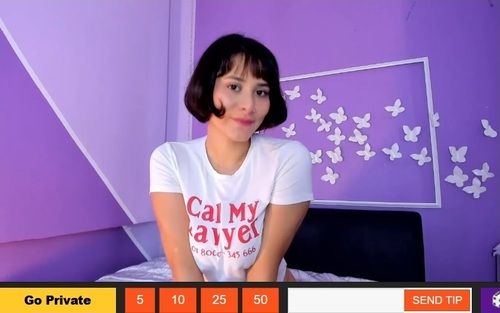 Using Giropay, you'll pay an average sum of $3.00/min for a 1 on 1 show. There is no additional payment for c2c, but most models have minimum chat duration of 60 seconds. Some have present time frames for chatting with them, for example 5, 10 and 15 minutes.
Paying with Giropay is quite simple. All you have to do is tap on the Buy Tokens tab on top of the main page, choose your tokens pack, select Giropay on the payment options menu and press on Continue. You'll be transferred to your Giropay account to approve the purchase.
Cam4 has a Gold membership program you can join for €19.99 a month and get 100 tokens as a welcome gift plus exclusive bonus token offers. You'll also unlock some really nice benefits, such as an ad-free interface, automated chat translations (a feature which is essential if you plan to chat with girls from different countries) and a free monthly Gold Gift.
---
BongaCams.com

BongaCams is a highly popular site with around 1,000 sensual cam models (during peak hours, this number can climb up to 2,000 and more) performing for you around the clock. This is not a place for the faint-hearted. Most of the models leave their shame at home and give free provocative live shows using all sort of devices to augment the effect, and off course, all of that while wearing no clothes. In addition, BongaCams has advanced cam2cam apparatus and extraordinary promotions that put it on par with the top premium cam sites in the industry.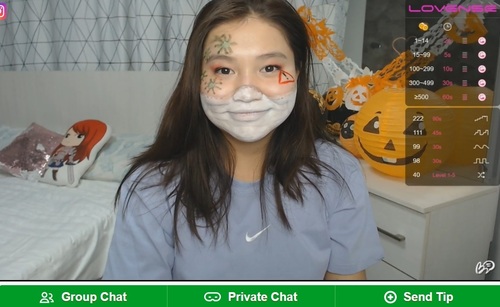 To trace models which match your personal preferences, you should refer the site's filtering tool where you can sort out the performers according to a variety of parameters and categories. Alternatively, you can roam over the hundreds of tags put at your disposal and choose a specific niche and a girl which specializes in that niche.
A private chat funded by Giropay averages close to $6.00/min - around 15% more expensive than the same chat paid with a credit card. This is a uniform price charged by all of the site's performers. Be advised, your private chats can be spied upon by other users. To deny them access, you'll have to invite your model to a Full Private Chat, which is 50% more expensive.
In most cases, you won't be charged separately for cam2cam, though you may encounter a model here and there who might ask for an additional payment. The good news is that you'll be able to open your camera on your computer and mobile device and do so while you are not only in a 1 on 1 show, but also during a public chat, in which case only the performer will see you.
If you're on a tight budget, you can opt for a Group Chat. You won't be alone with the model, but you'll get to see her performing undressed and pay 50% less than a private chat.
To use Giropay as a payment method, tap on Buy Tokens on the header and choose Giropay and your desired tokens pack. Then, hit the Buy Tokens button. You'll be directed to an external secure page maintained by the online payment provider Epoch, on which you'll have to write down your full name, ZIP code, BIC/SWIFT and email address. By pressing on Complete Purchase, you'll reach another page directing you to your Giropay account page where the journey ends with confirming your transaction.
BongaCams is set apart from its peers by its extraordinary promotions designed to benefit newbies. For example, once you finish signing up and make your first purchase, you'll get a bonus of 10 tokens and become a Gold member for life. If this purchase is made on your smartphone, you'll get back 50% of the tokens you've spent (up to 100 tokens) as a gift. The Cashback Offer, in contrast, is relevant to veteran users. It regularly gives a bonus of 25-200 tokens to the 5 biggest spenders every 24 hours.
Some of BongaCam's promotions are constant. Others are occasionally replaced by new ones, which are awesome as well. We strongly recommend keeping track of these changes.
---
Visit-X.com

Visit-X is a German cam site with around 200 promiscuous Deutsch girls. The site has plenty of kinky categories with models waiting for you in their chat rooms holding whips and other beating devices (some of which are quite painful) while wearing leather, latex or nothing at all. Non-German speakers can use the site without any problem as the majority of the performers speak English and the site itself can be presented in 4 European languages, English included.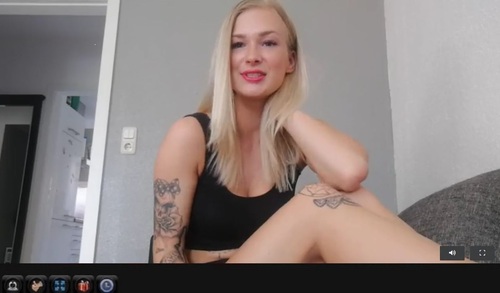 Visit-X is the epitome of premium live cam platform as almost all services demand payment, including public shows on which you'll chat with the models accompanied by other users. There are some videos and a monthly magazine (written in German) you can watch and read at zero cost, but to access them, you'll have to verify your payment means to prove you're at the right age to view explicit content. The magazines don't require this verification.
Most girls charge around €2.00/min to access their public chat rooms. To go on a private chat with them, you'll be asked to pay €3.50/min on average, though you may run into girls who will take €1.80/min.
To pay with Giropay, on the credit purchase page, decide how much you want to be charged (that is, how many credits you wish to buy), select Giropay as your payment method and press on Next. You'll need to press on To Service to be transferred to an external service provider. You'll be asked to fill out your bank name/BIC/BLZ and press on Weiter Zum Online Banking (continue to online banking). The final stage includes completing the transaction by accessing your bank account via Giropay. You'll be asked to provide your bank number and PIN.
If you like Visit-X's German cam girls and you intend to visit the site frequently, you should consider joining its VIP club. Membership fee is €9.95/month, for which you'll get access to VIP videos, late night shows on livestream, top 3 contest videos and uncensored TV series, be able to watch free VIP clips of amateur videos, have a free 20 second look into live cam shows and be allowed to send 10 free messages to models every month.
---
Conclusion
The more payment methods a cam site puts at your disposal, the more flexibility you enjoy when it comes to funding your live chat activities. Giropay is an example of a sophisticated and very convenient payment method as it connects you directly to your bank account and allows you to transfer funds instantly and in real time while using an interface which is similar to your own bank's online environment, including the security measures it provides.
The 7 sites mentioned above have great features and chat options you can fund with your Giropay as long as you have a German bank account. If we had to choose one site that rises above the rest, it'd most likely be LiveJasmin. More than 1,000 models you can chat with at any given moment, uncompromising professionalism, perfect HD streaming and mobile c2c, make it the number 1 online platform for interactive live shows.