7 Cam Sites with Skilled Findom Cam Girls
last updated
January 18, 2021
It's payday for these money mistresses, and you're going to empty your wallet. If you get off from being squeezed dry, these webcam sites can help you complete that transaction. These are the best findom chat sites to roleplay female empowerment for your own sexual gratification.
---
LiveJasmin.com

LiveJasmin is a true playground for findom goddesses and the money slaves they rule over. No other site presents itself with more aplomb and gaudiness. And it's deservedly so. LiveJasmin certifiably has the most beautiful and extravagant webcam models online. This is the site gorgeous women flock to, because they know that here, their beauty will be appreciated with large tributes.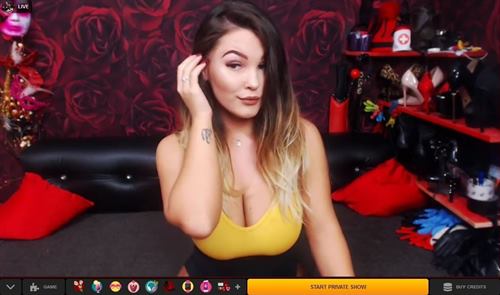 These girls don't work for free. There's no nudity or explicit performances in the open shows. The only way to get time with a findom hottie is to enter into her private chat room. When you initiate a show, you'll see her chat rates published before it starts. You'll only see the rate if you actually hold any LiveJasmin Credits in your account. The average rate across the site is 2.99 Credits per minute, which comes to about $4.80. The cheapest girls will go private for as little as $1.60 a minute. Use the Price range index to sort models by their rate.
Whether in private or in public chat, you can Send a Surprise. These surprises are broken into a selection of Credit bundles ranging from 1 to 5000. In public chat, the title of King of the Room is always up for grabs. Whichever member has sent the biggest surprise to a model from the point she started her current broadcast session, will hold the crown.
The site doesn't breakdown all the popular fetishes into their own categories. The site opts for an all encompassing presentation of its fetish experts into one big category, with a few notable niches to sort the girls out. The niches are found in a section calling Willingness, where you'll see all the girls specializing in Dominant and Submissive actions.
At LiveJasmin, each Credit spent goes toward moving you up in the hierarchy of active users. The LiveJasmin Elite program keeps track of your totals, and awards you status upgrades which the models use to distinguish the cheapskates from the cash cows. Here, you'll get a real taste of what luxury means in the realm of online camming. The site has a sleek and seductive feel, much like the talent that performs on it. All cam rooms are broadcasting at minimum HD720p, with most showing in HD1080p. The option for cam2cam during a private show won't cost extra, though 2-way audio requires another Credit per minute. And, LiveJasmin is one of only two cam sites with the option to activate your phone's camera for a mobile cam2cam session.
---
FetishGalaxy.com

FetishGalaxy has everything covered. Whatever your fetish is, it's happening in some dungeon, boudoir, or lair somewhere within these freak filled cam room walls. No other site gets as extensive in its presentation of all the kinky predilections on offer. While all the performers here often choose to specialize in a particular field, it's fair to say that each and every girl here is familiar with how to treat a wallet slave.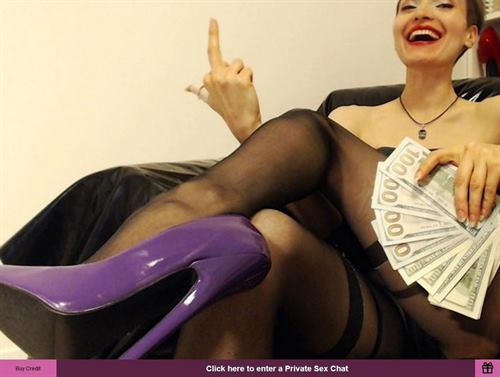 You want to spend, but you haven't got a lot -- you're a money pig on a budget. FetishGalaxy is the place for you. The pricing is not unnecessarily exorbitant here. At an average rate of about $2.50 a minute during a private show, FetishGalaxy ranks on the low end of pricing for sex cams. Use the Advanced Search tools to sort by Price, and you'll find all the girls who'll entertain you for a $1.00 a minute. And, knowing how much you're spending is easy to track, as FetishGalaxy Credits are one to one to the dollar.
Sending gifts is easy with the instant tip giving options throughout the site. You'll see them whether in a open room, or while in private. Nothing out of hand here, as the possible range for one-time tips is 1 to 25 Credits. Groups shows do offer more options to send virtual gifts. Along with the instant gifts, you can specify any amount you'd like to fork over.
At FetishGalaxy, there's a dedicated FinDom category. Start looking here, but don't ignore other similar fetishes the site categorizes, like: Humiliation, Domination, and Jerk-off Instruction. Girls working in these fields are all very capable of managing the power dynamic of financial control. They are among the top women online for female domination.
The video streaming conditions here are below the average, as no rooms are broadcasting in high definition. It's a trade off you'll make. Cheap live porn, but with standard definition webcams. If you're set up for HD on a big screen, then the quality may be a concern for you. But if you're participating over a regular sized monitor or on a mobile device, then the quality comparison to HD sites is negligible.
---
Flirt4Free.com

Flirt4Free is another site that takes fetish exploration very seriously. There's a dedicated BDSM & Fetish Play Education center on the site, complete with blogs and articles on all sorts of fetish topics. While most paypigs are looking for private encounters, it's worthy to note that Flirt4Free has a large variety of show types going on. Various private, party, group, feature, and VIP shows are available for you to join or start yourself. All in all, there's a lot happening on the site, as it takes some of the best features found on the most popular Premium and Freemium sites and blends them together to create a elaborate experience for its members.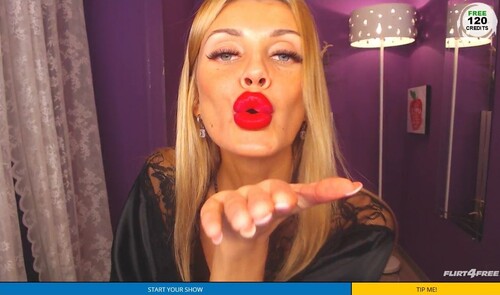 Here, you'll see some of the cheapest girls online, as well as the most expensive. Select the View By option to sort the performers by Prices. This breaks down all online girls by their private room rate. The low cost rooms start at 5 Flirt4Free Credits, or $0.50 a minute. The priciest girls will be listed for 120 Credits, or $12.00 a minute. And the average rate site-wide is close to $5.00 a minute.
At any time, in open or private chat, you can send tips to the girls. Currently, there are tip amounts starting at 10, 25, 50, 100, and on all the way up to a one time tip blast of 50,000 Credits. In the open chats, you can choose to tip anonymously. You may also choose to create a Custom Tip, choosing any amount. Or use the Tip Flood, which empowers you to create a tip amount (250 minimum), and set it to automatically take your amount and break it into 20 separate tips to fill the chat window.
For girls most skilled in financial domination, start looking in the main Domination and Roleplay categories. Also, in the main Fetish area of the site, you'll see a ranking of the Top 20 Fetish Models. They rank according to their paid show activity, VOD sales, and virtual gift receipts. Though, some of these girls may not be online when you are, you can be sure this is an active list, as it updates every 10 minutes and covers the past 7 days of live chat history.
VIP Membership comes with a whole host of benefits for a true sugar daddy. For $39.95 a month, VIP's get a special gold font color, up to 10 reserved nicknames, email performers with attachments, largest private video preview, turn off other non-VIP users' chat, and access to VIP forums. As well, tons of free content, like: unlimited access to your own recorded shows, 150 daily videos, free 1-hour feature shows, and access to any adult star video archive and model photo galleries. If VIP membership is not for you, there's also the option to join an individual model's Fan Club. When you do, she'll know you're a fan, and you'll get discounted on any private shows with her.
---
LivePrivates.com

LivePrivates is home to a selection of women so stunning that you may completely forget your bank account number. Beauty finds its way around the internet and seems to gather at some fascinating spots. And LivePrivates is one of those spots. Set apart from the more amateur and bargain women, the models that showcase here are hot mixture of high class babes from all parts of the world.
There's no free action on LivePrivates. When you see a girl hanging out in her open chat room, she is simply on display, Here she waits to be taken into a private session. You'll be able to observe and text her all you want. But, so will other viewers. If you're engaging, the models will participate, but if you give them some tired old conversation, they'll likely ignore you. The average cost for a one on one show comes in at 2.49 LivePrivates Credits, or about $4.40 a minute. Go to the Sale cams category to meet girls going private for as low at $1.70 a minute.
The girls are ready to accept tips during their open chat rooms, as well as when in private. You can really break the bank with the tipping packages available. They range from 1 Credit, to 5000 Credits, as a single gift. If you're a true finsub, you may want to make sure you've paid your monthly bills before logging on.
While all cam rooms are set up the same for sending tips, not all of the ladies are adept in findom relations. As well, there are many girls for whom this relationship is uncomfortable for them. So, your best bet is to start looking in the main Fetish category. Expert level sugar babes will also be hanging out in the Roleplay and Dominatrix areas of the site.
At LivePrivates, you'll be introduced to some of the finest women online. When you've find a girl you like, make sure to check out the suggested models offered up from within her cam room. Turning on your webcam, for her to see you, is a feature included in the price of a private show. Going for 2-way audio will cost another Credit or two, depending on the model. And make sure to follow your activity within the Club Elite membership awards. The more money you drop, the higher you move up the pecking order of users. Model's will see this and know which chat room visitors are the big spenders.
---
ImLive.com

ImLive must have just as many employees working on building the site as they do cam girls broadcasting on it. There's just so much happening here. So many ways to interact. And so many events to participate in. The girls are busy keeping up with monthly video contests and seasonal party shows. Celebrity pornstars are brought on to perform live for all members. And there's a endless collection of constantly updated recorded videos uploaded by the performers themselves. The site uses a scrolling ticker just to keep members informed of all the upcoming events and announcements it has.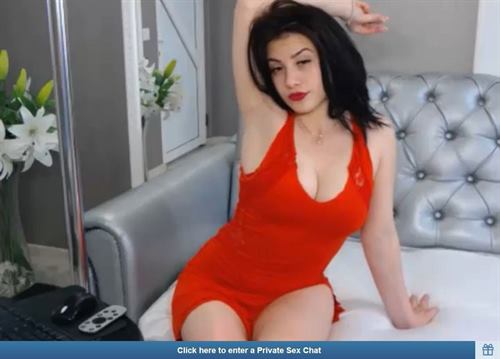 ImLive is another site that has made a wise business decision to corner the cheap cams market. There are no HD cams here. Only high quality SD broadcasts. For this, you pay less. The average rate during a private performance is $2.25 a minute. When searching by price, you can sort the girls into the precise price range you want to pay, high or low. Set for lowest priced girls, and you'll be enter into a show for $1.00 a minute.
Send gifts to your chosen financial dominatrix when she's in her open room, or while in private with her. ImLive Credits are worth a dollar each. So, keeping track of what leaves your pocket is a cinch. Tipping starts at 1 Credit and on up to 25 Credits max for a one time gift. But, you can keep hitting the tip button to send as much as you can bare.
Get going by heading straight to the FinDomme category. It's not one of the most populated fetish categories at ImLive, but you'll always find a least a few payday babes waiting to hear your confessions. Other categories to keep tabs on are the Discipline, Domination, and Humiliation experts.
Use the Fulfill Your Fantasy submission and they'll come to you. There's no need to scour the site. Instead of asking each girl individually, you can post your fantasy to a board only the girls can see. Those interested, will reply directly to you. When you do match with a findom looking for a human wallet, you can activate your camera and microphone in the private chat, at no extra cost.
---
CamSoda.com

CamSoda is the only truly Freemium site on this list. So sit back, brace yourself, and be ready for instant access to nude and explicit shows. Landing on this site will be an overload of the senses. Hundreds of women all clamoring for your attention, on a site that delivers an interface that doesn't know how to shut up. If you're at all familiar with webcam sites already, then you know that they present with thumbnail gallery previews of all online models. CamSoda took it one step further and made all the previews play the live activity in each cam room, all at once. Mic Drop!
While the girls here are really into receiving tips in their free shows, they're very much ready to go private with a finslave when the time is right. When you do catch them for a private show, you can expect to pay, on average, $3.30 a minute. There's no option to search by price, but open up enough cam rooms and you'll come across many girls who'll do a 1-on-1 show for as little as $0.60 a minute.
Tipping drives CamSoda. The girls are all doing their best to get users into their rooms, keep them there, and then work the crowd for tips by putting on a show. CamSoda Tokens cost about $0.10 each. When you tip, you can send any amount you want, no greater than the Token total in your account. Games are available in the public rooms that enable you to win a particular performance act. Spinning a wheel, pulling a slot machine, or rolling dice for a set Token price will get her to do something from a list of actions.
CamSoda has decided not to have any official categorized fetishes or niches to sort out the girls. The site uses a tagging system with thousands of tags that the girls assign to themselves. It won't take you long to discover that it's not very accurate. So, the best way to zero in on any findom mistresses is to spend your time going through the girls, chatting them up, and checking if they're into it.
Many of the girls provide the feature to Schedule a Private. If you see this option, you next select a day, time, and duration to meet for a private show. the payment for the time you've selected enters into an escrow. If she doesn't show, or you cancel before the scheduled meet, your Tokens will be credited back to your account. Private show recordings and cam2cam availability are dependent on each models' offerings.
---
Streamate.com

Streamate is a classic institution. Talk to anybody who used a webcam site for sex chat a generation ago, and they'll probably tell you it was here. Though this is a Premium site, you will catch some girls in the nude doing their best to get a request for going private. All the standard features are available, like: varying show types, typical chat room functions, a category system that's true, extensive profiles with a performance schedule, and the ability to sort models by geography, camera quality, and languages spoken.
At Streamate, you pay as you go. There's no site currency. And, the only accepted methods of payment are by credit card, or PayPal. However much sex chatting you do in a day, that'll be how much you're charged for. Each day is its own billing period. And each day has a spending limit. New members can either set their daily cap to $25.00 or $50.00 for the day. To raise the limit beyond the maximum allowed, you'll need to contact the site's Live Support, or send an email.
The Give Gold button enables you to send any cash amount, up to your spending limit, of course. You can do this at any time in an open chat room, or while in a private. The only way to see prices for 1on1 shows is to have your account established, with a payment method in place. Each model will have her own pricing, but you can expect to pay $3.00 a minute, on average for a private show. Other users can still spy into this show, but not chat. For an exclusive private show, the rate is typically another 25% more a minute.
You're going to find plenty of cash princesses happy to bust your wallet. Going through the search menu, you can select from the BDSM, Cuckold, Dominant, or Roleplay filters to sort out girls who'll most likely be well-versed in controlling your finances. If you search for 'findom' you'll get back girls who've been tagged as such. The tags are created by the community of members.
The option to turn on your webcam and microphone is available in a private show, but if it will cost you extra to activate, will depend on the performer. Some girls will include the service in their regular room rate, and some will ask for a bit more. For clarity, you may have to ask her in the open chat, before starting a 1on1 show with her. Also, some girls will kick viewers out of their public room. This is not a ban. Her room can be entered again. It's just her way of saying to any passive voyeurs that they should pay up with a tribute payment, even if they want to just observe.
---
Conclusion
Every cam girl is ready to take your money. But, you want to find the ones that are skilled in the art of dominating over you and your finances. The 7 sites we've identified are the best findom chat sites to take your distinct fetish and find satisfaction online.
Whether you're looking for a one-off payment or to build a relationship with a findom mistress, the transaction of online camming is a great way to answer your need in a safe and trusted environment. You're looking for intimacy in a capitalist and masochistic way, but you don't want to put your well-being in a position you won't be able to recover from. That's why the tipping and gifting systems that cam sites employ can be secure and discreet ways to achieve the fulfillment you seek.
The site we like the most for instant and immediate access to findom professionals on the cheap, is FetishGalaxy. It's a dedicated fetish site, with an actual findom category. The girls there are working on this fetish-centric site because they know what their strengths are, and they know how to perform them.
The site we like the most for its tipping and gifting tools is Flirt4Free. This is a veteran site with a lot going on. No other site offers more show types and chat room features as it does. And the fetish education center with blogs, articles, and forum postings is a great source to keep oneself up to date on all sorts of proclivities.
Finally, the site other sites wish didn't exist, because it has all the most beautiful women, first-rate streaming webcams, and the enablement to send big gifts, tithes, and tributes, is LiveJasmin. The site simply provides the best overall experience for submissive cash-pigs unable to deal with rejection, humiliation, and loneliness, to speak with a dominating female that may bring them some semblance of joy in this fast-paced money-hungry world.