Best Sex Cam Sites That Take Credit Cards as a Form of Payment
last updated
January 10, 2021
These days, credit cards are still the most common online payment processor. Pretty much every adult chat site in the world accepts Visa and MasterCard. Some sites even accept less common credit cards like Diners. We checked all the top sites and found out who gives the best benefits when paying with a credit card and exactly which site accepts which card.
---
CamSoda.com

CamSoda is a freemium cam site, with premium upgrades. The girls are performing in explicit shows for all Basic members to see. Purchase tokens if you want to tip or invite a girl for a private show. For $19.95 a month, become a Premium member. This upgrade transforms the interface into an AD-FREE experience, gives the option to change the tipping volume, grants access to private message the girls, and you'll receive a one time bonus of 200 free tokens, to spend how you wish. CamSoda works with Visa (incl. prepaid and debit), Mastercard (inlc. prepaid and debit), Discover, JCB, Maestro, and Diners Club International.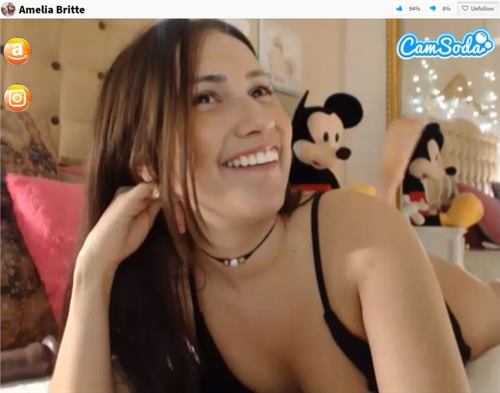 Watch the girls perform in their free cam rooms for as long as you like. If you want to tip to encourage the action, or if you'd like to start a one-on-one show, you'll need to be ready with tokens. If your request to go private isn't accepted, it's only because she is currently performing for tips from all members. Look out for the games the girls are hosting in their open cam rooms. You can spin a wheel, roll dice, or pull a lever, to win prizes, like: a custom-made video, her WhatsApp number, or Snapchat username.
Beyond the live cam rooms, there is a regularly updated library of recorded shows made from the public performances. Models will upload their favorite shows, made available for purchase. Additionally, CamSoda produces their own exclusive videos, staring celebrity porn stars, for any visitor to the site to watch for free.
---
LiveJasmin.com

LiveJasmin is the best sex cam site to use a credit card on. On signup, you get 9.99 free credits for verifying your credit/debit card. Also, you are awarded 9.99 free credits for your first purchase, and on every fifth purchase. This promotion extends regardless of which credit card you are using. LiveJasmin accepts Visa, MasterCard, Diners, Discover, and JCB.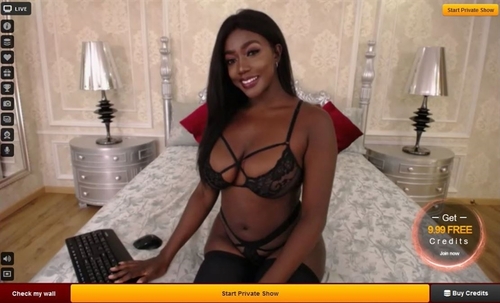 So why is LiveJasmin our favorite site? LiveJasmin has unbeatable video quality and the most professional models in the business. While they are all technically amateurs, these ladies have been working for years perfecting their craft. They know how to tease and excite, to get you heated up. More than that, when you are ready to go, they are ready right with you. Take any of the babes to a private chat and you will be blown away by the experience.
LiveJasmin has nothing but HD cam rooms no matter where you look. The prices on LiveJasmin are a tad bit higher but what you get is unmatched. LiveJasmin has a huge selection of babes, satisfaction guarantees, and unbeatable customer support.
---
Flirt4Free.com

Flirt4Free is a great freemium cam site that accepts nearly all credit cards. There is currently a promotion where you can claim 120 free credits for verifying your card or up to 190 if you actually buy something. Flirt4Free has a unique Flirt Rewards Program which gives big discounts on purchases. Flirt4Free accepts nearly all cards - Visa, MasterCard, JCB, Diners, and Discover are all usable on the site.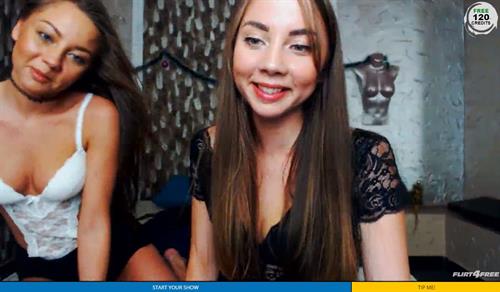 Flirt4Free has giant video screens with great HD video quality in most of the rooms. As a newer site, Flirt4Free doesn't have the model selection of the sites above, but what Flirt4Free does have is nudity in the free chat. Not all the girls strip in public, but there is a great opportunity for some free ass and titties.
Flirt4Free isn't limited to the free rooms, most of babes prefer going into private chats. Flirt4Free has some of the cheapest private rooms on the net, starting at approximately $0.50 a minute, as well as the most expensive, costing over $12.00 a minute. Flirt4Free has some amazing exclusive models that will make your jaw drop.
---
ImLive.com

ImLive is undoubtedly the cheapest adult chat site that use can use a credit card on. There's a 1 to 1 exchange rate between the US dollar and ImLive credits, so it's easy to calculate how much you are spending. Our exclusive links gets you 30 free credits with your first purchase, regardless of the package you buy. Visa, MasterCard, Discover, and JCB can be used on ImLive.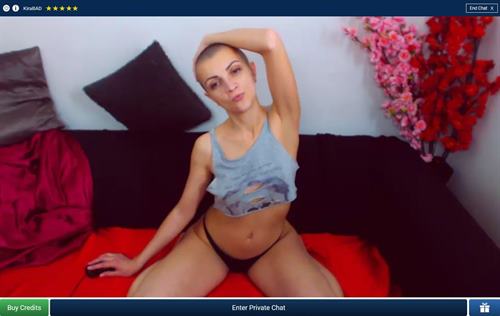 ImLive is a great budget webcam site. There are a ton of registered models of which hundreds are always online. The average cam room price is lower than on other sites. This price only drops lower as you proceed along the loyalty program and receive more and more bonus credits with every transaction. There are a few HD cams, but generally speaking, the video quality is lower to keep prices low.
ImLive was created purely for the private chat experience. When going into a private chat, you get to turn on your camera and microphone for free. There are no other tipping options on ImLive. You can't send any gifts. It's all about finding out whether you're into the model in the free chat and taking her into a private room.
---
LivePrivates.com

LivePrivates is a high quality webcam site which accepts many different credit card types. As a first time purchaser, you get up to 9.99 extra credits with your first purchase and with every 5th purchase after that. MasterCard, Visa, Diners, JCB, and Discover are all usable on LivePrivates. You can even use MaestroCard and Visa Electron. You can get 9.99 free credit for verifying whichever card you've chosen.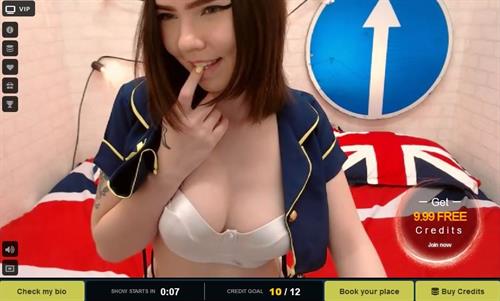 LivePrivates is a glamorous upscale live cam site with a ton of babes. At any given time of the day or night, you will be able to find hundreds of women and men all broadcasting in HD. LivePrivates has strict quality control standards and they expect all of their models to follow them. New models sometimes use lower quality webcams, but if they don't upgrade they are quickly removed.
LivePrivates has a ton of categories to appeal to all tastes and kinks. There's a quick navigation menu on the left hand side to help you find exactly what you like. Asians, Dominatrixes, and Footjobs are just among the many things you will be ale to find on the site.
---
Sexier.com

A standard definition cam site with low prices, Sexier has two payment processors which between them can utilize nearly even card. Sexier's credits are currently valued at one euro each. You can currently claim 10 free credits on your first purchase regardless of whether you want to test them out with the biggest or smallest package. Sexier accepts Visa, MasterCard, Discover, and JCB. While they do accept MaestroCard, it doesn't seem they currently work with Visa Electron.
Sexier is home to the Frequent Fuckers Club. As you buy credits on the site, you rise up the ranks. Each time you go up, you get more and more bonus credits with each transaction. At Sexy Platinum, the highest level, you get 200 credits for free and a 5% bonus on every future transaction. If you are in it for the long game, Sexier is one of your best options for cheap credit card cam sites.
However, the low prices carry a serious set back. Looking on Sexier you might notice that there are no HD labels anywhere. Sexier is the polar opposite to LiveJasmin. You won't find any HD cam rooms on the site. It's not that the models don't have HD cams, Sexier itself just don't support HD video.
---
Available Credit Cards
As you can see, the cards are accepted on pretty much all sites. Only Diners is not included on all 5. Diners is available on LiveJasmin, LivePrivates, and Flirt4free.
American Express isn't anywhere on this list. American Express sex cam sites are very rare, in fact, there are only two. They aren't our favorite sites, so we wrote a separate article for them.
Conclusion
The sex cam site to use a credit card on is CamSoda. It has an eclectic group of models on offer and great webcam streaming quality. As a passive site visitor, you'll have complete and unlimited access to free explicit sex shows. And when you're ready to take a model into a private session, the prices across the site are extremely affordable, comparatively.
If you truly want to enjoy a one on one experience with a hot webcam model, CamSoda is your best destination and our top recommendation.