Find Sultry and Sexy Models on the Best Pantyhose Cam Sites
last updated
January 02, 2021
A fetish for pantyhose usually begins early in one's life. Discovering a lingerie catalogue from a department store. Gazing at a mannequin in a shop window. A classroom teacher perched on her desk with legs crossed. These are the moments that plant the seed for a fetish to be born.
Here, we present the best pantyhose cams to find models putting on, wearing, and taking off their pantyhose, stockings, tights, and leggings.
---
LiveJasmin.com

Pantyhose fetishists will often show a preference for many styles of the garment to be worn with skirts, uniform, and certain types of footwear. At LiveJasmin, it'll be like going through a giant walk-in closet of beautiful cam girls wearing all sorts of nylons and hosiery. Start by looking in the Striptease category. These girls are focused on being able to seductively peel out of what they've got on. Next, give the Dominant, or Submissive categories a scan to see what outfits might entice you. And most obviously, just roam the site openly. The preview pictures for each model are stunning. And hovering over the picture will give you a live peek into her room to see what she's wearing.
Guaranteed HD Webcams / CC Verify to get 10 Minutes Free Sex Chat / Superb Customer Service
$4.80 is the average rate per minute during a private sex show. Rates start as low at $1.60 a minute.
$47.99 is the lowest priced initial buy-in. Purchasing the larger credits packages will gain you bonus credits.
Navigating away from the credits purchase page will reveal a final offer of $39.00 to get started. No bonus with this purchase.
Complete a credit card validation only, and receive up to 10 free minutes of access to your own private show.
Sign-up bonus of 10 free peeks into any ongoing sex show. Each peek is anonymous and lasts 20 seconds.
Scheduled Shows are open to all members who've purchased a ticket. The price ranges from $0.50 to $1.50 a minute.
20 second peeks into ongoing shows cost 1 credit, or $1.60. Use peeks to get a feel for a particular model's performance.
The private show rate includes the option to activate your own camera, though 2-way audio will cost another credit.
HD webcam streaming. All cam rooms are broadcasting in at least 720p, with many shows seen in 1080p.
One of rare sites to enable its users the ability to cam2cam over a mobile device.
---
FetishGalaxy.com

It's not uncommon for a person with a pantyhose fetish to have a high-heel shoe fetish, a foot fetish, or a fetish for outfits and uniforms. At FetishGalaxy, you can explore a vast range of familiar fetishes, or discover something new. There are close to 30 separate fetish categories. You're going to have fun exploring them all. But to get going with the pantyhose cam girls, we suggest checking out the Foot Fetish and Outfits categories. And that's just for starters. Because you're going to have a good time exploring all the other hardcore fetishes, like: Bondage, Domination, and Submisssion, where the cam girls are likely to be wearing some kind of pantyhose, stockings, tights, and leggings.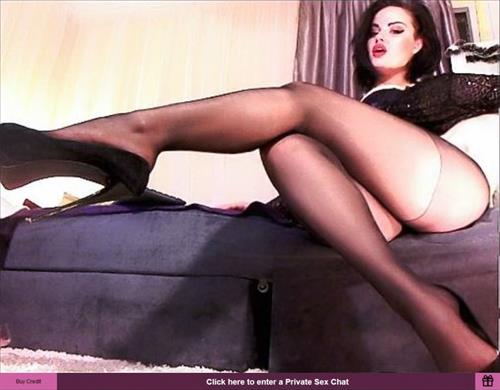 Lowest Average Private Sex Show Rates / 30 Fetishes / Rewards Program / Free Explicit Picture Galleries
$2.50 per minute is the average rate during a private sex show. Cheapest pantyhose cam girls go for $1.00 per minute.
Candy Shows Live are group shows with entrance fees ranging from $0.10 to $0.60 a minute.
A Rewards Program that grants you larger discounts as special benefits, as you advance in membership status.
The first 20 seconds in any private sex chat are free. Pop into a private chat to check it out. Pop out if you're not satisfied.
Cam2Cam and 2-way audio are included in the per minute rate of a private show.
Customer service representatives respond quickly to all inquiries.
---
Flirt4Free.com

For some, their fetish goes beyond enjoying watching others wear pantyhose, they themselves enjoy wearing the smooth and comforting undergarment. At Flirt4Free, you'll discover a whole area of the site dedicated to articles, blogs, and links to resources for all things fetish. Find the BDSM & Fetish Play Education page and discover all the material made available to guests and members. Maybe you'll find some guidance about your inclinations, there. The best categories to get started searching for pantyhose webcam girls would be under the Strippers, Fetish, Roleplay, Domination, Lesbian BDSM, and Glamour categories. And give the European category a look too. There are plenty of girls online, and those Euro babes love to wear sexy undergarments.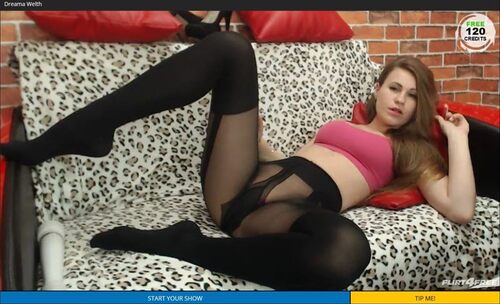 Fetish Informational Center / High Quality HD Cams / CC Verify for 120 Free Credits / VIP Program
$5.00 is the average per minute rate for a private sex show.
$10.00 gets you going. It's the lowest priced credits package available to get started.
120 free credits are gifted when completing a credit card verification form. You won't be charged anything.
Show Offers have you start a negotiation with a performer to find a price that you both agree too.
Party Chat is open to all visitors. Sex shows that are free to watch. Tip the girl to keep the show going.
Group Shows have you pledge any amount to join. If the credits goal, set by the model, is reached, her show will start.
Flirt Rewards program that earns you points through your activity on the site. Advance in membership status and see benefits increase.
Search by price. At $0.50 a minute, you'll find many models offering some of the cheapest per minute rates online.
Cam2Cam and 2-way audio are included in the price you'll see for each individual cam room.
---
Chaturbate.com

Looking through Chaturbate is like looking through those free women's undergarment catalogues or sales magazines. You can flip through the pictures fast, find something enticing, and then disappear to the bathroom for a few minutes. On this site, all the cam rooms are totally open to all site visitors. It's completely free to watch the sexually explicit actions happening in any cam room that is not giving a private show. The nature of this free site has all the performers working hard for your attention. Because there is just so much creative and weird stuff happening from them, it's a good strategy to just cruise the preview windows and scan for models wearing pantyhose. To go straight to the pantyhose live cams, look for the #pantyhose tag from the list of tags, or search the word in the search box.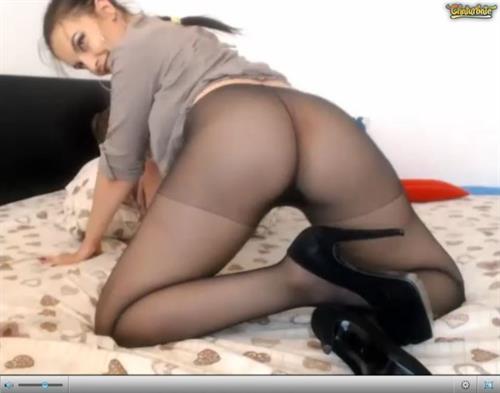 Freemium / 4K HD Cams Available / Most Online Models / Follow Performers on Twitter
$3.30 a minute during a private 1on1 show is typically the average. The cheapest private cams go for $0.60 a minute.
$10.99 is the cheapest tokens package available. Purchase the largest at $79.99 and get a 37% bonus.
$0.10 for a 1 token tip. Tip only when you want. Tipping gets you noticed and paid attention to.
Upgrade to a Premium membership to remove ads, send direct messages. $20.00 a month.
One of the best sites for watching in HD. Adjust the streaming rate to 4K, 1080p, and 720p, where available.
At any given time, there are near 2000 active models performing on the site.
Models link to their own personal social media, fan club, and shopping channels.
---
MyFreeCams.com

It's thought that some men prefer pantyhose because they make a woman's legs more appealing. Pantyhose remove blemishes and cellulite. And though they cover the legs, the sheer nature of them does not hide the legs in absolute. While most girls on the free webcams at MyFreeCams are mostly naked, it's not hard to find those girls that appreciate a man's fetish to make her legs more perfect by putting on pantyhose. If not set by default, you can change the static preview pictures to a live video peek preview. This make it easy to scan many cam rooms at once and look for who's wearing pantyhose. Running a keyword search will give you the Model Topics: Pantyhose and Model Tags: Pantyhose. The Topics are used to label the current activity in the cam room. Tags are used by the girls to label what they do, and what they wear.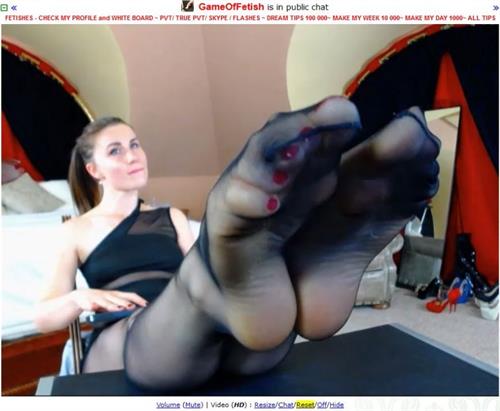 Female Performers Only / Freemium / Premium Member For Life With 1st Purchase / Most American Cam Girls
$6.00 a minute for private sex chat is standard across the site. 1on1 shows are charged by the second.
$2.00 a minute to voyeur into an ongoing private show. Watch and listen to audio and video. No access to chat.
$8.00 a minute to start a private show that locks out any other member from being a voyeur into the show you started.
$19.99 gets you started with tokens in your account. It's the lowest priced tokens package made available.
Every public cam sex room is free to watch. Sending tips will get you noticed and listened to.
Become a Premium member for life after you have made your first purchase of tokens.
Play with the interface. How you see the video chat previews and cam rooms is manipulable.
---
Conclusion
We've listed our favorite sites to chat with models wearing pantyhose, and other hosiery and nylons. These are the best sites for a true desktop or large screen encounter. If you prefer a more mobile experience, you should check out our list of the best mobile cam sites. There, you'll know what she's wearing, no matter where you are.
In compiling our list, we set out to include sites that quite obviously had models wearing pantyhose, while not wanting to include sites that are too similar to one another. Thus, we've included the best of best, of the premium sites, fetish only sites, and free sites.
And we've done the same for many other popular fetishes that are related to girls wearing pantyhose. As you're definitely into watching pantyhose, stockings, tights, and leggings, being put on, and taken off, you'd be sure to enjoy some foot play with cam girls. Or maybe you're into a dominant women in high-heels humiliating you.
This article acts as a guide for you. The sites we've listed above are our best recommendations to find what you're looking for with this distinct taste you have. At the top of our list sits LiveJasmin. The overall quality experience to be had there, with its gorgeous and professional models, its video broadcast quality, and its affordable pricing, have got us endorsing them to be your first choice, if you could only choose one site.