Best Live Webcam Fisting - Cam Girls Hand-Fucking Themselves
last updated
January 09, 2021
One finger, two finger, three finger, more! Of all the talents we've seen from so many cam girls, fisting has to be among the most intense and extraordinary. It's not something every cam girl can do, or is willing to do. Those who are into it, have studied, trained, and practiced to be able to fuck themselves with a fist.
Here's our list of the top 6 sites where you'll find the best fist fucking cam girls. We show you where to start looking for the fisting live cams on each site. We tell you what to expect to pay for the pleasure of enjoying this act. And we put a spotlight on each sites unique offerings.
---
LivePrivates.com - Professional Models Knuckle Fucking Themselves

The models performing on LivePrivates are known for their pristine beauty and slick presentation. But, don't think that means they won't get messy and tear deep into their perfect little pussies with a full fist or large size toy. These classy babes will get rough with themselves when you ask them to. The beauty you'll find on LivePrivates is done justice by the quality video streaming it provides. Here, the HD Cams are guaranteed!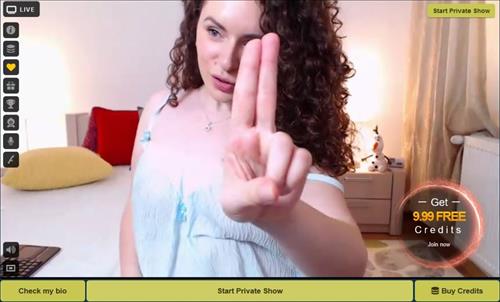 Model Selection: There is no category presented which is specific to the fisting fetish. The only way to sort out the fisting live cams on LivePrivates, is by running a keyword search.When you type in the word 'fist' into the search box, you'll get all the models ready to jam pack their pussies for you. If you search for, fisting, fist fucking, or anal fisting, you won't get any results. You must keep the search solely to the word 'fist'.
Pricing: The beauties on LivePrivates are going to cost you a bit more than the market average. The cost of private sex shows averages at $4.50 a minute. Look for the Sale cams, and you'll find rates as low at $1.75 a minute. To get some free Credits, complete a credit card verification, and you'll be gifted a few minutes of free sex chat.
---
CamSoda.com - Talented Amateurs Going Full Fist

The action happening on CamSoda is a well organized chaos. As a freemium site, most of the girls are in a constant state of performance, working for tips from the crowd. The site does not bother its visitors with a category system, or typical searching function. To find what you're looking for, CamSoda presents one of the coolest gallery interfaces we've seen. As you move through the thumbnail galleries, a live peek into each cam room plays. In real-time, you get to see what's currently happening on each webcam without having to enter into the individual room.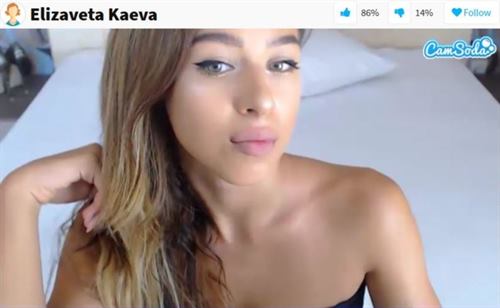 Model Selection: There are always at least 200 performers online at any time during the day. Peak hours on the site can see in upwards of 500 active webcam girls. It'll take some work to find a girl who'll fist fuck herself at your request. You may get lucky, and catch a show, as you're scanning through all the cam rooms. But in general, you'll need to get good at navigating through all the performers, and be skilled in chatting them up and getting them to pay attention to you, among all the noise of other viewers in her chat.
Pricing: On average, a private sex show will cost you $3.60 a minute. All the girls' rates are clearly posted when you request to start a private session. Don't be afraid to ask for a discount from any performer before entering into a one on one show. Depending on what else she has going on, she'll likely agree. At $5.99, CamSoda has one of the lowest priced buy-in packages available. Purchasing, at least this, will get you started with chatting, as most girls have their text chat closed to members not holding any tokens. And keep an eye out for on-site promotions offering bonus tokens when purchasing a regularly priced package.
---
FetishGalaxy.com - Hardcore Hand Fisting Freaks

Fingers are for amateurs.These girls go knuckle deep. On FetishGalaxy, you'll find the full spectrum of fetishes. What was once a resource for all things fetish, with blog posts, articles, and a community stage, has now become singularly focused on webcam sex shows. And we love them for it. No other site strictly focuses on kinky cam girls. On FetishGalaxy, you'll find 30 fetish categories, detailed model bios, a free explicit photo album for each girl, and a separate section for male and trans performers.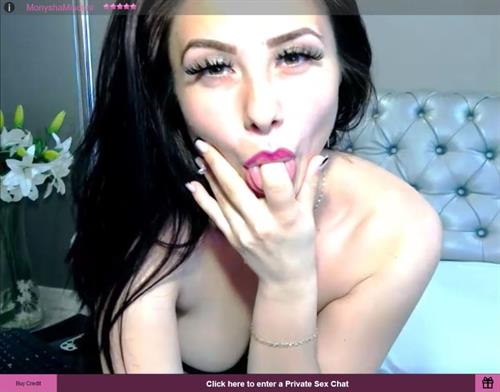 Model Selection: At FetishGalaxy, there are always 100+ models actively online. Each of the 30 categories presented will show exactly how many models performing that fetish are active in that category. As you browse the categories you'll see all the models currently online appear at the top of the page, followed by the offline models. If a model is offline, you can still read through her profile, check out the explicit photos she posts, and favorite her to your My Models list. To start with the knuckle deep girls, simply open up the Fisting category.
Pricing: Another bargain option! The average per minute rate at FetishGalaxy is priced well below the industry average. At $2.50 a minute for private shows, you'll get your jollies for cheap. In the Advanced Search, you'll see a Price Slider, which allows you to query all the models by their per minute rate for fisting live cams.
---
ImLive.com - Elbow Deep and Priced Cheap

With tens of thousands of registered models, and always at least 500 actively online at any time of the day, ImLive is a great place to find fisting live cams. As a member, you'll enjoy a slick user interface, celebrity pornstar shows, monthly video contests, cheap group performances, and a rewards program offering discounts and benefits to active users.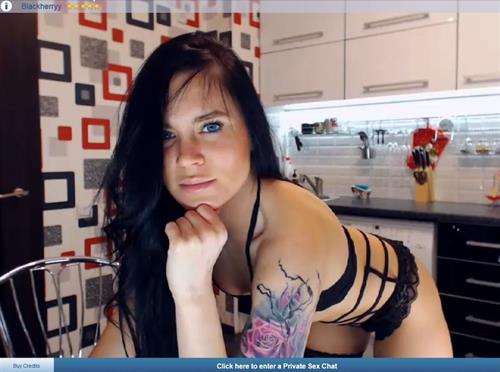 Model Selection: ImLive clearly publishes how many live cams are currently active in each category on the site. While you can surely chat up any girl you want, and ask her if she will fist herself, you may want to start off in the actual fisting category itself. These are the girls who clearly announce they're experts in pussy or anal fisting. To find them, go to the Fetish & BDSM category, and then to the Fisting sub-category.
Pricing: Everything you want, and priced well! ImLive is Big Box superstore, where each aisle is packed with hundreds of cheap choices, and shoppers are running around looking for all the best bargains. You can find some girls who'll do private shows for as low as $1.00 a minute, but the site-wide average is about $2.50 a minute. And throughout the day there are low-priced group shows, called Candy Shows, where you can get a seat for as low at $0.10 a minute.
---
MyDirtyHobby.com - Intense Fisting Cam Shows and Recorded Videos

The talent at MyDirtyHobby are empowered to build their own brand. Beyond their live cam sex shows, the performers are consistently publishing new photo and video content onto their personal channel. This site operates more as a community than on other sites. There is an active blogging page. You can send direct messages to the girls when they're offline. And VIP members are invited to meet-ups to mingle with the on-site talent. MyDirtyHobby is priced in Euros and the majority of the performers are from Western Europe. But don't let this discourage you from joining one of the most hardcore sources of live webcam fisting found online.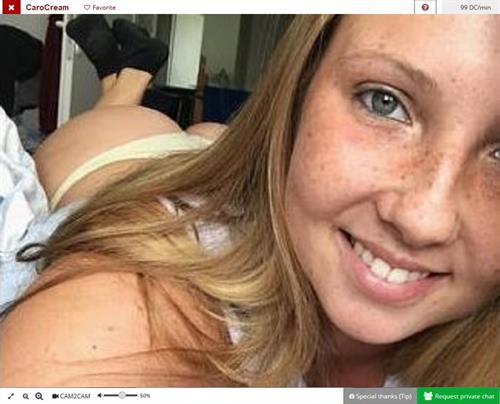 Model Selection: When you head to the Webcams area, you'll see the option to add Filters to the search query. After activating the filters, choose the Fisting option seen in the Sexual Preferences section. At this point, you may add up to four filters to further refine your search. To search through all the content on the site, use the search box. This method looks at all the performers' profiles, exclusive videos, photo albums, and blogs, by keyword search.
Pricing: There are no open chat rooms on MyDirtyHobby. To chat with the performers, you must enter into their paid chat. Basically, everything on the site will cost you something. Hanging out on the site, reading the blogs, checking out preview pictures, and cultivating a list of your favorite girls won't cost you anything. But, to enter into the webcams, watch videos, view explicit photos, or to send messages to the cam girls, then you'll be asked to pay for each action. The average rate for private video sex is near $3.50 a minute.
---
BongaCams.com - Free Fisting Cams

Maybe you'll get to see some fist fucking cam girls for free at BongaCams. This is a freemium site, where the girls can do anything they want in their open chat rooms. Most often, they are working for tips from the crowd. At any given time, a model may have hundreds of users watching her free chat room. If you see the option to invite her into a private show, then you can try to ask her to go private. If she's making too much money in tips at the moment, she may not accept.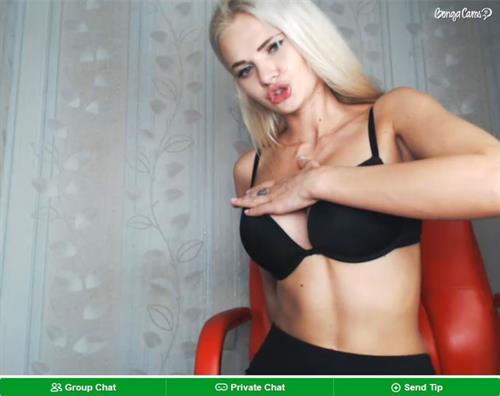 Model Selection: When you activate the Search box, you'll see the Fisting option under the Tags section. Select Fisting alone, or add other parameters to your search by selecting further options from the Appearance or Attributes sections, too. Your query will show you all the girls interested in fisting. This same kind of list of tags in the primary search is also visible in a performer's profile. Every action any particular model is willing to do is clearly labeled in her profile. Click on any action to show other models with the same willingness.
Pricing: As a freemium site, you can hang out and watch the cam shows for free. If you want to participate in directing the girl in her public chat, then you'll need to purchase some tokens in order to send tips. When you're in a model's chat room and you see the option to take her into a private sex show, you can expect the rate to be relatively high, comparatively. The per minute rate is around $5.75 a minute. Spy Shows let you watch ongoing private shows for 1/3 the price.
---
Fisting Live Cams - Conclusion
While this list focuses on how to find solo fisting cams, you may also be interested in watching girls fisting girls, or guys hand-fucking their girl. For girls fisting each other, check out our ranking of the best lesbian cam sites. And to find the best sites for couples, please go to our reviews of the best couples cam sites.
Watching this miracle act of fisting is not something that happens quick. It's not like asking a girl to show you her tits. Asking a girl to fist herself for you will usually require a time commitment from the both of you. So be ready to settle in, and watch her as she spreads wide and works to fuck herself with her full hand.
This quick list of the best live webcam fisting sites is meant to read as a fast guide. For a deeper, more thorough analysis on membership details, pricing, model types, features, and more, please go to each site's full review. And if your kinky desires go beyond fist fucking, please give our other articles on the best fetish webcams a look:
We started this list by applauding the features and benefits of LivePrivates. If one where looking for an overall best experience with fisting live cams, then it is undeniably at the top of our list. LivePrivates simply delivers one of the best gatherings of truly beautiful women, and a nearly unparalleled level of video streaming quality.