Top 5 Cybersex Webcam Sites
last updated
January 18, 2021
There's a lot of cyber webcam junk to wade through on the interwebs; too many sub-par performers on mediocre sites. To sort through the clutter, we've chosen the best cybersex sites with the most stunning girls, brilliant webcams, and cool site features for virtual sex.
LiveJasmin.com

LiveJasmin is a polished, sleek, and sophisticated product. Established in 2001, it was among the original webcam sites to go mainstream. What started as a domestic service for a Hungarian audience, quickly gained in popularity, and within two years, it went global.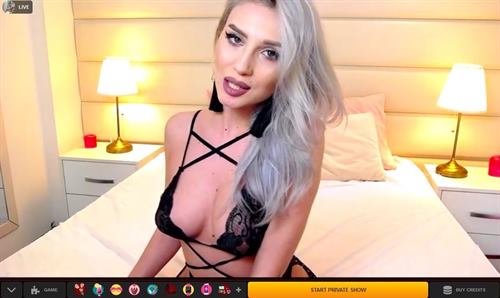 At the onset, LiveJasmin was fixated on delivering extraordinary women over the best streaming technology it could employ. This is a site that has always been committed to excellence in broadcasting quality and entertainment value. The models of LiveJasmin don't just flip on a webcam and hope someone is interested to chat with them. These girls are guided on how best to perform and present their scene. Here, the goal is to create a first-class experience. The webcam rooms are clean and suited for intimate encounters. The girls dress in provocative gear. And the video broadcast quality is kept to compete with the best HD streaming webcams online.
There are usually over 1,000 models online at all times. As a Premium site, there is no hardcore or nude activity in the open chat rooms. If a girl isn't involved in a private show, then she's hanging out in her open room, conversing with any number of visitors. The girls working here are primarily broadcasting from a studio set. Even the 'amateurs' seem to be camming from a well constructed setting.
An email registration awards 10 Free 20-second peeks into ongoing shows. When you're ready to go private, expect to see the average rate at about $4.80/min. Using the Price search shows you which girls perform at all the varying rates. The cheapest 1-on-1 shows go for $1.60/min. Activating your webcam during a private comes at no extra cost, and LiveJasmin guarantees that the model will see you, when you do. If you want her to hear you too, then, in most cases, it'll cost an additional dollar or two. Choosing to join a VIP Show group performance, can get you a seat for as little as $0.50/min. Though, there is no cam2cam during this time.
---
CamSoda.com

CamSoda is computer sex, amplified. This hardcore webcam destination storms the senses from the get go. There are no cheeky games of playing coy. This is a Freemium site where the girls are at their own discretion with what they want to do in their open chat rooms. If you're looking over the gallery of open rooms while on a desktop computer, you'll see that they all stream a live video peek into each room. Effectively, you're watching what's happening in real time in a near 50 rooms at once. It's a barrage of nude and explicitly xxx action.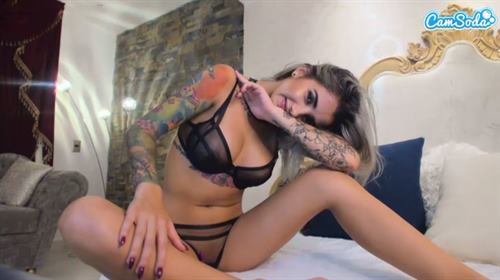 When CamSoda came onto the scene in 2014, it had to make a splash to get noticed. It's plan was to be loud, in-your-face, fun. By letting down the pay-wall and allowing each girl to put on the performance she wants, for free, the site pushed forward a paradigm of chat room games and tipping that gets a group of viewers to influence the direction of any show in progress.
A plurality of the girls are from South America and the Caribbean. You're going to see plenty of ample ass and exotic flavors on CamSoda. While LiveJasmin is mostly populated with European and Russian babes, the girls of CamSoda offer another flavor. Typically, there will be between 400 - 600 performers online at any visit throughout the day. And most girls are quite obviously camming out of their own homes, not studios.
CamSoda has a really cheap buy-in package. $5.99 is the lowest priced bundle of site Tokens on offer. Even with this small bundle, you can start engaging by tipping or activating one of the chat room games. Most girls, whether they're performing for a large group of viewers, or not, will show they accept requests to go private. The average rate for a private show is $3.60/min. The cheapest rates seen, go for only $0.60/min. Cam2cam and 2-way audio are included in the rate paid for a one-on-one show. If you're cybering over your phone, CamSoda is our favorite site for a cam2cam session on a mobile device.
---
LivePrivates.com

LivePrivates plays host to a certain class of performer. Some beautiful women choose to go after runway modeling and fashion magazine jobs, while others choose to share their blessed talents and gifts with randy men online. Since 2004, LivePrivates plan has been simple. Go with a large-size video player, professional glamour photos and video previews for each model, offer suggestions of similar model types from within the cam room, and present only top choice categories. Basically, put a laser focus on the women, and get out of the way.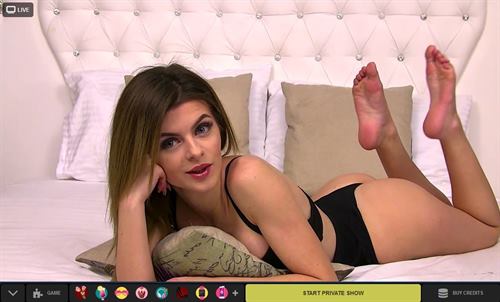 LivePrivates' simplicity in design and approach make it one of the easiest webcam sites to use. As a Premium site, the rooms aren't filled with an uncountable number of viewers trying to get in on some free action. The good stuff here, only happens in private.
Visit the site on any day, at any hour, and you'll have a selection of well over 1,000 online performers to choose from. The girls here are mostly broadcasting from studio-like settings. Most cam rooms are set to feel intimate and refined. And, there's a large selection of fetish-oriented girls that perform out of dungeon and lair-like rooms.
Validate a credit card and be gifted up to 10 minutes of sex chat. You'll receive LivePrivates' currency to spend how you wish. Find the cheapest rooms on the site by using the Price search. The lowest priced girls go for $1.75/min. The Credits you'll get are enough for 10 minutes with any one of them. On average though, expect to see rates around $4.40/min for most girls. Turning on your webcam is included in the rate paid for any private show, though activating your microphone will cost an additional dollar or two.
---
Flirt4Free.com

Flirt4Free, since 1996, has been a destination for those liking a lot of options with their Internet sex. This site is a kind of hybrid of what is offered on the top Freemium and Premium sites. There are multiple shows types with varying objectives. Party Chat shows are explicit performances where tipping is encouraged, but not a must. As well, there are Group Chats that get started when a contribution mark is met. Then, there are Combo and Multi-User shows that you can start, or join. It's a way to see a full show while sharing the cost with other members. And, if a girl participates in Offered Shows, she's ready to haggle for the price of a private session.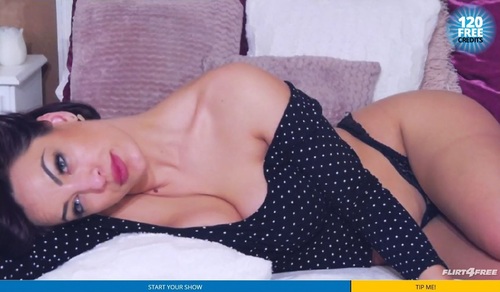 Receive 120 Flirt4Free Credits by validating a credit card. This gift is valued at $12.00, and is enough to give you a complete taste of what most of the site has to offer. To gain more access and prestige, get the VIP membership. For $39.95/mo, the models will recognize your VIP status, a vast trove of recorded content opens up, advertisements are removed, and you'll be able to mute other non-VIP users in the chat rooms. Additionally, you'll get 150 Credits with each renewed month.
Whether the sun is up or down, there are always at least 400 girls online. And, there doesn't seem to be a particular type of performer that has gravitated to the site. The girls are a good mix of true amateurs, and studio professionals, from all over the world. We speculate that the myriad of show types the girls can choose to perform in, could be a good explanation as to why Flirt4Free attracts such a diverse group of performers.
There is a show type called Premiere Chat, that presents models who've proven to be the best on the site. These are 1on1 shows that employ the highest quality video streams in the Flirt4Free system. These shows range from $7.00 - $12.00/min. These are some of the most expensive per minute rates you'll see online. The other group and party shows, mostly go for anywhere between $1.00 - $6.00/min. Sticking to private chats, though, will see average rates of $5.00/min. Most often, the option to activate your own camera and mic, is included in the private show rate. To find the cheapest girls online, you'll have to use the Price search. This will reveal the girls camming for as low as $0.50/min. At that rate, they're among the lowest priced private cyber sex shows.
---
ImLive.com

ImLive is a powerful arena for virtual cybersex. You're not going to see another site organized in such a thoughtful and intuitive way. There's so much happening on this site that it has an actual site map, called Discover ImLive. There, you'll find direct links to all its top features and special events. Select to see all the rooms that allow you to control a performer's vibrator, permit webcam-2-webcam activation, or enable you to turn on GroupCams - an option to invite another girl into a private session you've already started. You'll see innovative ways to find what you're looking for, by submitting a request to the Fulfill Your Fantasy board, or activating the Multi-Viewer, which gives an anonymous peek into the action of 6 rooms simultaneously. And be sure to stay informed of ImLive's exclusive events, like: the monthly Pornstar shows, weekend themed parties, and the monthly video contests.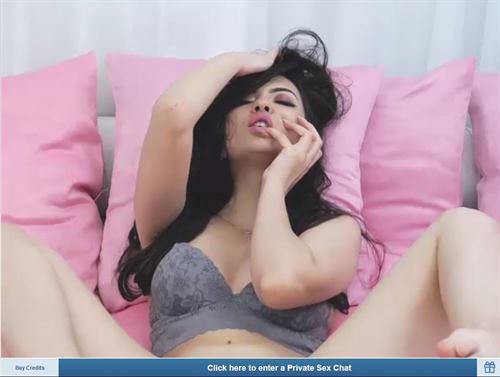 There's a Rewards Program that awards you for your activity on the site with special discounts, bonus Credits, and status upgrades. Find a girl you can't resist, and join her Discount Club for a nominal monthly rate. You'll see exponential savings with increased discounts, the longer you chat with her. And, watch all her hand-selected performance videos, which regular members pay for, for free.
The model make-up is a fairly even mix of studio actresses, and true amateur performers. On average, there are around 600 performers active on the site. Since ImLive's launch in 2002, over 80,000 performers have broadcast on its platform. The site has taken great care in showcasing its top talent, with special listings, like its Top Host Arena, Hot Spots, and Candy Shows. The latter of which can get you into a show for as low as $0.10/min.
The first 20 seconds of any private chat are free. After you select to start a private show with any model, and she accepts, you've got that time to figure out if you've made the right choice. Easily leave the chat room, within this time frame, and you won't be charged. For a one on one show, the average rate is $2.25/min. Use the Price search to query out the cheapest girls, and you'll be sex chatting for as low as $1.00/min. Both cam2cam and 2-way audio are included in the price paid for a private show.
---
Conclusion
There are many other great cybersex sites out there. But, we wanted to help narrow the selection for you a bit, by explaining why each of these sites have become some of our favorites. To discover more sites, with their own unique attributes that may be better suited to what you're looking for, please read through our more extensive reviews of all the sites we cover.
Of the sites we've included above, each has it's own distinct offerings of models types, chat room features, a selection of video streaming rates, and show costs. All these elements effect your cybering experience. And don't be hesitant to jump from one site to the other. Webcam sites, don't ask for monthly subscriptions. Well, unless you opt in for a VIP membership at the sites offering it. In any case, these sites work on a 'site currency' exchange, whereby you purchase their Tokens or Credits, or what have you. And then you spend them only when you want to. So, if you feel like breaking up your budget and making a purchase on any number of sites, then you should. It's really the same cost to you, as if you signed up at just one.
Anyhow, if you've only got the time to mess around with one site for now, then for sure, it should be LiveJamin. The site wows from every aspect. The women performing there are in a class of their own. The quality of the broadcasts is first-rate. And the show rates are reasonable. If this were to become your first cybersex encounter, it may forever become your best.