5 Cam Sites with the Most Ecstatic Ahegao Cam Girls
last updated
February 06, 2021
You don't like your cam models frigid. If you were into beautiful motionless statues, you would go to an art museum. But you chose, instead, a different kind of pastime, one that includes watching live shows with hot girls. Part of being hot is to respond to bodily stimulation. At the following cam sites, you'll get to watch plenty of models who will strongly convey their emotions every time they are pleasured. Get ready to see plenty of Ahegao expressions - rolling or crossed eyes, tongue flopping out, reddened face and anything indicating a strong sensation.
CamSoda.com

CamSoda is one of the most popular freemium sites with most of its 600-800 cam girls constantly found on the site performing shamelessly unclothed, and provocatively posing for anyone willing to watch. The O faces are something you're going to see quite a lot of.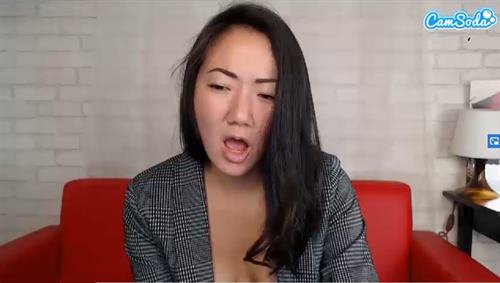 The models on the site appear under tags. There are plenty of tags, but since there is no effective search tool to help you sort them out according to their themes, you'll have to browse through them till you find the ones with Ahegao girls. You'll have to be creative as you won't find a specific Ahegao tag.
First and foremost, we recommend the Ohmibod tag you'll see on the main page above the models' thumbnails for the simple reason that tipping girls using a teledildonic device will make them go wild with facial expressions which will reflect their emotional outburst. Following the same line of thought, you should opt for Toys and Lovense. Squirt or Squirting can also be a good choice if you want to watch your cam girl make the Ahegao face. Last, but definitely not least, you can opt for the tag Hitachi so as to watch girls pleasuring themselves with a vibrating wand.
A 1 on 1 chat with any of the site's girls averages $3.00/min. Minimum rate is $0.70/min. These are relatively affordable prices, especially when taken into account that you won't need to pay extra for cam to cam.
CamSoda has unique features that place it on the top list of cam sites operating on the web today. To begin with, the models' thumbnails on the main pages concurrently display on video what is taking place inside the performers' chat rooms enabling you to see the expressions on the models' faces and find out which one of them properly reacts to pleasure.
In addition, at any given time you can watch recordings of your private shows at zero cost and re-experience the excitement you felt the first time around. Above all, CamSoda is one of the few cam sites with mobile c2c, so you can engage in bidirectional video chats anywhere you go without being confined to your laptop or your computer at home.
---
Stripchat.com

Stripchat has a large number of 1,500 - 2,000 active chat rooms around the clock. This number can rise to more than 3,000 during peak hours. Most of these rooms are populated by breathtaking girls for whom clothes are anything but necessary during their public and, of course, private cam shows. These promiscuous girls have no problem whatsoever expressing sensual delight with their faces.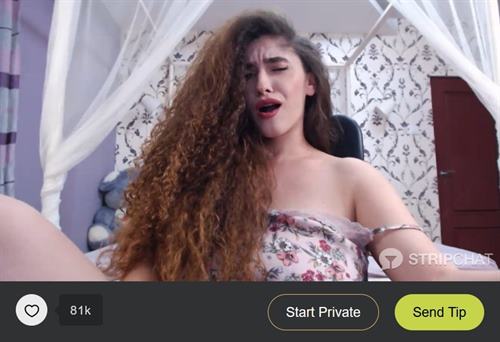 Side by side with its large selection of models, Stripchat has abundant chat categories, so it shouldn't be too difficult finding more than one that is related to Ahegao. You can see all the categories arranged in alphabetical order by pressing on the All Categories button under the search bar.
We recommend going to the letter C where you'll find several Cosplay categories with girls from all age groups. Interactive Toys and Ohmibod are additional major categories you should try out. By choosing Role Play, you can find performers who will agree to assume the role of a submissive girl making all sorts of facial expression as a result of being overcome by pleasure like an anime character.
A private show on Stripchat averages $2.70/min. The cheapest models take $0.90/min. If you want to open your cam, you'll have to pay around 30% extra in most cases. A cam 2 cam chat is also an exclusive chat as other users can't spy on it as opposed to a regular private show.
The site's veteran models who have accumulated more than 1,000 followers have a Fan Club you can join to show your support. You can choose to sign up as a Soldier, Lord or Prince for of $9.99, $19.99 and $49.99/month respectively. Apart from the status these titles invoke (a special badge will appear near your username), they all give the same benefits, which consist of sending the model private messages and spying on her private shows for free.
Stripchat is the only cam site today on which you can take part in virtual reality live shows. Most hours of the day, you'll find around 15 models who give these exciting stereoscopic shows. These models are usually equipped with teledildonic devices, so if you shed some tokens, you'll most likely get see their Ahegao expressions in a VR environment and feel like you're in the same room with them. To have this sort of experience you'll need to download a special application and obtain a headset.
---
LivePrivates.com

LivePrivates is a top-notched premium site where you'll find more than 1,000 stunning cam models waiting for you in their lavish chat rooms around the clock. Almost all of them are professional performers broadcasting at superior hi-def quality promising you an unparalleled viewing experience.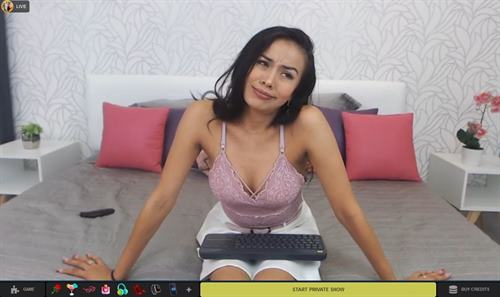 True, the vibe on LivePrivates in comparison to other cam sites, freemium ones in particular, is more respectable, even a bit conservative. Yet that doesn't mean you won't be able to run across girls who demonstrate the pleasure they experience with their faces.
There are specific chat categories where you're more likely to find these girls. You should refer to the site's advanced search tool and under Willingness pick Toys to get to models with teledildonic devices you can activate with your tips. You can also go for Role Play and Sub to find girls who will succumb to pleasure, losing control over their mind and body.
LivePrivates offers one of the best promotions for new users in the cam to cam industry. The moment you finish signing up, a Wheel of Fortune will appear in front of your eyes. By spinning it, you can win all sorts of bonuses of up to 100%. You'll have 1 hour to buy credits and realize the bonus you've won. If you fail to do so, the Wheel will reappear later on for another spin.
Moreover, LivePrivates lets you activate your camera on almost all mobile devices and thus enjoy fully interactive live video shows from the palm of your hand.
---
Cams.com

Of all cam sites, Cams has the most advanced interactive chat mechanism which gives you enhanced ability to control its models' pleasure during live shows. As you probably know, gaining control over a girl's pleasure, in many cases, will also gain you control over her facial muscles.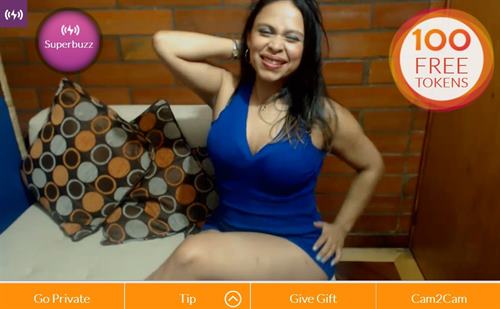 In each the 500+ active chat rooms on the site, you can press on the performance window to activate the model's teledildonic toy for a short but sensual buzz. It will cost you a couple of tokens depending on each models' individual rate. If you really want to pleasure your model and you don't mind paying a little more, you can press on the Superbuzz button located in the top left corner of the performance window. This will set off a much longer buzz, and you can expect to hear some moaning and see some Ahegao faces.
Cams takes the idea of interactive cam shows 1 step further with its Connexion feature which allows the model to stimulate you as much as you can stimulate her. You'll have to equip yourself with Lovense Max and she'll have to use Lovense Nora for the bidirectional stimulation to work. To find the models with whom you can apply this feature, refer to the search bar where you'll see a specific Connexion category. Most of the time, this category consists of 20+ girls.
A private chat on the site averages $3.60/min. The cheapest models charge $3.00/min. Cam to cam requires an additional fee of 10 tokens/min, which is roughly $1.00. If you're looking for less expensive options, you may choose to join a Group Chat. Doing that will save you around 25% in comparison to a 1 on 1 session.
The site's models have a Fan Club you can join for $14.99/month or $32.97/3 months. Membership in this club gives you up to 70% discount on private chat with the model, free access to her recorded shows, premium videos and photos and email tools for hot correspondence with her.
You can also upgrade your membership to Premiere for $19.99 a month or $41.97/3 month and benefit from 10% discounts on all videos, 5 free recorded shows of any model on the site, free access to the models' paid for photos and the ability to email any performer you want.
---
FetishGalaxy.com

There is no shortage of Ahegao cam models on a site like FetishGalaxy, which is 100% dedicated to kinky live shows. It hosts no more than 100 performers at any given moment, yet each and every one of them is an expert sub or dom ready to entertain you in unconventional and exciting ways.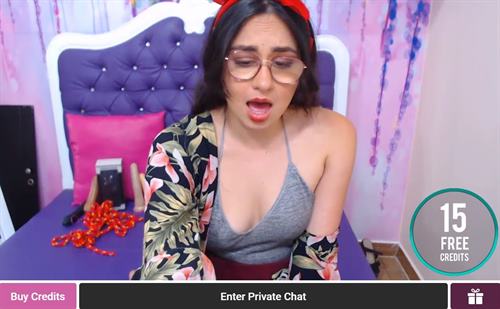 If you roam through FetishGalaxy's chat categories, you won't see anything directly related to Ahegao, but you'll run into other categories which resemble it, for example Outfit, Masks and even Rubber/Latex/PVS. Besides, on a site so rich in kinks, almost all girls are extrovert when it comes to expressing their body sensations. You can see for yourself if you shed some credits to get control over a model's love toy.
FetishGalaxy is known for its cheap chat rates allowing you to enjoy longer sessions without burdening your budget. A 1 on 1 kinky live show averages $2.50/min. Minimum rate is $1.00. Cam to cam is included.
If you intend to visit the site on a regular basis, you'll surely appreciate its reward program, according to which your membership status constantly improves with the credits you buy. You begin with Bronze after your first purchase and can climb up all the way to VIP. The higher your status is, the more significant are the benefits you'll reap, including bonuses on new purchases and free access to paid features.
---
Conclusion
If you love to visually witness the physiognomy of pleasure, the five cam sites we've reviewed here populate hot cam girls who are not ashamed, to say the least, to vehemently react to your stimuli using their body and faces. Ahegao is part of their shows and all it usually requires is a small tip that will activate their teledildonic devices when they are in their public rooms. In a paid-for private chat, which revolves around your whims and desires, you can just ask the girl on the other side of the screen to be theatrical with her Zygomaticus major and minor, Orbicularis oculi and the other mimetic muscles wrapping her facial bones.
If we were asked to name the best site for watching an Ahegao live show, after much deliberation, we would go for CamSoda. Plenty of theme tags, extremely liberal models who love to perform wearing their birthday suits and awesome features, like mobile c2c, make a world of difference.