12 Live Sex Sites for Spicey Spanish JOI Chats
last updated
January 15, 2021
You've been masturbating for many a year (like we all), but have you been doing it properly? We're quite sure that meticulous jerk off instructions will do you wonders, especially if given by a hot Spanish speaking xxx model who will be happy to lead you hand in hand to a climatic ending. The following article presents the top 12 live porn sites for Spanish JOI sex chats.
CamSoda.com

CamSoda is one of the leading freemium sites operating on the web today. It hosts around 600 gorgeous performers giving full nudity shows in public chat rooms. Many of these shows are broadcast in high definition.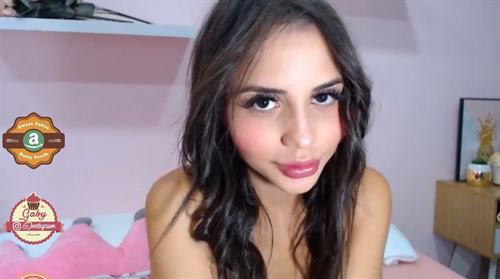 Since the action on the site is organized in tags, you'll have to browse through them in order to find relevant ones containing Spanish speaking performers with the right set of skills necessary for giving a JOI live show.
After a short search, we came across Latina, Latins, Colombia, Colombian, Colombiana and Spanish. You can definitely find more, and it shouldn't be much of a problem since many of CamSoda's models are sexy Spanish speaking Latinos. The site also contains hundreds of tags, so the potential is enormous.
It's important that you know that there isn't always 100% correlation between the theme of the tags and the girls included in them (For example, a tag dubbed Latins may contain girls who are not necessarily Latin Americans). That can make the process of finding a specific type of model a bit longer. But if you are in no hurry, you will definitely enjoy roaming around the site watching endless naked girls.
Being a freemium site, most of the action on CamSoda takes place in the public chat rooms and is based on tipping. However, you'll still be able to take a performer to a one on one sex chat and enjoy an exclusive show given just for you.
For such a show, you'll be required to pay $3.00/min on average. Yet there is no shortage of cheap models on the site who will charge you as low as $0.70/min enabling you to enjoy longer private chats without completely emptying your pockets.
What we really like about CamSoda is its interface. It's one of the only sites where the preview galleries play video simultaneously of the action happening in each room. Most other sites enable you to watch only 1 preview galley at a time. This gives you a panoramic view of the action on the site and makes it easier (and faster) for you to decide which room is happening and is worthy of your porn time.
In addition, CamSoda is one of the very few cam sites enabling you to engage in c2c sex chats from your mobile device. This practically means enjoying interactive sex chats without being confined to your computer screen.
---
LiveJasmin.com

More than 1,000 online gorgeous models, always online, who are professional cam performers and supreme HD streaming make LiveJasmin a top-notch adult cam site offering thrilling sex video shows.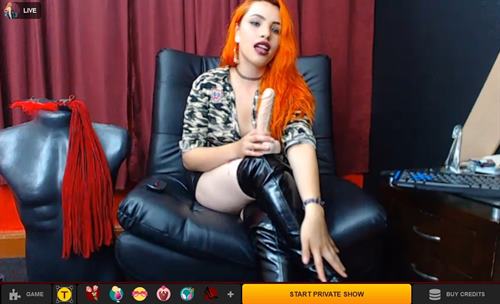 The site has a highly effective search tool that makes it super-easy for you to find a Spanish JOI cam girl. What you need to do is press on Spanish on the Language column and you'll be directed to all the Spanish speaking models on the site. You'll surely be able to find more than one willing to focus on the way you spank your monkey showing you where you're wrong and what can be done to fix it.
The average price for a 1 minute of a private sex chat on LiveJasmin is $3.60. The minimum rate stands at $1.20/min. Take into account that in order to add c2c to your chat (so the model can see exactly what you're doing with your dick) and bidirectional audio, you'll have to add 1-2 dollars/min.
What we really like about LiveJasmin, apart from its excellent broadcasting quality and user-friendly interface, is the fact that much like CamSoda, it enables its users to go on c2c on mobile. What can be nicer than getting jerk off instructions on the go?
---
xLoveCam.com

xLoveCam is a great live porn site for users looking for European xxx models and cheap chat rates. It hosts around 500 performers at any given time, most of whom are beautiful White girls.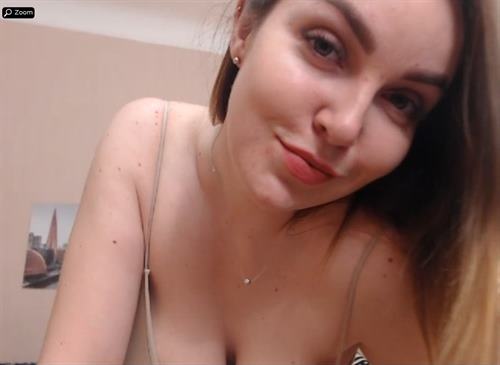 To find Spaniard hotties who know a thing or two about beating one's meat, use the site's filter. Go to the Language category and tap on Spanish. This will take you to the Spanish speaking girls section of xLoveCam.
You'll find there around 80 performers during most of the hours of the day. The large majority of them are European, but there are a couple of exotic Latino girls there available for a 1 on 1 JOI chat. What is most important is that all of them will be able to comment of your masturbation methodology in Spanish.
As mentioned above, the greatest advantage of xLoveCam is its cheap chat rates. The average price of a 1-minute chat on the site is €1.80. You'll also be able to find models who will charge you as low as €1.00/min. Cam2cam is included in these prices.
xLoveCam is a premium website, and so you usually won't find naked models in its public areas. However, the second day of the week is called Topless Monday, on which most of its girls perform with their tits out in the open. We must say that on these libertine Mondays we occasionally run into girls who do more than that to lure users into 1 on 1 shows. We heard no one complaining about this blessed initiative.
---
Streamate.com

More than 1,000 gorgeous girls vying to take you to a private sex chat and excellent HD streaming make Streamate a cam site definitely worth your porn time.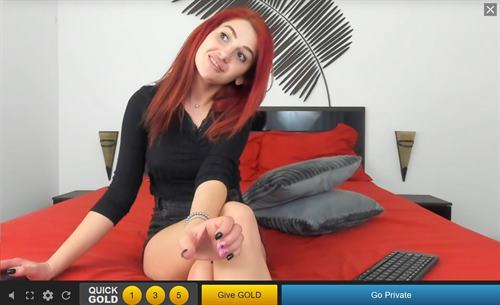 To find a cam girl who says Buenos Dias in the morning, eats tapas for lunch, dances flamenco in the evening and knows what is the best way for a man to flog his log, you'll have to type "Spanish" in the site's search box. In the dropdown menu, tap on Spanish and you'll get to dozens of girls of Spanish origin. Alternatively, you can select Speak Spanish and get to many more girls who are not necessarily from Spain but can speak the Spanish tongue (for example, performers from Latin America).
A private Spanish JOI show on Sreamate with c2c costs $3.00/min on average. The cheapest rate on the site stands at $1.00/min. However, these rates apply to what the site defines as a Private chat. This chat mode is open for other users who may spy on it. An Exclusive chat is impervious to spies, but it costs an extra 30-50 percent.
What distinguishes Streamate from its peers in the industry is its payment method. This is the only site on which you pay directly with your own money and not with site's currency. This gives you flexibility with your live porn budget as you don't need to purchase a credit/token package in advance. Instead, you pay exactly for what you want as you go.
---
BongaCams.com

If you're looking for free nudity and plenty of it, BongaCams is the place for you with +700 shameless models who perform in their public rooms wearing their birthday suits and posing for you in a way that will make you hornier than you can imagine.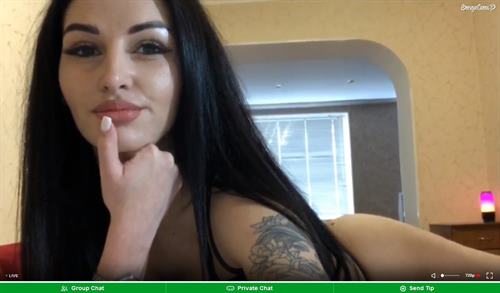 To trace a model capable of giving you a Spanish JOI c2c show, go to the site's Quick Search, tap on More Options, Languages and then select Spanish. You'll get to hundreds of cam models who can show you how to fondle your beloved Johnson in the Iberian language.
Such a treat will cost you $5.00/min. This is a universal rate throughout the site and it includes cam2cam. However, you won't enjoy full privacy as your show will be open to peepers. To drive them away, you'll have to opt for a Full Private Chat which is 50% more expensive - $7.50/min.
In our opinion, what makes BongaCams a great cam site are its awesome promotions. For example, a welcome bonus of 10 free tokens given to newcomers or 100 free tokens for entering the site from your mobile device. The site always comes up with new and lucrative promotions. It is recommended to keep yourself updated.
---
ImLive.com

ImLive offers its users tons of features and attractions including a Multi-Viewer enabling them to watch 6 cam rooms simultaneously. And of course, one should not forget its 600-800 flirtatious xxx models always available for a porn chat.
To find a Spanish speaking chick to give you Jerk off instructions, refer to the advanced search tool the site puts at your disposal. Select Spanish in the Language category. You'll reach dozens of passionate Spaniard and Latino chicks who have seen more dicks in their lives than you can count. They'll make your willy harder than steel and then milk it, giving you a top-notch orgasm.
ImLive is known in the industry for its affordable chat rates. For a 1 on 1 sex show, you'll have to pay $2.25/min on average. If that's still too high for you, you'll be able to come across models who charge $1.00/min.
Yet nothing comes for free in life. These cheap rates come at the expense of streaming quality as most of the performers on the site broadcast in SD. If you can settle for less than HD streaming, you will enjoy long private sessions without going broke.
ImLive's greatest feature is its loyalty program which enables you to accumulate points for using the site's premium services. With these points you can upgrade your membership status and get hefty bonuses, including free tokens for new purchases.
---
Cams.com

On cams you will run across approximately 500 active cam models waiting for you in their rooms fully prepared to entertain you in hot one on one cam chats. You will have quite a few options to watch these lovely girls ranging from public, private, tip and party chats to full nudity group shows.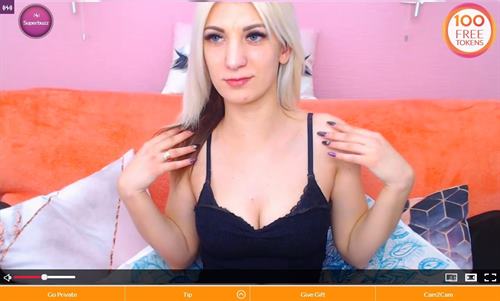 To trace models with whom you can beat the bishop to the sound of Macarena or Vivir Mi Vida, press on the Language tab you'll find in the header and select Español. You'll be shown more than 100 breathtaking Spanish speaking girls, each of whom has the potential of going on a private JOI chat with you.
Such a chat costs $3.60/min on average. The minimum chat rate on the site is $3.00/min. Take into account that adding cam2cam to a private chat requites paying additional 10 tokens/min which are worth a little more than $1.00.
If these prices are too high for you, most models give the option of joining their Party Chats whose rates are 15-20 percent cheaper. However, in Party Chats, you won't be able to open your cam.
What is really great about Cams is its commitment to interactive live porn. The site's Connexion feature enables the performer to stimulate your sex toy (Lovense Max) as you can stimulate hers (Lovesense Nora).
Just imagine a JOI live show with these sex toys. The teaching experience becomes much more vivid as your model-tutor can give you real and strongly felt feedback by pleasuring your erected dick every time you follow her instructions correctly.
---
LivePrivates.com

As a leading premium sex cam site, LivePrivates hosts more than 1,000 breathtaking models who are well versed in performing in front of a webcam. Streaming quality is impeccable as virtually all these models employ hi-def cams.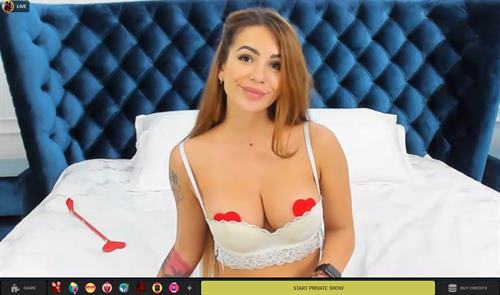 The site's nifty search tool simplifies the process of tracing any type of model you'd feel like watching. To get to Spanish speaking performers, just tap on Spanish in the Language Category. You can cross-reference it with other parameters, fetish ones in particular, to trace cam girls who are JOI-oriented.
To find relevant fetish niches, refer to the Willingness Category. We recommend opting for Dom, Live Orgasm, or Role Play. These niches have greater potential for finding jerk off instructors intimately familiar with the physiological mechanism responsible for the male orgasm.
As to prices, a 1 on 1 video chat with LivePrivates' models costs $3.40/min on average. The minimum chat rate on the site is $1.10/min. These rates do not include c2c and 2-way audio for which you will have to add 1-2 dollars/min per feature.
Similar to LiveJasmin, LivePrivates' cam2cam technology is responsive to mobile devices. It will allow you to enjoy interactive Spanish JOI chats from your smartphone no matter where you are.
---
Xcams.com

Xcam is another cam site we highly recommend for live porn chats. It hosts a relatively small number of performers, approx. 300, during most times of the day. But, they're all absolutely stunning. Moreover, many of them employ HD cams promising you high quality shows.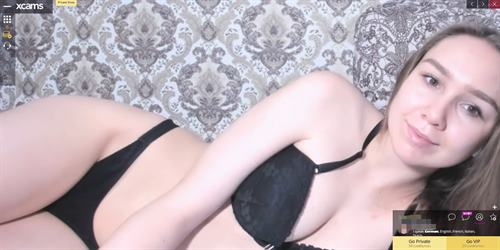 You won't have to do much to locate Spanish speaking performers. The site's search tool gives you the option of sorting out models based on the language they speak, so obviously you should go for Spanish.
Similar to LivePrivates, you can cross-reference different parameters, so you should combine Spanish with Fetish. We also recommend adding HD to your search so you'll get a clear view of your JOI teacher.
For the privilege of chatting with one of the site's models in private, you will be required to pay $1.90/min on average. It's a highly affordable rate, making Xcams one of the least expensive live sex sites in the industry. And if that's not cheap enough, you'll run into models who will charge you as low as $1.35/min. Cam2cam is included.
Bear in mind that a private chat on Xcams is not fully private as other users may hop in. If you want to get exclusive with the performer, you will have to opt for a VIP Chat whose price can be as twice (and even thrice) as high compared to what you pay for a regular private chat. What is more, a VIP Chat allows two-way audio which is not possible in the regular private chat.
---
Cam4.com

More than 1,500 active cam models giving explicit shows in their public rooms, HD streaming prevalent on the site and an elaborate filter tool allowing you a high resolution multi-parameter search for models that match exactly your personal taste and preferences, place Cam4 among the best sites for live porn enthusiasts.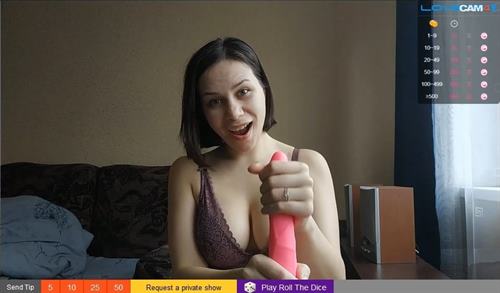 In fact, Cam4 is one of the only sites where you can filter performers based on a specific country. This, of course, will help you get to cam girls who reside in Spain and naturally speak its language. What you have to do is type Spain in the Country search box appearing in the main filter tool or use the dropdown menu which displays all the countries in the world.
You can also run a search based on language. By Selecting Spanish in the Language category, you will reach performers who speak Spanish and are not necessarily from continental Spain. We are talking about beautiful Latin women from South and Central America.
If you go for the language option, you will get to plenty of girls counted by the 100s. If you carry out a national-geographic search, you may reach a smaller number of performers, but what can be better than getting jerk off tips from a chick living in Madrid, Barcelona, Valencia or Seville?
The average price of a 1-minute private sex chat on Cam4 is $3.00. The cheapest models you will stumble upon on the site will charge you $0.60/min. C2C doesn't require additional payment. Give heed, most of the girls will have a minimum viewing time of 60 seconds. That is, if you end the show after, for example 15 seconds, you will still be charged for a full minute. Moreover, some of the models give shows in preset time blocks.
Cam4 has a lucrative VIP program. For a monthly sum of $19.99 you can upgrade your membership to Gold and enjoy various perks, such as a one-time 100 tokens bonus, free access to premium features, monthly gifts, an ad free interface, automated chat translations, sending private messages to models, viewing performances in full screen and more.
---
IsLive.com

IsLive is a European-centric site offering approximately 100 chat rooms populated by white European girls. This site stands apart from its peers as it contains no freemuim features. There aren't even public rooms. Everything you'll do demands payment.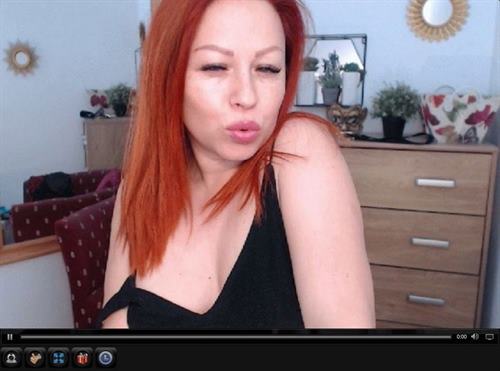 The site's European orientation will make it quite easy to come across a señorita who will be kind enough to scrutinize your masturbation habits, detect inevitable flaws in them and share some of her constructive ideas for improvement. Go to the top menu bar and press on Spanish, you'll immediately be shown the site's online Spanish Speaking models.
Of course, studying the way you self-gratify yourself can be carried out in a private chat only as there's no other option on the site. This chat costs € 1.00/min all across the board.
The lack of freemium features on IsLive may deter you from using its live porn services. It is quite understandable. But once you are mentally able to get over the lack of public chat rooms, you will enjoy exciting c2c sex chats at good streaming quality and at highly affordable prices. We are strongly convinced that this site is worth a try.
---
FetishGalaxy.com

What can be more suitable than engaging in JOI live sex on a site 100% dedicated to hardcore cam2cam porn? This is exactly what FetishGalaxy is. Its active online performers have turned fetish live chats into art giving you exciting shows full of any kind of kink you can think of.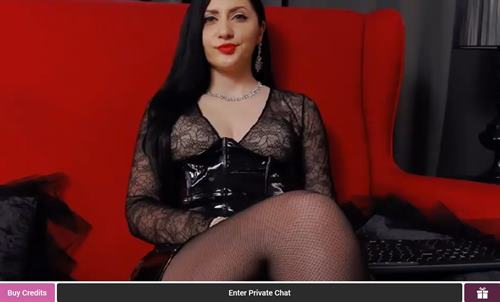 The site has a special Jerk of Instructions category where you can meet models whose aim in life is making you a dexterous (and even ambi-dexterous) rod-walloper. Other categories - like Orgasm Deinal, Domination, and even Cum Play - will serve a similar purpose.
To get to Spanish masturbation experts, you'll need to refer to the site's advanced search tool and on the Language section select Spanish. You can cross-reference your search with other relevant categories like Ethnicity/Latin.
The average rate of a c2c private porn chat on FetishGalaxy stands at $2.50/min. The lowest rate we could find on the site is $1.00/min. These are excellent prices almost any user can afford, which is great.
However, take into account that streaming quality on FetishGalaxy is far from being optimal with most of the models broadcasting in SD. So using the site means making a trade off between highly affordable prices and mediocre streaming.
FetishGalaxy puts at its users' disposal a highly beneficial reward program that gives them points for every credit purchase they make.These points can be utilized for increasing membership status from Bronze to Silver, Gold and finally VIP. The higher a user's membership status is, the more bonuses there are to reap. These bonuses include free credit for future purchases, free access to paid features and VIP customer support.
---
Conclusion
Spanish is undoubtedly one of the world's most romantic languages. Now imagine lovingly caressing your dick to the rhythm of this language's sensual vowels and passionate syllables pronounced and uttered by an exotic model schooling you in the art of masturbation.
The 12 cam sites mentioned in this article are the best places for watching thrilling JOI live shows in Spanish. All of these sites offer a great selection of hot Spanish or Spanish speaking cam girls capable of giving such shows.
If we had to choose one site that is better than the others, it would be CamSoda. A combination of hundreds of live sex tags, plenty of Latin cam girls available for 1 on 1 chat, good hi-def streaming and cam2cam on mobile are what it takes to be number one in the sex cam industry when it comes to Spanish JOI and any other live porn fetish.