Shemale Cam Sites That Take PayPal
last updated
January 12, 2021
Whether it's for ease of use, or wanting a more private and secure way to access tranny webcams, an alternative payment method, like using PayPal on shemale cam sites can be a great option. Of all of our favored destinations to find chicks with dicks, only these 6 sites accept PayPal.
LiveJasmin.com

LiveJasmin is most often our number one pick as the best site to go to when looking for any other type of performer. Here, there are thousands of models to choose from, most with an HD set up, and reasonably priced. Since this is not a dedicated site for shemales, you'll need to set the site to the Transgirl category. Now, you're in chicks-with-a-dick mode. When you go to purchase LiveJasmin's site Credits, the PayPal processing option is clearly displayed.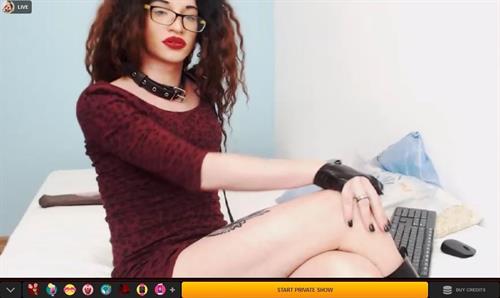 In the Transgirl area, there will usually be close to 100 active rooms at any time you go online. If you've never visited the site before, click through our link and register with only your email, and LiveJasmin will gift you 10 free 20-second peeks into ongoing shows. Use these to take a voyeuristic look into any on-going performance.
Taking a transgender babe into private chat will cost, on average, $3.50/min. The low cost models are asking for only $1.30/min. If you select a model that is currently busy giving a private show, you can still take a 'peek' by spending one site Credit (valued at $1.30), or if she has opened up the option, she'll let you join her show in spy-mode, at a discount.
Cam2cam features for activating your own webcam and microphone do cost extra. It's typically an additional Credit each, for turning on your camera and audio channel during a one-on-one show. Some models ask for 2 Credits more to activate each feature. But, when you do pay for this added service, LiveJasmin guarantees that the connection will work. Other sites that don't charge extra, are not making this same promise.
---
Shemale.com

Shemale.com enables you to search it's collection of trannies by their dick size. Choose from medium, big, huge, or uncut. The distinction of this crucial characteristic, as well as other body-type attributes to choose form, gives you a tailor-made selection. You won't get any high definition broadcasts here, as the site streams just below 720p, but private shows are kept relatively cheap. When you go to buy site Credits, you'll first need to Change the Biller. Then, under the credit card option, choose Epoch as the processor. Finally, choose the Credits package you want, and you'll be taken to PayPal.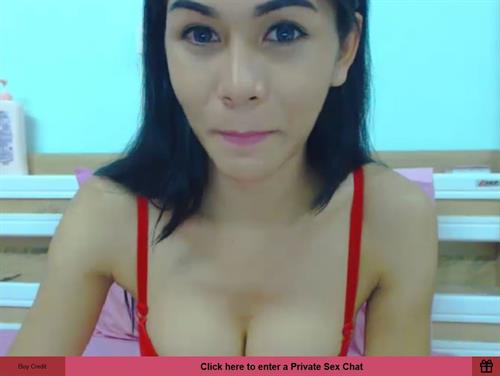 The site has a progressive rewards program that awards larger discounts on private chat rates and gives Credits bonuses to loyal members. Your time spent on 1on1 sessions is accounted for, and you'll advance in membership levels accordingly. Reach the highest level and you'll see nearly $0.90 off the regular rate.
In the Advanced Search, there is a price-slider where you can set the range you want to search for. On the cheap end, you can set it to show you all the tgirls that will go one-on-one for as little as $1.00/min. Typically, there will be close to 80 models online throughout the day, with at least a few of them ready to see you in private for just a buck. Though, on average, expect to see most asking for $2.50/min.
The rate paid for each performance includes the option to turn on your own webcam and microphone.
---
MyTrannyCams.com

MyTrannyCams is our favorite source for finding the world's most gorgeous shemale webcam models. This is a dedicated transgender site with categories organized for model attributes and performance acts. Each model's profile page presents with glamour photos and a teaser trailer, and most cam rooms are broadcasting in HD. After logging onto the site, any prompt to purchase site Credits will take you to the purchase page, where PayPal is prominently available.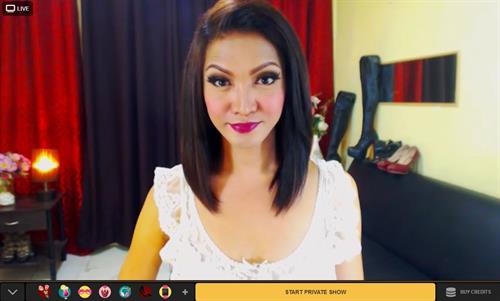 There is no limit to the amount of time you can spend chatting with any model while she's hanging out in her open chat room. There are always close to 100 tgirls online at any given time, with at least half that aren't tied up in a private show.
The Price menu will help you sort the online models by what they charge on a per minute basis. On average, expect to see rates that average $3.30/min. The lowest priced rooms go for $1.30/min, and are found in the Sale category, or filtered out from the pricing menu. Models that are involved in a private chat can be spied on. It's one Credit, or $1.30 to take a 20-second peek, or join her private show in voyeur mode at a discounted rate.
Activating your webcam, for the model to see you, carries an additional per minute rate. Turning on you computer or mobile device's camera and mic most often costs an additional Credit or two a minute, for each feature. Whether is costs extra or not depends on the model.
---
CamSoda.com

CamSoda is not a site where you have to worry about the pleasantries of introducing yourself. From the get go, most performers have got it whipped out and are stroking themselves in full on extreme sex action. This is a freemium site where the tgirls are working however many viewers they have in their chat room, for tips. To get yourself some CamSoda Tokens, simply select PayPal from the list of payment types.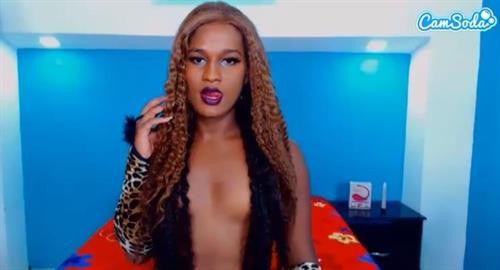 CamSoda hosts every gender type. This is not a site dedicated to shemales only. You need to sort them out using the site's tagging system. If the 'shemale' tag isn't visible for you just above the top of the galleries of online performers, then go to view all tags, to find it. Normally, there are at least a dozen shemales online.
While the primary roll of camming on CamSoda is to make money from tips, the girls will meet you in private, if they aren't busy, doing well in their open shows. If they're too busy at the times you're ready for them, you can set an appointment. Many rooms have the option to Schedule a Private. Just choose a day, time, and duration, and if the tgirl you've chosen wants to meet you, she'll be there. When you do enter into a private chat, the average rate is $3.95/min for trannies. The cheapest rooms go for as low as $0.80/min.
The inclusion of cam2cam and 2-way audio are dependent on the performer. Additionally, CamSoda is currently one of only two sex cam sites that enable cam2cam over a mobile device.
---
ImLive.com

ImLive takes its roll seriously and operates as such. The site is full of features, promotions, special events, and benefits. There is no nudity outside of any paid for private shows, so you'll need to secure some ImLive Credits if you plan to go private or join a group show. To purchase Credits with PayPal, go to purchase page, and select to change payment option. By default it is set to CCBill, a credit and debit card processor. Change that processor to Epoch. Then, choose the Credit package you'd like to buy. Next, you'll see option to proceed to PayPal.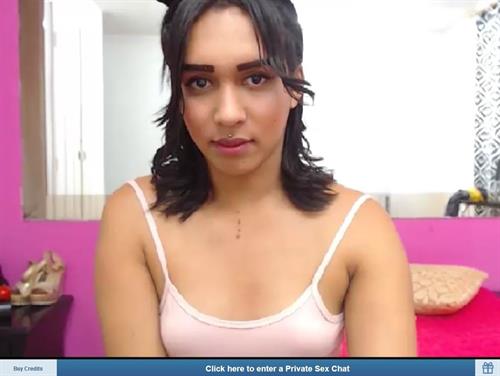 Whether in the main Member Area, or looking through the online models list, you'll see two categories relevant to shemales: Trans Alone, and Trans Couples. The couples category usually has half a dozen tranny-male combos, while the solo category will typically have 50+ gender benders hanging out in their free chat rooms, or entertaining in private. If you don't have luck finding someone that can do what you want, be sure to employ the FulFill your Fantasy form. Here you submit the details of your fantasy for only the shemales to see. If your post gets noticed by someone willing to meet you, she'll reply.
On ImLive, the first 20 seconds of any private show are free. Use this time wisely. After those 20 seconds, the per minute rate starts. The cheapest show rates you'll see come in at $1.00/min. In the Advanced Search menu, there is a Price filter that will result to the range selected. The average rate floats around $2.50/min.
Inclusive in the rate paid for a one on one session are the options to turn on your own webcam and/or microphone.
---
XLoveTrans.com

XLoveTrans is a well set up site, with a friendly design, cool chat room features, a thorough categorical system and fun promotions. It's too bad that there aren't that many shemales to be found actively online. But, the ones that are are supported with high quality broadcasts, and a powerful profile page with an accurate availability schedule, picture and video uploads, and an extensive model bio. To buy time, go to Add Credits, and simply select PayPal, along with the Credits package of your choice.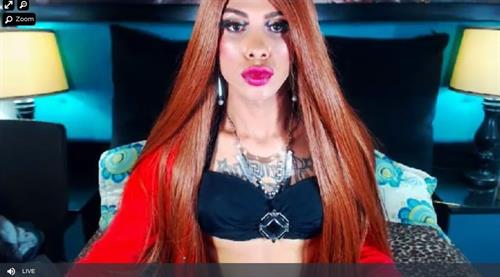 There are only between 15 to 25 models active on the site at any given time. Anyone offline that catches your attention, can be messaged. Visit the site on the first day of the week, for 'Topless Mondays'. Every Monday, all hosts can choose to go topless in their open chat rooms. But, if you want to see more, you'll have to go one on one.
The lowest priced private rooms go for $1.80/min, with the average rate being not much more, at about $2.00/min. For 100% exclusivity with your chick with a dick, you'll be asked to pay close to twice her normal rate.
When starting a private or exclusive show, the option to activate your own webcam and microphone are included in the per minute rate paid.
---
Conclusion
The Internet's leading payments processor, PayPal, helps to make your online purchases discreet and secure. Your privacy and security are protected more so than when using any of the traditional payment methods, like credit cards or bank wire transfers.
Adult webcam site operators recognize this. They know that their customers want the option to enjoy their service, and to do so in a way that gives them a better sense of convenience, confidence, and peace of mind.
With PayPal, that accessibility to enjoying webcam sex is made credible and immediate.
We review and rank the best transgender webcam sites to sex chat with beauties of all sorts. Each site has aspects and processes it does better than any other site, as well as things that it's out done on by the same other site. Our rankings are obviously based on the primary site attributes, pricing options, and membership benefits that we deem valuable to the live porn experience. You may not lay import on the same things we do, and you may find more value in a site that we have placed less in.
If it's affordability you value, then Shemale and ImLive are the best spots to find the most transgenders on the cheap. If you want immediate access to naked tgirls getting extreme, then CamSoda's totally free webcams are going to be satisfactory.
For us, the best site for a remarkable experience is LiveJasmin. The quality and professionalism of the shemales that choose to perform on this site are without exception. The models are gorgeous and exploding with sexual energy. The vast majority of the webcam rooms are streaming in nothing less than the minimum required for high definition broadcasts. And, there are pricing options for most anyone's budget.