Transgender Webcam Girls Bending Themselves into Autofellatio
last updated
January 09, 2021
Any tranny webcam performer can stroke, jerk, slap, or spin it around. It's only the truly talented and most gifted of tgirl babes that can perform the frontbend contortion into reaching their own penis with their lips. Here, we've ranked the 7 best sites to find trans self suck cams.
MyTrannyCams.com

MyTrannyCams sets the stage for glamour and decadence. The models appearing here come with a sense of sophistication and grace. They know that to do well and be showcased on this site, they must present themselves in a sexy setting, in sultry attire, and over a fast broadcasting line with an HD webcam. There's no messing around on MyTrannyCams. The site and its performers work hard to deliver first-class virtual sex.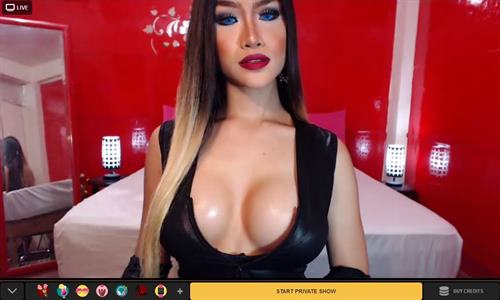 Regularly, there are close to 100 performers online at any given time of day. Mostly, the available girls are patiently waiting to be taken into a private session. This is a premium service site where no explicit activity or nudity is allowed outside of a paid for show. To track down which among them can actually reach their own cocks you'll need to spend time during their open chat just asking around. Also, the models' names and category names are searchable, and some girls have added 'selfsuck' into their camgirl name.
The average rate for a private session is $3.30/min. Using the Price search will help find the girls that are charging the lowest rate of $1.30/min. Activating your own webcam for your chosen model to see you is a feature included in the per minute rate. To include your microphone, for her to hear you, will require an additional $1.30/min. MyTrannyCams is one of the few sites that enables cam2cam when accessing the site from a mobile device. If activated from your smartphone or tablet, it will cost an additional $1.30/min.
MyTrannyCams' customer service includes a FAQ section, an email contact, and a quick-to-respond online support system.
---
Shemale.com

Shemale is another transgender only webcam site. The girls setting up shop here are a good mix of amateur babes, fetishists, and specialists. The webcam rooms open up in a video player that tries to fill every pixel of your screen. There is no option to adjust the streaming rate, but it seems like most rooms are broadcasting in at least HD720p. Completing a simple email and username signup will grant access to each model's photo album with explicit pictures.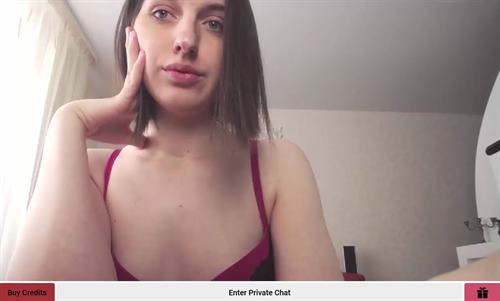 Normally, there are some 30 tgirls actively online. As you're checking them out, keep in mind that it tends to be the skinnier girls with a big dick that are more likely to be able to suck their own dick. It's not a hard rule, but it helps when searching though the online girls to find one that can self suck. Fortunately, this site has search parameters to query a 'slender' body type, as well as the choice to select models by their dick size.
This has always been a premium site that only offers nudity when it's paid for. But, the girls have been known to get a little risky when hanging out in their open chat rooms. To draw attention, some girls will provocatively drape something see-through over their hard boner, or they may flash their titties a bit. To get more, you'll have to take them private. The average price comes in at $2.50/min, and the cheapest girls will go one-on-one with you for a buck a minute. All sex chats are inclusive of cam2cam and 2-way audio, whether you choose to turn them on or not.
Shemale's customer support includes a searchable FAQ page, and an email contact.
---
LiveJasmin.com Trans
LiveJasmin has a treasure trove of beautiful transgender girls among its collection of models. The site presents each with video teasers and glamour photos sets, and full support for high definition webcam streams. When you sign up and before you purchase anything,you'll get 10 free 20-second peeks into ongoing sex shows. While we link directly to the LiveJasmin's 'Transgirl' category, you'll can easily find yourself clicking out of the category into the main selection of all genders. So, you may find yourself having to occasionally reorient back toward the transgirls.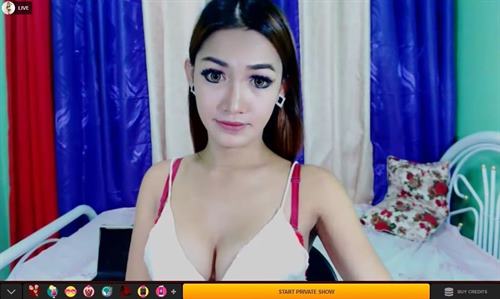 Visiting the site will typically reveal close to 100 trannies online at any time of day. LiveJasmin is strict about no sex acts or nudity while a model is in her public chat. This is a premium site that only allows explicit action during paid for encounters. But, most performers do allow any visitor to their room to chat with them while they're in their open chat room. Whether, you're a signed-in member or a guest visitor, you'll be able to inquire if autofellatio is part of a transgender's repertoire.
Private sessions go for $3.50/min, on average. And the cheapest you'll find are only asking for $1.30/min. But, there are never that many of the girls willing to do shows for so cheap. If you catch any, they're likely new to the site, and as soon as they become popular, they'll start asking for more. The rate paid for sex shows, includes the option to activate your own webcam. Though, if you're webcamming over your phone, then going cam2cam will cost an additional $1.30/min. As well, turning on your microphone for 2-way audio, on desktop or phone, will cost the same additional fee.
LiveJasmin's customer service includes live chat, phone, and email contact.
---
CamSoda.com Trans

CamSoda is the first live porn site on this list that's truly free. The performers can use their rooms how the deem to. If they want to hold out and only get hardcore behind closed doors, they can wait to be taken into a private show. Or, they can play it up for their viewers, and give fully xxx extreme performances in their public webcam rooms, while working the crowd for tips. Each room has a toggle switch to turn the HD broadcast on/off. And, there's a VIP Membership that makes it an ad-free interface, enables private messaging, allows you to change the tipping volume, and grants the option for anonymity when tipping and chatting.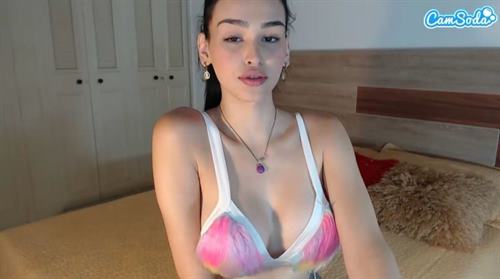 In comparison to other sites we've ranked here, there aren't as many trannies hanging out on CamSoda. It fluctuates, but on average, there are usually around a dozen online at any one visit. The site's settings enable you to choose which genders to display. In it, you can specify to show only the 'Transexual' performers. And, as most of them are perennially in the midst of giving a sex show, it's very possible that you'll catch one in the act of self-sucking while you're scanning the online rooms.
You may see the option to Schedule a Private. Since any model can be busy doing well making tips during her public show, she may not be ready to be taken away into a 1on1 show when she's entertaining hundreds of viewers at once during her free show time. When you schedule a show, you select a day, time, and duration, and if she can meet you she'll let you know. When going private, the average cost to expect comes in close to $4.00/min. The most affordable rooms you'll see go for $0.60/min. If Cam2cam and 2-way audio are an available feature in a model's room, neither will cost more to activate. Both of these features are also available when accessing over a mobile device.
CamSoda's customer support provides live chat assistance for billing issues, and an FAQ and email contact for any other issue.
---
ImLive.com Trans

ImLive is a huge portal of fun and games for fans of the camming experience. Each month, the models compete for cash prizes in a themed video contest. Members watch for free and get to vote for the best performance. A Fulfill Your Fantasy message board lets you put up a request that only the models you're interested in can see. As this is a multi-gender cam site, you'll point your fantasy request to the Trans category. If any can meet your desires, they'll contact you directly. When in the 'Trans' category, you can throw the models into the Multi-Viewer. This will open 6 cam rooms at once, giving you a live video look into each room. And, most cam rooms are broadcasting in at least HD720p.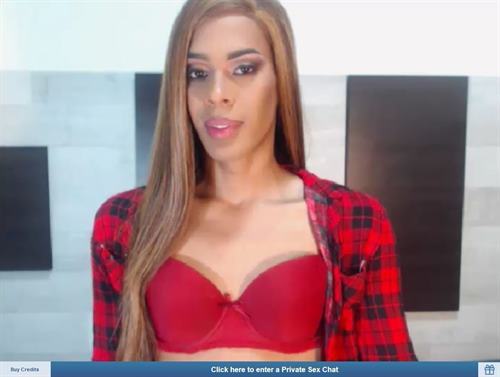 ImLive delivers close to 50 trans girls upon any visit to the site. Those who can actually suck their cock are just as treasured here as they are on any other site. Your best bet at finding them will be to start looking though the various categories that have girls with 'big' penises, are 'slender', and like 'cum play'.
As a premium site, there's generally no nudity during a girl's free chat time. You may catch a few that will expose themselves for a few minutes, but they're likely just trying to get some viewers into their room. Don't expect it to last long when its free. When you've found a self sucker, expect to pay around $2.50/min during a private session. The cheapest you'll see any girl asking for is $1.00/min. And when you do start a 1on1 show, the first 20 seconds of that show are free. Use this time to check for her flexibility. If you want to turn on you camera and microphone, it comes at no extra cost.
ImLive has a searchable customer support center. If your question is not answered within it, there is both email and phone access. 24/7 live chat support is available only to members with a VIP status.
---
TSMate.com

TSMate is standard fare for a sex cam site. It has high quality live streaming with some rooms broadcasting in 4K, a modest selection of models, and all the typical categories and show types. It distinguishes itself with its payment system. Here, there are no pre-paid packages of site currency to buy. TSMate lets you set up your payment method on file, and then just charges you for the time spent in private or group shows, or the tips you may send.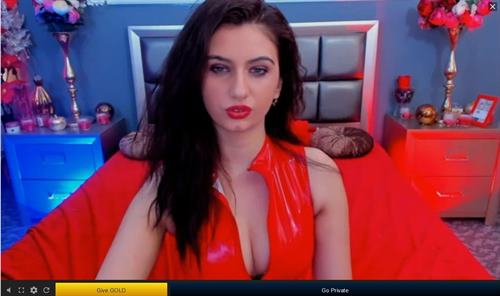 There are usually close to 30 performers found online. Running a keyword search for 'self suck' will reveal all trannies that have added this term to their description of acts they're able to perform. All online and offline models will show. If an offline one catches your eye, then go into her profile and check out her 'My Schedule' to see what days and hours she schedules herself to come online.
The average rate to expect for private shows is about $3.00/min. And the lowest rate you'll find some of the them asking for is only $1.00/min. If going cam2cam is an option, or not, and if it costs extra, or not, depends upon the performer. The same goes for 2-way audio.
TSMate offers its members phone, email, and live chat support.
---
XLoveTrans.com

XLoveTrans has carved out a nice little niche for itself with the number of Ladyboys that have chosen to webcam from here. Though you'll find all sorts of trannies on the site, there are a large percentage from South East Asia. Visit on Mondays for the site's biggest promotion; a 24 hour non-stop display of all models going topless in their free and open chat rooms.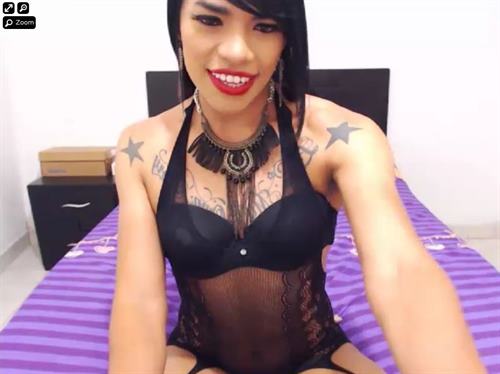 When looking for an autofellatio capable tgirl, you can use the site's sorting options, which allows for latest login time, HD cam rooms, best rated, new girls, and more. Ordinarily, there are at least 20 active performers online at all times. Most often, more models than usual will show up on Topless Mondays to show off their titties. Any other day of the week, you'll have to pay to get them naked.
The average rate for a sex show will run you $2.00/min, which is very close to the lowest rate of $1.80/min that you'll see many of the models asking for. The per minute rate paid is inclusive of webcam-2-webcam and 2-way audio, whether you activate your camera or microphone, or not.
XloveTrans provides live chat assistance, messaging through the site, and an email contact.
---
Conclusion
Whoever you are, at some point in your life, you've tried to do it. From the moment that neuron first fired off in your brain, giving you one of the greatest ideas you've ever had, you immediately went to see if you could give yourself a blowjob.
And like the vast majority of us all, you've joked about it, maybe dreamt about it, and have probably continued to see if you've improved in your range of motion, over the years. But, it has eluded you.
No harm, no foul. You're like the rest of us. And so, life goes on.
Then you saw your first trans self suck video, and you said, 'oh yeah!!'... That's it! Right there.
At the 7 sites we showcase here, you're going to find some self sucking transgender webcam models. It will require some patience on your part, but you'll find them. It's really just a numbers game.
The fact is, few transgenders possess sufficient flexibility and penis length to accomplish the frontbend; the contorted position where one can curve forward at the hips and spine. The best statistics on this physical feat say that less than 1% of men have the range. But men who become women are an entirely different breed. These are people that are defying their own nature and it's limitations and working to perform amazing physical transformations. Beyond changing genders, a girl will train herself for sucking her own dick.
Hence, we've taken a look at the best transgender cams sites we review, and whittled them down to the 7 best sites with the best chance of finding self-sucking tgirls.
Given the rarity of this physical accomplishment, we suggest keeping an eye on as many of these sites as you can. It's just going to increase the pool of models you're looking at to find one that can self-suck.
To get started, we highly recommend MyTrannyCams to be your foray into sex chat with transgenders. The site has thousands of registered models, with always close to 100 actively online. The models are presented in immaculate settings with good lighting. The broadcast quality is brilliant and clear. Everything is operated in a safe and secure environment for personal privacy and payment transactions. And, the private chats are reasonably priced.