Top 7 Muscle Girl Webcam Sites
last updated
January 14, 2021
There are some bad ass bodybuilders and sporty athletic women showing off their big, buff curves, online. We've put together a list of our favorite muscle girl cam sites, to help you find fit models flexing, posing, stretching, and just generally crushing it in their video chat rooms.
Streamate.com

Streamate has a Muscle category showcasing its strongest women, ranging from the thick muscular type, to the more athletically fit. This is a Premium site that is geared to get you into a private show. The only nudity you'll see in the public chat rooms is usually short-lived, as the model is responding to tips received, or she's trying to entice viewers into purchasing a spot at her group show she's about to start.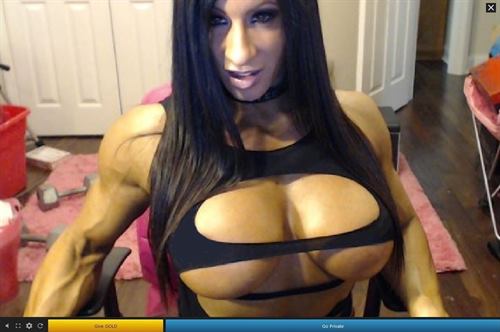 When you go to any specific category, both online and offline girls will show. If a hard body baby that interests you is offline, then go to her My Schedule. All performers post a schedule of hours they're expected to come online each day. Use this schedule to meet online at the same time. Or, send her a message through the site. With a membership account you'll be able to send messages, and include an attachment file, if you like.
Streamate has most cam rooms streaming at a high definition rate. There is a quality selector available in the video player. It will detect what stream is best for your connection. And, if you want to up it, or lower it, then you're enabled to do so. Also, in the video player room, there is a tagging system that gives you the ability to add tags to any model. If you find a girl somewhere else on the site and you believe she deserves to be noticed as a muscle girl, then you can tag her as such.
When a girl starts a Gold Show, she is gearing up to do a performance for all those that chip in. She sets a goal, with a time limit to reach it, and performs for a group. During this time, you can't start a private show with her. When you do get to request a Private show, you'll see all kinds of prices. The girls are allowed to set any amount they want. We estimate, that the typical rate hovers around $3.00/min. Unfortunately, during these 'private' shows, other members can still chat with her. To have an Exclusive show, that is truly 1-on-1, the price is usually another 20% more. And don't expect cam2cam availability with every model. If it's an option, or not, and if it costs extra, or not, depends on the performer.
---
Flirt4Free.com

Flirt4Free gathers all its physically fit specimens into its Bodybuilder category. The category will only show when there is at least one model actively online. Though this is a Premium site, it does permit its performers to go nude and be sexual active during their open and free chat shows.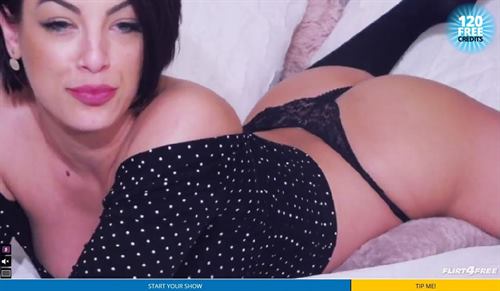 All online and offline performers' preview profiles show when entering into any category. Start chatting with the online girls right away. Or, if an offline girl catches your eye, go to her profile to get all the details on body measurements and physical attributes. Each girl has her own photo sets, which are free to peruse. If she has made any recorded shows available, you'll see a quick teaser, before being asked to purchase site Credits. Staying in the profile, you'll also see options to call her, message her, or just simply add a notification to receive an email when she comes online.
Flirt4Free has more show types than any other webcam site. Each room is labeled with its current status, of Party, Group, Combo, Feature, or Premiere Chat. If a girl is simply in her Open Chat status, you can either start a Private Show, or Multi User Show with her. And, there are Offered Shows, that give you the privilege to make an offer of whatever you're willing to pay. All cam rooms, no matter the show type, are clearly labeled with their camera quality and show rate.
Some of the cheapest private cam shows can be found on Flirt4Free. Sort by Prices to find the girls asking for as little as $0.50 to a $1.00/min. At the other end of this price list, the more well-known and popular girls, are asking for up to $12.00/min. All together though, the average rate is $5.00/min. Activating your webcam, for her to see you, is usually included in the price of a private show, though some models ask for an additional fee. Verifying your credit card will gift you 120 free Credits ($12.00 value).
---
LiveJasmin.com

LiveJasmin has them in all shapes and sizes, from all over the world. The beauty that congregates on this sites is untouchable. We only place the site third on our list because it doesn't specifically have an 'fbb', or 'muscle' category. You're going to have to just scan the site looking for the fit chicks. This is a Premium site, where the models will only get nude and flex for you, during a paid-for private session.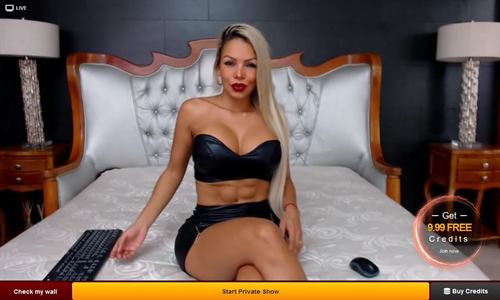 One of the easiest sex cam sites to use, LiveJasmin makes it simple to find similar models to the one you're currently chatting with. The site is very smart in how it recommends like performers. On other sites, once you've found a girl you like, models with similar body types and attributes are shown to you. But LiveJasmin nails the application by enabling you to load more models to select from, if the originally recommend ones don't satisfy you. Effectively, you can rapidly browse through scores of women.
LiveJasmin keeps strict presentation and performance standards. All models must meet certain criteria in their camera setup, and their video streaming rates. As well, if a model agrees to a particular performance, she's committed to meeting your request. While there are amateurs that operate on the site, this is primarily a professional arena.
The girls here fall within a few offered price ranges. The cheapest among them being $1.60/min for a private chat. And the site average hovers around $4.80/min. All one-on-one shows include in the per minute rate the option to activate your webcam, though it will be an added fee of a dollar or two to turn on your microphone for her to hear you. If you do initiate the 2-way audio, it's guaranteed that she'll hear you. And currently, there is a promotion offering half off the price of any LiveJasmin Credits packages, for first-time members.
---
CamSoda.com

CamSoda is a pageant show of peacocking and parade. The site's whole-page video preview into every webcam room enables visitors to see what's happening in all live rooms, all at once. And, as this a Freemium site, the girls here aren't sedately sitting around waiting to be taken into a private show. They are instead, in full-on performance mode: acting, playing, posing, and flexing for attention.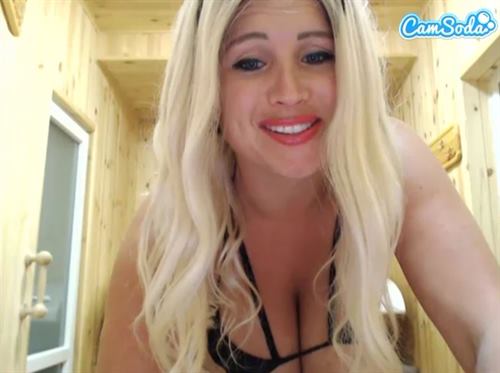 There is no categorical system to search through. There is a tagging arrangement, but the results are far from accurate. We think the site does no policing in how girls tag themselves. Fortunately though, the video preview into each room makes it possible to flip through hundreds of online girls in a matter of minutes. So, simply scan through all online cams with an eye out for the more bulky and muscular women.
CamSoda makes possible cam2cam over mobile. Whether you're part of her public show, or are involved in a private 1on1 chat, you can activate you mobile device's camera. This feature comes at no cost. In private shows, it's included in the per minute rate for the chat.
When you request to take a girl into private session, you'll wait for her to accept your invite. It she's too busy entertaining a large number of viewers in her public chat and doing well making tips, then she'll probably decline. Many girls have the added option to Schedule a Private, where you select a day, time, and duration for a private show. If she can meet you, she'll let you know. On the average, expect to see rates around $3.30/min, with the cheapest girls asking for only $0.60/min. Cam2cam is usually available, and when so, it doesn't cost extra to activate.
---
LivePrivates.com

LivePrivates is a discerning site that screens its talent. Weak and sloppy girls are going to have to set up shop on some other cam site. Because this one, keeps certain performance and presentation standards in place. It's goal is to deliver to its members first-class women passionate about their time on camera. As a Premium site, the girls are mostly lounging about seductively, waiting to be taken into a private show.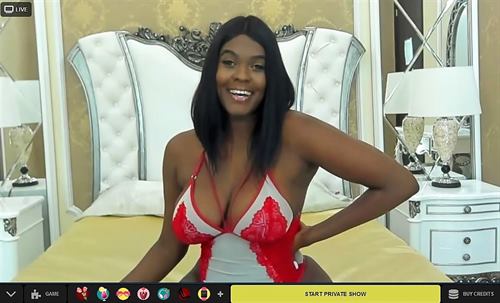 The big buff muscley babes are scant here, but there are plenty of athletically fit and strong women. When you find a body type you like, there will be other models suggested of similar likeness. Use these suggestions to explore all the online girls with the same physical attributes.
LivePrivates is great at keeping everything that is important to the sex cam experience as plain and simple as can be. The site won't bombard you with all sorts of special events or promotions. There are no unique features offered that doesn't exist on any other site. The site keeps it elementary, by being awesome at only the critical functions needed to be a great cam site: it's choosy about the models allowed on its platform, it showcases each girl with professionally shot photo and video teasers, and it delivers first-rate high definition webcams.
Privates shows will run you about $4.40/min. There is a Price search that breaks the girls up into 5 variable price ranges. The cheapest among them, will show you all the models ready to go 1on1 for as low as $1.75/min. Turning on your webcam is included in the per minute rate, though activating 2-way audio usually costs an additional $1.75 - $3.50 per minute.
---
ImLive.com

ImLive is another site with no specific way to instantly find Fbb girls. There are a few on the site, but they're just mixed in with the rest of the girls. Though locating them may take some time, when you do find a girl with bigger shoulders than you, you'll enjoy paying among the lowest rates online for a sex show. ImLive operates as a Premium site that does not allow nudity in the free chat rooms, only during private, group, or event shows.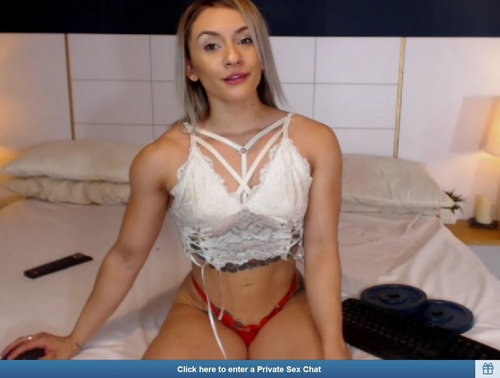 One of the coolest features to search through any site's online girls, exists at ImLive. The Multi-Viewer gives you the power to scroll though six live cam feeds at once. This tool is available for both the free chat rooms, and to get a voyeuristic peek into any ongoing sex shows. While it's possible to find a girl with good muscle tone and size in any typical category, we particularly like what we saw within some of the fetish categories. Take a look through the Humiliation and Domination categories, as many muscle-bound girls like to play the part of the female dominator.
If you're having trouble finding what you're looking for, then it might be time to employ the Fulfill your Fantasy feature. From the Member Area, there is a fantasy submission form. Give it a subject, choose which category of girls to point it toward, and write a complete description of what it is you desire. Any girl believing she can meet your needs will reply to you directly. If you like what you see, schedule a time to meet for a live encounter.
At ImLive, the first 20 seconds of a private show are free. When the meter does start, expect to see rates that average around $2.25/min. Search by Price to find girls ready to get hardcore with you for only $1.00/min. Join a girl's Discount Club, and enjoy exclusive discounts on private chats and her recorded videos. When you pay for a private, turning on your webcam and microphone are included in the rate paid.
---
BongaCams.com

BongaCams has its more physically toned and athletic women organized into its Muscle category. There are usually a few female bobybuilders to be found, though the majority are girls that haven't taken their physique to the extreme. They would classify as visibly fit and strong. This is a site that empowers its performers to use their public chat rooms to capture the attention of as many viewers as possible and then work that crowd for tips. Its fundamentally a Freemium site, though it does have some considerable upgrades if you pay the Premium.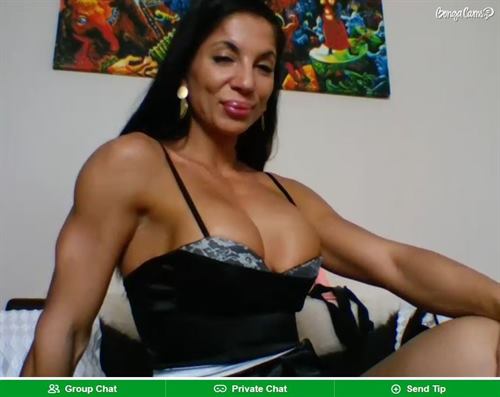 When you find an online model you like, be sure to go through her list of what she's willing to do on cam. Here, you'll see all the performance acts, or roleplaying situations she's ready to perform for you during a private show. Select any of these to query all performers doing the same. And don't miss checking out the Body types in the Search menu. There's an Athletic category worthy of perusal.
Some site features are closed to visitors that haven't yet purchased any amount of BongaCams Tokens. For instance, opening the video player in full screen is only available to Premium members. When you buy any amount of Tokens just once, you'll attain the Premium status for life. And given that BongaCams has one of the most affordable buy-ins around, you can literally get the upgrade for the price of a cup of coffee. For $2.99 you'll get enough Tokens to tip lightly in the open chat rooms, watch the models' recorded videos, starting adding models to a friend list, and receive bonuses and exclusive offers.
The number of viewers in each room is posted in each chat room. If the girl you like has got hundreds watching her while she's in full performance mode and earning big tips, then she may not accept a request to go private. When a request to go private is accepted, expect to pay $5.00/min. This is the site-wide rate for all models. Cam2cam and 2-way audio activation come with the price paid in private.
---
Conclusion - Muscle Girl Cam Sites
Female bodybuilders are a rare breed. Of the 10's of thousands of women actively performing on all the top adult webcam sites, women with bulging biceps and monster quads make up a small contingent. While each of the sites we showcase here all make it possible to find a swole Fbb cam girl, it's not like you're going to have a selection of hundreds to choose from.
As this is one of those rare niches, we're going to recommend that you take your webcamming allowance and spread it across more than one site. To purchase the website currency you'll need on each site won't require a periodic fee of some kind. In all cases, you're buying sites 'Credits' or 'Tokens'. So, if you buy one here and one there, or two at the same place, you're still spending the same. But, when you spread it out over more sites, you're effectively widening your options for the same price.
If you're looking for totally free sex shows, then both CamSoda and BongaCams are going to keep you entertained for as much time as you've got. And while we do appreciate anything free, it inherently attracts the masses. If you don't mind sharing with others, then these can be a blast.
With the top three sites we've chosen, we really believe each could be the top spot to find sporty and buffed out women. We like LiveJasmin for it's sheer commitment to excellence. Every element on the site is top notch. And we're big fans of Flirt4Free for being among the super sites that actually recognizes there is a market out their for Fbb webcam porn, and does its best to promote it.
Overall though, Streamate is our favorite site for finding girls with muscle. The site simply has the most performers of this type, online, at any given time of the day. The top 3 sites all deliver awesome broadcast quality, thousands of women to chat with, and affordable options. It's just that Streamate outdelivers the other sites when considering the quantity of sporty and bodybuilder girls.