5 Best Gay Live Cams Accepting Credit Cards
last updated
January 08, 2021
We always do our best to bring you the top sites for any category, and this list is no different. Sit back and relax as we deliver the top 5 best gay sites that also accept credit cards. These sites have fantastic models eager and willing to play and perform, HD quality rooms for your viewing pleasure, extra features and content, and even low cost options to suit any wallet.
CameraBoys.com

With over 100 male models always online, you'll not want for choice on this premium, luxurious site. Though there is no nudity allowed in the free rooms, it's a great opportunity to get to know these hunky dudes, and then move over to a private chat, or even cam to cam. The rooms stream in 720p HD, so you're sure to like what you see.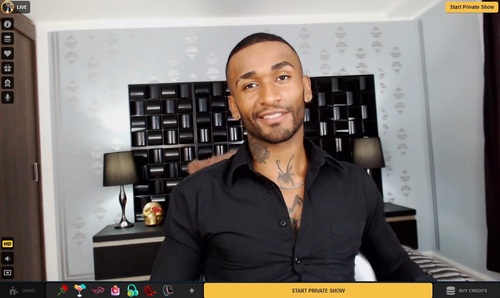 To find your honey, there are two effective filtering options. The main search on the left, and the advanced search on the top right. There, you can select multiple categories, such as Price, Appearance, and Willingness. These models are no ordinary guys, they have been selected and trained to give one hell of a show, they're friendly and sweet, and always gentlemen, until you get them to go private, of course.
For the pleasure of their company, the average cost will be $3.60/min, but prices start as low as $1.20/min. That being said, there are other charges to consider. If you want to include a scintillating c2c and 2-way audio in your chat, you'll be required to add an extra 1-2 dollars a minute per feature depending on each performer's personal rate.
Credit cards accepted on CameraBoys include Visa, MasterCard, Visa Electron, Visa Bleue, Maestro, Discover, JCB, Diners and Union Pay. Another fun way to pay is by using a gift card, which is rare in the live cam world.
There are a few special features worth mentioning on CameraBoys, besides yummy men. First of all, it's one of the only sites to have a brilliant mobile version, with c2c capabilities. Also, try out the Mobile Live section to see models streaming from their cell phones, which could be anywhere. Lastly, the Story section is really cool, as it shows Instagram-like stories the performers upload, which gives you an extra intimate look into their lives.
---
Supermen.com

Supermen is a great name for this site, and fitting, too. These guys are not playing around with their good looks, charm, and sexy antics. Though this is a premium site, you might even catch them teasing and flaunting in the open rooms, if you're lucky. Though there are around 50 models always online. quality is key, and variety too, from twinks, to bears, to bulls, you'll find them all on Supermen.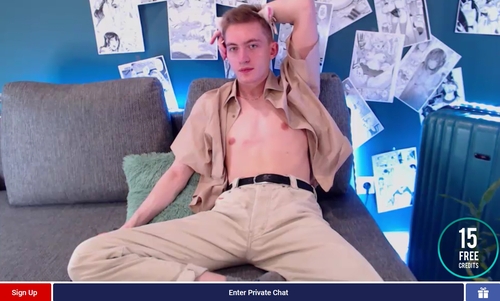 When landing on the main page you'll be faced with a difficult task - choosing. Not due to quantity, but quality. But fear not, the excellent advanced search on the upper right of your screen is a great way to get your bearings, and choose according to everything from physical appearance to kinks and sexual preference.
Visiting multiple rooms shows that it's not a happy accident to meet beautiful, lovely, funny men who make you feel at ease and naughty at the same time. It's also fun to be able to interact with the hosts using the vibrator feature, with tips being met with moans and groans. The best part is having a favorite host or two, and joining their discount club, which opens access to their their videos, pics, and other content.
Prices are low on Supermen, and even include c2c, which is nice. The rates average at $2.50/min, but the cheapest chats will go as low as $1.00/min. However, be prepared to make some compromises when it comes to streaming, as a good chunk of the site's models employ SD cams, alongside those who use HD ones.
Once you pick the model you wish to chat with, you can use the following credit card brands to pay for the chat: Visa, MasterCard, Maestro, Discover and JCB. If you choose Epoch and CCBill as your billers, you can add Diners to this list. The latter also accepts Switch.
---
Stripchat.com

Stripchat is a freemium site that attracts a lot of performers and viewers. There are mega muscles, pups, bears and bi-curious boys and most of them are extreme exhibitionists who want an audience for their hardcore action. This means you get to enjoy some kinky antics and not pay a penny, and even the private chats are super cheap. With countless fetish categories, this is the site to let your freak flag fly.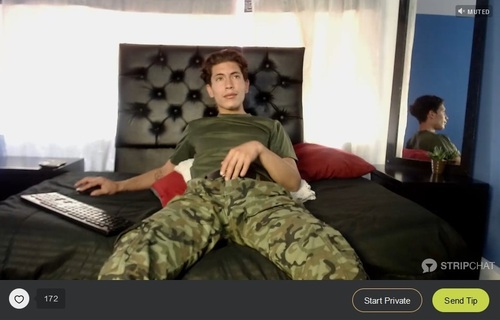 Stripchat is not a gay site, but there are hundreds of men awaiting your visit, and much more during peak hours, Just select the Guys category when you get to the site. The categories to choose from are a real wonder, and include unconventional ones such as Best For Privates, Grandpa, Penis Ring, and Video Games. A fun option on Stripchat that is rather rare, even on freemium sites, is the ability to record your private sessions, which are stored in My Media, and rewatch them as many times as you'd like.
Prices average at $2.70/minute, but the cheapest rate on the site stands at $0.90/min. Using c2c on Stripchat demands additional payment of 30-50 percent of the sum you paid for a private chat. Some of the models may charge even higher; others may not charge extra at all. Each performer has his own rate. You can filter the rooms by price per minute, and also choose models who have a New sticker on their profiles, which usually means they charge less.
A private chat on Stripchat can be paid with Visa, MasterCard, Maestro, Discover, JCB and Diners. You can also use a gift card, and a prepaid card. To make things even cheaper, you can opt for a Spy Show, which allows you to spy on a model already in private chat, or join several other members in a Ticket Show, where only tipping is needed, and the show is one big party.
---
Flirt4Free.com

Flirt4Free is not a gay site, but that hardly matters when it offers well over 100 men during most hours of the day to meet in the open rooms. It's premium in every way that counts, yet still the models feel free to get dirty, not just in private. This is a fetish-inclined site to say the least, and boasts its very own mini-site that houses all things kinky. This fetish community offers Forums for members and models, articles, blogs, and even an Education Center.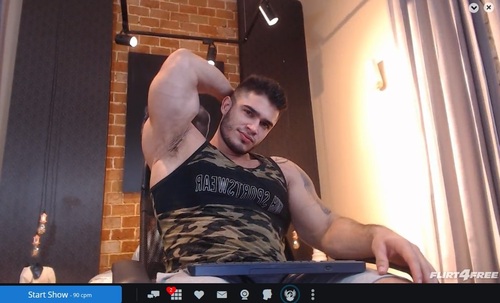 Flirt4Free is far more than just a video chat site. It really does go that extra mile when it comes to info/community/forums and of course a whole bunch of funky fetish features that'll keep you occupied while you wait for you fave guy to get back online. There's a calendar link that can be selected that brings up the week's schedules of when each model will be online. This way you know the day and hour your fave fancy boys will be flexing their pecs.
Private sex chats go for $5.00/min on average, including c2c, however on the other side of the spectrum, there are also chats for just $0.50/min. To keep things low cost, there are several options. You can filter the rooms by Lowest Price, so that those come up first. You can also join group chats which only cost tips and cheap tickets like a Party Chat or a Group Chat. Or, spy on a model performing using the Voyeur mode. The New Models category will most likely offer cheaper chats as well.
The site accepts Visa, MasterCard, Direct Pay, Discover and JCB. You can also pay with a prepaid card, and a gift card.
The site's VIP membership package is one of the very few webcam VIP programs truly worth joining. It's based on a monthly subscription costing $39.95, which provides you with unlimited access to your own recorded shows, 150 daily videos available for 7 days , free one-hour feature shows and access to archives, and a whole lot more. Don't forget the sites' excellent mobile platform, equipped with cam to cam.
---
LivePrivates.com

LivePrivates is a beautiful premium site, which welcomes you with a stunning gallery page. The profile pictures are professional and provide a peek into the models' live feeds. Most rooms stream in crisp HD (720p), and offer a variety of features in the rooms, such as gift giving, interactive toys, cam2cam, favoriting models, and more. The advanced search on the top right gives you the option to choose multiple filters, such as HD Quality, Price, Willingness, and more.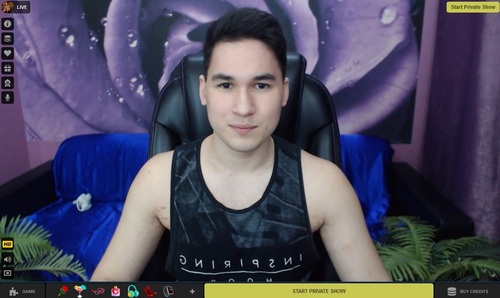 LivePrivates focuses on one thing - The models. Just select the Boys category when you enter, and use either of the two filters to find your beau. The left filter shows categories, and the top right filter allows you to select several options, such as HD quality (720p), Vibrator, Ebony, French, and Teen 18+ - To name a few.
Private chats start at only $1.10/min, and average at $3.40, with an extra cost of up to $2.40/min for 2-way video chat. It's definitely not cheap, but for such pro performers and great HD quality, you get what you pay for. You can use the free open rooms to get to know your honey, as they don't allow nudity. To find the cheapest chats, select the Sale category, filter the rooms by Price, or join an excellent group show called a VIP Show, costing only a few credits to enter.
LivePrivates will accept Visa, MasterCard, Visa Electron, Visa Bleue, Diners, Maestro, Discover, JCB and Union Pay. You can also use a prepaid card. A fun extra to mention is that prior to each purchase, Spin The Wheel, and get a chance to win double your purchase.
LivePrivates is a great choice if you're on the go, or just want to cuddle up in bed with your guy. LivePrivates' video chat platform shines on a mobile device, as the model will know that you're watching on a mobile screen and will position himself accordingly, so you get the best view.
---
Conclusion
Finding a site with great gay models is not hard, but finding the very best sites, offering HD quality, professional models and lots of low-cost options can be a challenge. Out of the five sites above, all superlative, we select CameraBoys as our best in show. Not only is there plenty of choice, the models are simply the best at what they do, and stunning to look at. The site is luxurious, high quality, the cam to cam experience is superb, and though expensive, you can easily find ways to lower costs. Enjoy!