Use Gift Cards to Pay for Gay Sex Chat at These Cam Sites
last updated
January 16, 2021
At some point or another most of us receive a brand name or store gift card that we can use to purchase a product (or products) that the particular brand or shop carries. But did you know you can trade them in for many other things including some awesome gay sex cam chat? Read on to discover which XXX cam sites accept gift cards and the simple steps you need to do that will turn that piece of unwanted plastic into the perfect private live porn performance.
CameraBoys.com - Cocks on Candid Camera

The boys, men, muscles and twinks that call CameraBoys home are the hottest hunks hanging out online. Each one is at the top of his game and is vetted and verified before being allowed to broadcast all his goodness on this premium gay cam site. If you're into quality, not quantity, HD streaming and a great kinks and fetish grouping then it's definitely worth checking out the cams at CameraBoys.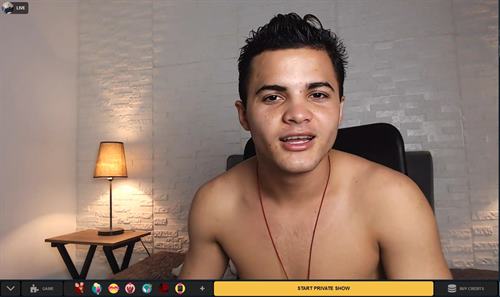 As CameraBoys is a guys-only site, there's no having to click from the homepage to find the hunks waiting to play. Once the homepage loads you're faced with a screen full of snapshots of online guys covering all ages, appearances and ethnicities. The platform is a premium site which means no nudity or X-rated moves take place in the free open chat rooms.
The open rooms are where the men hold court, chatting and flirting until someone decides to lower the curtain and take them into an exclusive private show. Before you do this, it's advisable to check out their bio to see what kinks and fetishes they're into and are prepared to perform in a 1on1 experience.
Prices at CameraBoys aren't the lowest and just be aware that the following rates do not include cam2cam or 2-way audio in your show. If you want these features, you'll have to factor in an additional $1-2/min. On average, a private XXX video chat with your new partner is going to cost around $3.60/min. Throughout the day, many of the guys host time-limited Sales where they'll slash their rates to the site minimum of $1.20/min.
To pay using a gift card:
Select Get Credits on the top right of the home page
Next select either the Payment Methods link or click/tap on the gift 100+ button
Continue by choosing Next under Gift Card Validation
Under Gift card brands scroll through the 100 plus options to find your specific card type
---
Flirt4Free.com - Fellas With A Fetish

Flirt4Free isn't just a live sex webcam playground, it's a content and action hub for lovers of fetish fantasies where they can gather to discuss ideas, insights, read articles and of course hook-up with like-minded lascivious lovers. The site is also one of the most cam2cam friendly platforms, so if camming is your hot hobby then Flirt4Free is a gift from the gorgeous gay gods.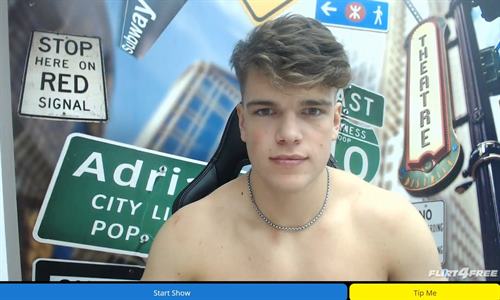 Flirt4Free is not a male only cam site, so the first thing you'll have to do is go to the top of the homepage and change the search settings for men by clicking on Guys. There's usually around 100 or so men streaming 24/7 and while they cover every kink and fetish genre, the majority of them are most definitely in the muscle and well-built appearance category, with generally just a handful of twinks waiting to tempt you in.
All chat rates at Flirt4Free include cam2cam and 2-way audio in a private show if you like to cam it up in front of the guy. For VIP members ($40.00/mo.) you not only get a whole load of added benefits but you can also use your cam in the public chat rooms (but of course only the cam model can enjoy the view - you can't be seen by other users).
Prices at the site are extremely low for a premium cam site. For example, the cheapest boys start a private gay cam chat for just $0.50/min. On average though, most charge around the $5.00/min mark.
Before you get excited about those rock-bottom rates, pay attention to the streaming quality in those rooms. HD is hit and miss affair at Flirt4Free and more often than not, the lower the cost, the lower the resolution.
To pay a using a gift card:
On the top right of any page click/tap on the green Buy Credits button
Under the credit packages that appear select the Change payment method link
Scroll though the 100+ major gift card brands to find the one you want to redeem
---
LiveJasmin.com - VIPs (Very Impressive Penises) Only

LiveJasmin is all about premium penises. The cam guys at LiveJasmin are the most in-demand, desired dudes around. In fact, some of them perform exclusively on the site with cam connoisseurs happy to pay what may be priced too high for some. With HD streaming in almost every room, matinee idol looking men showing off their Olympian moves and a full compliment of fetish and kinks on tap, LiveJasmin is an unbeatable choice for trading in those unwanted gift card dollars for some X-rated gay cam chat with an A-lister male model.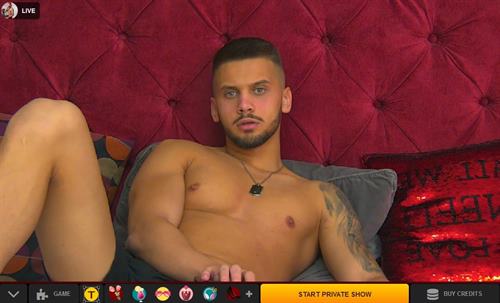 To get to LiveJasmin's men's only club you just select for Boys on the top left of the homepage and be whisked into a world of demi-gods (and more). By more this means there also couples (male and female) and transboys/girls in the group. To filter unwanted genders out, you must select Gay (or Straight) from the left vertical nav bar.
LiveJasmin can work out to be a budget breaker, but there a couple of ways to cheapen your costs. Always make sure you Spin The Wheel before using your gift card to buy site credits. Prizes that can be won include 100% more credits in your chosen package, which can cut the price of a gay sex chat by half.
Another option is to check out those blokes hosting a pop-up time limited sale. For 24-48 hours some of the most in-demand models will host a private sex cam show for just $1.20/min.
The $1.20/min is the lowest rate for a private show, as most rooms come in at around the $3.60/min mark. However, if you want to make it a cam-to-cam session, you'll have to pay a $1.00-2.00/min levy on top of their published rates (the same again for dual audio).
To pay using a gift card:
On the top right of the boy's homepage, above the gallery of gorgeous gay cam dudes, click/tap on the Get Credits link
In the pop-up box, select the white and yellow button displaying a gift card or choose the Payment Methods option
Under the Gift Card Validation explanation click on the Next button
Go through the 100 plus options in the Select your brand option until you find the card that you'd like to trade in for site credits
---
Stripchat.com - Where The Hombres Hangout

Stripchat is a freemium site which means a lot of hardcore hunks are showing it all from the get-go. There's always plenty of nudity, and tugging and plugging, going on in the free chat rooms. It also means the cam hosts favor the amateur style, less of the sleek, smooth (or hairy) señors that hang out in the premium gay webcam platforms.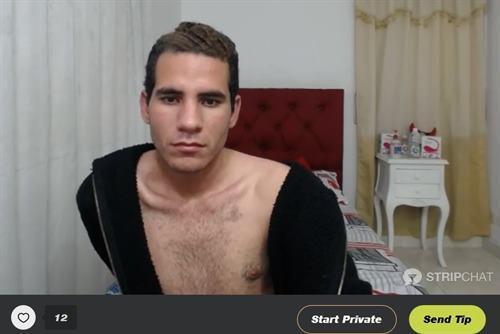 At any time you'll find a few hundred homies heating up the screen at Stripchat, all looking for a new porn pal to party with. First step, select Boys on the upper left of the screen and then start filtering down your choices. The gallery of snapshots show a static image taken a few seconds prior from the live feed in the room, so you know what you're seeing is what you're going to be getting if you click on through into the room.
Most freemium sites, while having a comprehensive selection of cocks to choose from, tend not to have many rooms streaming in HD. Stripchat often does (depending on the hour of the day). If you're the type that considers HD an integral part of your viewing pleasure then it's worth checking out Stripchat in peak hours (evenings in the USA and Europe). If a room is HD broadcasting, it's indicated as such with a small HD icon on the snapshot. You can also use the search feature to find the 'HD' only hunks.
When the live feed comes through, hover over the image and on the top right of the window, a video quality icon (a small wheel) appears. Select this and make sure the feed you're seeing is the highest resolution possible. Sometimes you'll have to manually change the resolution to the top streaming option.
Rates for a 1on1, private gay cam chat (or cam2cam) session vary wildly at Stripchat. Most of the sexy sirs ask around the $2.70/min range, though some boys are happy to pull in just $0.80/min. If you want to enable your cam and make it a two-way masturbation party, some guys will ask for more (even double) their regular rates - while others have one flat fee for everything. It's entirely up to each individual performer.
To pay using a gift card:
On the top right of the homepage select the green circle with a plus sign
In the pop-up box listing the payment methods choose the Gift Card box listing Walmart, Starbucks and 100 plus more
Type in your card brand or select view all brands to see if it's an option
---
Cam4.com - Cock & Balls Without Borders

If you feel like flirting with a fella from another continent, then Cam4 is all about the abs with an accent. This freemium site, while not being gay-centric, has hundreds, (around 700 plus) horny guys streaming 24/7 from around the world. It covers all time-zones, looks, ethnicities and sexual proclivities. So, if you're looking for something or someone new and feel like taking that gift card and using it to expand your boundaries, then Cam4 is a great place to start.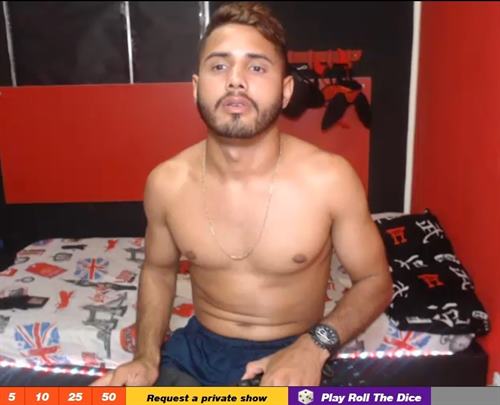 When you get to the site, the first thing it will ask you is if you want to watch females / males or trans. Once that's out of the way, the homepage will immediately appear showing hundreds of hardcore images grabbed moments before from live feeds. If for any reason you find yourself with the chicks, not the dicks, just go the top left of the screen and by the logo hover over the box that states Females and click on Males.
The photos are explicit and marked with that so-important HD icon so you know which rooms will give you a crystal clear close-up and which are more in the blurry balls category.
With so many options to go through, the site's search engine is a must. Unfortunately, like most freemium sites, performers tend to tag themselves with as many hashtags as possible in order to appear in every search, regardless of whether the tag is applicable to them or not. Another option to find a friend with benefits (although less specific) is to see how many eyeballs (indicated on the photo) are watching the room. Generally, the more viewers, the more thrilling the action is.
Most of the kinky knights on Cam4 include cam2cam in their private show rates (as they're meant to), but sometimes you'll find a cheeky chap that'll ask you to tip him if you want him to see you pleasuring yourself. On average, though, a private cam show with a sexy señor or raunchy Russian will cost you around $3.00/min, with some guys asking for only $0.60/min.
To pay using a gift card:
On the top right of the screen select the Buy box next to the heart icon
In the pop-up box click on the small downward arrow in the Pay with box
Select Gift Card
In the search box write in the store/brand of your card, or select the blue view all brands link
---
Conclusion
Now, the bad news before the good... If you're not based in the USA, be aware that only a few international gift cards can be traded for live cam sex credits or tokens. It all depends on the gift card processor used by the site and the brand. In fact, if you're not accessing the site from a US-based server, chances are the option to pay by gift card won't even be available.
Every gift card has an expiration date, after which its value goes down to nothing. Check your card's date - you can always trade it in for credits which you can use later on the site.
Whether it's from a store like Walmart, Target, Lowes, Home Depot etc., or a brand such as Adidas, Puma, Patagonia etc., those gift dollars can be put to really good use. And yes, you can even redeem cards that are partially used - so whatever value is left - is converted into live gay sex cam credits.
The above 5 gay sex chat sites all feature stunning cam boys, great HD streaming choices and an easy and safe gift card conversion method. CameraBoys just sneaks in as the number one pick as it has the best of the best in all of those three offerings, as well as some great low-cost chat rooms that'll make those virtual gift card dollars last and last.