The 5 Cheapest Cam Sites For Private Gay Chat
last updated
January 11, 2021
Finding the hottest guys for a sexy 1on1 private cam show is easy, though getting them to cut their prices is far more of a challenge. But, there are ways to get to the best blokes at unbeatable low-cost rates, and we've discovered them. The following 5 low cost gay sex chat sites all have hot to trot dudes, HD streaming options and secure and discreet payment methods. Read on to find some cost-cutting secrets that make sure the only thing that'll stay in your pants are your greenbacks.
Supermen.com

If you want to let your testosterone fly to new heights, then you'll find no better partner for your ride than a Superman sex star. While this site is meant to be full of amateur porn gods, it crosses the border with what can be best described as semi-pro kings of kink, with the occasional verified porn star thrown into the mix.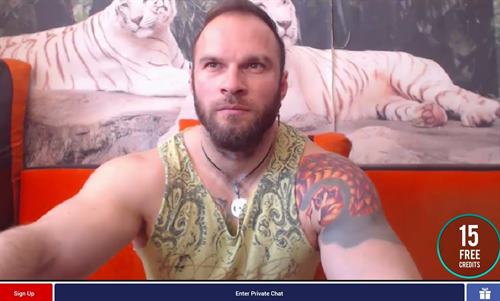 Available in 15 languages, Supermen is focused on one thing, and one thing only, super-cheap, one-on-one, cam-to-cam gay chat sessions. There are no bells and whistles at this site, no distractions that'll take you away from the blokes in the buff that hang out in their free public rooms. While you're not going to find a slew of male models to choose from, it's not much of a hindrance as every homosexual and bi-sexual performer at Supermen works hard to please.
Prices on the site are low, even the top porn performers keep them fan friendly with most of the guys asking for around $2.50 a minute for some 1on1, c2c partying. That rate is the average, a bit of searching will bring up rooms that start at just $1.00 a minute. If a snapshot has a New sticker on it, it means the muscle man or twink tempter has just joined the site and they tend to start out with that bare bottom $1.00 a minute rate.
Grab Those free credits
When it comes to getting those all powerful free extra credits, it seems to be all down to timing at Supermen. Sometimes the powers that be at the site will comp you an extra 15 credits on a credits purchase of $100, other times, it'll be less (or even nothing). You've just got to keep checking in and when you see an offer, grab it - don't hesitate - you never know how long it'll be there for.
---
Flirt4Free.com

Flirt4Free is one of just two gender inclusive premium live sex cam sites to make it on to this list (in the aim of being politically correct, we just need to clarify that gender inclusive means sites featuring, male, female, trans and every other gender specific, or non-specific gender host). It also, without a doubt, has the most fetish friendly folk online. So much so that it has a fetish-centric standalone site that no matter where you stand on the subject, its worth checking out (for educational purposes at least).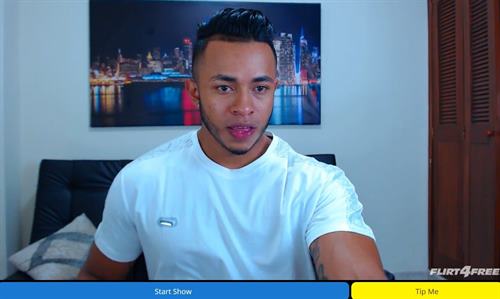 Flirt4Free is a true international no-borders gay live porn site. And by no borders, we don't just mean globally. It's a world-wide porn playground where every single sexy señor seems to practice a range of kinks and genuinely wants to find a prick pal for some seriously X-rated private cam fun and games. Saying that, Flirt4Free has a huge range of hunky muscle men, but less so when it comes to pups and twinks. So if kinks, as opposed to twinks, is your thing, you're in for the shafting of the century. By the way, to get to the guys make sure you stay on the Guys side of the site. The gender tabs are on the top right of the homepage.
Prices for a private gay 1on1 cam2cam show kick off at an unbelievably cheap $0.50 a minute but average out at the $5.00 mark. But that last number is somewhat misleading as with a few clicks you can double the minutes you get for the rate. You can even politely ask the performer for a more affordable rate, and he may just give you a price break if things are quiet.
To begin with, Flirt4Free will gift you 120 free credits just for verifying your credit card details (and you don't even have to make a purchase). Before you start a private gay live sex show, check out the Deals section, located at the bottom of any page in the lower menu bar under the Live Cams category. Deals feature all the dudes that are offering coupons that'll give you extra minutes. For example, some will treat you to 20 minutes of private chat for the price of 10 minutes.
VIP On The Cheap
And there's more cheap deals to be had. VIP members pay a few dollars month and get access to all recorded shows on the site, as well as free hour-long feature shows with some of the leading male porn-stars around. And, of course you'll get even more free credits - another 150 credits to add to your Flirt4Free balance.
---
CameraBoys.com

CameraBoys is one of the top gay cam sites around today and it's easy to see why. Not only do almost all the blokes broadcast in HD, but they're the hottest hunks you'll find. Officially, it's a premium adult live entertainment site, which means no nudity is meant to take place in the free public rooms. Unofficially, many of the performers break this rule on a regular basis.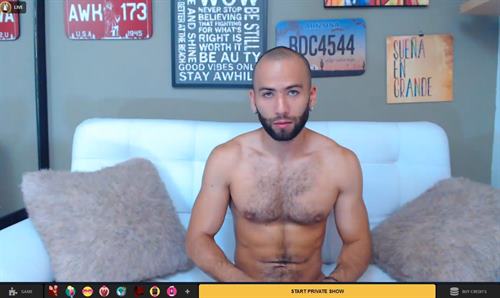 CameraBoys is all about quality over quantity. While you won't find hundreds of gay sex rooms streaming 24/7, you will find a strong selection that covers all types (muscles, twinks, bears and bi), ethnicities and ages, (they're especially strong in the 30+ age category).
At first glance, prices may not seem that cheap, but there are a couple ways that you can either reduce the costs by up to 50%, or even enjoy some 1on1 cam time with some of the most in-demand boys around for just $1.00 a minute.
On average, most rooms fall in the $3.60 a minute mark for a premium gay chat encounter, but there are always several options that start at just $1.20 a minute. None of the rates include cam2cam or 2-way audio, for each of these features you'll have to add an additional $1.20 a minute.
As we mentioned earlier, these rates aren't necessarily reflective of what you'll pay in the end though. First off, before any purchase of CameraBoys credits, you can spin a wheel. This wheel offers prizes which give you free credits based on the package you buy. The jackpot prize (which comes up more often than most jackpots tend to) doubles the numbers of credits you'll get in your chosen package, ultimately cutting your costs by 50%.
Sex on sale
And there's more. You can always find rooms on 'sale'. This is when the guy hosts a time-limited sale where he'll cut his rates to the site minimum of $1.20 a minute - nice, especially when you consider the top performers can usually pull in $10.00 a minute - that's a significant discount.
---
Streamen.com

If you're looking for some kinky action with amateur models that like to get down and dirty for very little financial reward, then Streamen is a great place to check out. These dudes like to strip off and stroke up a storm with very little encouragement. Add to this a huge choice of guys from all corners of the globe fighting for the attention of your stiff pole, discounts on sessions, and one of the easiest payment methods around, and you'll soon be streaming men on a daily basis.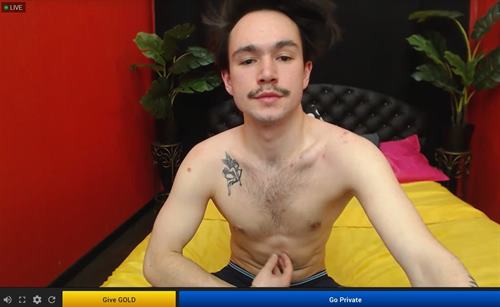 Streamen has cocks from every continent, Latinos, ebony, Eastern European, even men from down under, and if you're into twinks - then get ready for a penis power boost the moment the homepage loads, this site is especially strong on college boy buddies with benefits. And, if guys that go both ways is your kink, it's also got one of the largest selection of bi-blokes.
Unlike most sites, you don't need to stock-up on site credits/tokens before starting a private homosexual webcam adventure. Streamen works on a pay-as-you-go system. You simply register a credit card on file or link your membership details to a PayPal account and you're billed only for the time you've spent in paid-for shows, as well as any tips you may have given your chosen cam cock colleague.
Although pricing at Streamen isn't standardized as such, almost all private gay cam sessions come in around $2.50 to $3.00 a minute for a private chat show. Bear in mind, if it's not an exclusive show, others can join in on the fun. If you want it to be cam2cam and just between you and him, you're going to have to pay extra for that privilege - around $3.50 to $4.00 a minute. Just a word of warning here, not all of the male models are open to exclusive cam2cam sessions, so check first before you get your hopes and your dick up.
Time Your Discounts
Even with such low prices, you can still knock the rates down even further if you know you're going to enjoy at least 15 minutes and above with your new special friend. Block sessions are when you pay ahead of time for a set length of time and in return, the models will cut from 5% to 20% off their advertised rates. For example, if you pay for a 15 min sex session, you'll get a 5% reduction, going up in increments (30, 45 and 60 minutes) which give you discounts 10%, 15% and 20% accordingly.
---
ImLive.com

ImLive is the only other non gay-centric adult webcam platform to make it onto this list of the top 5 cheapest gay private webcam platforms. It may not have the largest number of gay and/or bi live sex male performers, it doesn't even have a great number of HD streaming rooms but what it does have is some incredibly affordable 1on1 cam rates in addition to whole range of options that'll make your gay chat sessions cheaper than this morning's grande cappuccino.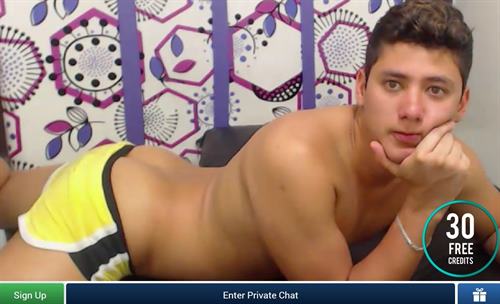 To start your Flirt4Free fun with a hot and horny homie, just click on the link above to get directly to the deviant dudes. If you choose to go the longer route then remember once the homepage loads, you'll have to go to the button above the snapshots of girls and select Guy Alone / Guy on Guy or whichever of the Guy variations takes your fancy. Unless you're visiting at peak times, you'll only have a handful of sexy sirs to choose from - but, nevertheless, this handful is generally the pick of the webcam crop.
Before we move onto pricing, it behooves us to mention the site's truly awesome Fulfill Your Fantasy feature. To post a fantasy request, you just hover over your username located on the top right of any page and select My Homepage. Now you scroll down to the Fulfill your Fantasy box on the left side of the page and select Add Your Fantasy. What this lets you do is write down exactly what you want to do in a private 1on1 session with the dude of your dreams and then all potential ImLive fellas have the option to bid for the pleasure of fulfilling your fantasy. This can really get the price per minute down as these gorgeous guys each try to underbid each other in order to get your patronage.
Private chat rates with your new porn pal are on fairly cheap. Most come in at around $2.25 a minute for a cam2cam gay show, and if that's too much, you can always find a few guys asking the minimum of $1.00 a minute.
Discount Your Way To VIP Status
Once you purchase ImLive credits you automatically become a Bronze member in the site's membership program. Advantages of this include a reduction of 0.6 credits a minute on private sessions, as well as free access to a whole range of additional media including models' xxx sexy snapshots. The higher you climb in the program, the bigger the discounts get until you reach VIP status, which among many other perks gives you a 0.90 credits a minute discount on all gay c2c time.
---
Conclusion
These 5 sites offer some of the most affordable gay chat cam2cam shows around. Saying that, sometimes you'll have to do some dodging and diving as laid out in each review in order to get to the best prices. Each site, while having low cost rates, also has it's pros and cons. Some have great guys and HD streaming, though a limited selection. Others have a bigger selection, though not much HD streaming.
What is interesting though is that you'll find some of the performers operating on multiple sites, and depending on how you get to them, the amount you'll pay for a live cam2cam porn show with them can vary wildly. It's always worth checking around before starting any session. Chances are you'll find your fave fella hosting on several of the aforementioned sites (and others), but you'll have to take the time to price compare from platform to platform.
At the end of the day, one site is pretty even all across the board: cheap gay live porn, a lot of HD streaming rooms, and some great incentives (such as free credits) to get you started - and that site is Supermen.