4 Fetish Cam Sites That Let You Pay with Gift Cards
last updated
February 04, 2021
You're into fetish acts and you happen to possess some gift cards you have nothing to do with. Then why not use them to fund your strange proclivities? These 4 cam sites have fetish webcam performers all all sorts, and they all accept store brand gift cards from among the most popular big box stores in the US.
LiveJasmin.com

LiveJasmin is one of the leading premium cam sites operating on the web today. It hosts more than 1,000 astonishing models, most of whom are professional webcam performers. Moreover, the site is marked by unparalleled HD streaming allowing you to enjoy high quality shows.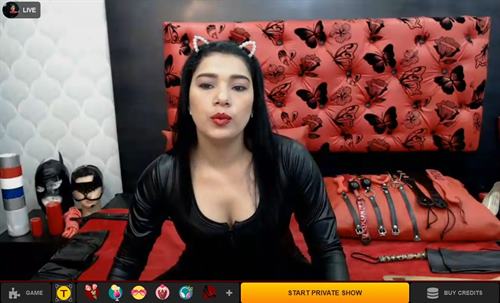 LiveJasmmin has a relatively big fetish category with more than 50 performers always online, waiting to entertain you in the kinkiest way possible. You can trace models who are into the wild stuff by referring to the Willingness column on the site's search tool. Tap on Dominant or Submissive and you will get to girls who will control you, or be controlled by you, in an exciting private live chat.
Such a chat will cost you $3.60/min on average. The minimum chat rate on the site stands at $1.20/min. Take into account, however, that the site's performers charge an extra 1-2 dollars/min for 2way video. They also charges the same sum for including your microphone.
LiveJasmin is one of the few cam sites accepting gift cards. There are more than one hundred card brand the site respects (Some of which include famous ones, such as Adidas, Dell and Walmart). You should know that paying with a gift card may cause chat rates to climb up due to the commission that comes with using it.
What makes LiveJasmin a top-notch cam site, apart from its superb broadcasting quality, is its c2c technology which is responsive to mobile. Very few sites enable you to open your cam when you use mobile devices.
---
Flirt4Free.com

Flirt4Free is another premium cam site accepting gift cards. It host 600 - 800 stunning models most of the hours of the day and offers its users multiple chat options including private, group and multi-user live shows.
Flirt4Free has dedicated fetish section. It's called the Fetish Community and it contains chat rooms covering any fetish niche you can think of from JOI, Domination, Bondage, Collar and Leash, Public Humiliation, and Discipline to the softer but no less kinky Leather, Latex, Feet, Smoking and Voyeurism.
The cam girls populating these rooms are performance pros and are just waiting to go one on one with a ready participant. Such shows cost $5.00/min on average. Yet, you may quite easily find cheaper models who will charge you as low as $0.50/min. C2C is included in the price paid for privates.
As in the case of LiveJasmin, Flirt4Free respects around 100 gift card brands you can pay with to fund your live chats. However, paying with a gift card can raise the price of these chats. The site gives some examples of these gift card prices. If you choose to pay with a Walmart card, you'll be able to buy 400 site credits for $50.00. The value of a single credit becomes $0.125. For the sake of comparison, paid with a credit card, 1 credit is worth $0.11.
What we like most about Flirt4free are its unique features, such as Flirt of The Month/Year which ranks models according to the amount of tips they received in the last month/year. This feature gives you the opportunity to familiarize yourself with the site's hottest performers.
In addition, the site's Live Cams Mansion is a paradise for voyeurists. This is a fancy villa where steamy chicks run their daily lives. The villa is covered by candid cameras allowing you to spy on these chicks 24/7.
---
Stripchat.com

Stripchat is a freemium cam site. As such, many of its beautiful +1,500 active performers perform in the buff in their public chat rooms. The site will be happy to accept your gift card as a means of funding your private sessions.
To find a cam girl who specializes in what you are looking for, you should navigate to the site's All Category Page. As its name suggests, this page presents all of the categories available to you in alphabetical order, making it very convenient to pinpoint your search.
There are plenty of fetish related categories you can choose from, starting with BDSM, Dirty Talk, Goth, Mistress, Oil and Role Play .
A one on one chat with one of the site's models costs $2.70/min, on average. The minimum chat rate stands at $0.90/min. However, some of Stripchat's model charge 30 - 50 percent extra for activating your webcam. In addition, many of the private shows have a minimum duration.
Stripchat allows you to pay with more than 100 well known card brands (e.g. Starbucks and Home Depot) for its premium services. Note, that paying with a gift card card increases the chat rate by, roughly speaking, 10-15 percent.
Stripchat is currently the only cam site in the industry that enables its users to enjoy thrilling 360°shows thanks to its VR chat feature. The virtual reality section on the site hosts 10-15 models most of the time. In order to watch a cam girl in a VR environment, you'll need to download a special program and obtain proper equipment.
---
Cam4.com

Cam4 is the last on the list of cam sites accepting gift cards. At any given moment, the site hosts around 1,500 active models performing bare in their public chat rooms. Many of these shameless performers employ hi-def webcams.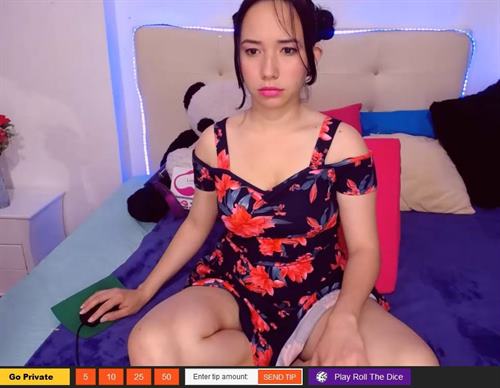 To get to the performers that give fetish live shows, refer to the site's tags by selecting the See All Tags button. Then pick tags that are related to your fetishes. There are plenty of potential ones, such as Spanking, Dirty, Domi, Mistress or BDSM.
A private fetish chat costs $3.00/min, on average. The minimum chat rate on the sites drops to $0.60/min. Some performers impose a minimum 60 second duration. Other performers give private shows in predetermined time blocks (for example - 5, 10, 20 minutes). 2way video chat is included in the private chat rate whether you activate it or not.
Paying with one of the 100+ gift cards the site accepts will increase the per minute chat rate by 10 - 20 percent. In this regard, Cam4 is not different from the cam sites mentioned above.
What we like about Cam4 is its advanced search tool which, unlike other search tools offered by other sites, enables you to sort out models based on their country of origin. You can come across performers from exotic countries in Africa, the Middle East and Asia.
---
Conclusion
The 4 cam sites mentioned in this article are the only ones in the webcam industry that accept gift cards. True, paying with a gift card tends to be a little more expensive in comparison to more conventional payment methods, credit cards in particular. Yet if you've got a gift card and you have nothing better to do with it, why not using it for an activity that will bring you a great time?
Once you consume your gift card, you will, of course, be able to return to the payment methods you usually use, be it a credit card, PayPal or even cryptocurrencies.
If we had to choose one site that is better than the others, we would opt for LiveJasmin. Its professional cam girls, superior hi-def streaming and, most of all, its mobile-responsive c2c technology make it the no.1 cam site for watching hot performances paid for with gift cards.