5 Best Gay Cams That Take PayPal
last updated
January 10, 2021
PayPal is one of the safest, most secure, and definitely most discreet ways to pay for credits/tokens on live sex cam sites. It provides an added layer of anonymity helping ensure what takes place between you and your webcam guy remains between you and him. Read on to find out which are the top 5 gay sex cam chat sites that take PayPal, as well as how to score some great deals on private sex chat with a hunky new homie.
CameraBoys.com

When it comes to finding the best blokes in streaming hot action over crystal-clear HD, first stop should definitely be CameraBoys. This site features a carefully curated selection of some of the leading live sex cam performers making it the leading destination for gay cam chat aficionados. CameraBoys is a premium site which means officially there shouldn't be any nudity or explicit action taking place in the free open chat rooms. Unofficially, this is a rule many of the live sex male cam models seem to break on a regular basis.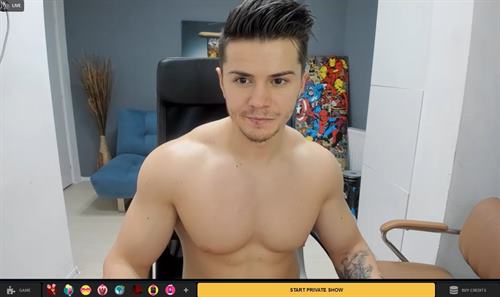 CameraBoys' performers cover all ages, appearances, ethnicities and kinks. From twinks and muscles to bears and baldies, and of course the all important penis size. What it doesn't have is true amateurs. All these dudes are either pros or semi-pros in performing in front of the camera.
On average, a 1on1 private sex chat session comes in at around $3.60 a minute. You can find rooms starting at $1.20 a minute, but these are few and far between. These rates may seem affordable but remember the prices don't include the use of cam2cam and audio. For each of these features you'll have to add on an additional $1.10 a minute.
Paying for the best of the best isn't cheap. Prices for a private gay webcam show can get high, so before you put your hand in your pocket and pull out... the wallet - make sure you do the following.
Deals & Freebies:
Before any credit buy-in make sure you Spin The Wheel. This wheel of fortune almost guarantees you a win starting with another go at trying your luck, to doubling the number of credits you'll get in your chosen package.
Even though you can pay for credits with PayPal - if you register a credit card on file at CameraBoys you'll get comped 9.99 free credits (and you don't have to make any purchase with the card).
To buy credits with PayPal, simply go to Get Credits on the homepage and in the pop-up payment box select PayPal. You can now either choose one of the pre-set credit bundles or create a customized package to suit your budget. Then select Buy Credits and complete the PayPal payment process. Additionally, if you've got some brand name gift cards that are unspent, CameraBoys can exchange your gift card for sex chat credits.
---
Flirt4Free.com

Flirt4Free is a premium adult cam site that offers much, much more than just live exclusive sex chat sessions. It's got a whole bunch of options in which to enjoy some xxx time with a sexy male model. And, if you are into being exclusive with a dude, the private chat prices at Flirt4Free are some of the lowest you'll find online.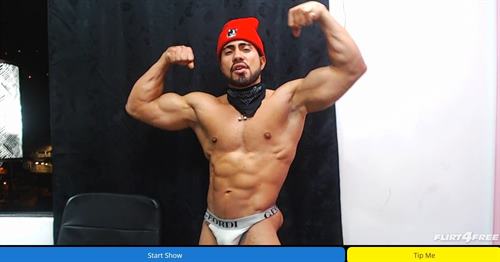 Unlike CameraBoys, Flirt4Free is gender inclusive, which means guys, girls and trans all practice their sexy skills side by side. To get to the gods of live porn, make sure you've selected Guys on the top right of the homepage or simply use the orange Visit Flirt4Free link above to go directly to the gay and bi men.
The Flirt4Free fellas are all seasoned and skilled cam hunks, so no matter who catches your eye, you're guaranteed a good time. What it doesn't have is a lot of young pups and twinks. This is a site for the well-hung adonises and muscle men looking to flex their stuff for the enjoyment of their happy audience on the other side of the screen.
Prices for a private 1on1 cam2cam show with a buff bloke start at the rock bottom rate of $0.50 a minute but that's not the average - these prices tend to be offered by new models to the site looking to grow their fan base. Most of the more seasoned sirs ask around the $5.00 a minute mark. But, if read on - you can get that $5.00 average or more chat rate cut in half with a just a few clicks and tricks.
Deals & Freebies:
To get 120 free credits all you have to do is verify a credit card. You don't have to make any purchase using the card. You get the free credits automatically the moment the card details are registered on Flirt4Free.
Go to the bottom of any page and select Deals (in the LIve Cams category). Here you'll find all the guys that are offering extra minutes coupons. For example, if you copy their coupon and start a show with them, you can get 20 minutes for the price of 10, as an example.
When it comes time to buying those site credits with PayPal go to the Credits box on the top right of the homepage. At the bottom of the blue box that appears showing the different credit bundles, select Change Payment Method and then select the PayPal option.
---
LiveJasmin.com

LiveJasmin isn't as much a gay sex cam chat site as it is a super-exclusive club for uber-hot hunks to hang out at and show the rest of the world why they're some of the most in-demand live porn hosts around. Every guy on the site is at the top (or the bottom depending on your preference) of his game. The minute his HD streaming cam is turned on in a private chat session, you're guaranteed some xxx action that'll give you a great deposit for future withdrawal in your wank bank account.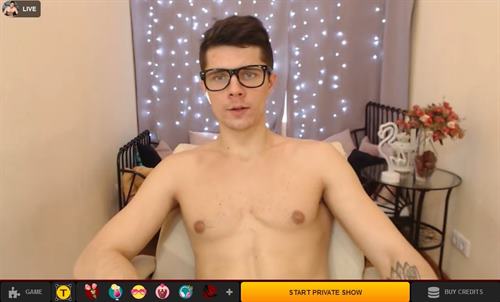 FIrst things first, LiveJasmin isn't homo-centric. so make sure you've selected the Boys button on the top left of the homepage. If you have, you'll see a gallery of guys streaming in HD and HD plus, all of whom will be online and looking for a new porn pal. If good looks alone aren't your major consideration, you'll be happy to know that almost all these men are seasoned and skilled practitioners of almost every mainstream kink and fetish (along with a few pervs that aren't so mainstream).
Once you've found a new play partner and it's time to whisk him away for a wankathon, you'll need to stock up on those PayPal sex chat credits. On average you're looking at laying down around $3.60 a minute, but if you're lucky and it's peak time, you can find a newbie honing his skills at $1.20 a minute. Unfortunately these rates don't include cam2cam. If you want to be seen you'll have to factor in another $1.20 a minute (and if you want to be heard - you'll have to fork yet another $1.20 a minute). But, as usual, we've got some savings secrets to spill:
Deals & Freebies:
Like other premium sites, LiveJasmin will say thank you by gifting you 9.99 credits if you verify a credit card on the site. (And like other sites, you don't have to use the credit card to make any purchase).
When you do make a purchase, make sure you've spun the wheel of fortune (well, more like the wheel of free credits) beforehand. If the gods of luck (not just porn) are on your side, you may end up getting 100% more credits in your package.
Using PayPal to purchase credits is quick and easy. On the top right of the homepage select the Get Credits link. A box showing the different credit packages comes up. Select your preferred package and then click on the PayPal sticker underneath the options and complete the payment instructions.
---
Supermen.com

Supermen is focused on one thing and that's partnering you up with a porn performer for some 1on1, X-rated cam2cam show and games. There are no bells and whistles at this site, it's a platform filled with twinks, pups, bears and boys who are all searching for an online play pal to appreciate their passion for extreme exhibitionism.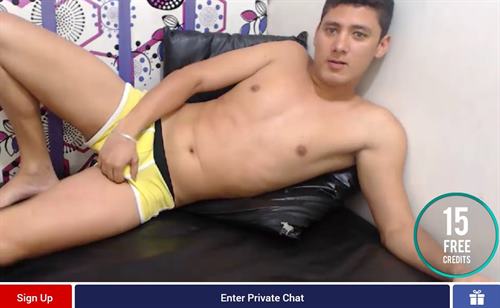 The dudes that call Supermen their online home, run the gauntlet of sex stars. From professional porn performers with every sex toy and accessory at the ready, to amateur guys-next-door that just want to pull out their prick in front of an audience or open their ass in a camera close-up - they're all streaming 24/7 at this low-cost premium cam sex site.
If a particular penis type is your thing then the search engine at Supermen knows exactly what you want. From dick size (which starts at medium and goes up to huge) to cut or uncut. And even though there's no nudity in the open chat rooms, you'll know exactly what to expect if you lay down the dosh to see the goods.
On average, the guys (whether they're pros or amateurs) charge around $2.50 a minute for some one-on-one cam action. However, if you hunt around or go into the site at peak hours, you can find some fellas that are asking for a bare bones $1.00 a minute.
Deals & Freebies:
Supermen often gives free credits with purchases, though the offers vary from time to time. Sometimes they'll throw in an extra 15 credits on a purchase of $100, other times, it'll be less - so keep on checking what's the lay of the land.
Some of the more popular boys have fan clubs. You pay a few dollars for a monthly subscription to their club and in return get a bunch of XXX extras in addition to what can be a whopping 70% off all private gay sex chat sessions with them.
To charge your buy-in to your PayPal account, select the credit box on the top left of the screen and then click/tap on Change Biller. This brings up the PayPal option. You select it and continue with the transaction.
---
Streamen.com

Even though Streamen is a premium cam site (meaning there's not meant to be any nudity or naughty business going on in the open chat rooms), you're going to get quite an eyeful of penis play the moment the homepage loads. Streamen may not have a huge selection of streaming señors and HD streaming is in the minority, not the majority, but what it has that propels it onto this list of the top 5 gay cam sites for PayPal, is a unique, user-friendly, safe and secure pay-as-you-go system.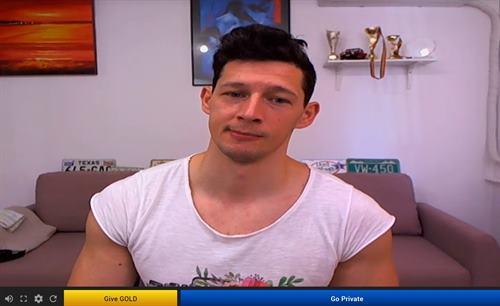 The majority of cam performers at Streamen belong firmly in the broadcasting from their bedroom category. They aren't many professional sex models streaming from an HD enabled studio. Rather, they're lovers of the lewd that want to invite you into their private space and give you as good a time as possible.
Pricing is pretty much standardized at Streamen so there won't be any nasty surprises when it comes to starting a private chat with a handsome hunk only to find his rates per minute are sky high. You pay around $2.50 to $3.00 a minute for a private chat show where others can join in. Alternatively, for an exclusive gay sex chat show where it's just you and your dude in a cam2cam session that's closed to all others, it'll set you back $3.50 to $4.00 a minute.
Deals & Freebies:
As it's a pay-as-you-go system, there are no site credits to buy. The time you've spent in private chat accumulates and is deducted from your PayPal account.
If you're linking your Streamate account to your Paypal, just go to the Streamate member's area icon (located on the top right of the homepage). Click on Payment Information on the left menu that then comes up. Select the PayPal sticker. On the next page, click/tap once again on the PayPal button and complete the processing requirements.
---
Conclusion
When it comes to closing your wallet and opening your mind and PayPal account to access great gay live sex cams, you don't necessarily need to be at men-only gay cam2cam site. As you've read, many of the larger premium, gender-inclusive webcam platforms offer low-cost chat rates, the secure and discreet payment option of PayPal, and some sexy guys looking to invite you in for a wild ride.
Every ride though needs to start somewhere and we'd recommend kicking things off at CameraBoys. Hot hunks, decent cam rates, a range of kinks and fetishes to be explored, and HD streaming in pretty much in every room makes this a stallion you're going to want to ride with into the wild, time and time again.