Top 5 Cam Sites Similiar To JerkMate
last updated
January 14, 2021
When it comes to randomly finding a cam girl to chat to, most people automatically go to sites like Jerkmate. However, it's not the only cam platform that throws up random rooms full of surprises. A few of the leading live cam sites not only let you search for a cam partner using particular search preferences such as age, appearance, kinks or ethnicity, but similar to Jerkmate they also let you place your luck in the hands of the cam gods.
So, take a leap of faith and instead of deciding ahead of time what type of model is going to tickle your taste buds, let these sites work their magic safe in the knowledge that when it comes to the luck of the draw, you're going to come up a winner each and every time.
LiveJasmin.com

At LiveJasmin there's nothing less than the best on offer. All the models at this site are semi-pro or pro performers, most of whom stream in HD from stylized studio settings. When it comes to surprises, LiveJasmin has quite a few up its sleeves. Some of the models are so in-demand that they only appear on this leading premium cam site. So, no matter how much you scroll through other sites, you won't find the same continuous caliber of A-list stars heating up your screen.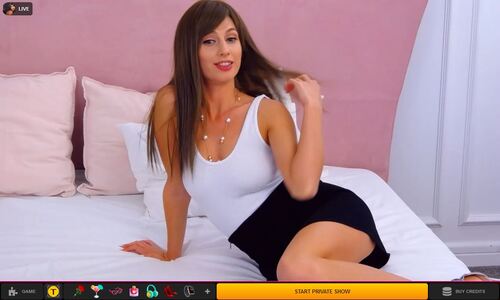 LiveJasmin has over 1,000 rooms streaming day and night, and all are rooms featuring divas of distinction. While you can search for specific niches in regards to age, look, and even breast size - the random room generator guarantees a bullseye each time. The only downside is that prices for a private show can be high, especially if you want to use your webcam and microphone. However, in a moment we'll tell you how to get your hands on some free credits and mega reductions every time you purchase a credit bundle at the site.
In order to go from one live cam room to another without knowing what's behind the door, all you have to do is enter a chat room and press the right or left arrow button on your keyboard. However, don't rush this because if you press the arrow and decide you want to go back to the room you were just in, pressing the left arrow (backward arrow) won't take you there, it'll bring up another random room.
Once you find the perfect playmate, if you want to get to know her intimately, you'll need to take her into a private show mode. There's no monkey business allowed in the free open chat rooms. On average you're looking for a private cam session rate of $2.45 per minute. While this doesn't seem high, you'll need to add an extra $1-2.00 per minute if you want her to watch you via your webcam, and the same again if you want to use your microphone. However, before purchasing a bundle of credits, make sure you take advantage of the on-going promo the site offers which can cut the cost of a credit by up to 90%. Also, if you link your profile to a credit card (no purchase necessary) you'll get comped 9.99 free credits.
---
Flirt4Free.com

Flirt4Free is a premium cam site that not only offers a random cam girl feature similar to Jerkmate, but also a host of ways to get a private show at a lower than advertised cost. Read on to find out how to negotiate a reduced per-minute price, as well as how to get your hands on free credits that can cover a short, but very sweet cam-to-cam private cam date with one of the platform's professional cam models.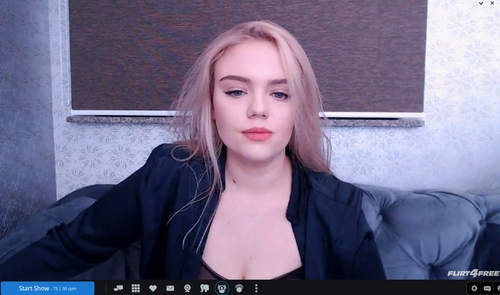 Flirt4Free is a great option if you're looking for a girl that likes to take things to the next level in a private session. The site is a generic premium cam platform, but it also has a micro-site devoted to niche proclivities. You can search through 54 different sub-genres, as well as honing up on tips and reading about other viewers' experiences with the fetish-friendly performers.
At Flirt4Free you can wander between room to room by simply using your mouse. All you have to do is enter a live chat room and place your mouse towards the right of the video window. An arrow appears that you then click on and you're whisked into the stream of another stunning model. Unlike LiveJasmin though, you can easily return to the previous hang-out by going to the left of the video feed and click on the left-facing arrow.
All the per-minute private show rates at Flirt4Free include the usage of C2C and dual-audio. On average, an exclusive session comes in at around the $5.00 mark, though most performers will accept a lower price than they advertise. In order to get a discount, check to see if the room features a small Show Offers icon on the live feed window. If it does, by clicking on this you can submit a request to the performer. If you commit to a minimum time spend with her in a 1on1 date, she'll more than likely reduce her price. The longer you pre-commit to, the bigger the reduction she'll counter-offer with. And, if you file a payment method with the site such as a credit card or PayPal account, the platform will say thank you with 120 FREE credits.
---
Stripchat.com

The above two sites are premium cam sites, Stripchat and the below 2 platforms are freemium cam sites. The difference between the two is that at the premium sites, there's meant to be no naughtiness or non-PG activity in the performers' open chat rooms. At the freemium sites, the girls can get as wild as they want in their open rooms, with tips fueling the action. On the other hand, anyone can set themselves up as cam broadcasters which means streaming quality and standard of the models can vary from great to poor. Stripchat though attracts some of the best amateur cam hosts around, with some using virtual reality (VR) feeds.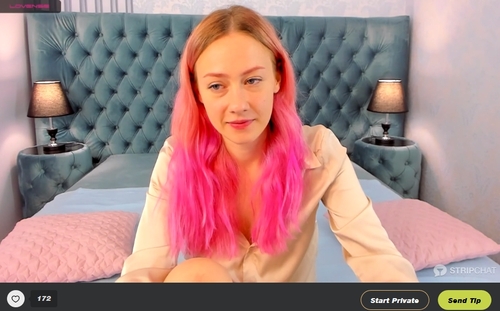 If you're looking for free shows but don't want to suffer from a messy, hard to navigate site full of ads, then Stripchat is a no-brainer. This ad-free site is one of the best there is in both the premium and freemium cam worlds. The majority of the amateur and semi-pro hosts use HQ and HD feeds. It's also currently the only platform with VR-enabled rooms. If you don't want to randomly look for girls and have specific requirements you want your host to adhere to, at Stripchat you can do both. You can set the random model generator to look only for rooms that correspond to set search parameters.
Once you're in a performer's chat room you'll see a link to Next Model above her message box. By selecting this you'll be whisked into another live room. However, if you want to go back to the previous room, there's no option to do this on the site, you'll have to use the backward arrow on your browser bar. If you see a model you like, but still want to try your luck with the random generator, you can always favorite the model by selecting the heart icon below her window. This is an easy way to keep a list of potential cam playmates that are deserving of a second visit.
Private show rates at Stripchat come in at an average of $2.70 per minute. However, this doesn't necessarily include cam2cam. Many performers also insist on a minimum time spend before agreeing to go into a private show mode. Most will ask for at least a 10-minute commitment before agreeing to go exclusive. Unfortunately, there's no way to know who implements a time requirement as a condition for a private show and how long they want ahead of time.
---
BongaCams.com

If you're looking for a private show, prices at BongaCams are on the high side, but if you're looking for some free fun with tips encouraging the models to get extremely kinky, then BongaCams is a great option. This site features a mix of skilled amateurs and semi-pro performers, many of whom use HD feeds and interactive toys that can be turned on remotely by tipping the girl. It also has an easy to use random cam generator similar to Jerkmate.
Many of the rooms at BongaCams use HD. However, the streaming quality doesn't automatically come through in the best resolution possible. Often you'll have to manually click on the resolution icon located on the bottom left of the video window and choose the highest res available. It then takes a couple of seconds for the higher feed to come through. Even if the feed is originally blurry, a crystal-clear view is just a few moments away.
When it comes to the luck of the cam draw, BongaCams lets you hop from room to room via links at the bottom of the live video screen. You can select either the Previous Model or Next Model link. Another option is to use the right and left arrows on your keyboard which does the same thing as clicking on the links.
Private show rates at BongaCams aren't necessarily the best when it comes to value-for-money. All the rooms have the same set price of $4.98. You can certainly get better rates at other sites. Unless you really want to go 1on1 with a performer, it's far more cost-effective to stay in the hosts' open rooms and tip her if you want her to do something according to your instructions.
---
Chaturbate.com

When it comes to the choice of performers, no site can compare to the huge selection streaming at Chaturbate. This mega cam platform normally features around 4,000 hosts of all genders, skill-set, appearance, and ethnicity. This freemium site is home to some of the most extreme amateur exhibitionists, most of whom get their kicks off just by knowing someone's watching them. As such, most of the action takes place in the open rooms, with many of the amateur performers not even asking for tips in order to get wet and wild.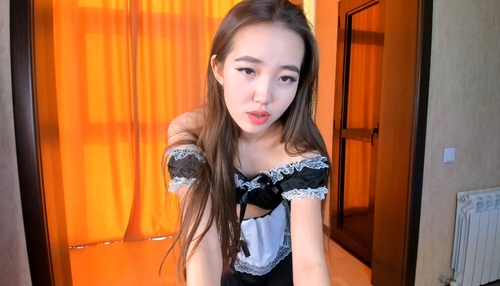 When it comes to a mix of streaming quality, performers, kinks, and prices, Chaturbate has it all. From amateur girls streaming out of their dorm rooms with dodgy cam set-ups to professional stars using 4K feeds broadcasting from themed fetish-studios. What it doesn't have though is an easy option for a webcam-to-webcam private show. In order to use your cam at Chaturbate, you need to register as a broadcaster which is somewhat of a cumbersome process. This site is definitely for those that like to watch and aren't looking for a C2C experience.
When it comes to a random cam girl generator, Chaturbate's lucky dip tool is even better than Jerkmate. You can either choose to Scan Cams or go to the Next Cam. If you Scan Cams you get a 15-second look into what's going on in the live room before you're automatically ejected and taken into the next room. The other option is the Next Cam link which you click on and a new room appears. It's up to you to click on Next Cam again to be taken into another boudoir. However, if you want to go back to the room you were just in, you'll have to use the backward button on your internet browser bar. There's no option on the site to return to the room you were just randomly in. Both of these links can be found just below your personal profile box on the top right of the screen.
The reason Chaturbate doesn't come higher up on this list is that the site makes it extremely difficult to enter a cam-to-cam session, and the search engine is messy and not particularly accurate. If you're looking for a specific niche at Chaturbate, chances are there are several hundred rooms performing your preferred perv, unfortunately, it's hard to find them. Private show rates average out at around $3,30 per minute. However, many of the performers won't entertain in a closed private show mode and if you run through the hoops in order for the model to be able to watch you, many of them refuse to join C2C dates.
---
Conclusion
Instead of Jerkmate, these five sites are all not just great alternatives, but in many cases, better alternatives. You can randomly search for a cam girl by putting your fate in the hands of the almighty cam lords or select according to your preferred look, age, ethnicity, and streaming quality.
If though you're the type of person who only settles for the best of the best and wants a stunning surprise time after time, LiveJasmin is going to put a great big smile on your face with each random room.