5 Cam Sites Without Annoying Ads
last updated
January 04, 2021
Ads are pretty much the nemesis of any web surfer, and we install as much anti-ad software we can to avoid the harsh glow of those bright and loud advertisements that block our screens, and sometimes even make us restart our computer (If not worse). So it's no wonder that the same caution applies to adult sites, where these ads tend to be particularly aggressive. Have no fear, we're here to present you with the 5 best sites that no only offer the best content and the best performers, but also a completely ad free experience.
Stripchat.com

Stripchat is a good natured site. Meaning, it just wants the best for you, their potential member. It wants you to have all the choice in the world (Over 1500 models), countless categories, models from around the world, the ability to filter HD rooms, and even come face to face (Literally) with the most cutting edge tech in the live cam world - Virtual Reality.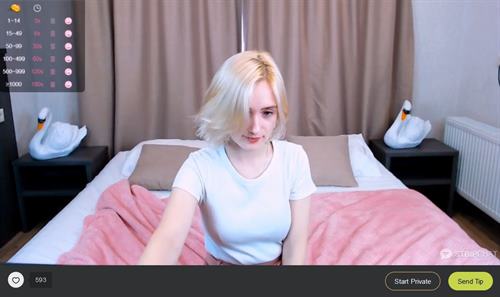 Head to the VR Cams category, to see the hosts that have compatibility with the VR tech, which would allow you - Who needs to acquire a VR device and download a free browser - To interact in the most intimate manner. On the very same page, you'll find all the info you need about what to buy and download, and detailed instructions to make your VR fantasies come to life.
To find the rooms which are equally impressive with their HD capabilities, click on the All Categories button, which will open up the endless array of categories. On the top you'll see the featured categories, usually the most popular, in alphabetical order. Among them is HD, which usually includes hundreds of rooms. This will assure your quality viewing experience. Once you enter the room of your choice, click on the upper right corner settings button to choose your HD preferences.
In addition to the excellent desktop site, which champions kink in all its' diversity, the site also boasts one of the best mobile versions, though there is no c2c possible via mobile.
The minimum rate stands at $0.90/min, for a private chat, as all the free rooms include different stages of undress as well as sex acts. Adding 2-way video to the show increases the rate by 30-50 percent. These chats on Stripchat are exclusive, in the sense that they ban other users who may want to spy on your model. The average price for a show leans towards $2.70/min, but you can always search for a room by tokens per minute, or choose a Spy On Show to peek into another members' private chat for a fraction of the price.
Stripchat is known for being there for its' members, and you can easily hang around for hours as a non registered guest and enjoy the site and all its' free goodies without spending a dime, or seeing one single ad.
---
Flirt4Free.com

One of our most favored and recommended site, Flirt4Free is always on our "best of" lists, and for good reason. Despite being a premium site, sporting some of the best HD quality rooms available today, and professional models that cannot disappoint, and even a multitude of features unique to premium sites - There's plenty of sexy fun allowed in the free rooms, without any restrictions.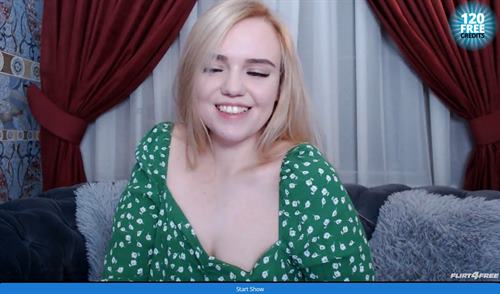 Flirt4Free is here to get its' groove on, along with its' models who compete in countless competitions - Daily, weekly and monthly. This is excellent news for the members, as it works as a kind of quality control, also because new members tend to find the top models from the site easily. Just select the Profiles button on the top left and discover several "crowns" to be won - Top Fetish Models, Flirt Of The Month, Hall Of Fame, and more.
To narrow your search and find Miss Right, start with Categories, and find your preferred group of choice - BBW, Couples, Exotic, Tattoos, among countless others. Then, head over to the top right and choose how to view the chosen group - Prices, Interactive (Most models have their own toy you can control by tipping), or maybe by type of show, such as a Party Chat. This chat encourages multiple members to chip in with their tips, which helps the model get a little wilder.
If instead you prefer a 1-on-1 setting, opt for a private session, which varies from the minimum price of $0.50/min to an average of $5.00/min (It includes cam to cam). If you prefer to have a voyeuristic peek, you might like the Live Cam Mansion. For a set price of $25 for 24 hours, you'll be able to view multiple models in their rooms and chats as a voyeur, which also includes watching them the rest of their day - Getting ready, cooking, partying, and much more.
A cool addition to Flirt4Free is their Forum, where users can talk not only to the other users but the models too. You can find advice, fun chats, and even negotiate prices with models. This feature goes well with the excellent 24/7 live customer care.
Flirt4Free is a fun romp with no ads in sight - Only models, games, promos, shows and a fraternity type of atmosphere that everyone can enjoy.
---
CamSoda.com

Chosen as our #1 cam site, CamSoda is not king of this particular list only because it does sport ads, but you can barely tell. On the far right, and down below at the bottom, you can see a few ads, but these are so similar to the main gallery page, they don't even seem like ads. The gallery is full of models in free rooms, all open, and all active in every sense of the word. There's no limits on CamSoda, and with all the amateur models you could want, and exhibitionism at its best, who cares about a few little ads.
As mentioned above, the gallery page is a sight to behold, and it takes a minute to get your bearings. Due to the fact that there is no search engine, only tags, finding a very specific kink might be a challenge, but it will be the most enjoyable one you've had in a while. If you prefer, you can also use the top left search bar and enter a key word or phrase, and find most of what you need there, as well.
To take a chosen mama to a private chat, you'll be happy to know prices are some of the lowest online, with the lowest being $0.70/min and an average of $3.00/min. No extra charge for 2 way audio and video. The excellent mobile version is just as great and offers cam to cam as well, a rarity on freemium sites.
In addition to the boundless free action on the live cams, you can also opt for CamSoda's very own movie creations, located up top under Exclusive Videos. This is a glorious haven of completely free, top quality videos of varying lengths, for your pleasure. Another excellent offering is all the way at the bottom on the right below the ads - Reallife Cam and Nude In Public. These two channels show never ending loops of both, located all over the world. Men, women, couples, Trans - All there for your amusement.
CamSoda is pure joy, without inhibitions, with models and performers who really love showing their bodies and their particular set of skills. If you're looking for a good, cheap, fun filled time, look no further.
---
LiveJasmin.com

LiveJasmin lovers know that the name equals luxury, exclusivity, and high class all the way. The best premium site around, LiveJasmin employs models who are not only gorgeous and talented, but exclusive to this site alone. The rooms are impeccable and fancy, and the performers are made up, well dressed, classy and professional. It's true that to really get down you'll need to get into a private chat, but on LiveJasmin - You get what you pay for in the best way.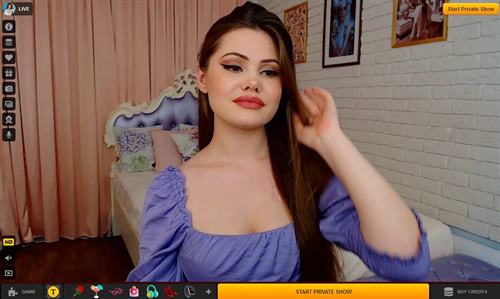 Despite the site not being known for it's low prices, there are always ways around it. For starters, you'll see on the main page models with stickers on their profile pics: Promo, New, and Birthday. These ladies usually offer the best deals and the cheapest prices, and don't be fooled by the New status - Models are well vetted and must meet important performance requirements before they are allowed into the elite LiveJasmin squad.
A tip for finding your gal easily is going to the Advanced Search on the top right, and choosing multiple selections, such as a Price and also a Region, and a Show Type. Though most rooms on the site stream in excellent HD of 720p/1080p, you can always select the HD category on the left to make sure your viewing experience is as good as it gets.
Another way to get the most out of your dough is to select the price range you prefer on the left search engine, with the lowest price being $1.20/min, and the average being $3.60/min. This may not sound too bad, but if you add to that an additional charge of $1-$2 for turning on your cam, and more for turning on your mic, the price can triple. You can also opt for a multi member show and spend much less. Specifically, VIP Shows that include multiple members tipping in order to reach a models' quota to start her show.
LiveJasmin also has one of the best mobile versions of the site, and an equally great c2c option on mobile as well.
Perhaps due to the sometimes higher price points, no ads pop up on the site. If you have yet to register, you will simply be kicked out of the free rooms after a couple of minutes, but once registered it's up to you to get credits and start chatting.
---
MyFreeCams.com

MyFreeCams was the first cam site to allow nudity in the open chat rooms. Today, the site offers some of the beat amateur models around, from all around the world, in staggering numbers. The site has multiple ways of looking up the model you're looking for. On the right of the main screen you'll see on the top several categories to aid your search - Model Explorer, and Tags & Topics. The model explorer will help answer burning questions, like the models' favorite books, and the tags section will present the most searched topics and tags.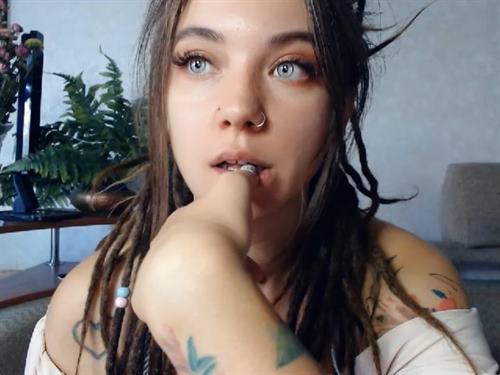 MyFreeCams is all about the tips, tips, tips. Models have the options to go to private sessions, but as the price is not cheap (A set $6.00/min price for all, not including c2c), most stay in their free rooms and enjoy dozens of members tipping, which also controls the models' toy if they have one.
Once you get more familiar with the site, and it gets to know you too, you'll be able to get pretty accurate recommendations under Models You May Like, and you might also enjoy heading into Trending Rooms and Most Popular Rooms to check out which ladies are getting buzz. Sometimes, following a crowds' mentality is the best thing when there are thousands agreeing at once over several lucky ladies.
You become a premium member for life once you make your first purchase of MyFreeCams tokens.
The HD quality varies wildly, because there are thousands of girls, hundreds of countries and an endless amount of factors besides the camera the ladies use that translate into great streaming quality. As such, you never know what you're going to get.
MyFreeCams is flawed, with extremely high prices, a so-so mobile version, and HD quality that changes from room to room. However, from our experience, those that enjoy this OG site don't come for fancy frills, but the banging beauties and the relaxed atmosphere. You can easily spend hours on this site just by flipping through the open chat rooms.
---
Conclusion
All the sites on this list have impressive qualities, from the freemium to the premium, but our choice for best in show goes to Stripchat. The VR option, the amount and variety of models, fun extra features, great HD quality, and the level of fun to be had without even registering (And no ads!) create an amazing cocktail of free and cheap sensual, scintillating fun with some of the best models online today.