Top 5 Trans Cam Sites That Take Bitcoins
last updated
February 15, 2021
There's one online payment method that is so discreet, secure, and safe that not even the best government super-sleuths can connect you to the payment. If you're looking to enjoy some hot live cam action with a sexy shemale and want to keep your fun and games away from prying eyes - you probably weren't aware that some of the top trans cam sites accept cryptocurrencies such as Bitcoin as a payment method.
We've done some digging to find out which are the top trans cam platforms that are not only bitcoin-friendly but also feature the best shemale models, make it easy and quick to pay using your cryptocurrency, and offer the best streaming options and perks. So, if you want the best bang for your online virtual bucks, read on to discover which are the best 6 live trans webcam platforms that accept altcoins.
MyTrannyCams.com

Without a shadow of a doubt, when it comes to the best site for paying with BItcoins for a private live X-rated cam show with a hot shemale, then MyTrannyCams should be your first destination. This trans-centric site only features transgenders, all of whom are semi-pro or professional models. Almost all the t-girls stream in HD, or at the minimum use HQ feeds. The choice of rooms is vast with around 100 broadcasting at any one time.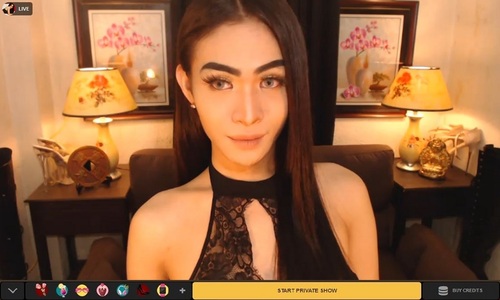 Most of the performers at MyTrannyCams broadcast from highly-stylized and professional lit studio settings and use top-quality webcams. This means you don't miss a second of the action. It is a premium cam site which does though mean there's no monkey business taking place in the t-girl's open chat rooms.
All the good stuff is strictly pay-for-play in private shows. However, once you pay and take them into a bitcoin-funded exclusive cam session there are practically no limits to what they like to do. If, for example you're looking for a trans JOI cam show, this is the place to be.
Paying With Bitcoin at MyTrannyCams:
Click on the Get Credits link at the top right of the homepage
In the pop-up box that appears click on the yellow Payment Methods link
Choose Cryptocurrencies from the payment options, then either select a credit bundle or enter a customized amount. Press Buy Credits to then complete the purchase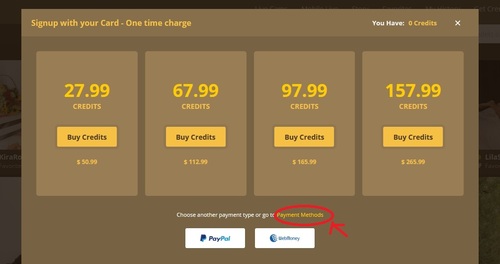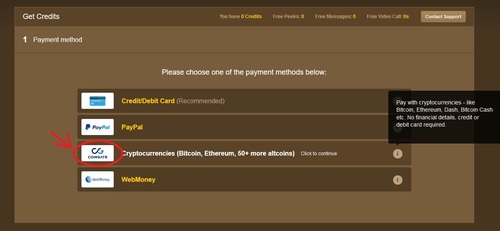 The cheapest rooms and those that are holding a time-limited Sale charge just $1.30/min for a private trans cam show. On average though most t-girls ask around $3.30/min. If you want to open your webcam then that'll cost you an extra credit or two per minute. The same again if you want to use your microphone to talk to the model.
---
CamSoda.com

Unlike MyTrannyCams, CamSoda is a freemium cam platform. This means the models can pretty much do what they like in their open chat rooms, with tips fueling the action. Most of the t-girls here are amateur or semi-pro performers, with around 20 of them broadcasting at any one time. As it's not a shemale only site, you'll need to follow the instructions below in order to narrow down your options to the babes with balls.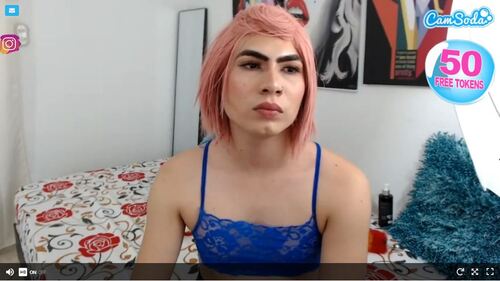 In order to see only the transgenders at CamSoda you can either click on Trans in the Gender category on the homepage left menu bar or select Shemale from the search tags that appear above the gallery of snapshots. When you hover a photo a few seconds of video that was grabbed just moments earlier from the girls' live feed appears. This gives you a good idea of what she's up to in real-time without having to click through into the room.
Under each photo, there's a small eyeball icon with a number by it. This indicates how many people are watching the show. A good rule of thumb is the higher the number, the better the streaming quality and action is. When you click through into the room, if the girl says she's using an HD stream, a small icon should appear on the bottom left of the video window. However, this often appears even if the video is obviously broadcasting in SD.
Paying With Bitcoin at CamSoda:
On the top right of the homepage press on the Add Tokens button
Select Cryptocurrency from the payment options
Choose BTC (Bitcoin) from the list of cryptocurrencies CamSoda redeems
Choose your preferred token bundle and complete the transaction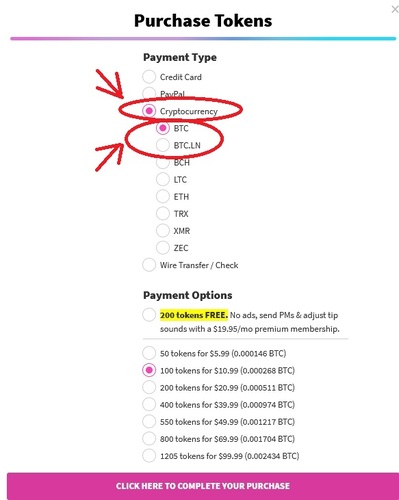 If you're looking for rock-bottom private show rates, the cheapest rooms at CamSoda kick off at just $0.70/min. There are several trans who have these low prices, though don't expect much in terms of streaming quality. Most t-girls who have invested in high-quality cams and HD feeds ask more in the range of $3.00/min. While a few include cam-to-cam in their advertised rates, most don't and will ask a higher per-minute cost if you want it to be a 2-way visual cam date.
---
LiveJasmin.com
LiveJasmin is probably the queen of all premium cam sites. Its collection of girls and guys is incredible and the shemales that call LiveJasmin their online home are no exception. This site only allows the best-looking models in each genre to perform under the LiveJasmin banner. Almost all stream in HD and have a great command of English if it's not their native language. The downside - it's not the cheapest site but if you read on, you'll discover a few cost-saving tips that'll save you a bundle.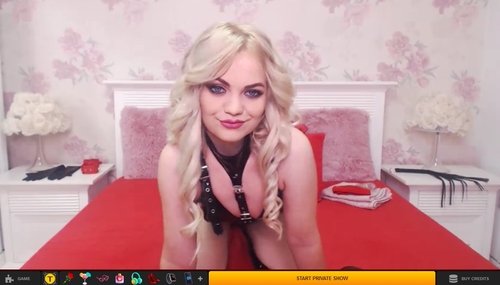 To show only the rooms hosted by transgenders at LiveJasmin you can choose either Girls or Boys. If you're looking at the Girls, on the left menu of the homepage there's a link to Transgirls. The same selection appears if you click on Transboys on the same menu but are looking at the guys on the site. When it comes to further narrowing down the options, you can then select more precise parameters such as HD streaming only, price per-minute for private shows, age, ethnicity, and even breast size. Considering at any one time there are around 100 shemales performing at LiveJasmin, it's quicker and easier to find the exact performer based on your particular preferences rather than look through over 100 photos.
Like most sites, the majority of t-girls are of Asian or Latin American origins, but there's also a notable number of European and caucasian shemales that you won't find at other cam sites. Another great feature at LiveJasmin is that of being able to view a live feed without having to click through into the individual room. Just hover over the snapshot for a couple of seconds and if the performer is hanging out in her open chat room, a live video appears showing what she's up to in real-time (and without the somewhat heavily photo-shopped magic the snapshots tend to use).
Paying With Bitcoin at LiveJasmin:
To buy LiveJasmin credits with Bitcoin simply click on the white Gets Credits link on the top right of the homepage
At the bottom of the pop-up box scroll down and select change Payment Methods
Select the Cryptocurrencies option which includes Bitcoins and over 50 other types of altcoins
Choose your preferred credit bundle or enter a customized amount and press on Buy Credits to complete the transaction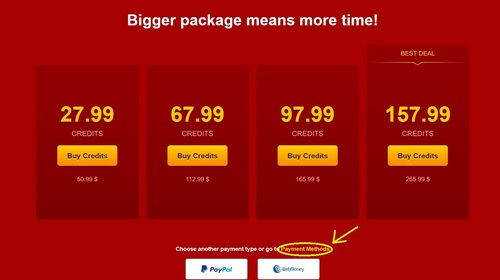 Private show rates at LiveJasmin aren't cheap at first glance. For example, on average you're looking at paying $3.60/min for a private show and that doesn't include C2C or 2-way audio usage. If you want to use your webcam and microphone, the average rate jumps up to over $6.00/min. The cheapest rates start at $1.20 and are three times more expensive if you want a C2C and dual-audio show.
However, if you link your cam account to a credit card (though you don't have to use it and still pay only with Bitcoins), you'll get 10 free credits comped to your account. Also, before purchasing any bundle you can take a go on the promotional wheel, and if you're lucky get up to 99% off the price of your chosen credit bundle.
---
Stripchat.com

Stripchat is freemium cam site that looks like a premium cam site, yet offers some of the wildest free shows around. This site attracts some of the top amateur models, many of whom use HD feeds and are just starting their online cam career. Like CamSoda, Stripchat also offers private shows that can be recorded at no additional cost and re-watched without limitations.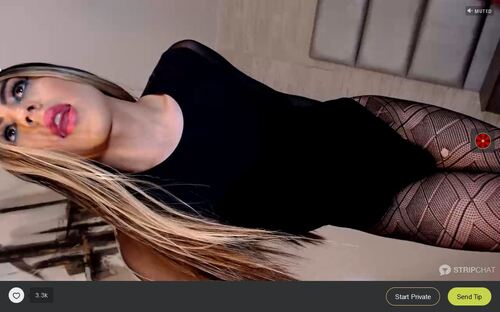 First off, finding the shemale cam performers at Stripchat. All you have to do is make sure you've clicked on the Trans button on the top of the homepage. The selection is huge here with over 150 plus streaming at any one time. Fortunately the site has one of the best search engines of any freemium site which helps you narrow down the choice to those transgenders that appeal to your personal preferences.
Full frontal displays are common with Stripchat's shemales proudly showing off their impressive downstairs assets. While private show rates are low, not all of the models are open to their partners opening the webcam. Before going into any paid-for show mode, make sure the t-girl will let you turn on your cam. And, even if she does, many of them won't accept invite for a 1on1 session if you don't commit to at least a 10-minute date.
Paying With Bitcoin at Stripchat:
On the top right of the homepage select the token button which features a green circle
Click on the Bitcoin, Ether, etc. option
Select the number of tokens you wish to purchase and click on the Continue button to complete the transaction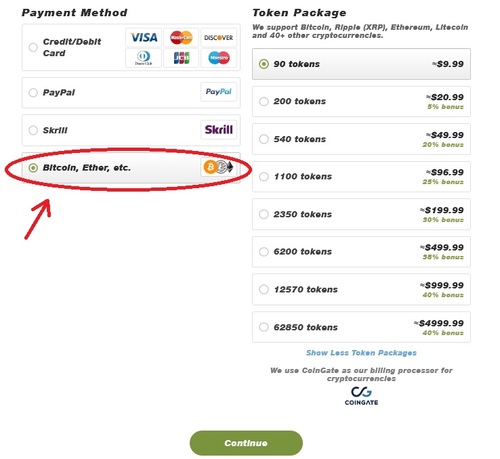 The cheapest private transgender prices start at a low $0.90/min, with the average rates still extremely competitive at a very reasonable $2.50/min. With such affordable entry rates, it'll come as no surprise to learn that most (though not all) cam stars ask a higher fee if you want to make it a cam-to-cam session.
---
Flirt4Free

Flirt4Free may have a limited number of transgenders streaming at any one time, but the selection it does have comprises of only semi-pro and pro cam models, all of whom are cam-to-cam friendly and most specialize in various niche genres. While prices may seem high, don't be misled. All are C2C inclusive and if you commit to a private show of at least 10 minutes, the performer will most likely cut you a break with a significant per-minute discount. Others offer promo codes that give you free extra minutes in a private cam show with them.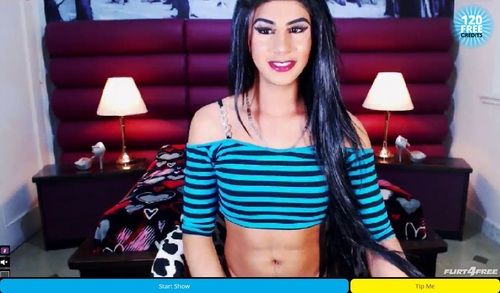 Usually, Flirt4Free automatically loads with the homepage spotlighting the site's top females. To change the selection to the transgender cam babes you have to click on the top button which says Live Girls Cam and change it to trans. The selection of streaming t-girls isn't large, with around no more than 20 broadcasting at any one time. Most of the girls come from Asia with a handful from Latin America. If you're looking for a white or European partner, the pickings will be slim here.
One of Flirt4Free's major bonuses is that it allows the model some flexibility in their private show rates. Before starting a show, ask the model how big a discount she'll give if you commit to a certain length of time in a paid-for show mode. If you're in for the long-haul, say 30 minutes plus, quite often you'll get a big reduction. Not all will do this, but you'll be surprised how many will really knock down their rates if asked nicely. And, like LiveJasmin, Flirt4Free will comp you free credits if you put a credit card's detail on the site. You don't need to use the card in order to get 120 free credits into your account.
Paying With Bitcoin at Flirt4Free:
To use Bitcoin or another cryptocurrency to buy Flirt4Free credits you need to press on the Buy Credits link on the top right of the homepage
To change the payment method to that of cryptocurrencies click on the Change payment methods link shown in the image below
Choose the Cryptocurrencies option and then press on the Buy Now button on the credit bundle you wish to purchase
Scan the barcode that appears or follow the online instructions in order to complete the transaction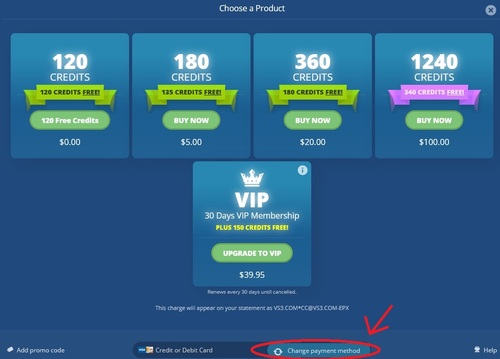 Without using any of the available promotions and deals available at Flirt4Free, the average cost of a private cam-to-cam inclusive show will set you back $5.00/min, with the cheapest tranny cam rooms coming in at a budget-friendly $0.50/min. However, if the t-girl you like asks the cheapest rates, don't expect much in the way of additional discounts. She's already cut her rates to the lowest you'll find on any cam site.
---
Chaturbate.com

When it comes to choice, there's no site that can compare to Chaturbate. This is world's largest live cam site with over 4,000 mainly amateur girls, guys, trans and couples performing day and night. It's also a site that attracts a wide range of hardcore exhibitionists as opposed to professional models. The kink factor is off the chart but on the other hand, the quality of streams and performance skill can be all over the place.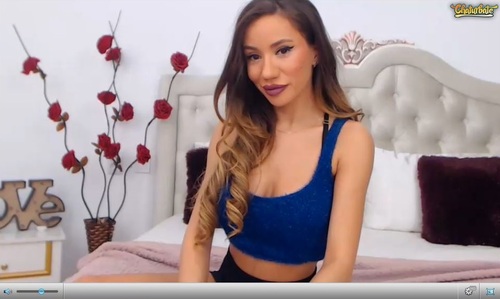 In order to see just the transgenders who call Chaturbate their cam home you simply click on the Trans button on the top of the homepage. This will bring up an impressive selection of a few hundred streaming shemales who are looking for an online playmate to appreciate their unique assets. Many of the performers here are true amateurs streaming from their homes in what can be subpar feeds. Check the photos to see if an HD icon appears. This indicates the t-girl is using an HD or even HD plus feed.
While Chaturbate has more free trans-hosted cam shows than any other sites, it's worth noting that not all performers are willing to leave their tip-fueled show mode to go into a private cam date. And, if you're into a 2-way visual experience, Chaturbate makes it quite difficult to start a cam-to-cam show. This site is more for exhibitionists. For example if you're into the bendy babes performing autofellatio for tips, Chaturbate is the cam site to be at. If you do though want to turn your free show into a paid-for private cam date, Chaturbate does offer recordable shows that can be re-watched over and over at no extra cost.
Paying With Bitcoin at Chaturbate:
On the top right of the main screen, press on the orange Get More link
Choose Bitcoin or one of the other 16 types of altcoins accepted by Chaturbate
Select your preferred token bundle
Complete the Bitcoin funded Chaturbate token purchase by clicking on the Continue to Payment button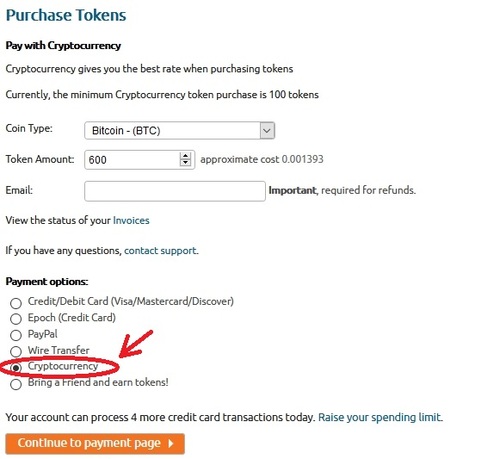 With so many free shows taking place you'd think private shows would be extremely competitively priced at Chaturbate. The cheapest cam rooms are - coming in at just $0.60/min. However, on average, the rates are more in line with $3.30/min and that doesn't necessarily include webcam usage. If you don't want to jump through the Chaturbate hurdles of opening a profile where you can use your cam, it's usually far more cost-effective just to tip the t-girls in their open rooms to perform specific acts.
---
Conclusion
Using Bitcoin or any other form of cryptocurrency to pay for some live video chat fun is a relatively new addition to the payment methods offered by the leading cam sites. It quickly gained popularity as there's practically no way to trace a purchase back to the buyer via a trial of cryptocurrency.
The six sites listed here all make it extremely easy and quick to buy tokens/credits using your online wallet of Bitcoins and they all offer, to varying degrees, a great range of transgender adult cam models.
However, only one site focuses solely on trans models and collates the very best of the t-girls in every genre. In addition, they provide a range of site extras which we think should be offered by every site. For example, all rooms use either HD streams or HQ feeds. While rates are high, reflective of the quality of the performers, the site ensures that there's a price point for everyone via time-limited sales and promotional offerings that can cut the cost of a credit bundle by up to 99%.
When it comes to a Bitcoin-funded private cam show with a stunning shemale you can't get any better than the babes at MyTrannyCams.