Top Cam Sites With Show Recordings
last updated
February 02, 2021
Five of the best cam sites know that once a private live video chat show is over, it shouldn't be gone for ever. These webcam platforms let you record a private show and relive the experience over and over. If you've ever dreamed of being a director of a live action cam movie, the following sites are waiting to turn your dream into reality.
Read on to find out which are the top cam sites offering recordable private shows, how much it costs at each and how to create a personalized private cam session that can be enjoyed long after the show has ended.
CamSoda.com

CamSoda lets you a record and re-watch your private show at no additional cost whatsoever. At this freemium site, there's so much free activity taking place in the models' open chat rooms that the platform knows it needs to offer something extra to get viewers to enter an exclusive show mode - and that's free show recordings. Read on to find out how to record your 1on1 cam session for FREE.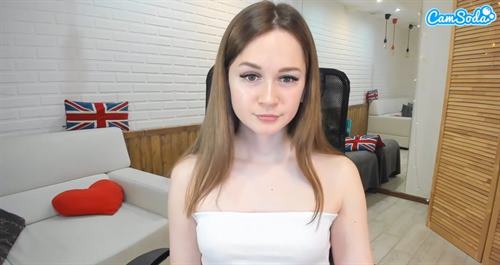 Not all the performers offer free recordable shows so if you're planning to keep a copy of the performance for posterity, check with the model first that this indeed an option. With over 600 rooms streaming at any one time, there are always plenty rooms to choose from that will let you record the session.
If you're looking for a particular niche, you can either select the most common search tags from the groups that appear in the menu bar above the gallery of images on the homepage. Otherwise, you can use the view all tags link that brings up all the search tags listed on the site. If you're just browsing until you find a model that catches your attention, you can simply scroll through the snapshots and when you hover over a photo, a few seconds of video appears. While this isn't a real-time stream, the action you're watching took place within the last couple of minutes so you know more or less what to expect if you click through into the open room.
Most of the models perform for tips in their open rooms. However, these shows can't be recorded. If you want to make a copy of the action you'll need to enter a private show mode. The cheapest rooms feature 1on1 shows for just $0.70/min, but on average, expect to pay more around the $3.00 a minute mark. Some performers include the activation of your webcam into their private chat rate, while others charge a higher per-minute fee if you want to open your webcam and have the model watch you as they carry out your directions.
---
Stripchat.com

Like CamSoda, Stripchat is a freemium site where the majority of the 600 online cam models host free shows fueled by tips in their open rooms. And, like CamSoda, it doesn't cost any extra to record a private session and keep a copy of it in your Stripchat account where you can re-watch it as often as you like. More than this, Stripchat makes it extremely easy and quick to find the rooms that enable free show recording capabilities.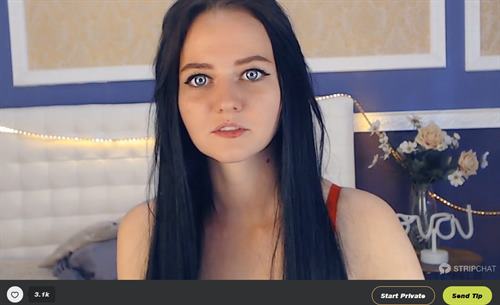 Stripchat's homepage menu bar features a range of search categories including Body Type, Age, Ethnicity and Private Shows. The latter group not only breaks the rooms down by how many tokens per-minute are required for a 1on1 session, but also which offer Recordable Privates (the ability to record the paid-for-date and keep a copy). By selecting this, snapshots fill the screen of all the streaming rooms that will let you record a 1on1 session.
On the preview gallery photos there are small icons indicating if the room is using an HD feed, whether the performer has an interactive toy that you can turn on remotely and, how much the per-minute rate is. Some of the performers ask a higher fee if you want to make it a cam to cam session. The advertised rate may not include c2c and bear in mind, many of the models insist on a minimum length of time for a private show.
The average price for an exclusive cam session comes in at around $2.70 a minute, with the cheapest cam rooms asking $0.90 a minute. However, very few of the models who will let you record a show at the minimum rate. Their prices tend to hover around the average price and even slightly higher.
---
Flirt4Free.com

Unlike CamSoda and Stripchat, Flirt4Free is a premium site, which mean most of the activity takes place behind the pay-for-play curtain and the models are, in theory, meant to remain clothed in their open rooms (albeit in the skimpiest of lingerie). While many of the 400-600 online cam models will let you record a paid-for session with them, you can only watch it for a week after the initial show took place, before having to pay a nominal fee to see it again.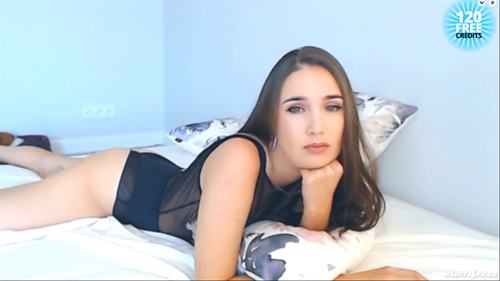 Flirt4Free's models are all semi-pro and pro performers, most of whom host their shows from stylized and professionally lit studio settings. Almost all the shows are recorded and automatically added to your Flirt4Free online profile where they can be accessed and watched as many times as you want for up to a week. After this period, you'll need to pay to watch them again unless you're a VIP member. As part of the worthwhile basket of perks of being a VIP at Flirt4Free is access to all your recorded videos. VIP membership comes with a monthly subscription charge of $39.95.
This monthly fee gives you 150 additional credits each month you're a member, along with access to 200 FREE videos, exclusive promos and free hour-long feature shows. Flirt4Free also hands out 120 FREE credits to new members who link their profile to a credit card.
All the advertised rates at Flirt4Free include webcam-to-webcam usage, as well as 2-way audio. While you can find a few rooms charging the site minimum of just $0.55 a minute, these are few and far between. Most of the performers ask a much higher average per-minute price of $5.00. However, Flirt4Free lets you negotiate the price with a performer. If you book a block of time for a 1on1 session with a model for at least 10 minutes, many will cut you a price-break if you ask nicely.
---
ImLive.com

ImLive is one of the cheapest premium cam sites around. This site is focused on providing low-cost private shows with stunning models, all of whom are semi-pro or pro performers. Not all of the 700 or so streaming rooms will let you record a show. and while recording it is free, you then have to pay to access the recording. However, with such rock-bottom c2c inclusive rates, even with the extra cost incurred, it's still one of the cheapest options around.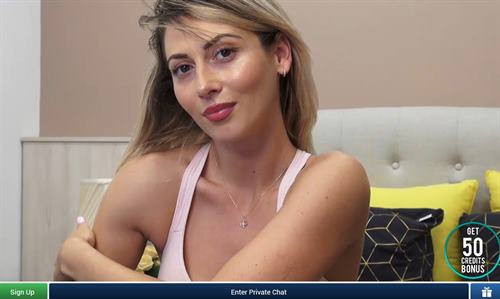 All of ImLive's models are vetted by the site before being allowed to broadcast from the platform. With so many gorgeous girls to choose from, the site makes it a tad bit easier to search for the perfect partner with a multi-viewer search tool. At ImLive you can view and scroll through six live feeds until one catches your eye and then you simply click through into their free open room to see more.
While the per-minute rates are low, unfortunately they don't include access to a show you've recorded. Once you enter a private live video chat mode, you simply click on the recording icon that appears on the live feed and the show will be captured and stored for later viewing. However, bear in mind that re-watching it comes at an additional cost and you only have access to it for 72 hours. After this period is up, you'll need to pay again if you want to watch it another time. The price to gain access to the show depends on the length of the recording. The longer your recorded private session lasts, the more expensive it is to unlock for additional viewing.
As we mentioned, private show prices are low. On average an exclusive cam-to-cam session comes in at just $2.25 a minute, with some rooms offering the bargain price of just under a $1.00. The only downside to these cheap rates is the streaming quality at the site. Unfortunately many of the rooms still use a subpar SD feed, though there are always numerous HD hotties online, but these are still in the minority. Our advice, take your time and try to peek into as many live cam rooms as you can. If you're going to record a show, you want it in the highest resolution possible.
---
Chaturbate.com

Chaturbate is the largest cam site around today. You're spoiled for choice at this freemium platform with usually around 4,000 live broadcasts fighting for your attention. Like the other two freemium platforms (CamSoda and Stripchat), recording a private show and re-watching it at Chaturbate doesn't incur an extra fee. But, at Chaturbate, many of the models don't let you record their shows and more than that, many of them won't even enter a private show mode, preferring to perform for tips in their open chat rooms. On the upside, if you're looking for some free fun and games with a no-holds barred amateur exhibitionist, Chaturbate has them in their droves.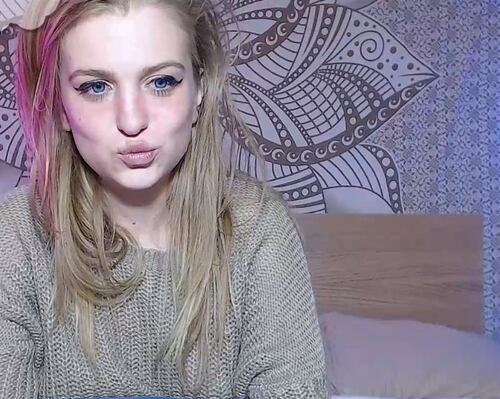 Before you enter a paid-for live cam chat session at Chaturbate, check with the performer whether they do have a recording option. If they do, then you've hit cam gold. This means your show is automatically recorded and stored in your personal Chaturbate account where you can relive the experience as many times as you want and not pay a dime more.
There are two issues which resulted in Chaturbate coming in last place in this round-up. Firstly, many models won't enter a private mode. Additionally, starting a cam-to-cam session is cumbersome. However, there are many pros to this site which ultimately make it one of the most popular free cam platforms around today. Not only is there a huge selection of rooms to choose from, but the hosts cover every category imaginable, from amateur co-eds streaming out of their dorm rooms, to some very kinky live action cam stars broadcasting in 4K.
Add to that, incredibly cheap prices, which start at just $0.66 a minute and average out at $3.30/min, and free shows where almost anything goes, Chaturbate has something for everyone, even those that don't want to pay a penny.
---
Conclusion
If you've ever thought about sneakily installing screen recording software and recording a private cam session without informing the model, or paying the extra, just remember you're breaking the law and could be liable to pay up to $150,000 in compensation to the model and the site.
All of the freemium sites (CamSoda, Stripchat and Chaturbate) let you record and watch your private session at no extra cost whatsoever, while the premium platforms (Flirt4Free and ImLive) let you record it for free - but then charge you if you want to re-watch it.
While you may be tempted to record a show that's streaming in SD (these rooms tend to offer cheaper per-minute rates), we'd recommend paying a bit more (if needed) and make sure your directorial debut and follow-up movies are HD broadcasts. After all, if you going to sit back and enjoy the experience again and again, it's best to have it in the highest resolution possible.
With free recordings available in the most rooms, low-cost private rates and a wealth of HD rooms, CamSoda is a great place to start your personalized webcam girl movie collection.