Top 5 PayPal-Friendly Lesbian Cam Sites
last updated
February 18, 2021
If you're looking for some live cam adventures with a lesbian or bi girl, the following 5 cam sites don't only have some of the top performers who like nothing better than camming it up with some girl-on-girl action, they also all make it easy and safe to use PayPal to purchase site credits/tokens. Read on to find out how to get the most bang for your PayPal bucks and quickly get to the top lesbian live shows at each platform.
CamSoda.com

CamSoda is a freemium site which means you don't have to actually pay to see any girl on girl action here. Most of the female only couples and threesomes are total exhibitionists and don't have the patience to wait for a invite for a private session in order to start their non-PG performances. It's not a lesbian-centric site, in fact none of the live cam platforms here are, so you'll need to do some searching and selecting before getting to the females only fun. However, once you do you'll be faced with a quite a large selection of streaming rooms to choose from and that's where the fun really begins.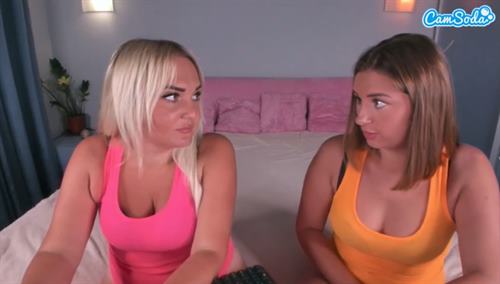 CamSoda has around 600-800 rooms streaming at any one time. Out of these, around 40-50 are hosted by a couple (or more) of girls that like to play it up in front of the camera. To find the lesbian rooms you'll have to use the site's not so great search tool. However, in this case it's easy to get to them. You just click on the View All Tags link that's on the top right of the gallery of images. Go directly to page 2 of the search page and lesbian rooms are the 14th category on the page.
In all honesty, if you're looking just to watch the action without taking part in it or giving directions, you won't even need to invite a performer into a private chat. With so much taking place (or being paid for by tips) in the open rooms, private sessions are really only called for if you want to the girls' attention to be focused on you.
If you do you want to be more involved, then a private performance averages around $3.00/min. If that's too high, there are always plenty of lesbian cams coming at the site's minimum rate of $0.70/min.
PayPal on CamSoda:
Go to the top right of the homepage and select the orange Add Tokens button
Select PayPal as your payment method
Choose the package that suits you budget
Select the Purchase Tokens Now link
---
ImLive.com

ImLive is a premium site, so unlike CamSoda, it should (in theory) keep the action tame and clothed in the open rooms. However, fortunately for the viewers, many of the hosts, especially the girl on girl performers ignore this and will pretty much do what they want if it's going to entice someone in their audience to invite them into a private show. The site provides a host of low-cost features in addition to private shows, including a a Multi-Viewer search tool that lets you watch 6 live feeds at the same time for no cost.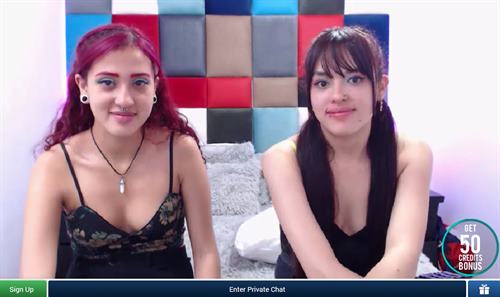 ImLive generally has around 600 or so rooms online. Many of the girls list in their bios that they're bi but when it comes to cam sessions, there's only around 15-20 or so specific girl-on-girl rooms to choose from at any time. The site makes it extremely easy to find them. On the top left of the homepage, there's a button indicating Girl Alone. You just click on the arrow next to this and it brings up a variety of options including Girl on Girl and Threesomes/Groups. The latter group is a mixture of just girls enjoying some lesbian loving in a party setting, but it also includes mixed gender groups.
In addition to private shows the site also hosts Candy Shows. These are multi-users shows initiated by the performers. They last a round 10 minutes (or however long the host decides), These are really cheap ways to enjoy some gorgeous girls loving each other with no barriers.
Prices at ImLive are cheap and include cam2cam usage. The average cost for a private lesbian live cam session is just $2.25/min. Occasionally you'll even stumble upon a room charging the site's minimum rate of just under at $1.00/min. Be aware though that these low prices come at a cost and that's streaming quality, which isn't the best. Only a few rooms in the girl on girl category use HD.
PayPal on ImLive:
Sign in as a member and then select the Get more on the top right of the homepage
Go to the bottom of the pop-up box that appears and select the Change payment option link
Select PayPal from the list of payment options and then Continue
Choose your preferred credit bundle and proceed by selecting Buy Credits
---
Stripchat.com

Stripchat, similar to CamSoda, is a freemium site, albeit one that looks like a premium platform. It's totally ad-free and features a fast and accurate search tool that lets you get straight to the lesbian live cams in one click. The site is currently the only one offering VR enabled rooms. There's a huge selection of free cam sessions to enjoy, many of which are streamed in HD.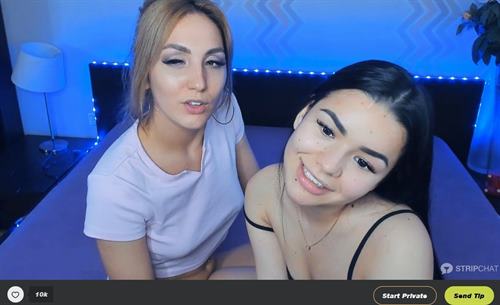 Stripchat has over 1,000 cam rooms online 24/7, hosted by a wide variety of performers from groups of experimental amateur college girls streaming from their dorm rooms, to highly skilled semi-pro performers based in professionally designed and lit studios using HD+ and even virtual reality cams. When it comes to the girls with girls, there's a strong showing with around 50 or some to choose from at any one time. To get to them you just go to the left menu bar on the homepage and scroll down till you come to the Lesbian category.
Many of the rooms at Stripchat offer Recordable Privates. You can save a recording of your private show and store it in your Stripchat account for future viewing at no additional cost. If you don't want an exclusive show, many of the hosts are willing and happy to perform niche acts for tips in their open chat rooms. Check with the girls first though that they are amenable to your request and how large a tip you need to give.
Prices for a private sessions at Stripchat aren't expensive, but be prepared to pay extra if you want to make it a cam to cam session. The cheapest lesbian cam stars ask $0.90/min., with the average more hovering around the 2.70/min mark.
PayPal on Stripchat:
Log into the list as a registered member then select the green circle on the top right of the homepage
Choose PayPal from the Payment Methods, then your preferred token package and then press Continue
---
Streamate.com

Streamate is a premium live cam site that is different to any other platform due its unique payment system. Once you link your Streamate profile to your PayPal account you're ready to enjoy private shows with stunning bi and lesbian girls. This pay-as-you-go system cancels out the need to pre-purchase site credts/tokens. You just pay for the time you spend in a paid-for show.
The site has around 500-600 performers active at once, most of whom are semi-pro and pro cam models with the majority using HD streaming. To get directly to the girl on girl action all you have to do is use the homepage menu bar and scroll down until you get to the Category Pages group. This features a direct link to the lesbian ladies and even shows you at a glance how many are currently online.
The payment system at Streamate is its biggest draw. The site makes it easy and quick to start a private show and also ensures users don't rack up horrendous charges. The platform implements a daily cap which means you can only spend up to a certain amount each day. Once this max has been reached, you can't start another show or continue in any paid-for activity until the next 24 hour period begins.
Expect to pay around $3.00/min for a private show, though if you want to open your webcam and enjoy some 2-way visual fun, most models will add a surcharge to their regular rates. The cheapest rooms kick off at $1.00/min, though very few lesbian private shows will be priced so low.
PayPal on Streamate:
Select the Free Account button on the top right of the homepage
Enter your details and select Next
Choose PayPal as your chosen payment method
---
Chaturbate.com

Chaturbate is the largest live cam site online by far. It has around 2,000 online models streaming day and night (often many more). There's nothing standardized site-wide at this platform. The models range from first-time exhibitionists opening up their webcam to verified live action super-stars streaming not only in HD+, but also a few in amazing 4K. Prices for a private show are all over the place, but with so much fun taking place in the free chat rooms, you may never need to pay a penny in order to see some wild lesbian loving.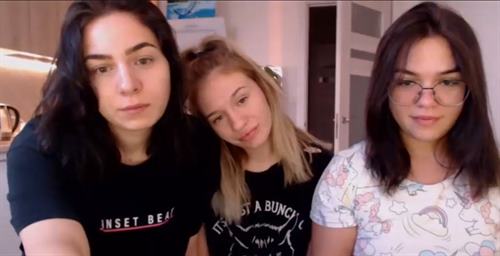 The site's search engine which is meant to help you narrow down your choices from the thousands of options isn't the greatest. Many models tag themselves with irrelevant keywords in the hopes of appearing in as many results as possible. The best way to get the girls with girls action is to use the Couples button on the top of the homepage. This will though bring up mixed gender couples as well. Another way is to use the Lesbian tag which often appears above the images as one of the most used search tags.
One great feature at Chaturbate is that all the snapshots are grabbed from live feeds moments earlier. So, what you see is pretty much what you'll get if you click through into the open chat room. Also, all HD streaming rooms feature a small HD icon on the photo so you know you'll be getting a quality broadcast.
Not all models will go into a private show mode, so make sure you check with them first that this is an option. Prices per minute for those that do kick off at $0.60, though the median costs stands more around the $3.30 mark. Chaturbate makes it extremely difficult for users to open their webcam. If you're looking for a cam to cam event, be prepared to jump through hoops to make it happen.
PayPal on Chaturbate:
Sign-in as a member and then select the orange Get more link in your profile box
In the pop-up box scroll down and tick the PayPal option, then choose a token package
Click on the Continue to Payment Page button then select the Proceed With PayPal link
---
Conclusion
When it comes to purchasing goods or services online, especially those things we don't particularly want others to know about, PayPal is often the go-to payment method. Not only does it provide an added layer of anonymity and discretion, but it's also extremely quick and easy. Once you've set up a PayPal account and linked it to a credit card or bank account, it takes just a couple of clicks to make a purchase.
In the not so distant past PayPal was a payment method used solely by the early internet adopters. For most of us, it wasn't even on our radar and if we had heard of it, we probably quickly dismissed this upstart online payment system. Oh how times have changed. Today, PayPal is one of the most popular payment methods for online purchases. It's safe, quick and adds an additional layer of discretion and security further safeguarding your anonymity.
Almost every major live cam site accepts PayPal as a payment method, but not all of them feature lesbian cam performers of quality and not many make it easy to get to these rooms. The five sites listed above are the best choices if you're searching for a live show featuring bi-girls and lesbians enjoying each other on cam.
Coming out on top is CamSoda. It has a bit of everything. Free shows, cheap private rates, a great mobile option with cam-to-cam facilities and even FREE recordable shows.