Best Sex Chat Sites To Watch a Cam Girl Get Creampied
last updated
January 13, 2021
Here's our creampie cam sites ranking of the best places to witness a webcam hottie get a creamy load. Each site delivers big, in its own way, on getting you a front row seat to a flushed pussy pushing out some hot spooge. These are our 6 favorite sites to watch a creampie ending.
LiveJasmin.com

LiveJasmin is a webcam site in peak form. This is the sex cam experience simplified into brilliant broadcast streaming with talented performers over an intuitive and effortless interface. Here, the value of the event is appreciated, with no need to amuse or divert your attention away from anything that does not have a wet and gooey ending. Using the search to look up 'creampie' will bring up most all active couples' webcam rooms on the site. Or, just head to the main Couples category.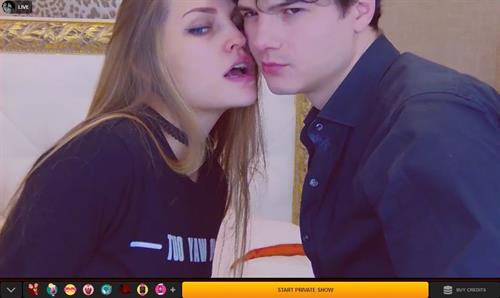 There are always at least 1,000 models performing live, with at least 30 rooms filled with couples. The couples run the gamut: interracial couples, kinky fetish couples, mature woman and younger guy, and older man with younger girl. This is a premium site with no nudity or sex in the public rooms. To see any extreme action, you'll have to start a private session.
Privates average $4.80/min. The search menu can be used to query the type of models you'd like to see by their price tag. Search for the cheapest, and you'll be in a private for as low as $1.60. Activating your webcam during a private is included in the per minute rate paid, but turning on your microphone will cost an additional credit or two, or $1.60 - $3.20/min. If you do this, LiveJasmin guarantees the models will hear you.
LiveJasmin enables cam2cam over a mobile device. It's one of only two sites that make this option available. If you want to get a free sample, just complete a simple email registration and get 10 free peeks. These are 20-second voyeuristic looks into ongoing shows. And completing a credit card validation will award you 9.99 LiveJasmin credits. This is enough for up to 10 free minutes of your own personal sex chat.
---
ImLive.com

ImLive is our favorite cheap sex chat site. There is a definite noticeable difference in model type and webcam quality between this site and LiveJasmin. But, if you keep a close watch on your live porn budget and don''t mind the standard quality video broadcasts, then ImLive is your spot. Find the Girl and Guy category to query all online couples.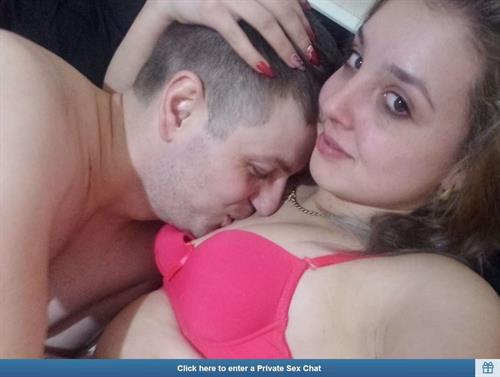 With north of 500 active webcam rooms during all times of the day, there are always close to 20 with performing couples. Activating one of the most unique features found among all cam sites is ImLive's Multi-Viewer. When viewing any category through this Multi-Viewer, 6 webcams will be displayed in one interface. This is a live-video look into the current action happening in all open rooms. Quickly scroll through the 6 webcams at once to get a fast peek into all online rooms.
This is a premium site that does not generally permit nudity in its public rooms. If you catch some action, consider yourself lucky. Private shows average around $2.25/min, with the cheapest ones going for only $1.00/min. There is a Price search in the Advanced Search menu to help you sort available performers by their rate. Whether you want to or not, activating your own device's camera and/or microphone, for them to see and hear you during a private session, costs nothing extra.
ImLive doesn't charge for the first 20 seconds in a paid-for session. Use this time wisely to determine if the performers you've chosen are what you're looking for. Most models will present a deal offering multiple durations of time at discounted prices of up to 30% off their regular rate. If you're not finding what you're looking for, use the FulFill your Fantasy form to post what you desire. Only the performers can see this, and they'll reply directly to you if they can meet your request.
---
Flirt4Free.com

Flirt4Free is a playground of show types, chat room features, blogs and articles, interviews, special events, promotions and contests, and an active discussion forum. The site covers the full range of nearly all the favored possibilities available on the most popular cam sites. For the best chance of watching a creamy load drip from a throbbing pussy, head straight to the Couples category.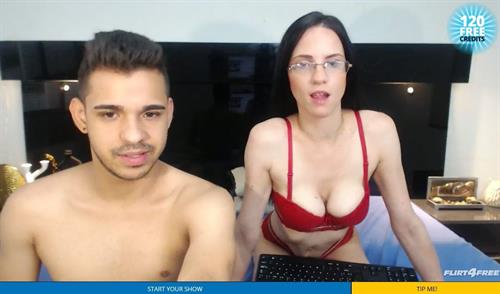 Some 400-600 webcam rooms are actively online during most times of the day. When pulling up the online couples, all offline ones will present below. If an offline pair interests you, go to their full bio to set a notification to email you when they come online. Flirt4Free is a premium site that allows nudity in public rooms. Certain show types are free to watch, and fueled by community tipping to get the action going.
Flirt4Free has among the cheapest private show rates. Sorting all online performers by Price will reveal girls ready to go one on one for a dollar or less per minute. At the other end, the site has among the most expensive girls you'll see online. Firt4Free plays host to many celebrity webcam models that ask for up to $12.00/min to chat privately. On average though, most are asking for between $3.00 - $6.00/min. Cam2cam and 2-way audio are usually included in the per minute rate. Some girls do ask for extra if you want them to see you.
If you complete a credit card verification, Flirt4Free will gift you 120 tokens (value: $12.00). That's enough to get you up to 12 minutes with the cheaper models. If you join a model's Fan Club for a set price per month, all chats with her will be discounted. And, if you'd like to level-up, there is a VIP membership available. For $39.95, you'll get a recurring 150 credits added to your account each month, your username will be distinguishable from regular members, unlimited live cam show recordings come available, access to 150 free videos every day, the ability to send email with attachments to any model, and free access to one-hour feature shows with celebrity performers.
---
MyDirtyHobby.com

MyDirtyHobby is a powerful platform for amateur sex fiends to build an audience to follow their escapades. Playing out like a social media profile page, the performers maintain a timeline with blog updates, story posts, a guestbook, and video and photo uploads. The girls into getting creampied will have recorded content that captures the moment available for purchase. Find these girls and then try to catch them online for a live show. There is a 'creampie' tag that is found when activating the main search bar. Set it to Videos. Go to Add Filters. Then Categories. And select Creampie.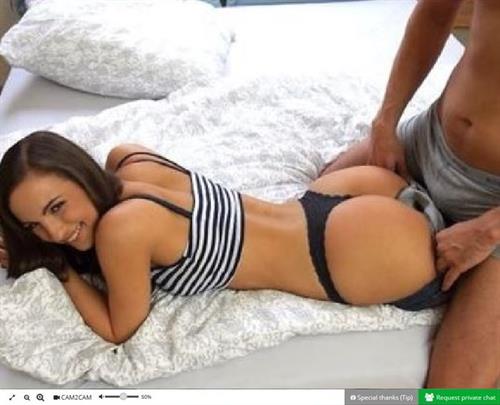 With thousands of performers setting up shop on the site, there will commonly be close to 200 rooms actively online. Of these, about 10 will be filled with duos. If you have no immediate interest with the any online at the time of your visiting the site, then be sure to go through the uploaded content to find girls that love getting a steamy load. When you find what appeals to you, add the girl to your Favorites to be notified when she comes online. Or, message her directly with any questions you have.
On MyDirtyHobby, all sex chats, photo and video uploads, and messaging, costs something. Every action you initiate will have the price clearly presented. In the live chat rooms, you're paying by the second. So, if you enter and get out quick, you really are only paying cents to get a peak. When you do stay for a webcam show, expect the average rate to float around €3.10/min, while the cheapest rooms go for close to €1.25/min. Turning on your webcam and microphone are inclusive in the rate paid to enter the room.
An email verification will award you a 30% bonus on any purchase of MyDirtyHobby's currency. A purchase of over €50.00 will awards you +50% more in currency. There is a VIP program for only €12.50/mo. It will involve you in monthly raffles to win premium gifts and gadgets. There are contests that award free chat time. Invites are handed out to exclusive in-person parties. And, you get free access to exclusive live shows and new videos, a VIP profile badges, and your messages will appear above regular members' messages.
---
Chaturbate.com

Chaturbate delivers instant access to the making of the creampie. This is a freemium site that permits passive viewers to consume as much free live porn as they want, unrestricted and unlimited. The site is a stage for performers to get as many viewers into a room as they can, and then to work the crowd for tips. The main Couples tab will display all online pairs, be it girl-guy or girl-girl. If there is interest, head to the Male tab where guy-guy duos are making mudpies.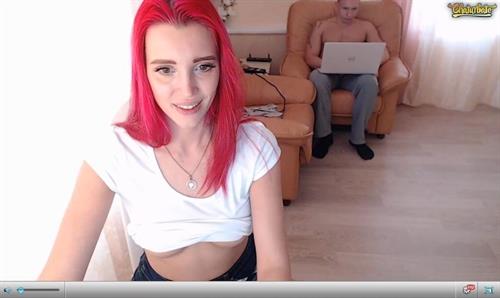 Close to 4,000 cam rooms are online at most times. The Couples make up about 150 of them. The free nature of this site has made it the most highly visited freemium site online. It's not uncommon to see the more popular performers getting somewhere between 1,000 to 10,000 viewers, if not more. Though, most will have far less. While all active performers would consider a request to enter into a private session, you're more likely to have it accepted when approaching a less busy room.
Many performers ask for a minimum duration of time to purchase before going private. It'll be something like 10 or 15 minutes minimum. The site average is $3.30/min in private chat. The cheapest rooms go for only $0.60/min. Cam2cam is not included a show's rate, and is difficult to set up. The site requires you to set up a 'broadcaster' account, which you then close access to all viewers except the room you want to interact with.
It's hard to beat a site that makes it completely free to watch hardcore sex without restriction. As a passive viewer, or even as a tipper, it may take a while to get to observe the creation of a creampie, as the performers are typically working the crowd for continued tips. If you want a creampie on your schedule, then you've got to request your own personal show and then pay to direct the action. Upgrading to the Premium status at $19.95/mo will give a clean, ad-free interface, custom chat font and color options, free private messaging, and a one-time bonus of 200 tokens (value: $20.99). Also, of note, this is the only site enabling shows to broadcast in 4K.
---
BongaCams.com

BongaCams wants to give its visitors all the options and features one could conceive of. It's a kind of scatterbrained identity that will either drive you mad or be right up you alley. This is a freemium site where the performers can use their public rooms for complete xxx action while working for tips. The are contests, promotions, and a beneficial VIP program. Head to the Couples category to find a horny pair, and you may catch a free performance with other viewers tipping enough to make some ejaculate happen. Or, request they join you in private and pay for your own individual creampie blast.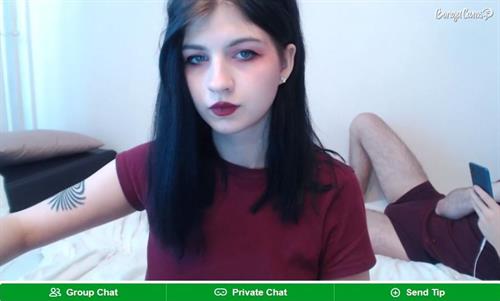 Normally there are close to 700 cam rooms online, with 30 or more being couples or groups. The pairings are mostly boy-girl, mixed in with a few girl-girl couples in the same space. Many performers will likely be in mid-action, with 100s of viewers collectively tipping to help guide their show. Getting a creampie could take some time, as the couple is likely holding back, intent on receiving more in tips. For a definitive creampie on your schedule, you'll want to find a couple ready to go private.
BongaCams has a set price of $5.00/min for a private chat with any model. At this rate, other viewers will be able to Spy into the show you started for only $1.00/min. For a fully exclusive experience, closed off from any voyeurs, the rate is $7.50/min. Additionally, you can start or join into a Group show for $2.50/min. In group shows, all viewers can participate in the sex chat. Cam2cam and 2-way audio are both inclusive in the private chat rate.
The site is well-known for giving back to its loyal users. An initial sign up and purchase of any BongaCam tokens package comes with a bonus. Purchase tokens on a mobile device and be gifted additional tokens. Refer a friend to sign up and get 50% of your friend's first purchase. And there is a Cashback program that tracks the day's top 5 users and awards them more tokens.
---
A Creampie Conclusion
You're either going to get lucky or it's going to take some work and patience to be there for that creampie moment.
While there are plenty of cam girls that play around with all kinds of gooey and creamy materials to simulate a wet and messy creampied pussy, we've strictly focused on the genuine thing. An authentic creampie comes after a bare fuck with a real cock. The girl takes the load deep inside and then proceeds to encourage it to ooze out of her throbbing snatch.
On the freemium sites, this moment can be found happening all day long. But you'll have to keep your eye on multiple rooms, while continuing to look around. On a site like Chaturbate, you participate by sending tips, or just passively observe a show where the guy will eventually finish inside of her. But even then, he may get close, and then back off, because their 'tip goal' hasn't yet been met. It's not to say that you won't enjoy the show, it's just that it could take some time to get to the creamy parts, if it's not your lucky day.
For more of a guarantee to see the girl taking the cum inside of her and then getting messy with it, on your schedule, you'll have to pay for it. Whichever website you're on, it's best that you discuss with the couple what you'd like to see before a show starts. If you've got budgetary concerns, let them know. Be honest with them. Maybe they'll make a deal with you. Because, if you don't tell them what you're willing to pay before a show starts, then they may try to milk you more than you're trying to milk them.
A site like ImLive is great for setting an arrangement beforehand. You can post a message directly to all the models in one particular category, asking if they can satisfy your requisition. Those that are entertained by your request will reply directly to you.
Each of the creampie cam sites we've included here has got it's own unique features and options that give it its own advantages. Each takes measures to provide a safe, secure and discreet process in accessing and transacting on their platforms. And while each site we're recommending are all great places to find a creampie show, the one site that delivers the best overall experience, is LiveJasmin. The site is competitively priced, shows are streamed in hi-def, the models are in a caliber of their own, and there is an inherent cum-guard that ensures you won't get physically splashed with any of the other dudes' jizz.