Best Pregnant Webcam Sites - Big Bellies and Wide Hips
last updated
January 16, 2021
Pregnancy has a time frame. And it's during this period that pregnant webcam performers can show off their suddenly thicker thighs, widened hips, and heavier waists. These women aren't BBWs. They are going to lose that belly in just a few months. So, you've got to catch them when they are high on hormones and horny.
In our listing of the best pregnant webcam sites, we present our top choices to have a sex show with hot naked pregnant girls.
---
LiveJasmin - Pregnant Cam Girls Broadcasting in High Definition

The high quality video streaming that LiveJasmin.com is best known for, is perfect for capturing that glow of pregnancy these gorgeous gestating beauties exude. When women working any other job would reach their later stages of pregnancy, they will take some time off. Not the ladies of LiveJasmin. For them, it's time to go to work. They are well aware that their growing breasts and butt are in high demand, and they are ready to flaunt it.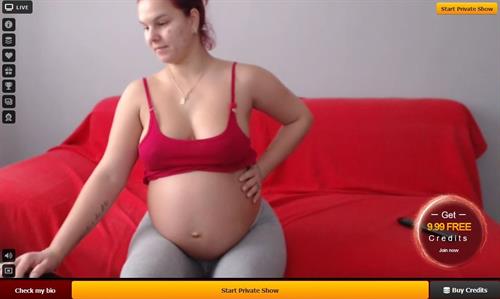 The model selection at LiveJasmin.com is vast. Thousands of first-rate models working their tails off to get you off. And that doesn't stop when there is a pregnancy among them. In our study of the situation, we found between ten to twenty pregnant models rotating in and out throughout a day. And they are not necessarily the same models each day.
As there is no specific 'bun in the oven' category, you'll have to perform a search on the word 'pregnant'. Just go to the top menu bar and run a search. You'll first see a drop-down list of any model that has the specific word in her name, along with an option to 'show all results for pregnant'.

The pricing at LiveJamin.com is very reasonable in comparison to other video chat sites. It's free to chat in public rooms. And in private show rooms, you can expect prices to start at around $1.50 a minute. The average cost for the pregnant webcams comes in at around $2.70 a minute. Some top performers may be pricing themselves at near $6.00 a minute. And if you find any pregnant cam girls in a group chat, or a sale chat room, then you could see a prices as low as $1.00 a minute.
The Qualifying Difference
LiveJasmin.com stands on a mountain top of cutting edge streaming technology and design. They are an award winning and veteran site that doesn't cut any corners. They have their standards and they enforce them. You will not find a model broadcasting at anything less the HD720p. And many models show at HD1080p. If you want a crisp and clear preggo porn chat experience, then you should feel confident that LiveJasmin is waiting to deliver! And if at any point during your experience you ask yourself, 'are there more sites like LiveJasmin?', then please read our article detailing sites just like LiveJasmin.
---
CamSoda - Best Pregnant Cams at a Freemium Site

It's fair to say that a lot of the girls on CamSoda are the kind of girls who play it loose and easy. These are the gals that make it a breeze to talk to. The type that are just looking to have a good time, and not much else. And then oops! Prego!... It happens. And it's no reason to shut down that webcam. CamSoda is there for them. It provides these expectants a platform to earn tips from hundreds, if not thousands, of viewers at a time, during free nude and sex cam shows.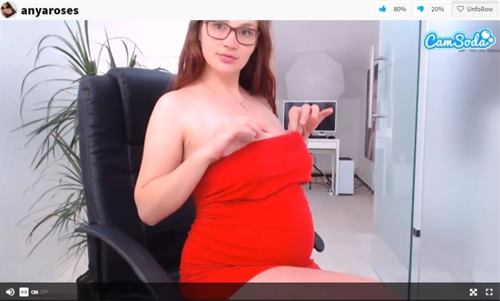 The girls working the cams at CamSoda are of the more amateur type. They are typically broadcasting from their bedrooms, or living rooms. Typically, there are 200-300 girls actively online at any given moment. Of these, there are always a few that are in some stage of their pregnancy. At any given moment, you'll be sure to catch a few pregnant babes online.
CamSoda uses a tagging system to search through their full listing of cam girls, whether online of off. You can either scan through their full listing of tags, or run a search and see if what you're looking for results in anything. Searching the word 'pregnant' is the obvious place to get started.

At CamSoda, you can hang out in any cam room as long as you like and never spend a penny to get to see full nudity and sex acts. If you're happy being one in the crowd of many just passively observing, then you'll be set. If you want to be able to send chats, private messages, request a private show, or send tips to encourage the action in the open chat rooms, then you'll need to get yourself some tokens. The cheapest buy-in package for sale goes for only $5.99. This will get you a couple minutes of private sex chat, and the ability to send tips in the open chat. If you just want to try out the site, get this package and spend a few tokens learning how things work.
The Master Factor
CamSoda.com boasts some very unique features that won't be seen on other sites. Number one among them, is the cam2cam option while interfacing with a mobile device. Currently, no other cam site lets you activate your camera for her to see you while you're in a nomadic state. Another cool feature shows a preview peek into all active cam rooms, as you peruse through the online girls. In a matter of minutes, you can scan through all active cams, having gotten a real time video look inside each cam room.
---
Flirt4Free - The Shape and Beauty of Naked Pregnant Girls in Live Video Chat

The S-shape of the spine is accentuated by a bloated abdomen, sloped back, and puckered up butt. Human attraction experts have determined that it's this S-shape in nature that catches the eye of man. Everyone is made up of all kinds of S-shape curves, only with women, these shapes are exaggerated. With pregnant women, even more so. And this is why men find themselves in a sort of trance, when a shapely expectant woman is near. But in public, it's not nice to stare. At Flirt4Free.com, staring is welcome!
As we have been covering webcam sites for years now, we are always keeping our attention on the pregnant cam girls. And as is the nature, with this particular fetish, the state of affairs changes. We've seen Flirt4Free host in upwards of 15 live pregnant cams at once, and on down to just one or two active throughout a day.
To find the pregnant webcams, you simply need to check their listed categories. The drop-down menu will show how many models are currently online and active. Going to this page will show you all the webcam models who are categorized as 'pregnant' while displaying any active models at the top of this listing page. We suggest you bookmark this page, as it won't be available to be found from the drop-down list if a model is not currently online.

The pricing of video chats at Flirt4Free.com are clearly posted for each model. And they all set there own rates. You'll find plenty of models who set their rate below a dollar minute. The average stands at about $2.00 a minute. The priciest a show will go for is $5.00 a minute. Then, you've got Voyeur Mode, Group Chat, Multi-User, Combo, Feature Shows, Offered Shows, and Party Chats to join in on. These are all cheaper options with some rooms asking for under a dollar to join.
The Difference Maker
These shape-shifting creatures are a wonder to watch, and with the number of webcam models at Flirt4Free.com, it's only a matter of time before there is another pregnancy to celebrate. And when that time comes, you'll have a seemingly unlimited number of ways to interact with these curvaceous babes sporting super-sized bellies. Flirt4Free empowers their members with an arsenal of chat features, search tools, and user functions.
---
MyCams - Where the Pheromones are Raging in Pregnant Webcam Chat Rooms

Another glamorous site with an endless supply of beautiful and talented webcam models. We just need more of them to get pregnant, right? What we admire about MyCams.com is the clean and functional profile of the site. They obviously put most of their effort into recruiting the hottest babes, while staying faithful to the promise that beautiful women deserve the best in video streaming technology.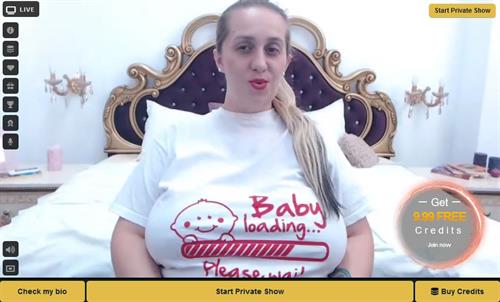 The model selection at the site is stupendous. When it comes to the number of pregnant women online, our visits proved profitable. On most days, you'll find a half dozen or so naked pregnant girls showing off their baby bumps at any given time. Spend a whole day on the site and you'll see a good 20 different models come online.
Finding the naked pregnant girls operates the same way as just about every site in our listing here. You've got to run a search for them. With the great number of categories they have available, they don't set apart a pregnant category. So, do a search for 'pregnant', and then save that results page for future reference.

The costs on MyCams.com is priced fairly. As with most sites, the public chat rooms are free to chat in. The private shows will start at close to $1.50 a minute. Popular and veteran webcam girls can set their prices higher. With $6.00 a minute being about the tops you'll see here. And average private shows come in at close to $2.70 a minute. For cheaper action, you may peek into ongoing sessions, where you wont be able to chat, but you can see an active private show. And look out for the Sale Chats, for further cheap options.
The Hidden Weapon
Simply put, MyCams.com is a straightforward service, not offering a ton of distractions with sidetrack features. Excellent site navigation and advanced search options are available to streamline the process of finding what attracts you. We advise to check back often to see which new pregnant cam girls come online. Because as the world turns, more and more girls are getting pregnant, and MyCams is there to let you in on the show.
---
Chaturbate - Unlimited Free Video Chat with Big Belly Amateur Preggos

With all the fancy studio rooms and professional lighting employed by so many camming models on other platforms, it's nice to see Chaturbate.com stay true to form. This is the place for the authentic amateur. When webcam sex chat was first being deployed, it was mostly populated by amateur girls closing the window shade in their bedroom and turning on their web camera. Now, most all webcam models are operating out of a professional space. Chaturbate has remained sincere, while building up a large community of exhibitionists and voyeurs.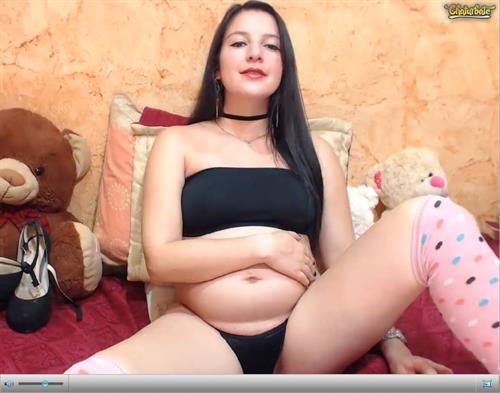 The number of exhibitionists on Chaturbate.com is astounding. At all times of day, you will see thousands of live cams. And out of thousands that are online, of course some of them will be pregnant. While we monitored the Chaturbate pregnant cams, there seemed to be a steady stream of 25 active live cams, plus or minus, at any given time.
Chaturbate.com doesn't have any traditional categories to choose. They utilize tagging. To find the naked pregnant girls, you either go the the Tags area, accessible from the top menu bar, of you may access the Advanced Options, found at the page's right side. In the advanced options, with the Search Models box, you can search for any keyword you want. But whatever you search for, it must be prefixed with a hashtag. So, don't merely search 'pregnant', you must first add the hashtag, like this '#pregnant'. Run the search, and you will see your results. Then bookmark this page for future reference.

Free is free, and Chaturbate.com doesn't sugar coat it. It is completely free to spend as much time as you want in chat rooms. To play a part in the community and keep all this free action going, it is encouraged to tip the models with Tokens that you must buy. By and large, you may be ignored in open chat rooms if you aren't tipping the model. But if you never tip, you can still watch. When the model does go into a private show, you'll be closed off from viewing until she returns to the open chat. If you do want to take her into a private chat, expect pricing to be anywhere from $0.60 to $9.00 a minute.
The Game Changer
Without a doubt, Chaturbate.com has built a densely populated community of flaunters and peepers. By making this connectivity free for users, they have fostered a very loyal fan base. It is not rare to find the free open chats with hundreds, if not thousands of other users all watching at the same time.
---
FetishGalaxy - Exclusive Videos, Reading Material, and Live Pregnant Experts

More than just a pregnant cams site, FetishGalaxy.com plays host to a training center with exclusive material and tutorials for the curious. They have available: video lessons on sex and pregnancy, pregnant positions, and safety tips. Above all, they have their live experts on hand to answer any questions you may have, or to just entertain you, if that's what you came for. Also, if you happen to have any other fetishes, please read our report covering the top BDSM webcam sites.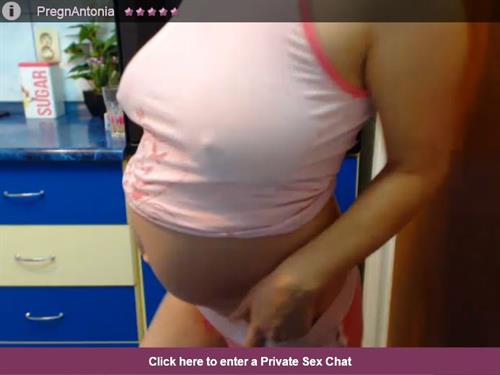 The model selection can be sparse, but the ones who are there are eager and waiting to show off their pregnant tits and bursting belly. We saw on average, a half dozen active online models. And they were quite often in private chats.
Finding the pregnant girls was the easiest of all the sites catalogued in our listing here. Fetish Galaxy was the only site to have a dedicated 'pregnant' category visible at all times. You'll see it on the page's left side in the categories menu bar. Going here will take you to their pregnancy center.

The services at FetishGalaxy.com are not being sold for a fortune. They have a membership program that makes this an affordable camgirl experience. And they have a customer loyalty program that rewards with deals and discounts the more you move up on through their membership levels. In general, it costs $0.99 to chat with the newer pregnant camgirls. But most chats will run you up to $2.00 a minute.
The Chief Reason
Though FetishGalaxy.com may not be the most populated pregnant webcam space, it maintains its own sense of dignity and sophistication with it's curated knowledge center of materials designed to educate on all matters of pregnant sex. And the cam girls found here are more than just entertainers. If you are interested, you can have an honest chat with them about their status and how they are dealing with it.
---
Conclusion
Her pheromones are raging, her skin is glowing, and all her curves are accentuated. It's not hard to understand why pregnant women hold extra power over men. These lovely creatures and their big beautiful bellies are undergoing a transformation that has the capability to entrance a man.
Our account of the best pregnant webcam sites is meant as a guide to help you find the top performing and entertaining pregnant exhibitionists on live cam sites. This list isn't exhaustive, but it's a good start. All five cam sites listed here are reputable and trustworthy. If you got to the bottom of the page, but are still unsure of where to go, we recommend starting off with LiveJasmin. Overall, we have found that they have the highest quality webcams and the highest rates of user satisfaction.