5 Great Webcam Sites for Balloon Fetish Enthusiasts
last updated
January 17, 2021
The request for balloons is common enough that many webcam girls will keep a packet nearby. Or, they've already got some big blown up inflatable next to them, just off camera, ready to pull it into frame. Listed here is our compilation of the best looner chat sites to get started at.
FetishGalaxy.com

FetishGalaxy recognizes that there are webcam fans out there looking for girls that will grind, bounce, pop, and just generally, love on some blown up rubber. This site makes it easy to find balloon fetish performers. While we link directly to the Balloon category itself, if you do stray into other fetishes on the site, you can easily return to the category by finding it on the list of the some 30 fetish categories available.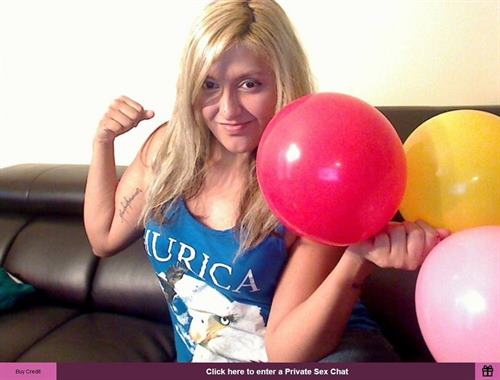 The site is dedicated to the realm of fetishes. There are no bland and stale cam rooms here. The performers on FetishGalaxy know in where their talent lies, and they come here to exploit it. Each room is labeled as either Professional, Expert, or as an Educator. Most of the girls can be found across many of the fetish categories as they are knowledgeable and ready to perform from among a selection of fetishes.
The is a premium site with no explicit sex or nudity during the free chat time. The webcam broadcasts are rated as high quality standard definition streams. And typically, there are between 80 to 100 models performing live at any given time of day. The models have extensive picture galleries, that do include nudes, but you must at least have signed up with an email address and username before getting the free access to their photo albums.
On average, you can expect to pay $2.50/min during a private show. The models' rates are only revealed after you select to take them into a private sex chat. When you agree to move forward, you'll only start paying after 20 seconds has passed. This time is for you to decide if you've made the right choice. To find the cheapest girls online, there's a Price sorter in the Advanced Search. To find the girls charging the least, set it to the low end, or $1.00/min. Cam2cam and 2-way audio are both included in the rate paid to go one-on-one, whether you enable them, or not.
---
Chaturbate.com

Chaturbate is going to give you the largest selection of cam girls to browse through. And, you're going to have to do just that in order to find those that are currently entertaining a balloon. Though, what makes this search a breeze, is the site's openness and speed. Gallery previews refresh every few moments with a new snapshot of what's currently happening in the cam room. Effectively, you can scan through 100's of rooms in less than a minute. Do this, while keeping an eye out for any looner girls.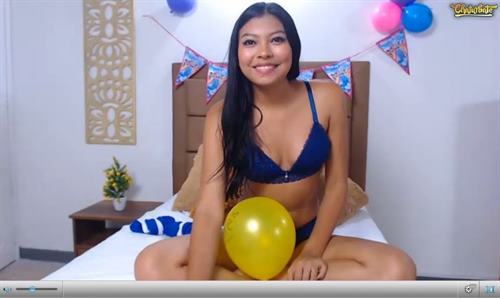 We know it sounds somewhat broad to tell you to just scan the cams. But, this really is the best way to find your interest. On Chaturbate, there are no specific categories to choose from, other than a gender specification. There's a tagging system in place, but it's just not accurate. We believe it's because the site doesn't spend time policing how the models will add inaccurate tags to themselves. But forget all that -- just scan the cams!
Chaturbate is a freemium site that hosts live porn performances in its open chat rooms. As a passive consumer, you can watch for free, indefinitely. The girls are empowered to use their cam rooms to attract as many viewers as they can, while working their audience for tips. To have any influence over the action in the open rooms, you should be tipping. Normally, there are close to 2000 girls actively online. Many of them are well-equipped with HD+ webcams, with many offering up to 4K resolution.
The cam rooms can be sorted by price. About 80% of all the girls are asking for something between $0.60 to $3.30/min. When you do request a private, be prepared to possibly be declined. The girl you like may be in the midst of a public performance to thousands to viewers. Her potential, at that moment, to do well earning tips, means she may pass on going private with you. So, be smart about finding a private. Look for girls that haven't yet garnered 100's of viewers. In essence, the girls that aren't too busy. When you do go one-on-one, the option to activate your webcam for a cam2cam session will cost extra, and requires that you create a broadcasters account to do so.
---
Flirt4Free.com

Flirt4Free has great potential at finding yourself a true looner to join you in blowing up, squeezing, rubbing on, and deflating or popping balloons. But, you'll have to do the work to find them. There's no specific balloon fetish category. You must run a search for 'balloon'. This will pull up all the girls that have written about balloon sex or looner fantasies in their profiles, as well as present recorded xxx videos with balloons.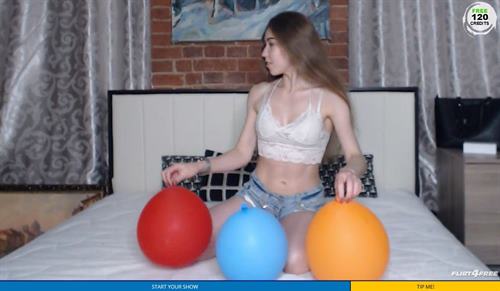 Running the search will show all online and offline performers. Go through their profiles. If you see a girl you like and she's offline, you can select to be notified by email when she comes online. If the girl has the option available, you can call her on her Flirt Phone. If she answers, you can set a date. On the same search results page, shown below the models' profiles, there are the search results for recorded videos. Here, you'll see a ton of content with balloon activity. Prices for the videos vary in range from a couple of bucks, on up to $20.00.
Flirt4Free had always been a premium site that only showed nudity during a paid for show. But as of recently, the site is moving to be more a mix of free sex shows, and paid for privates. The site has more show types than any other site. Girls can be found in Premiere Chat, Voyeur Mode, Group Chat, Multi-User, Combo, and Feature shows. If the girls are in their open Party Chat, they're likely to be performing in the nude looking to get tipped. Any time you visit the site, there will be between 400 to 600 models online, with most broadcasting at the minimum rate for high definition streaming webcams.
There are many low cost cam girls to choose from, though the average rate across the site comes in at $5.00/min. When sorted by Price, there are always a few girls that will go private for only $0.50/min. And typically, there's close to 100 girls online ready to go private for between $1.00 to $3.00/min. On the other end of the scale, there are some highly popular and well-known models asking for $10.00 to $12.00/min. Cam2cam is usually included in the rate paid, but some may charge extra. To score a discount on the sex chat rate with a model, you can join her Fan Club. And, to get started for free, just complete a credit card verification and Flirt4Free will gift you 120 free credits ($12.00 value).
---
ImLive.com

ImLive is your best bet at finding hot amateurs to pop your balloon, if you're on a budget. This is a mega-site with a wide array of features and functions to assist in your search, and enjoyment, of the models working on its platform. ImLive is another site that actually has a balloon fetish category. To find it, you've got to ignore everything else going on, and find the Live Cams area. Here, you can sort the online performers by selecting the Girls Alone category, then adding the Fetish filter to show the Balloons category.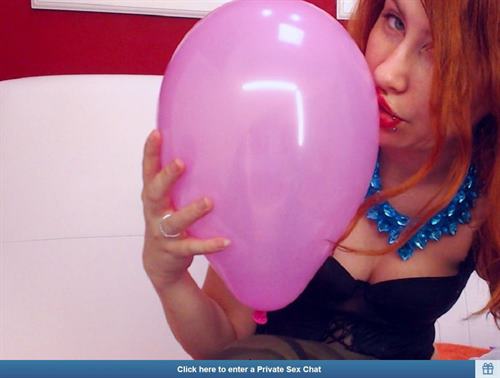 ImLive is one of the best sites for finding exactly what you're looking for. The clearly labeled category for 'balloon' play, is a perfect example. Where many sites fail in being able to manage how performers tag or categorize themselves, ImLive does well at cultivating and presenting accurate and detailed results. As well, there are specific areas dedicated to presenting the very best of the best cam girls. The Top Hosts section presents award-winning performers. Pornstar Shows deliver famous celebrity models that perform, periodically. And, there are weekly themed parties, just to keep things interesting.
This is another strictly premium site, with no sex or nudity during a model's public showing. The girls will get flirty, but don't hope for any free peeks. As the site keeps things cheap, don't expect any broadcasts streaming at anything above 720p. It fluctuates, but typically there are close to 600 models online, with about 10% of those being male and trans models. There's a ton of recorded videos to watch for free, but you do have to be holding ImLive credits in your account. And, don't miss the Fulfill Your Fantasy option, where you can write the subject of your fantasy, along with a full description, and post it to a board only the girls can see. If a looner girl sees your post, she can reply directly to your message center.
Private sessions will cost you $2.25/min on average. Rates a clearly shown before starting your show. If you sort the models by how much the charge, you can find all those that ask for just a buck a minute to go 1on1. The Price sorter is found within the Advanced Search. The price paid for a sex show is inclusive of the activation of your webcam and microphone, for her to see and/or hear you.
---
MyFreeCams.com

MyFreeCams hosts girls only. The site operates much in the same way that Chaturbate does, in that the rooms are totally open sex shows. You can passively watch for as long as you want, but you won't get attention unless you become a tipper. Using the search bar to find any looner chat rooms online will most often yield a few results. The search looks at girls that permanently keep their rooms as tagged for balloon sex, as well as those using their News Feed to post about their current activity. If a girl has decided to make her current show all about balloons, she'll post the subject as her special activity for the day.
Performing a search is your only way to hone in on any girls currently online with balloons ready to go. But, you may also have luck by employing our favorite technique for sites that show updated snapshots into each cam room, by scanning the preview galleries. In no time, you can get a glance into hundreds of rooms at once.
MyFreeCams is a freemium site, where the girls use their rooms how they wish. Like Chaturbate, you'll get fast and easy access to free sex shows. In their open rooms, the girls are happy to get tips from the crowd. You'll see tip menus listing what they'll do for certain amounts. Of the 1000 or so girls online at any given time of day, most are streaming at the minimum required for HD, at 720p. The site might be best known for the customizable allowances it gives its users. You can adjust, resize, and hide nearly all user features and elements on the site. You can show or hide, drag and drop, filter and save just about all windows, menus, and settings. If this appeals to you, you'll dig this site.
There's a set price for all private chat, at $6.00/min. But, at this price, other members will still be able to spy on the performance she's giving you. For 1/3 the price, at $2.00/min, any other member can have a voyeuristic peek, without being able to communicate in any way. To close off this Spy mode, you can go for the Exclusive private chat option, at $8.00/min. To start a webcam to webcam show in private, you'll need to be set up as a broadcaster yourself. And then, if the performers allows c2c in her room, she may or may not ask for a tip to activate it for you.
---
Conclusion
There's a popular Game Show that's been around for years, where the host will go into the audience and ask them to produce any particular item, and if the could, he'd pay them $100 as prize money. Knowing this, audience members would show up to the show with a bag full of any which item you could imagine. The host would ask, 'show me a monkey wrench for $100', or 'if you've got an apple in your bag, I'll give you $100'. People went nuts for this, and planned to be as prepared as they could be when they came to the show.
And that's kind of what these girls working on these webcam sites have to be, too. They've got to be prepared for all kinds of requests if they want to not just survive as a sex cam performer, but to thrive. So, whether you're a looner popper or non-popper, the best girls are going to be ready with balloons, ready to go, for when you ask.
In deciding which are the best looner chat sites, we went beyond just looking at which sites respect the balloon. All the sites we've included all operate a safe and secure environment for payments processing and privacy. They all have an abundance of entertaining sexcam performers to select from. And, they all offer the popular features and functions that users have come to expect from the virtual sex experience.
As with many of the more obscure or less popular fetishes, we always like to utilize a scattered approach in keeping track of a few sites, instead of laying focus on just one. You have your budget on what you want to spend, and whether you spend it on one site, or across a few, it's still the same expense. These sites don't charge monthly subscriptions, they're all pay as you go, essentially. So, to get a wider selection of girls with balloons, it would be advantageous to keep track of each of these 5 camsites.
There's no doubt you're going to have fun going through the thousands of girls camming on sites like Chaturbate or MyFreeCams. These sites are going to deliver to you the fastest and easiest way to see free sex shows. You may even forget you were looking for balloon sex. Which, is why really appreciate a site like FetishGalaxy. It has committed itself to sifting through the abundance of available webcam girls, and cultivating the talented few that specialize in the more obscure of proclivities that so many of us have.
With a dedicated area for cam girls specializing in delighting those with a balloon fetish, FetishGalaxy is the perfect playground for looners. If we had to choose just one site, this would be it. There are always between 20 to 30 girls online in the balloon category. With no free sex shows, you'll never see a large crowd of other users occupying the model's attention. It's a more intimate site. The private show rates are some of the most affordable found online. And, there's a rewards program that honors loyalty with gift bonuses on every purchase. Basically, the more balloons you watch get fucked, the better the deal is on your next buy-in.