FetishGirls.com Has Stunning Fetish Camgirls, but They're Never Online
Last updated
June 08, 2018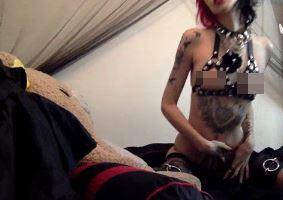 If we wanted to sum up this FetishGirls review right from the get go, we would say: Amazing site, but where are all the models? This really is a superb portal featuring nothing but the bets webcam sex clips, kinky recorded shows and a variety of user features that put other sites to shame. This is pointless though if at best you find two fetish camgirls available for chats. Read our full site report below.
FetishGirls' Prices
This is not a cheap adult webcam site, but only if you compare it to mainstream sex cams. Most fetish chat communities are understandably more expensive than standard webcams (mainly because the hosts are required to be more experienced and knowledgeable, not to mention at time purchase advanced equipment), so it's best to compare them to each other, and while Fetish Girls is not as cheap as FetishGalaxy, it's still pretty affordable.
Average Fetish Chat Costs

Private Fetish Porn Shows – 3.99 Credits per Minute
Sex Clips – 1.99 – 24.99 Each
Recorded Sex Shows – 0.99 Credits per Minute

Live Sex Chat Promotions on FetishGirls.com

New Members Can Get 5 Credit bonus on Their First Purchase
Free Membership

Credit Packages

Onetime Offer for New Members: 25 Credits for $20
20 Credits for $20
40 Credits for $40
60 Credits for $60
80 Credits for $80
100 Credits for $100

Membership Cost
Payment Options

All major credit cards and debits including Visa, Visa Debit, Blueu, Electron, MasterCard, MasterCard Debit, Maestro, Delta, Discover, JCB
Available Features on Fetish Girls
Video Chat models are divided into three categories: Sub, Dom and Switch
There are free chat rooms, but not all performers offer them
Private porn chats include all sorts of fetishes and full nudity
Recorded sex chat are uploaded regularly to the camgirls' profiles
XXX Fetish vids are offered on each host's private profile page
Video Clip Archives include over 1,500 sex clips for users to purchase
Diaries are basically blogs which the hosts keep and offer users a peek into their erotic lives
The site has FAQs for users that require specific help
Cam2Cam can be used for free with private sessions
The hosts list their fetishes of interest in their profile pages
Each host has photos on her profile page and they are usually top-quality
Users are invited to "direct" their own videos by choosing a performer and giving her instructions, even choosing the outfits
The site has live sex shows featuring dominating and submissive women
Top Clips are showcased in a separated category
HD sex cams
Fetish Categories
We won't list all of the fetishes available on this site because in all honesty this FetishGirls review will go on forever. Here is just a partial list:
Footjob
Handjob
Strap-on
Pantyhose
BDSM
Slapping
Orgasm Denial
S&M
Tattoo
Female Domination (SPH, CFNM, Cuckolding, Financial Domination, CBT, etc.)
Spanking
Bondage
Cum-eating
Jerk-off Instructions
Feet and Legs
Kinky Clothes
Mind Control
Humiliation
Smoking
Giantess
Balloons
Goddess Worship
POV
Ball Busting
Amazons
FetishGirls' Pros and Cons
Pros
Everything technical on this website is close to perfection: The level of content is extremely high and every aspect regarding users' experience has clearly been developed by professionals. There is a very large archive of recorded shows and fetish porn videos for those that like them.
Cons
The site has only one major disadvantage, but it's a big one. With very few fetish camgirls online there is very little motivation for webcam users to join and this is something the site must addresses above all else.
Editor's Impression of FetishGirls.com
There are over 900 registered fetish camgirls on this grand website and each and every one of them looks like the type of woman a guy can fall in love with. They don't just look hot, but they have a kind of air which makes them appear accessible and immensely desirable at the same time. Most have supreme-quality photo galleries that will give you an insight of what turns them on and what their most skilled at. Unfortunately these spectacular pics are as close as you'll ever get to actually seeing these women. Well, that's not exactly true; there are the fetish sex videos, but before we get to them let us stress out the most important point: Not enough live hosts.
When we've written this FetishGirls review we came across many aspects of this site that are praiseworthy. However, none of them can make us forget that when we logged on for our first visit there were zero women online and at best we found one or two live chat rooms on following visits. How do users pass the time? Mainly fetish porn video we're guessing. There are over 1,500 available vids and they are not those low-quality clips that many adult webcam sites pass as videos, they are professional looking, slick and it is clear that they were filmed by a descent camera. On top of the clips users can also enjoy full access to recorded webcam sex shows and again, most are much better than what you'd expect.
Each camgirl's profile page is full of information. "About Me", "My Stats" and "My Fetishes" are the three main categories but there are also links to her Diary, which is kind of a personal and sexy blog, links to her photos and an option to send her a message. The messages must be especially important because so few models are online and it would make sense for guys to try and schedule shows in advance. The search tool is surprisingly old fashion and users can only search through the model list according to age, bust size, region, ethnicity, hair and the date she joined. This could have been okay if we were on a regular adult webcam site, and it could even make sense on a portal that features only few women, because users can't narrow the results too much, or they'll be left with nothing at all. However, Fetish Girls is a fetish webcam arena and it doesn't make sense that users can't look for specific fetishes. The only choice is between subs, doms and switches, and with all due respect, there are a lot more kinks that are uncovered by these three choices and we would expect a specialized site to know that. For example, if a user is looking to be spanked or sissified, he needs a host that has knowledge of these topics. Not every host is capable of handling fisting or knows how to conduct a safe CBT and even an area which is seemingly simple – Small Penis Humiliation, is more complex than it appears and requires a certain level of ability. It is possible that all of the models on this site are trained in all fetishes, but it is not very likely. We wish there was some way of finding various fetishes without having to go inside each host's profile, but currently none is available.
All this talk about search is of course rather pointless because, well, there are no fetish camgirls online. This fact really contradicts the site's excellent design and features and it is difficult to understand why there aren't at least some women on the live sex chat rooms, waiting to perform and earn cash.
Speaking of cash, prices are not low, but they are reasonable and users can find private sexchats for only 2.99 credits per minute. Most hosts charge 3.99 per minute, which again, isn't especially expensive, even when you compare it the best live cam sites online. New members have a onetime offer: They are invited to purchase the smallest credit package – the $20 worth one, and get a bonus of five credits on the house. This is a very nice offer, and this site doesn't have all that many other discounts, so if you're contemplating purchasing some credit, take advantage of it while you can.
It is not completely understandable why a site of the level of Fetish Girls has so few live hosts. Clearly there has been a lot of work invested in creating the portal and collecting the gorgeous women and we would imagine that all it takes to be successful is an organized schedule where users will be able to chat with online doms and subs at any time they feel like it. It isn't even too hard. There are many fetish webcam sites that manage it just fine and we would love revising this FetishGirls review in a while and finding more live camgirls. Nothing would make us happier than being able to draw a whole different conclusion. As is though, FetishGirls.com is not a good enough webcam service and we wouldn't recommend it to guys that want to chat. If you are looking for camgirl fetish videos and don't mind having to message the host in order to schedule a session, then sure – give this site a try. The women really are extraordinary.