Buy SexChat Credits Using PayPal, Only on Sexier.com
Last updated
July 16, 2017
The latest news is in and the world of live adult webcams is in quite a commotion: The fantastic Sexier.com has announced that it is now accepting PayPal and this is bound to have a huge effect on users' choices. The majority of adult webcam sites cannot access this useful tool and people that want to take advantage of this safe payment method are left disappointed. Now though the lucky members of Sexier can enjoy PayPal sex cams, and currently there is no other adult webcam site that offers this useful option.
How do You Buy Credit Using PayPal?
Sexier.com uses the Credit system and topping up your account with the kind help of Pay Pal is just about as easy as it gets. However, the site goes to great length keeping this tool secret and you need to know where to look or you can easily miss it altogether.
This is how you start:
Hit that all-familiar Buy Credit box at the top of the page and you'll be promptly shipped off to the payment page.
There you will see that you are about to pay using a credit card, but don't worry, we're going to address that in a second.
The next step is to use the Change Method button which you will find next to the tiny credit card icons.
Alternative payment methods will appear below and you should choose the Payment via Epoch.
This is when you'll find yourself on yet another page with different payment options and can finally choose PayPal
Approve that you want to complete the transaction and see the standard payment box.
Notice that you cannot specify how much funds you want to transfer to the site and have fixed choices. They are quite reasonable though and if you don't find them sufficient, you can always come back and purchase more.
Visit Sexier.com & Get Started
Instructions unclear? Check out our Pornographic Infographic
Ok, so it's not really pornographic, but we created this informative and clear diagram to show you exactly how to reach your goal of using PayPal on Sexier.com, and we hope you like it.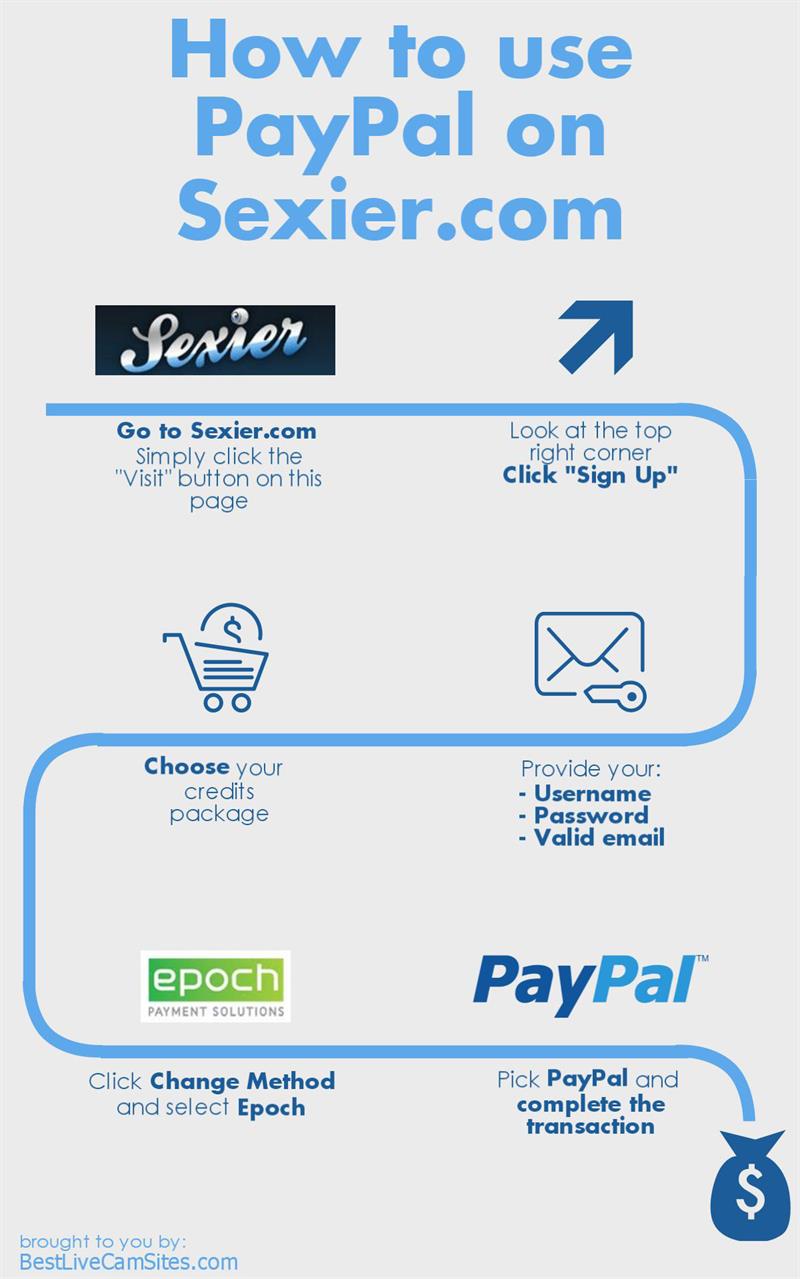 Visit Sexier.com & Get Started
Why do People Want to Use This Particular Payment Method?
PayPal is probably the most commonly used form of secured online payment worldwide. It is safe, anonymous; it guarantees full privacy and millions of people from all over the world use it daily to purchase goods and services via the web. All of these aspects which made PayPal very popular are crucial in the adult webcam world. People who appreciate live sex chats are often worried about safeguarding their privacy and they don't enjoy having their credit card info listed on a portal that they don't know much about. While the best live cam sites certainly make sure to register transaction is some ambiguous manner that will never hint of impropriety, there are still users who are worried and would prefer to have all of their payment history locked away, preferably with the key lost. So, it's pretty clear why folks would love to use PayPal sex cams, but of course until recently they just couldn't.
Is Sexier.com Really the Only Site with PayPal Sex Cam Payments?
Take a look through the best adult webcam sites on the web and check their payment methods, or better yet: Look at our sex cam reviews and get all the information there. You will quickly notice that while most sex chat communities readily accept credit cards, debits and even wire transfer, none will allow you to purchase sex chat credits using PayPal. Well… none but one. This highly respected corporation refused to attach itself to the sexy, slick and sticky industry of webcam sex. Sexier.com has managed what no one else could by being especially inventive. It used the reliable payment processor Epoch as an intermediary and by completing the transactions from this third party serves managed to get around the system and finally managed to achieve what the best adult webcam sites considered impossible.
For now, this agreement seems to be unique and exclusive to Sexier.com and not even the massive players of the sex cam industry such as LiveJasmin or ImLive have replicated it. It could be that these websites simply prefer to stick to the major credits and debits or that the whole process is too complex for their taste, but the bottom line is: If you want to get nasty on PayPal sex chat rooms, Sexier.com is currently your only choice.
Why isn't Sexier Bragging about this Remarkable Option?
One would expect that a large and successful adult webcam site like Sexier.com would try and use the publicity of the PayPal scheme, but there seems to be very little information regarding this payment method on the site or anywhere else. As mentioned above, paying is pretty simple, as long as you know where everything is hidden, but you need to go through several stages and look for quite some time. Users who are not fortunate enough to have us as guides can easily end up assuming that they just cannot use PayPal and either leave or settle for some alternative method.
The explanation for this strange phenomenon is actually very simple: Money. By using two processors instead of one (Epoch and PayPal), this adult cam site ends up paying double commission. While this is something that can be managed if a user is determined or writes to ask, this is not something the site wants to encourage, so it does its best to keep this a tad obscure.
PayPal is Not the Only Reason to Check out This Sex Cam Site
It's pretty amazing that finally users that want to pay with PayPal for adult webcam services can, but this is certainly not the only reason for checking out this remarkable website. Sexier.com has a delicious selection of gorgeous live camgirls, advanced features that will add some excitement to your live sex shows and incredible member benefits that make sure you feel pampered and cared for. Moreover: This is one of the cheapest sex chat portals on the web and it has nude chats starting from 0.20 per minute and low-cost private sex cam shows throughout the day. This site's highpoints don't end with exclusive payment methods. Take advantage of the free chat rooms and see why so many people think it's not just an okay site, but an incredible one.
Read Full Review of Sexier.com